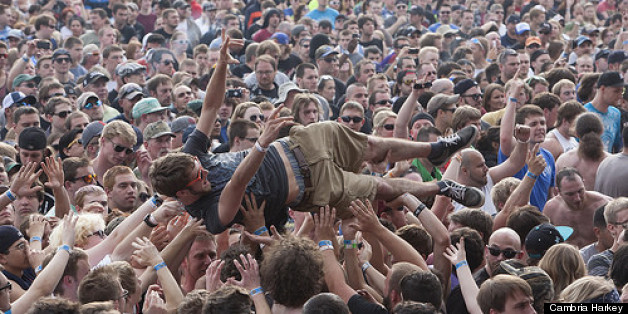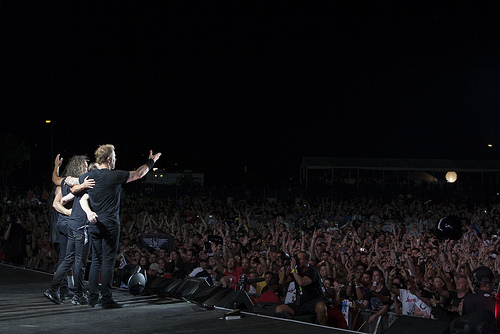 It took a few days to recover from Metallica's Orion Music and More festival held here in Detroit at Belle Isle this past weekend and let's just say it was great times. After the first year held in Atlantic City, New Jersey, it was moved to Detroit due to better logistics. With its five stages full of energetic metal, punk and dubstep, it was a successful two-day event that was a great for the city of Detroit and music fans alike.
There were some issues on the first day with the shuttles moving people onto the island. The wait to just get on the buses was around 45 minutes to at times well over an hour, but by the second day, with a rumored addition of an upwards of 80 more buses, getting people on and off Belle Isle was no longer an issue. In the grand scheme of it all, that 45 minute to an hour wait STILL was not that bad. It just looked bad at first and could have been much worse. With that wait the first day, they were moving people onto buses as fast as they could and you really didn't stand in the same place in line all that long. Just think if they allowed parking on Belle Isle and you had thousands of people trying to drive through that two lane wide bridge. THAT would have been a nightmare. In comparison to the horror stories I've heard about getting to those other festivals around the nation that are in the middle of no where, that hour wait STILL ain't that bad.
In addition to the shuttling onto the island, I found there were some other small issues with some of spacing among various things within Belle Isle. After you got dropped off, you still had another mile or so walk to get to the festival's entrance. But, you know what? Whatever! It's a festival. You are expected to do some heavy walking. Detroit needs some exercise. When you are in the festival, the five stages are spread out nicely all out in the plain open. There are beer tents pretty much near every stage, but most of the food was near the entrance. It was such a long hike to go back to get some food if you were already at a stage watching a band. There's plenty of room to have more food vendors throughout the grounds of this festival easily.
The weather held up nicely though. It wasn't too hot. The sun peaked out a lot even though it was cloudy much of the weekend, but at least the possibility of rain and thunderstorms that they were saying for Sunday held off, and it ended up being a beautiful weekend.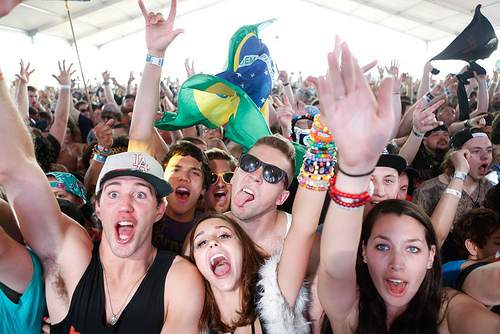 And onto the actual music at the festival (without wasting my energy trying to review anyone)....
The great thing about the Orion Festival is what I touched on in my preview piece. It's not a trendy festival like many of the other ones that have popped up around the nation. It's a molding of many generations of music that was all based from a bit of a young angst, come-as-you-are mentality. At Orion, you had metal parents that brought there teenage kids and they were wilding out to the dubstep.
The Sanitarium stage, which housed all the electronic dance music acts was like the underlying backbone of this festival. Due to similarities in the tempos between dubstep & drum-n-bass with the various types of rock and metal, a lot of the dubstep artists have an appreciation and insight for all the different types of music presented at Orion. The two members of Adventure Club, who one half of the duo Leighton James played the Sanitarium stage on Sunday, got their start as a part of a metal band and toured as such for over six years before switching to electronic music. "I was honestly more excited to see all the other acts," says Leighton James in an interview on the grounds of the Orion Festival. He said:
I come from a metal hardcore background. When I saw the line up, I like freaked out. Dillinger Escape Plan is one of my favorite bands. I saw them right before I played. It was wicked dude. And I like how these hardcore kids and these dance music kids everyone meshes together. There is not too much of a conflict.
And another one of the Sanitarium stage performers, 12th Planet, got his start playing in metal, punk and reggae bands as a guitarist before moving onto drum-n-bass then dubstep. "Metal and dubstep are like bastard cousins," explains 12th Planet during a chat at the festival. He said:
The metal dudes like dubstep and the dubstep dudes come for metal. It's the same mentality, just a different style of dress. Traditionally, there is no link between metal and dubstep. Dubstep comes from England and garage and dub reggae, but I think the tempo of it like 140 bpm is reminiscent of the classic metal breakdown. I think that's why the metal people kinda gravitated towards it.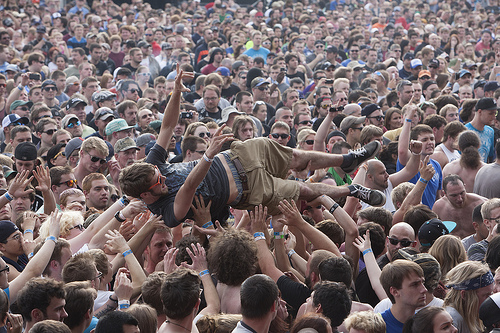 The innate connection between all the types of music at Orion, though different on the surface, showed its true colors at the Orion Festival. Some people definitely had their list of bands they came to see, but there was enough room between acts that anyone could roam around to discover something new.
All and all, the Orion Music and More festival was a success from an attendee's point of view and I found that C3, the company that produced the festival, did a great job organizing it. Like anything, there was some hiccups, but even during Metallica's set on Sunday, lead singer James Hetfield mentioned that yes there was some bumps in the road, and they have been taking them all into consideration. I think even for the problems they had, they weren't THAT bad at all and didn't take anything away from the enjoyment of Orion. It was an amazing first year in Detroit. I guess there is an agreement for doing the Orion Festival on Belle Isle the next three years, but whether it comes back next year isn't confirmed as of yet. This would be a great thing for Detroit to have so hopefully it comes back bigger and better.
(photos: Cambria Harkey, Jack Edinger, Cambria Harkey)