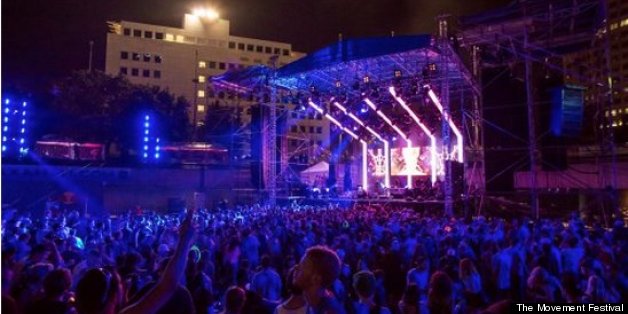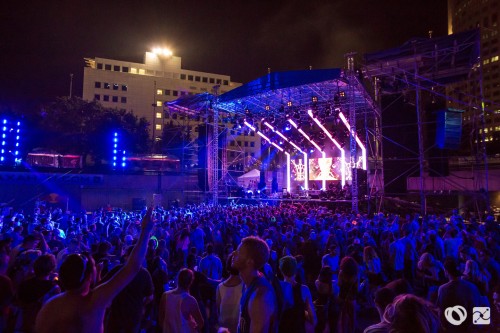 For those of us in the Detroit electronic music scene, the year is broken up into two parts: before and after the Movement Electronic Music Festival. As the beginning of the year progresses and announcements are made about the Movement Festival line up, the excitement builds for this event that happens every Memorial Day weekend at Hart Plaza in Detroit. For old school heads, memories of parties at Motor in Hamtramck or the Packard plant in Detroit start to come to mind longing for those days when they were new and bright-eyed towards the music scene. Emails and messages over social media start to fly to see which people who moved out of Detroit are coming into town for the festival.
Excitement continues to grow. Plans are starting to be made. How are you going to spend your Movement weekend? Which artists are you going to see? What after parties are you going to check out? Are you going to take it easy and enjoy the music or are you going to party hard, barely sleep and get wasted?
As the spring time hits and we endure countless changes in weather here in Michigan, a little bit of fear touches us all and we hope and pray for sun and moderately warm weather over Memorial Day weekend.
We wait for the great people watching at the festival such as the old lady that's been a staple each year that drives around in her personal mobility vehicle and sometimes gets up to shake a little something. Or the people dressed up in all sorts of crazy clothing, like the kids that didn't get the memo that certain rave attire when out of style (if it ever was truly in style) way back in the 1990s. These are things that make the Movement Festival even more special.
It's an amazing melting pot of people from all across the globe and all walks of life. There's always a spark from the out-of-towners that's quite special. They want to visit all the legendary places that have molded our illustrious musical history, whether it's going to Hitsville or visiting the Submerge building. No matter where they are from, they get a little bit of a culture shock when they hit Detroit and see our beautiful ruins. Some of us might just be use to it all, but there are people from all around the world that, even though Detroit might be a broken place, hold a special place in their heart and are inspired by the history of this city.
It's a weekend when all our experiences in the Detroit electronic music scene, both good and bad, come together, and for just a few days, everything is alright with the world. In a city like Detroit that is going through more growing pains than ever on all levels of life, the Movement Festival is still a reminder of the city's great past with a taste of the future.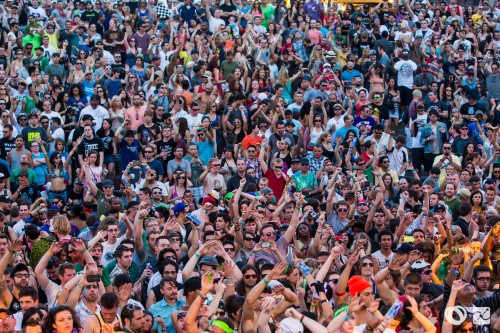 Comfortably in its second decade of existence with no end in sight, the Movement Electronic Music Festival is still a unique experience in an industry where more and more festivals that are undistinguishable from each other are popping up every year. While most the budding electronic music festivals of the past few years are geared towards the recent EDM craze, Movement is one of the elders of the pack along with the likes of Mutek or Sonar that treats electronic music more like a method of making music and offers a wide selection from fresh young faces to bona fide legends.
This year Movement gets a bit of a facelift. Red Bull Music Academy, a long time partner with the Movement Festival, will step up to take care of the main stage duties. Throughout the years, the Red Bull Music Academy stage has been the place to be to see all the up and coming acts of electronic music while educating the masses on legends from various genres. "The energy and passion that RBMA brings to the festival is unlike any other in the industry," said Jason Huvaere, President of Paxahau, producers of the festival. "The move to the main stage will offer fans the next level of sound and lighting production, in addition to a vigorous lineup of performers."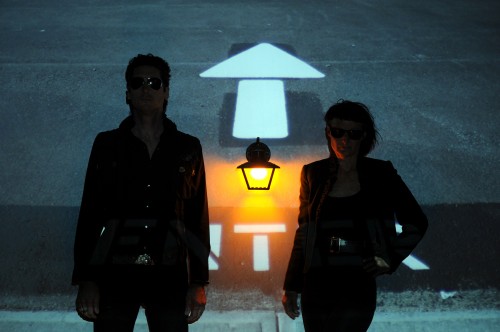 The Red Bull Music Academy main stage will boast headliners such as Richie Hawtin and Derrick May & Kevin Saunderson, along with Squarepusher performing live. The RBMA stage will also feature veterans such as Moodymann, ADULT. (pictured above), Mala, and Dabrye along with newer faces to the dance music world like Totally Enormous Extinct Dinosaurs, Shigeto, Nicolas Jaar, and RBMA alums TOKiMONSTA, Onra, xxxy, T.Williams, and Nick Hook.
With Red Bull Music Academy moving up to the main stage, the annual Electric Forest Festival has stepped in curate a stage featuring a new wave of artists such as Gramatik, The M Machine, GRiZ, Andy C, Brodinski and Big Gigantic along with Detroiters like Ronin Selecta, Sinistarr, K@Dog, and Deastro.
The Beatport Stage is getting bigger and better this year. They will move over to the pyramid area of Hart Plaza where the RBMA stage once stood with a stage set up that expands on its growing needs. With headliners this year like Masters At Work, Moby, and John Digweed, they have outgrown their old spot on the Hart Plaza grounds and the move will make for an all around amazing experience this year.
The Movement Festival is something our own. It's a time when we can all take a break from all the stressful times in our lives and reacquaint ourselves with the people and music that we all love. It's a time for education of all the budding young artists and music fans that come out. No matter if want to complain or praise aspects of the Movement Festival, it's a time of year like no other for our struggling city. It's for us, held together by us, and as long as we are here, so will be the music.
The Movement Electronic Music Festival goes down this Memorial Day weekend on May 25-27 at Hart Plaza in Detroit. For ticket and complete line up information, please visit movement.us.
(images courtesy of Paxahau and Movement Electronic Music Festival)