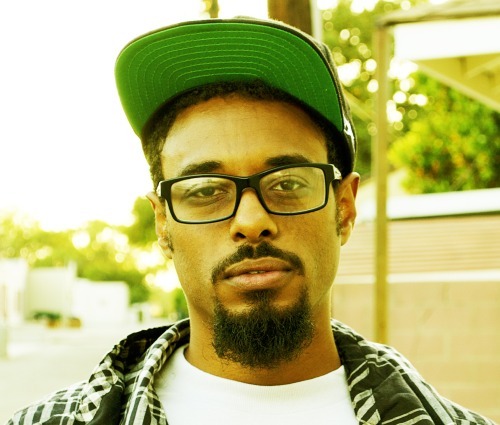 Quelle Chris first made his debut in the Detroit hip-hop world through his affiliation with the Wasted Youth crew consisting of members 87, Big Tone, and Loose Cannon. There was always something different about Quelle Chris among everyone in the Detroit hip-hop scene; he had an eclectic taste. Throughout the years, Quelle has been sort of a nomad, living life in Detroit, Chicago, Oakland, Brooklyn, and Los Angeles, and lord knows where else just trying to survive and make music. There's even was a time when Quelle was heading up a punk rock band. The more you get to know Quelle, the more you can't box him into anything.
Quelle Chris has had a slew of solo projects, group projects with his crew Crown Nation, and side projects like Awesome In Outer Space, and he refuses to pimp himself out for any fads or trends. There's always honesty with the music he does, with a dash of humor, and a lot of dirt and grit. Solo albums like Blue Mondays and Shotgun & Sleek Rifles have created an underground buzz for Quelle over the years, and now he has a new album Ghost At The Finish Line out now via his new home at Mello Music Group (home to artists like Oddisee and Apollo Brown). While recently on Black Milk's No Poison No Paradise North American tour, I was able to chat with Quelle Chris about the new album, his inspirations, and about his longevity.
What's the theme of this new album of yours?
Ghost At the Finish Line in a way is all the experiences, feeling and moments that lead to all the resolutions and revelations I talk about on my last release N----s Is Men. It's pride, it's pain, it's lust, it's struggle, it's enjoyment. The overall theme is, on the road to success, who will still be there in the end? Who mattered in the past? It's even beyond physical, hence the "ghost". Sometimes people aren't there but the lessons and their presence still lingers or drives you to keep running. So the ghost can be positive too.
There's always a sense of humor in your music but you're not a clown. Where does that come from?
I'm a very open and personable person. I also put a lot of personal life into my music. I'm the type of person that laughs when I cry. Reality is what it is so I try to approach things with a certain lightheartedness at times. I want the listeners to feel me and relate but when I get heavy, as I do at times, I don't want to drag them through the mud with me. I want them to think "Damn, he's going through this as I did but he also made it through as I can." I'm also funny as hell so of course things like "Super Fuck" pops in my mind. Life is all these things. You don't have to be super coonish but you also don't have to be super serious. I'm comfortable with being human.
What you think of rappers these days?
Some suck. Some don't. Same as always. I think the vast amount of outlets for artists now without having to grovel at the feet of the industry like it's the great Oz has its pluses and negatives. On one hand, it waters down the music with an overabundance of rappers that never had to go through the show and prove eras. Because they were just able to record and release, I feel many haven't really even tried to master their craft yet. On the other hand, you have cats that are geniuses that may have never seen the light of day in the '90s or early 2000s. This pushes and challenges those that really care and love the competition of hip hop to step it up or shut up. So overall, not much has changed, there's just more to take in and sift through.
You make good music with not a lot of big musical gadgets. Talk about this "something out of nothing" approach.
Man. I've often been broke. I have to make music or I'll die. If I'm in the city, I eat pizza. If I'm in the woods, I'll forage and hunt. I don't want to die so if I have some way to make and capture sound I will. I'll adjust sonically to what I have. Like The S.O.N. is the album it is because of the environment and mic I had. I had to make some dirty beats to match the dirty mic. And the songs and mood and theme had to match too. But I had to make music. I just let it lead me to where it'll end. I just go with the flow but I don't let industry standard tell me what music is and isn't. I think it just is. So I'm usually okay with adapting to whatever to get these damn thoughts out of me and stay alive.
What is musical integrity mean to you?
Being honest or real or something like that. I don't really care or maybe I'm just not sure and don't want to admit it. I'm from a time when you really didn't know much about your favorite artist's personal life. I just wanna hear good music that I can feel.
How did you link with Mello Music Group?
A good friend and partner said they were interested. We talked. Felt good. I signed. I wish it were a story with wizards and spaceships. Actually. Yes. I was on a journey to find a sacred scroll who's name I'd dare not mention in text. On the way I met a man who told this scroll could be found at Mello Music Group... eh I'm over this story.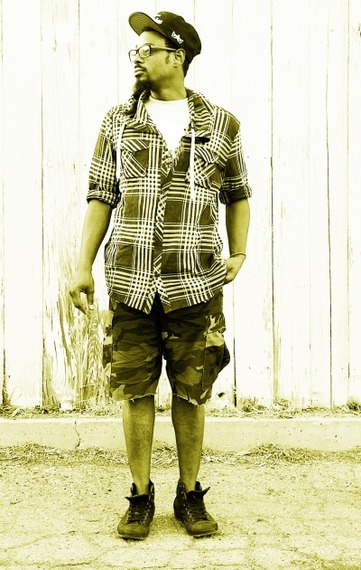 What's inspires you these days? What affects you?
People. I'm notorious for talking to everyone, crazy and sane. I think I got it from my pops. Everyone tends to think I don't care about anything but I'm alive. I get affected by a lot of the same things that most folks do. I just try to keep a positive outlook. Things happen. You just have to breathe, talk, meditate, love etc.
Do you think Quelle Chris can have longevity in music? And why?
I've already made 13 or so projects. From rock to folk to Awesome in Outer Space, Crown Nation and solo projects. People still go back and buy Blue Mondays and talk to me like it just came out. Those songs go back almost 8 years. Of course I have longevity. I just get better and my catalog ages like nothing else. I've already proven longevity. I'm just gonna keep making music. Unless humans begin to develop without ears, I'll always be one of the best.
Quelle Chris' new album Ghost At The Finish Line is available now via Mello Music Group. For more information and to purchase the album, visit mellomusicgroup.com.