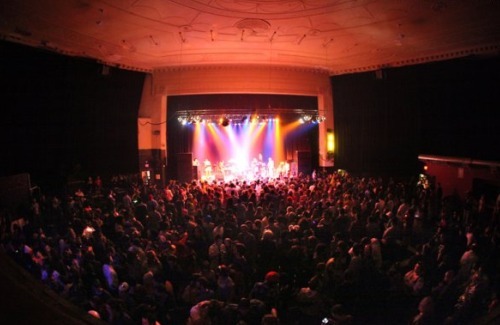 Since its birth around the turn of the millennium, Funk Night has become a legendary party in the city of Detroit. For many years, co-founders Scott Craig and Brad Hales spun the deepest and most obscure of funk 45s for this all-night party that during most of those seminal years was held at The C.A.I.D. (Contemporary Art Institute of Detroit), among other places. After Craig left the city, Hales continued on with another funk music connoisseur named Frank Raines and Funk Night would eventually reach new heights. Over the years, Funk Night grew out of the C.A.I.D. and would become of the biggest parties that are city would ever see and something that would hold court with any party around the nation. Even Paper Magazine deemed it "America's Best Party" in 2008. Eventually, Hales bowed out of the Funk Night parties, and Raines took over operations where he continued to try to find the best venue to keep the funk vibe, along with booking great bands, and creating a record label to complement the parties.
After more than a year hiatus, Funk Night is back at it in full force this Friday, November 1, at the Majestic Theatre in Detroit. Frank Raines returns to the helm along with DJ Eastside and live music from Will Sessions and Rickey Calloway.
The underlying reason why Funk Night is so unique is that you are going to hear records and bands that you just can't listen to anywhere or download online. The integrity of the music is the key with nothing but rare funk and soul vinyl played throughout the night. These are records only a wise collector of music would know about from small independent record labels spanning generations past. "I'm always digging for obscure 45s and try to make sure I play different shit at every gig," explains Frank Raines. "I like to keep people guessing, so when someone comes up to the DJ booth to ask me 'What was that!?' I know I'm doing my job right."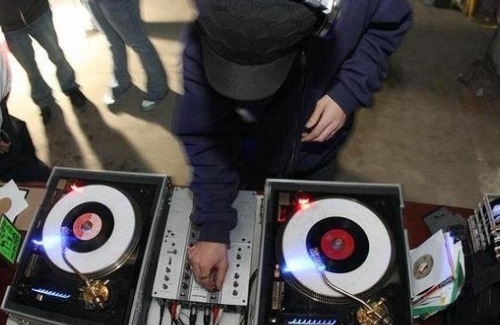 Throughout its ascendance, Funk Night moved between venues each month. Sometimes it was held at a legit venue like the Majestic Theatre, and sometimes it was held at a "not-so legit" venue for music like the Russell Industrial Center or the Hoban Foods Center building. Holding the party in the less then legit places did have its share of problems for Raines and the Funk Night parties, where eventually moving it to the Majestic Theater would be deemed the best route for the party's future. "I prefer the old school raw warehouse vibe no doubt," describes Raines.
"Once the casinos came into town, the underground/after hours scene got killed. The party got shutdown and I was ticketed by cops a couple times. I was sick of planning a warehouse party all month and then at the last minute getting shut down on some bullshit. I couldn't book performers if I had to risk getting shutdown by cops. I also didn't want to put all the performers and party-goers at risk. Moving to the Majestic allowed us to be sure that the party would happen. No worries about raids. It is also built for performance, so it is very accommodating for all artists involved."
With Funk Night's popularity, and the times having thousands of people dancing all night to funk and soul music in the grittiest of spaces in Detroit, some on the surface might draw parallels to the rave culture, but Raines feels like it goes a bit deeper than that.
"I think what made the Funk Night scene different from the rave scene is that it was about the music, not the drugs," says Raines. "People from all walks of life would come to Funk Night to hear what they couldn't hear anywhere else. The music is what brings everyone together. It's a universal language. Funk and soul music speaks to people, young and old no matter what their background."
To complement the parties, Raines started the Funk Night Records imprint to release vinyl of bands and artist that were somehow a part of the vision and feel of the events. Spanning from funk and soul, to even hip-hop releases, Funk Night Records has had records from the likes of Will Sessions, Elzhi, Phat Kat, and Guilty Simpson, among many others. Many records from the discography have quickly become collectibles grabbing high prices on places like eBay. "Funk Night Records was started with my good friends and Funk Night house band Will Sessions," explains Raines.
"I originally wanted to release a 45 that I could play in my DJ sets. We started by putting out two 45s with Billy Love. After those two records were released, I instantly became obsessed with putting out new records and the rest is history. Since the party has been on hiatus, I have focused a lot of energy on the label. There are now over 40 releases in the catalog."
The time has come and Frank Raines and company feel it's the right time for Funk Night's return, and as Raines describes it: "Funk and soul music appeal to just about every type of music listener. The party was raw and had an element of freedom like nowhere else. People from every type of scene could come together at funk night and let loose. "
The Return Of Funk Night happens at the Majestic Theatre on Friday, November 1st with DJs Frank Raines and Eastside and performances from Rickey Calloway and Will Sessions. The party last until 4am and its only $5 for 21+ and $10 for 18+.
(Photo credits: Joe Gall, Ko Photo Vogue)