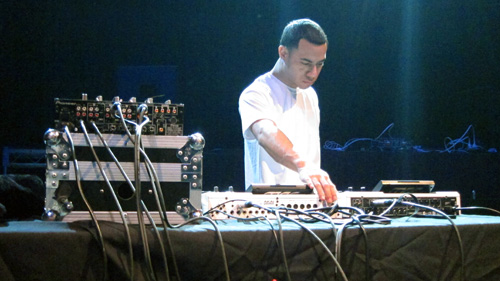 The Royal Oak Music Theatre played host to yet another huge night of electronic dance music this past Saturday, March 3rd, as Toronto's Zeds Dead and their Living Dead Tour tore down the house. Zeds Dead's set was quite a magnificent step in the right direction in comparison to when they graced this same stage last November. They just seemed way too club-oriented last time, whereas this set was more hardcore bass and beats. Joined on stage by Omar LinX, a fellow Toronto emcee, the duo is working on an upcoming mixtape with, Zeds Dead sounded huge, and with the backdrop of heavy strobe lights, they sent the crowd in musical convulsions with all the massive dubstep tunes.
Among all the opening acts for the night, the high spot came from XI, another native Toronto dubstep producer/DJ who probably had one of the more complex sets of the night. His mix of experimental and eccentric electronic music was extremely hard hitting, even though his brand of a more musical sort of dubstep might have flown over the heads of most of the younger people in the crowd.
The highlight of the night was the dual drum machine massacre from the tour's co-headliner, Providence, Rhode Island's own AraabMuzik (pictured above). Previously, he did production work for the hip-hop group The Diplomats, but since then has transformed his own music into this hood hip-hop meets dubstep with a dash of club music that is quite marvelous. Running on a couple of Akai MPC drum machines, AraabMuzik has become widely known for his live improvisational renderings of his own material along with EDM hits from Skrillex, Doctor P, and Flux Pavilion, to name of few. Banging on those drum machine pads, AraabMuzik put the crowd into a frenzy. Along with the likes of hip-hop's Exile or soulful funk producer Jeremy Ellis, not too many in the electronic music scene have the skills to put on such an amazing performance using only the backbone of all urban music production, the drum machine.
The Living Dead Tour continues on through North America until the beginning of May and was brought locally to you by promotional giant AEG along with the Detroit branch of React Presents, a Chicago-based event productions company that specializes in bringing quality electronic music shows all around the Midwest. React has brought an eclectic mix of electronic based music to the Detroit area over the past few months with popular acts like 12th Planet, Green Velvet, and AVICII. Coming up on React Detroit's events list boasts shows from UK electro/speed-garage artist Kissy Sellout at Bleu Detroit on March 16th and French disco/techno duo Brodinski & Gesaffelstein on March 17th at The Works. For further listing of React Detroit shows: www.clubtix.com/reactdetroit.
(Photo Credit: Kelly Frazier)