There's a sign hanging at Muir Woods, a gorgeous redwood forest not far from San Francisco, which reads:
"In 1945, delegates from all over the world met in San Francisco to establish the United Nations. On May 19, they traveled to Muir Woods to honor the memory of President Franklin Delano Roosevelt, whose death one month earlier had thrown the world into mourning... Organizers of the event hoped that the profound beauty and serenity of Muir Woods would inspire the delegates to pursue the president's program for world peace as they met to establish the United Nations."
The inspiration for the meeting came from Interior Secretary Harold L. Ickes, who said that by holding a session in the woods: "Not only would this focus attention upon the nation's interest in preserving these mighty trees for posterity, but in such a 'temple of peace' the delegates would gain a perspective and sense of time that could be obtained nowhere better than in such a forest."
You see where I'm going with this...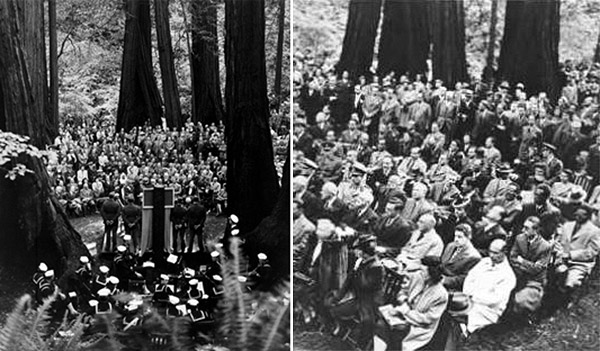 Imagine the following scenario for the climate negotiations:
Heads of State gather in a beautiful and peaceful setting; the kind of place which serves to remind them what we stand to lose if climate change spirals out of control.
They are fed soul-satisfying food and shown moving, inspirational examples of the causes, consequences and solutions to climate change.
They are presented with expert scenarios showing how we can transition out of fossil fuels, preserve our ancient forests, and maintain good standards of living and meaningful work opportunities for their citizens.
They get inspired. They get excited. They forget for a moment the pressures of the powerful interests that put them in office and they decide, there and then, simply to do it. Whatever it takes. They announce this to the world.
Ministers now have a mandate from their leaders. They gather in a beautiful setting as well. They roll up their sleeves and get down to the work of translating those top-line commitments into a set of fair and equitable agreements. In the new spirit of global cooperation, they shake hands on a deal.
They go home and assemble their civil servants -- the legal and technical experts who will be tasked with negotiating the details amongst their counterparts in other countries.
Civil servants are instructed by their ministers to balance national interests against global needs and realities. To be strong, yet flexible. To be fair. They too are given a mandate.
The next COP is buzzing with excitement. There are no procedural fights. Negotiating groups are established, with a format designed to ensure cooperation. They meet in "Vienna Setting" and hammer out the details of a fair, ambitious and binding agreement.
By the way, the Vienna Setting is no flight of fancy. Its brilliant use by former Colombian Environment Minister Juan Mayr is widely credited with having saved the Biosafety Protocol of the Convention on Biological Diversity from collapse:
Instead of sitting in their country seats by alphabetical order in the usual fashion, delegates sat as their respective Groups. The advisers sat behind the chief spokespersons... This arrangement enabled easy consultations amongst delegations...The order of speaking in plenary then followed a pattern.

Minister Mayr used coloured balls, with each chief spokesperson picking one from a bag at the start of each plenary session. Each session had a different colour sequence...The atmosphere was significantly transformed. Delegates and observers alike felt that the result was exchanges that were more frank and less couched in obtuse diplomacy.
The scenario above may sound far-fetched. But is it any more far-fetched then what those leaders faced in 1945, following decades of war, when they set out to secure world peace by establishing a forum like the United Nations?
When it comes to climate change, do we need to wait for things to get that bad before we finally address it?
I say it's worth a try.
Originally posted on the RTCC Website.