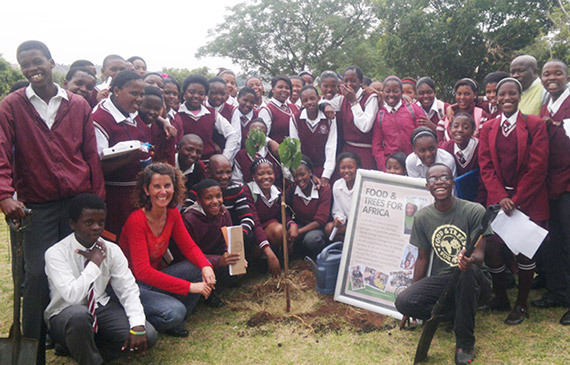 This post is co-authored by Kelly Rigg and Emily Saari, a writer and researcher for TckTckTck.org.
I'm pleased to be co-hosting an awards ceremony this week celebrating global 'momentum for change' at the United Nations climate talks in Warsaw.
So far, the news out of Warsaw doesn't seem to warrant a celebration. International climate negotiations are still struggling to find agreement amongst governments to curb dangerous global warming.
Tonight, however, I'll be joining the UN Climate Secretariat's Momentum for Change showcase event to commend people working on the ground to create transformational change in ways that can be scaled up over time, replicated elsewhere and bring benefits to communities as well as the climate.
This year's winners include initiatives that spread affordable, clean, renewable energy to the communities which most need them -- like Pollinate Energy which is bringing clean energy to the slums of Bangalore and soon to other Indian cities as well. And initiatives that build climate resilience in the face of growing climate risks such as the Adaptation for Smallholder Agriculture Programme.
We also celebrate Initiatives that empower women to lead the way, such as the Ghana Bamboo Bikes initiative.
As the American cultural anthropologist Margaret Mead once said, "Never doubt that a small group of thoughtful, committed citizens can change the world; indeed, it's the only thing that ever has."
This is what Momentum for Change is about. It helps expose the false narrative perpetuated by those who favor maintaining the status quo -- the people who say that transformational change is too expensive, too difficult, and too soon.
In fact, it's already happening, all over the world, as Momentum for Change shows us.
And if you think that these changes are isolated, or on a scale that is too small to have an impact, consider these 10 facts which show how the numbers are adding up:
Make no mistake, we are still on a pathway to catastrophic climate change, and millions of people around the world are already getting a taste of what climate change has in store for us. Governments have a lot of work to do to get us on track to a safer future.
But surely their work is made easier when citizens get mobilized, when banks change investment and lending strategies and when projects like those honored by Momentum for Change take off all over the world. That "small group of thoughtful, committed citizens," who can change the world is becoming a much bigger group every day.