Nearly 30 years ago I led a campaign to save Antarctica. It was one of the best things I've ever done - because we won! It started when the Antarctic Treaty States decided to negotiate an agreement to allow oil, gas and minerals extraction, and ended with a 50-year moratorium on those activities. And we got an environmental protection protocol to the Treaty to boot. We had succeeded in preventing the destruction of an entire continent before commercial interests had taken hold.
I could have gone to Antarctica on the Greenpeace ship, joining one of the annual expeditions to resupply the scientific and campaign station we maintained at Cape Evans. But I never did. I don't really like the cold, I get seasick, and most of all I was expecting my first child at the time. I didn't mind missing out. It was enough for me to know that Antarctica was there, with its pristine beauty, incredible wildlife, clean air and vast open expanses. I didn't need to see it to want to save it.
So I was devastated to read this week's news about recent studies in West Antarctica, which made headlines around the world's like this one in Business Insider, "NASA: The Collapse Of The West Antarctic Ice Sheet Is 'Unstoppable."
While it's smaller than the East Antarctic ice sheet, the West Antarctic ice sheet is particularly vulnerable to melting from warm ocean waters because it sits on top of bedrock below sea level, NASA said. If it melts completely, it could add 13 feet of water to sea level. According to study researcher Eric Rignot, of NASA's Jet Propulsion Laboratory and the University of California, Irvine, the glaciers in the Amundsen Sea sector of West Antarctica "have passed the point of no return."
As for the even-larger East Antarctic ice sheet, this headline by Climate Central also caught my attention, "Stability of East Antarctic Ice Basin May Be Overestimated."
Writing in Nature Climate Change, two scientists from the Potsdam Institute for Climate Impact Research (PIK) say the melting of quite a small volume of ice on the East Antarctic shore could ultimately trigger a discharge of ice into the ocean which would result in unstoppable sea-level rise for thousands of years ahead. Their findings, which they say amount to the discovery of a hitherto overlooked source of sea level rise, appear unlikely to happen any time soon. They are based on computer simulations of the Antarctic ice flow using improved data of the ground profile beneath the ice sheet.
So much for saving Antarctica. To be sure, Antarctica is a continent - unlike its counterpart in the North - despite what happens to the ice above it, Antarctica will still be there.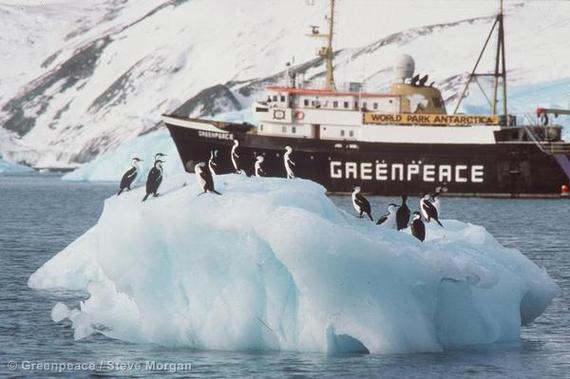 But isn't it sad that the world's most powerful symbol of peace, international scientific cooperation and environmental protection may be slated to become the ultimate symbol for humankind's greatest folly, our utter stupidity in destroying our planetary life support system?
Can we at least please not make matters worse?
Last Sunday, Germany set a new record generating around 75 percent of its electricity needs from renewable energy sources, primarily solar and wind.
This is a result of a concerted government program - the Energiewende - aimed at the complete transformation to a sustainable economy by promoting energy efficiency and the use of renewable energy sources. And guess what? The Financial Times quotes the German utility RWE as saying "a decrease in the price of hard coal and the switch to renewables had led to a drop in wholesale electricity prices in Germany."
It's time for every other country to do the same. Please visit the Action Center of the Global Call for Climate Action to find ways to make your voice heard. In the meantime, we need to ensure Antarctica maintains its important function as a climate change reference zone, including by protecting the oceans that surround it. You can sign the petition of the Antarctic Ocean Alliance.
Where once we had the opportunity to save an entire continent, we now have the opportunity to save an entire planet. Come to think of it, the planet will probably be fine; we now have the opportunity to save ourselves.