Curating the perfect soirée requires thoughtful details and organization. Amidst the frenetic pace of holiday party season (often one after the next) tips like tested menu favorites and hassle free décor offer a welcome respite from the pace and pressure of holiday hosting. Here are five ways to ensure your party routine stays high style and low stress!

1. EASY ACCESSORIES
I prefer a natural wood or stone table, free of table runners or linen cloths. Instead I will opt for warm brass accessories, unique florals and cool easy details -- like unique flatware and bold graphic place settings. My bauble bottle stops make embellishing your cocktail set up a one step process.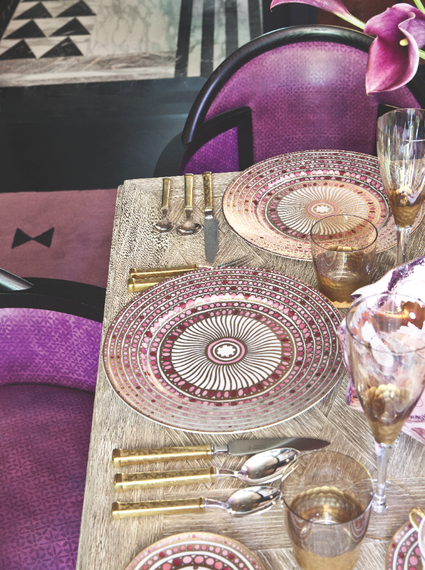 The right jewelry takes a simple LBD to the next level. This season I am loving graphic patterns in black and white for a classic vibe with a modern twist. Perfect for any occasion from the company holiday fête to New Years Eve, versatile accessories that carry me day to night get the most love.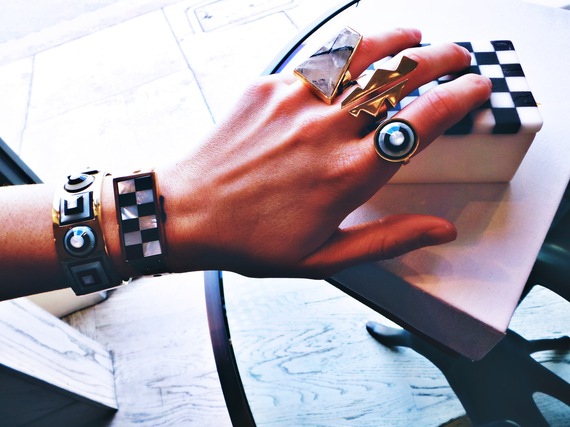 2. NO FUSS FLOWERS
I sometimes use succulents instead of florals. Selecting unique arrangements that have a long shelf life enables me to prep in advance and enjoy the arrangement beyond just the party itself. Unexpected touches from ginger to berries or giant palm leaves add depth, texture and drama.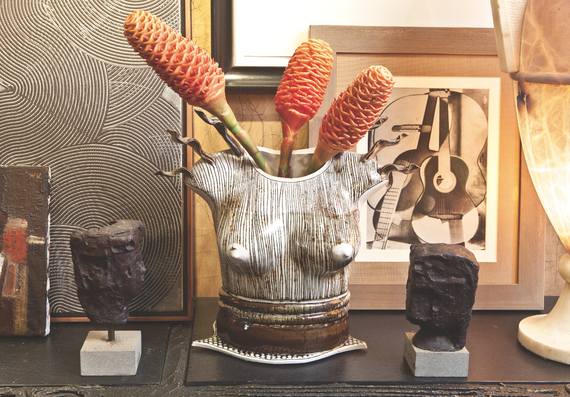 3. DIGITAL GUEST LIST
Paperless Post is beyond cool. Fast, easy, environmentally friendly and last minute additions to the guest list are no problem! Digital format allows for easy edits and a convenient RSVP head count.

photo courtesy Paperless Post

4. ALL STAR RECIPES
It is fun to have a house cocktail themed for the evening. However, overly complicated mixology can get fussy and over produced. I like to keep is simple and classic. Mojitos and Casamigos Margaritas are perennial faves. Mix up a large batch pre-party, place in a large artful pitcher and voila -- party ready for an easy pour!
Dress up the bottles with a bauble bottle stop for an instant, easy luxe vibe. Add a pop of color with pomegranate or fresh mint.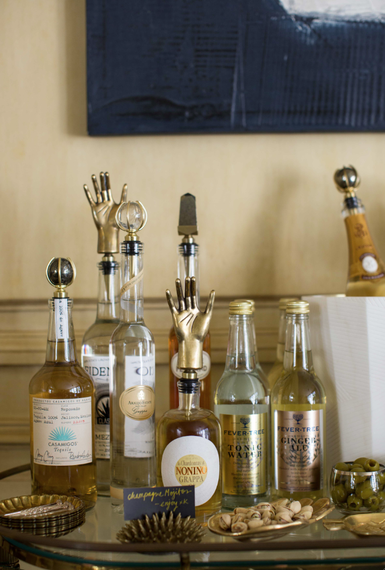 For appetizers and dishes, I always opt for tried and true recipes. Holidays are about tradition. Attempting to put together a dish for the very first time adds unnecessary drama to party prep. Stick to family recipes that you know you can knock out of the park.


5. ADVANCE PREPARATION
The less stress the day of the party the better. If you do not want to splurge on the added expense of hiring a caterer or private chef, choose appetizers and foods that can be prepped the night before and refrigerated. Fresh Pomegranate salad left undressed is a holiday standby in our home.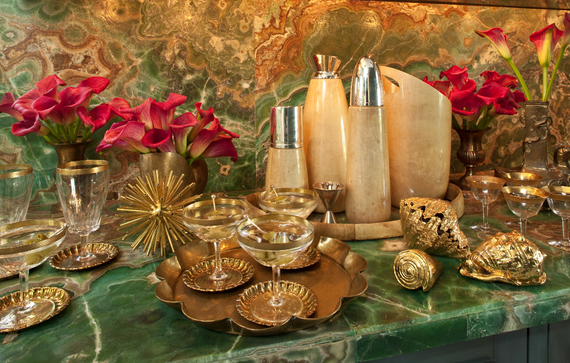 The holidays are about celebrating the people we love most and giving back with a spirit of gratitude and joy. Keep calm and merry on!
Happiest wishes to you and yours this season. Xxk


Going to the party? Shop my Entertaining Essentials for the all the best Hostess gifts HERE
Photos via KellyWearstler.com