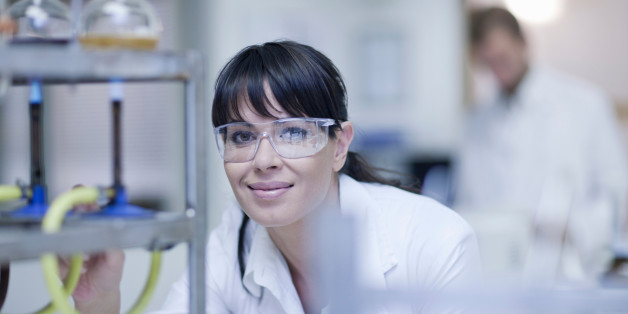 Growing up, my parents focused on ability and interest; they never mentioned gender. Not for lack of wanting -- I'm sure my dad would have loved to hang in a man-cave with a son. But my parents were forced to disregard gender within the family because I am one of four daughters. And if four feisty girls weren't enough for my dad, my mother was also a gutsy entrepreneur in technology. Over the past couple of years, I've taken time to think about women's success in the workplace, and my general findings have pointed to the idea that preventing women from walking away from their professional foundation is as important as fostering their foundational development in the first place.
There are hundreds of statistics out there on the fact that women are not holding leadership roles, especially in the STEM sector. A recent study from Dow Jones VentureSource, found that women hold leadership roles in just 6.5 percent of venture-backed companies. Along with the plethora of statistics out there on how women are being left out of leadership roles, there are also many pundits trying to figure out why this is happening and how we can fix it.
A large majority of critics are pointing to the "pipeline" problem as the determinant. The pipeline problem states that systemic gender-diversity problems at the professional level are a result of not enough women having the right experience earlier in their career. A major focus of the pipeline problem encompasses the argument that lack of equality in STEM-related roles results from the number of women entering mathematics, science or engineering fields at a young age, thus there is not a robust top of the funnel for women in this arena.
Diversity activists have started new programs aimed at attacking the top of the funnel when it comes to females pursuing business and technology at a young age -- great examples being Girls Who Code and Facebook COO Sheryl Sandberg's #BanBossy. This is a great start in helping to get women more involved in this space, but beefing up the top of the funnel will not fix a leaky pipe.
Putting aside the disparity at the beginning of the pipeline, we need to look at the rate that women persist through the pipeline. A report published by the Center for Work-Life Policy in conjunction with the Harvard Business Review found that 56 percent of women in technology roles leave technology and their companies at the "mid-level" role -- a rate that is more than double the male attrition rate. That's right. We are leaking over half of our female technologists to non-STEM focused roles.
So, even if we succeed at fostering young girls to pursue STEM studies, our results will be weakened over time unless we focus on supporting women's persistence over the course of a woman's career. As the sole founder of a technology company, I am acutely aware I need to stay focused against the odds to achieve a successful lifelong career in technology leadership. My fire is fueled not only by personal drive but also by the people and programs that exist to encourage female leadership after taking the initial plunge to get involved. Programs like L'Oreal's Women In Digital program, the IEEE Women in Engineering program, and the National Center for Women & Information Technology are working to foster women's opportunity to make an impact at the later stages of the career.
I'm not advocating for more programs for women; I'm advocating for programs that help women address the hard things once they've gotten started in their career. We cannot stop our efforts at programming for young girls. We must continue to identify the breakpoints, challenges, and career milestones in which women leave the table. We need focused commitment from leaders and sponsors from the beginning of a girl's education through the duration of a woman's career until we achieve the highest level of success and diversity and the lowest level of talent loss.
As a recipient of the L'Oreal Women In Digital Award, I gained an unprecedented level of exposure to C-level and VP level leaders in one of the world's largest global beauty companies. All of these items and exposure helped me in the current state that I am at with my business. My exposure to these types of programs are equipping me with an arsenal of people who I can call upon for advice or who will help serve as advocates throughout my career and future challenges.
As a 24-year old, there will be many more challenges that I face as I build my business. As I continue to grow my career, I hope and want to start more programs that address the various challenges women face throughout their career.
This post is part of a series produced by The Huffington Post and L'Oreal's Women in Digital program, which promotes, supports and recruits female entrepreneurs, providing them with the opportunity to launch and scale new technology. To learn more about the Women in Digital program and the Third Annual Women in Digital "NEXT Generation Awards," visit here.