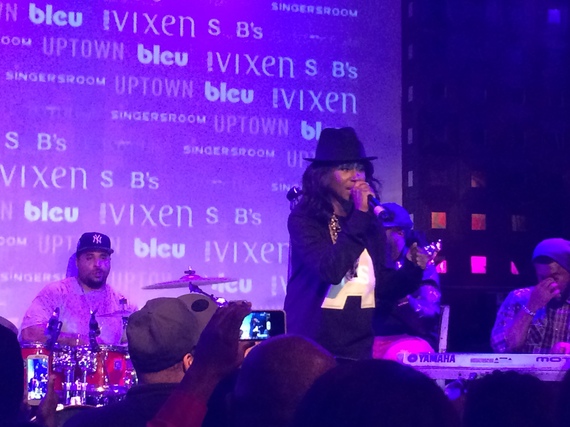 On what was a pleasantly warm Sunday Fall night in New York City there was even more heat taking the stage at SOB's in the SoHo neighborhood for R&B Spotlight. Singer Tweet took to the stage with her signature hit 'Boogie 2 Nite' and the crowd went wild. It was a warm and refreshing return to the R&B Spotlight stage for the singer.

"Out of sight, out of mind, you really think that people forget. So just to see and feel the love from the audience and people respond, you know that's the highlight," she tells me.

Tweet first burst onto the solo scene with her first studio album 'Southern Hummingbird.' After the success of that album, she released 'It's Me Again' in 2005. It's been a while since she has released a full length studio album but her voice is still airy, yet strong enough to belt out those all too important notes in every song. The singer did not disappoint eager and waiting fans still longing to hear Tweet belt out hits like 'Oops Oh My', 'Smoking Cigarettes', and 'Turn da Lights Off.' Many artists leave the scene for long periods of time and the fan base grows restless but I saw something in the crowd that night that led me to believe just like Tweet her fans are the cream of loyalty.

R&B Spotlight is a showcase of diverse and talented artists. The concept was created by musical manger of superstar group "SWV" and television producer Corey Taylor. Corey certainly knows what the people want when it comes to artist. It's also a place for artist like Tweet to engage intimately with fans. It's a place you can return to after a nice break from the industry. I wanted to know if Tweet thought of her return to the stage at SOB's as a comeback.

"I guess I was being preserved for right now," she says. "I think it's a reintroduction," she goes on to say. I will go on record and say that Tweet certainly emerged as the talented and gifted singer I have known her to be. She's the kind of singer who can get you to groove to the beat and can sing any ballad with so much soul and depth. She's the original Tweet, she came before tweeting was ever made popular. One question everyone seemed to have on this night full of music was when Tweet would be releasing a new album. She teased us all in the crowd with a nice up tempo song she calls 'Magic.' A new song from her forthcoming album she says will be released in early 2015. Tweet describes the album as "Southern Hummingbird' times two. If you are a diehard Tweet fan then you know she writes her own lyrics down in her diary and she says the new album will feature lots of her own words, directly from that diary.

"You will definitely get a full body of work with this album, not just a single. You will get your ballads and your club," says Tweet.

Tweet put on a great show despite her telling me that she wasn't feeling all that well, but as they say in show business, "the show must go on" and she went on to bring the crowd to its feet and provided encores. The crowd really didn't want her to leave the stage and even though she wasn't feeling well you could tell neither did she. The singer with the airy voice was definitely in her element and if 'Magic' is any indication of what's to come for Tweet, I'm sure I speak for the fan base when I say she is more than welcome to put a spell on me.