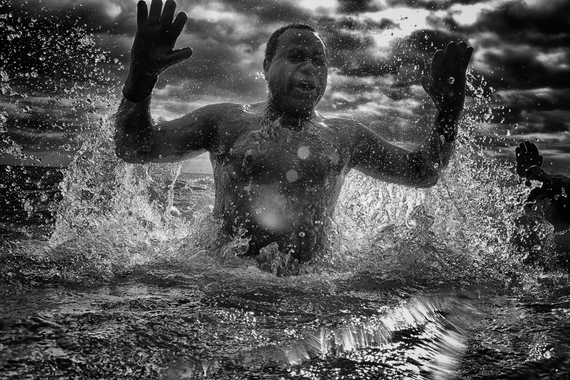 Last January, I had the distinct honor of swimming with the Coney Island Polar Bear Club -- "the oldest winter bathing organization in the United States."
I had just decided to launch my NYC photoblog, ALL THE LONELY PEOPLE (ATLP), and was looking for something "epically New York" to shoot. With their annual New Years swim drawing in a couple thousand people each year, I had admired the insanity of the event only in pictures and video and figured it would be the perfect kick-off shoot for my blog.
But, after talking with club president Dennis Thomas, he suggested I skip the chaos of the weekend warriors on New Year's and spend some time with the regular club members who swim every Sunday from November through April.
I took him up on his suggestion and captured some of the greatest images of my career. What struck me the most was the sense of community among the group; their kindness, their openness, their playfulness and their grit. The water was cold but the experience has kept me warm inside to this day.
The overwhelming intimacy of it all became the guiding light for how I wanted to approach all of my ATLP. I figured that the baptismal nature of the images from that day would be a great way to plunge into my Huffington Post ATLP photo essay series.
I hope your experience viewing the pictures is as immersive and beautiful as it was to make them.
And if you are looking for ways to stay warm this winter, forget the Caribbean and take a plunge with the Coney Island Polar Bears.