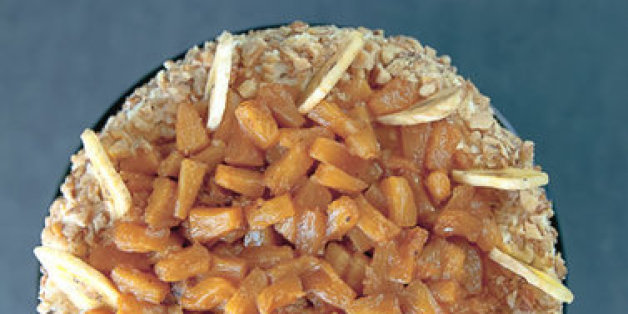 Someone asked me recently how I come up with ideas for my recipes. It's a deceptively simple question. The trigger could be a single word I've just read or heard, a flavor profile I want to explore, or a specific texture I want to achieve. The complicated part is morphing a few vague concepts into a complete dessert that others and I want to eat.
Sometimes, the development follows a swift smooth path. Done.  The majority of ideas clash like bumper cars, eventually evolving into a more rhythmic, cohesive recipe. At least, when I'm lucky.  Rework, rework, and maybe done.
This cake, for example, started with a fragment that I picked up from somewhere about how banana and pineapple compliment each other. I have made banana desserts and many pineapple ones as well, but never have I put them together. So, thinking of mashups, I pondered banana cake with pineapple frosting, pineapple cake with banana frosting, and so on. I finally settled on banana cake with pineapple filling -- plus a ginger cream frosting to tie it all together. Done.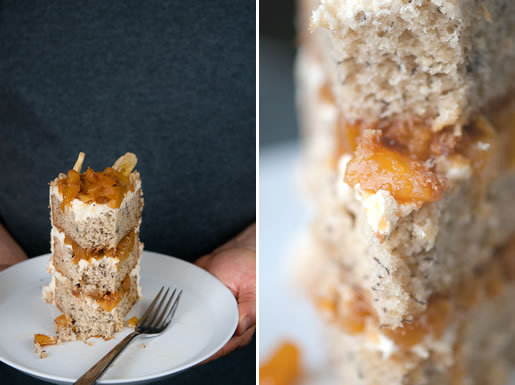 Banana Pineapple Cake
yield: one 8-inch cake
Banana Cake
Ingredients
4 cups (16 ounces) cake flour
2 teaspoons baking soda
1-1/2 teaspoons baking powder
1/2 teaspoon fine sea salt
1/2 cup sour cream
2 cup of mashed bananas, about 4-6 bananas
1-3/4 cups (12-1/4 ounces) granulated sugar
1 tablespoon lemon zest
20 tablespoons (10 ounces/2-1/2 sticks) unsalted butter
4 large eggs, room temperature
1 teaspoon pure vanilla extract
Directions
1. Adjust the oven rack to middle position and heat oven to 350F. Grease three 8-inch round cake pans, line bottom with parchment, grease parchment round, dust cake pan with flour, and tap out excess. Combine flour, baking soda, baking powder and salt in a medium bowl, set aside. Combine sour cream and mashed bananas in a 4-cup measuring cup with a fork until fully combined, set aside
2. In the bowl of standing mixer, fitted with paddle attachment, beat sugar and lemon zest on medium-low speed until sugar is moistened, about 30 seconds. Increase speed to medium and beat until mixture resembles coarse sand, about 1 minute.
3. Add butter, increase speed to medium-high and beat until mixture is light and fluffy. Reduce speed to medium-low, add eggs, one at a time, beat until combined. Add vanilla, mix to combine. Add flour mixture in 4 additions, alternating with sour cream mixture (in 3 additions), until barely combine, with a few white streaks still visible. Remove bowl and finish mixing by hand with a rubber spatula.
4. Divide batter evenly into prepared pans, tap gently to remove bubbles and even top with small off-set spatula. Bake until cakes are set, toothpick inserted into cakes comes out clean. Cool on cooling rack for 10 minutes, unmold onto a lightly greased cooling rack and continue to cool completely, about 40 minutes.
Ginger-Pineapple Filling
Ingredients
3 pound frozen pineapple chunks
3 tablespoons fresh ginger, finely grated
1/4 cup (1-3/4 ounces) granulated sugar
1/4 cup (2 ounces) light brown sugar, packed
1/4 teaspoon ground cinnamon
1/2 teaspoon fine sea salt
1/4 cup dark rum
Directions
1. Combine pineapple, ginger, sugars, cinnamon and salt in a 12-inch skillet; cook on high heat until most of the liquid has evaporated, about 15-20 minutes. Stir occasionally.
2. Reduce heat to medium-low and continue the cook until pineapple are softened and lightly caramelized. Add rum to deglazed. Stir until liquid are absorbed, about one minute. Remove from heat and cool completely, about 1 hour, before use. Filling can be refrigerated in an air-tight container for up to five days.
Ginger Milk Frosting
adapted from Cook's Country
Ingredients
1-1/2 cups whole milk
1/4 cup chopped ginger
1-1/2 cups (10-1/2 ounces) granulated sugar
1/4 cup (1-1/4 ounces) unbleached all-purpose flour
3 tablespoons cornstarch
1/4 teaspoon fine sea salt
2 teaspoons pure vanilla extract
24 tablespoons (12 ounces/3 sticks) unsalted butter, cut into 24 pieces
Directions
1. Pureé whole milk and ginger in a blender, let steep for 20 minutes, pour mixture through fine-mesh strainer into a measuring cup. Add more milk, if necessary, to measure 1-1/2 cup of liquid.
2. Combine sugar, flour, cornstarch, and salt in medium bowl. Slowly whisk in milk mixture until smooth. Pour mixture through fine-mesh strainer into medium saucepan. Cook over medium heat, whisking constantly, until mixture boils and is very thick, 5-7 minutes. Transfer milk mixture to clean bowl and cool to room temperature, about 2 hours.
3. With stand mixer fitted with whisk attachment, beat cooled milk mixture and vanilla on low speed until combined, about 30 seconds. Add butter, 1 piece at a time, and beat until incorporated, about 2 minutes. Increase speed to medium-high and beat until frosting is light and fluffy, about 5 minutes. Let sit at room temperature until stiff, about 30 minutes.
Note: Frosting can be refrigerated in airtight container for 1 week. When ready to use, bring frosting to room temperature, about 2 hours. Beat with stand mixer fitted with a whisk attachment on medium-high speed until light and fluffy, about 1-2 minute.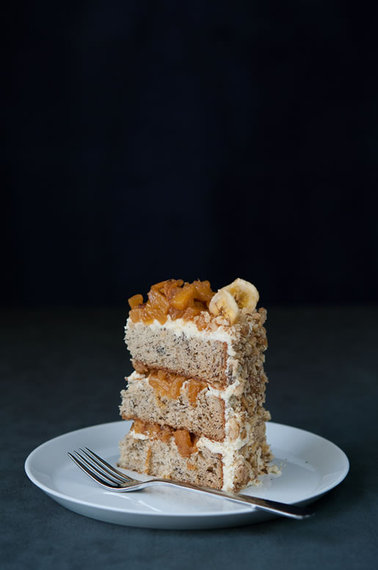 Assembly
Ingredients
Banana Cake layers
Ginger Pineapple Filling
Ginger Milk Frosting
2 cups walnuts, toasted and chopped
Banana Chips (optional)
Directions
1. With a serrated knife, trim top of cake layers to yield a flat surface. Place one cake layer on the bottom of cake stand or serving platter. Spread a thin layer of frosting on top, then add 1/3 of the ginger pineapple filling on top of cake, leaving a 3/4-inch border. Pipe ginger frosting around the edge. Place second cake layer on top and spread another thin layer of frosting on top. Add half of the remaining filling, leaving a 3/4-inch border and pipe frosting around the edge. Repeat with the third layer, thin latter of frosting and remaining filling.
2. Spread reaming frosting around the edge and sides of cake. Press chopped walnuts on the side of cake and decorate with banana chips (if use). Refrigerate cake for 15-20 minutes to set before serving.