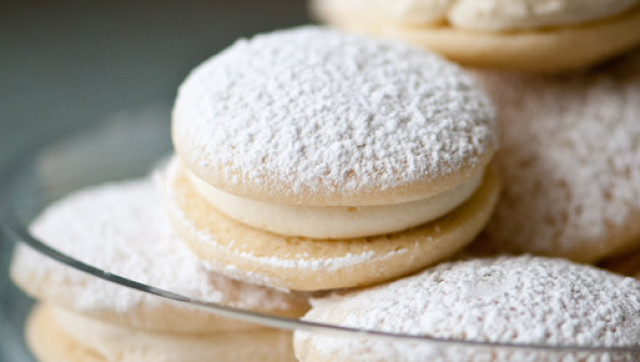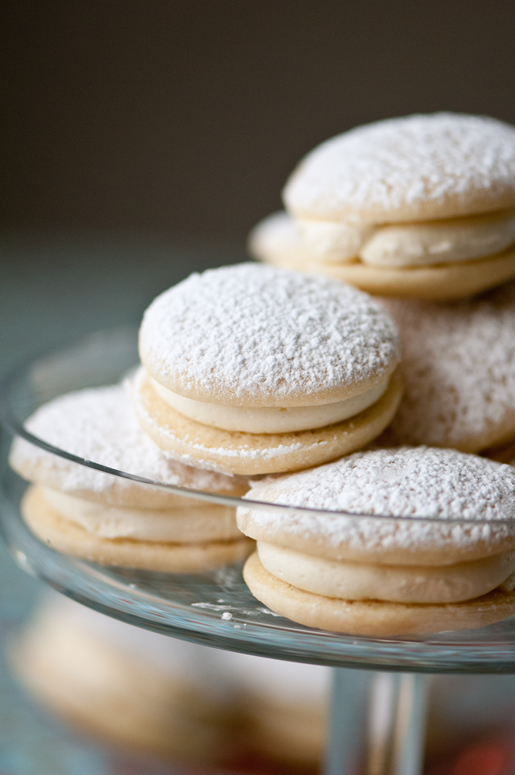 Work has kept me more out the kitchen than I would have liked. The final attention to details for a townhouse renovation project has consumed most of my time for the last two months. Still, I'm grateful for wonderful clients who agree with my vision for their new home. I had the opportunity to exercise my design perspective and have a construction team that made it come to life. I've nothing to complain about -- except I need more than 24 hours a day.
Earlier in the year when I had a break, I wanted to be busy with work. Now that I've got projects, I long for those easy afternoons when I could sneak into the kitchen and play. Now that it's setting into gorgeous late summer/early fall weather, I long to escape my desk. I need to bring some sunshine inside.
Most of us probably associate lemon with sunshine because of the color and the bright flavor. I am also extremely fond of passion fruit. The color of passion fruit combines the bright yellow of lemon as well with the warmth of a zesty orange. The burst of vibrant citrus flavor is always a surprise -- and that's exactly how I intended to present it in this Passion-Nut Cookies.
The creamy mild essence of the coconut cookies is reinforced with a coconut frosting. As one bites into the cookie, the hidden passion fruit curd in the center bursts forth with a vivid contrasting tartness. Given the airy caginess of these cookies, they are best eaten within a couple of days, which should not be a problem at all -- at least not in this rabbit abode.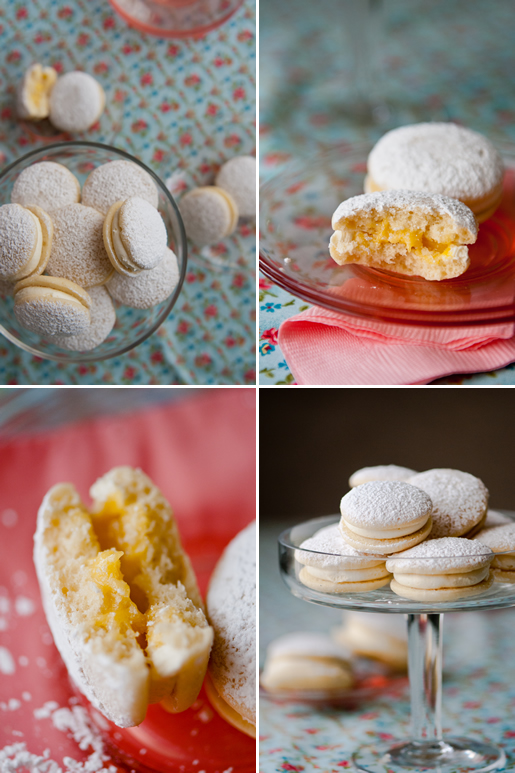 Coconut-Passion Fruit Cookies
Recipe adapted from Matt Armendariz
Yield: about 25 two-inch cookies
Ingredients
1-1/2 cups all-purpose flour
1 teaspoons baking powder
1/2 teaspoon fine sea salt
6 tablespoons (3 ounces/3/4 sticks) unsalted butter, room temperature
3/4 cups granulated sugar
1 large eggs, room temperature
6 tablespoons unsweetened coconut milk
2 tablespoons passion fruit purée
1/2 teaspoon pure vanilla extract
1/2 teaspoon coconut extract
Passion Fruit Curd, recipe to follow
Coconut Frosting, recipe to follow
Confectioners' sugar, for serving (optional)
Directions
1. Adjust oven rack to middle position and heat oven to 350 ℉. Line two baking sheets with parchment paper or silpat; set aside. In a medium bowl, whisk together flour, baking powder, and salt; set aside.
2. In standing mixer fitted with paddle attachment, combine butter and sugar, beat on medium speed until light and fluffy, 1 to 2 minutes. Add egg and continue mixing until well combined, about 30 seconds. Working in batches, add flour mixture; mix until well combined. Add coconut milk, passion fruit purée, and extracts; continue mixing until a dough forms, 1 to 2 minutes.
3. Using a tablespoon or a 1-1/8" ice cream scoop, drop dough onto prepared baking sheets, about 2 inches apart. Transfer to oven and bake, rotating baking sheets halfway through baking, until golden, about 10 minutes. Transfer cookies to a wire rack until completely cool.
Passion Fruit Curd
Yield about 2 cups
Ingredients
1 cup of granulated sugar
1/2 cup passion-fruit puree
5 large eggs yolks
4 tablespoons (2 ounces) unsalted butter, cut into 1/2 -inch cubes.
Directions
1. Combine sugar, passion-fruit puree, and egg yolks in a medium saucepan. Place over medium heat, whisking constantly, until thick enough to coat back of spoon, 8 to 10 minutes. Remove from heat; stir in butter, piece by piece, until melted. Cool, cover with plastic wrap; refrigerate until needed, up to 4 days.
Recipe Notes
1. You will not use up all of the curd in this recipe. Perhaps you can use it in a cake.
Coconut Frosting
Ingredients
8 tablespoons (4 ounces/1 stick) unsalted butter, room temperature
1-1/4 cups (5 ounces) confectioners' sugar
3 tablespoons reduced coconut milk, room temperature, see notes
1 teaspoon coconut extract
1/2 teaspoons vanilla extract
1 teaspoon light rum
1/8 teaspoon fine sea salt salt
Directions
1. Using electric mixer, beat butter in medium bowl until smooth. Add sugar, reduced coconut milk, extracts, and salt. Beat on medium-low speed until blended, scraping down sides of bowl. Increase to medium-high and beat until light and fluffy. Add rum and continue to beat until fully incorporated. Refrigerate until needed.
Assembly
1. Pair each cookie with approximately the same size cookie, turn half of the pairing over, flat side up. Pipe coconut frosting around the edge of the bottoms/flatside of the cookies; then pipe passion fruit curd in the center. Sandwich together with remaining cookies. Store in an airtight container for up to 2 days. Just before serving, lightly sprinkle with confectioners' sugar, if desired.