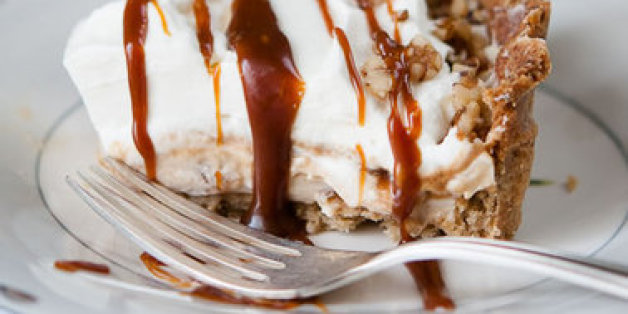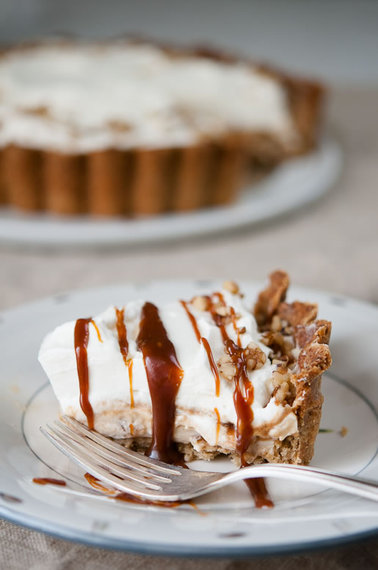 "The only way to get rid of a temptation is to yield to it... " -- Oscar Wilde

When it comes to innocent temptations, I have a long list. For TV shows, I love Homeland, The Killing, and Mad Men, but I also love Once Upon A Time, So You Think You Can Dance, and Spartacus. My taste in movies ranges from old classics to contemporary epics, and I will be happy to admit that I adore Harry Potter movies.

As for food, I'm not much of a junk food person, so when it comes to temptations in the culinary department, it's the occasional fatty pork, juicy steak, delectable high carb something or other -- and of course, decadent desserts. I usually don't go for creamy desserts, but there have been two major exceptions -- banana- or coconut-cream pies. I can eat an entire one in a sitting. No really, ask my friends. As Mr. Wilde also said, "I can resist everything except temptation."
Now, I must add Apple Cream Pie to the list. Caramelized apples, the star of this pie, are enveloped in cinnamon pastry cream, with additional caramel sauce drizzled throughout. The walnut pie shell holds it all together and the brandy spiked whipped cream topping transforms a classic apple pie into a delightfully airy temptation that screams. "Yield!"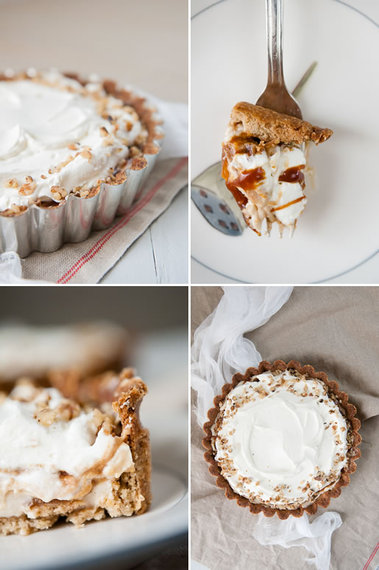 Apple Cream Pie
yield: one 9-inch pie
Pie Dough
Ingredients
2 large egg yolks
1 teaspoon pure vanilla extract
1 teaspoon Nocella (walnut liqueur) optional
1-1/4 cups (6-1/4 ounces) unbleached all-purposed flour
1/2 cup (2 ounces) chopped walnuts
1/4 cup (1-3/4 ounces) granulated sugar
1/2 teaspoon fine sea salt
8 tablespoons (4 ounces/1 stick) unsalted butter, cut into 1/2-inch pieces, frozen
1-3 teaspoons ice water
Directions
1. In a small bowl, whisk together egg yolks, vanilla, Nocella (if use) and 1 teaspoon water. Set aside.
2. Place flour, walnuts, sugar and salt in the bowl of a food processor. Pulse until walnuts are finely grounded, about 10-12 one-sec pulses. Add frozen butter and pulse until butter is the size of peas. Add egg mixture until combined. Test the dough by squeezing with your fingers, if it holds, it's done.
3. If it's still crumbly, sprinkle ice water, 1 teaspoon at a time, pulse and repeat the squeeze test.
4. Empty dough onto a large piece of plastic wrap. Gather dough into a 6-inch disc by pulling up sides of plastic wrap and press lightly with your knuckles. Wrap dough with the plastic wrap, and refrigerate until cold but malleable, about 45 minutes.
Note: If dough has chilled for longer than 45 minutes and has become too firm, let stand at room temperature counter 10-15 minutes until malleable.
5. Roll dough on lightly floured surface into 13-inch circle and transfer to 9-inch pie pan. Press dough into corners and sides of pan, being careful not to stretch dough. Trim edges of dough to make 1/2-inch overhang. Tuck overhanging dough under so that folded edge is flush with rim of pan. Flute edge. Prick bottom of dough all over with tines of fork. Wrap in plastic and freeze for 20 minutes. (I used a large quiche pan for this recipe)
6. Adjust the oven rack to middle position and heat oven to 400℉. Remove pie shell from freezer, line with greased-parchment and filled pie weights. Bake until pie crust looks dry and lightly colored, about 20 minutes. Remove weights and paper, continue to bake until golden brown, about another 10-12 minutes longer. Transfer pie shell to wire rack and cool completely, about 45 minutes.
Caramelized Apples
Ingredients
2 tablespoons (1 ounce) unsalted butter
1/4 cup (2 ounces) packed light brown sugar
1/2 teaspoon fresh lemon juice
2-3 Granny Smith apples (about 1-1/4 lb.), peeled and cut into 1/2-inch-thick wedges
Directions
1. In a large nonstick sauté pan, heat butter, sugar and salt over medium-high heat until sugar is melted and mixture starts to bubble. Increase heat to high and add apples and sauté until golden brown and almost dry, about 8-10 minutes. Remove from heat, let sit in pan to cool to room temperature.
Caramel Sauce
Ingredients
3/4 cup (6 ounces) heavy whipping cream
1/4 cup apple cider or water
1 tablespoon light corn syrup
1 cup (7 ounces) granulated sugar
2 tablespoons (1 ounce) unsalted butter
1/2 teaspoon pure vanilla extract
3/4 teaspoon Malden Sea Salt
Directions
1. Heat whipping cream in a small saucepan until just boil. Remove from heat and set aside.
2. Add apple cider, corn syrup and sugar to a medium saucepan, stir to combine. Heat mixture on medium-high heat until it comes to a boil. Gently swirl the pan occasionally to make sure sugar mixture cooks evenly. Cook until caramel turn deep golden brown color.
3. Remove from heat and add warm cream with caution (Mixture will bubble up rapidly). Stir with rubber spatula until mixture subsided. Add butter, vanilla, and salt, stir to combine. Pour caramel into a microwavable-container and cool to room temperature.
Cinnamon Pastry Cream
Ingredients
1-1/2 cups whole milk
1 large egg
2 large ego yolks
6 tablespoons (2-3/4 ounces) granulated sugar
1/4 cup (1-1/4 ounces) unbleached all-purpose flour
1/2 teaspoon ground cinnamon
1/8 teaspoon fine sea salt
1/4 teaspoon pure vanilla extract
2 tablespoons (1 ounce) unsalted butter
Directions
1. Fill a large bowl with ice and water, set aside. Warm milk into a medium saucepan and heat milk on medium-high until just below boiling; remove from heat
2. Whisk egg, yolks, sugar, flour, cinnamon and salt in a medium bowl until smooth. In a steady stream, pour half of the warm milk into egg mixture, whisk constantly to temper the eggs. Slowly pour the egg mixture back into the pan of warm milk, whisk to combine.
3. Heat the mixture over medium heat, whisk constantly, until it bubbles, continue to cook until pastry is very thick. Remove from heat, whisk in vanilla and butter until fully combined.
4. Strain pastry cream into a medium bowl. Place plastic wrap on the surface of the cream and set bowl in the ice water bath, cool to room temperature. Use immediately or refrigerate until ready to use.
Assembly
Ingredients
1-1/2 cups heavy cream
1-1/2 tablespoons superfine or granulated sugar
1/2 teaspoon pure vanilla extract
1-1/2 teaspoons Cavados or Brandy
Cinnamon Pastry Cream
Pre-baked pie shell
Caramelized Apples
Caramel Sauce
1/4 cup toasted chopped walnuts (optional)
Directions
1. Add heavy cream, sugar, vanilla extract and Calvados in a medium bowl. With electric hand-mixer, beat on high until stiff peaks.
2. Fold 1/3 of whipped cream to pastry cream until fully incorporated, add caramelized apples and stir to combine. Add half of the mixture to pie shell, smooth top with off-set spatula and drizzle with caramel sauce. Repeat with remaining mixture and drizzle with more caramel sauce.
3. Spread remaining whipped cream on top and garnish with walnuts. Serve pie with remaining caramel sauce.
Note: Pie is best serve the day of assembly, but it will keep in refrigerator for a day before the whipped cream starts to breakdown.