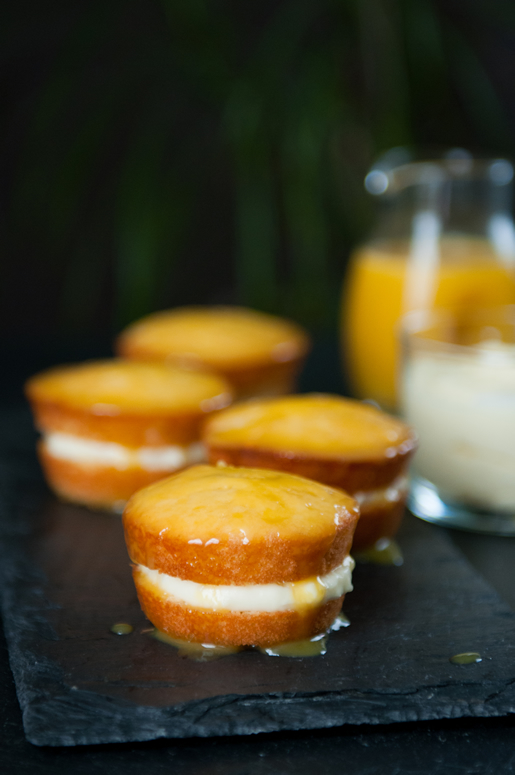 I like winter. I even like the snow... at least up to a reasonable accumulation. What I don't like are these extended periods of gloomy weather without the sun. It's hard enough to find time to bake, let alone coordinate with mother nature so I can use natural light to get the photography done.
When I make a dessert, I want to take photos as soon as possible, then enjoy it and offer it to others. I've tried to schedule around the weather forecasts, but they're often more wrong than not when it comes to sunshine. Certain desserts are more forgiving when it comes to the window of consumption, but when we get extended periods of grey skies, it's either time to bring out the artificial lights or take a chance on less than peak flavor and texture.
After a couple months of uncertainty, I've come to terms and simply enjoy the dessert and not worry about creating a blog post. So far, luck has been on my side. If you don't see a new posting, just assume that I'm savoring something sweet -- until the skies provide enough light. With some more luck, that day won't happen for a long time, and I'll get to share something like these Mini Coconut Passion Fruit Cakes -- a parade of sunshine.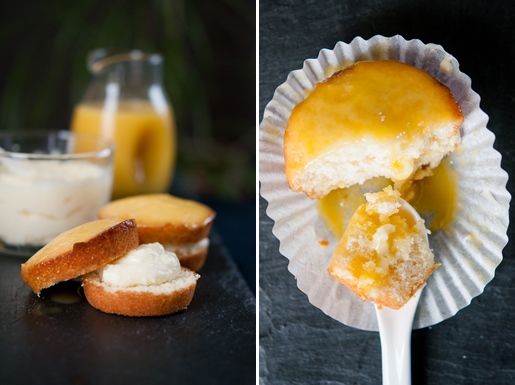 Mini Coconut-Passion Cupcakes
yield: 16-18 cupcakes
Mini Coconut Cakes
Ingredients
1-1/2 cup (7-1/2 ounces) all-purpose flour
1-1/2 teaspoons baking powder
1/2 teaspoon fine sea salt
1/2 cup unsweetened coconut milk
6 tablespoons (3 ounces) unsalted butter, softened
3 large eggs. room temperature
1 cup (7 ounces) granulated sugar
1 teaspoon pure vanilla extract
Coconut Cream, recipe to follow
White Chocolate-Passion Fruit Glaze, recipe to follow
Directions
1. Adjust oven rack to middle position and heat oven to 350 ℉. Butter and flour 2 standard muffin tins. Whisk together flour, baking powder, and salt in a small bowl. Combine coconut milk and butter in a saucepan and to a simmer over low heat, keep warm.
2. In standing mixer fitted with whisk attachment, combine butter and sugar, beat on medium speed until light and fluffy, 2 to 3 minutes. Reduce speed to low and beat in dry ingredients until just combine.
3. Add milk mixture and vanilla to batter, and beat until smooth. Fill each muffin cavity to half full. Bake cupcakes until light gold, about 15 minutes. Let cool in tins for 10 minutes, then transfer to wire racks. Let cool.
Coconut Cream
yield: about 1-1/2 cups
Ingredients
1 cup unsweetened coconut milk, divided
1-1/2 tablespoon cornstarch
6 tablespoons granulated sugar
1/8 teaspoon fine sea salt
1 large egg
2 large egg yolks
2 tablespoons unsalted butter
1 teaspoon pure vanilla extract
1/4 teaspoon coconut extract
Directions
1. Dissolve cornstarch in 1/4 cup of coconut milk. Combine remaining 3/4 cup of coconut milk with sugar and salt in a saucepan; bring to boil and remove from heat.
2. Beat egg, then egg yolks into cornstarch mixture. Pour 1/2 of boiling coconut milk into egg mixture, whisk constantly. Return the remaining coconut milk to a boil; pour in hot egg mixture in a steady stream, whisking constantly.
3. Continue whisking until cream thickens and comes to a boil. Remove from heat and whisk in butter and extracts until fully combined. Pour cream through a fine sieve into a bowl. Press plastic wrap directly on surface. Refrigerate immediately until cold, at least 1 hour. When ready to use, remove cream from refrigerator and give it a few stir.
White Chocolate-Passion Fruit Glaze
yield: about 1-1/4 cups
Ingredients
1/2 cup passion fruit pureé
6 ounces white chocolate, finely chopped
1 tablespoon light corn syrup
Directions
1. Bring passion fruit pureé to a simmer in sauce pan. Remove from heat, and add white chocolate and corn syrup. Let stand for 5 minutes. Whisk until smooth. Transfer to a bowl, and let cool. (You might need to stir occasionally.)
Assembly
1. Using a serrated knife, cut each cake in half horizontally. Spoon or pipe vanilla cream on each cupcake bottom. Dip the top of matching cake half into glaze and place on top of bottom half. Spoon additional glaze over each if desire. Serve.