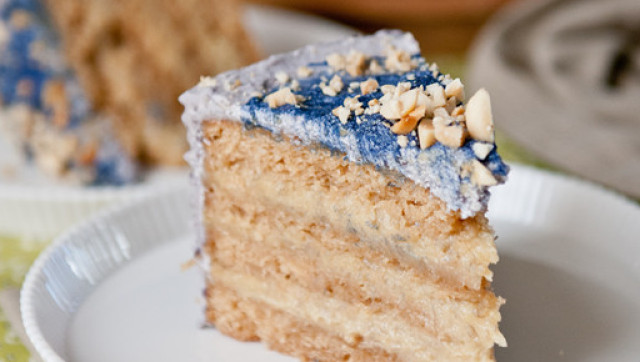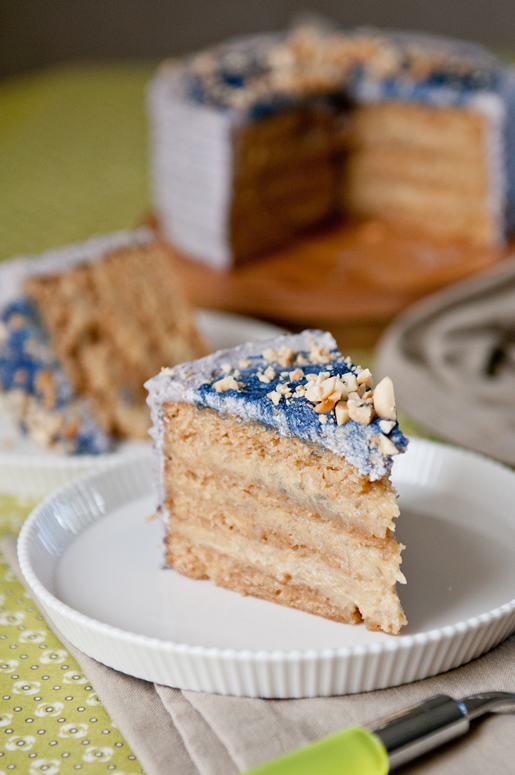 I go through unexplainable phases of food cravings -- almost possessions by culinary spirits. Right now, my X-File is all about peanut butter.
With fall settling in for a stay, there's no shortage of good, local, fresh ingredients for creative baking, but I can't stop thinking of peanut butter... with bananas. There's something about these flavors, though it certainly didn't come from my childhood. I was never a regular consumer of peanut butter and jelly sandwiches, and bananas were just another fruit. I wasn't much of a fan of Chinese peanut soup, either.
According to Dr. Google, I'm craving fat, sugar and salt. I do have a fondness for sweet and salty combinations. Maybe peanut butter is my substitute for trying to avoid fried foods. In any case, I'm embracing my peanut butter possession, which includes peanut butter and jelly shakes.
Desserts take it to another level: Crunchy Peanut Butter Banana Pudding and now Peanut Butter & Jelly Cake. Beyond satisfying my craving, the cake triggered a sensation among my friends who grew up with peanut butter.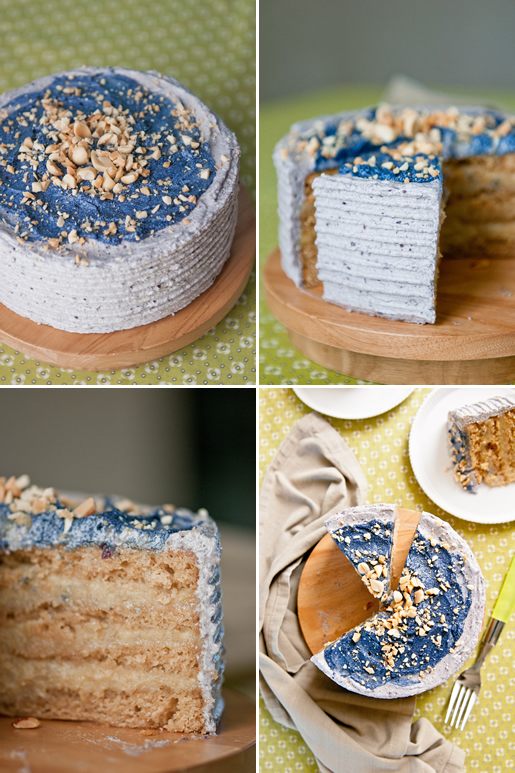 Peanut Butter & Jelly Cake
Yield: One 6-inch cake
Ingredients
1 cup, plus 2 tablespoons (5-5/8 ounces) all-purpose flour
1 teaspoon baking powder
1/2 teaspoon baking soda
1/2 cup (4 ounces) packed light brown sugar
1/2 cup (3-1/2 ounces) granulated sugar
1/2 cup creamy peanut butter
3/4 teaspoon pure vanilla extract1 large egg, room temperature
4 tablespoons ( 2 ounces) unsalted butter, softened
1/2 cup whole milk, room temperature
Banana-Rum Filling, recipe to follow
Grape Frosting, recipe to follow
1/4 cup peanuts, toasted and chopped (optional)
Directions
1. Adjust oven rack to middle position and heat oven to 350 ℉. Grease and flour two, six-inch cake pans set aside. Whisk flour, baking powder and baking soda  together in a small bowl, set aside.
2. In bowl of standing mixer fitted with paddle attachment, beat butter and sugars on medium speed for two minutes until combined. Add peanut butter and beat until mixture is light and fluffy, about two to three minutes, scraping down bowl with rubber spatula as needed. Add egg and vanilla, beat until just combine.
3. Beat in half of flour mixture until just moistened; add sour cream to combine. Add remaining flour mixture until just combined. Divide batter evenly among prepared pans. Bake cakes until toothpick inserted into center of cakes comes out clean, about 25- 30 minutes. Cool in pan for 10 minutes, then loosen edges and turn cakes onto wire rack. Cool completely.
Banana-Rum Filling
Ingredients
2 large egg yolks
1/2 can evaporated milk (6 ounces)
1/4 cup granulated sugar
1/4 cup packed light brown sugar (1-3/4 ounces)
3 tablespoons unsalted butter, cut into 3 pieces
1/8 teaspoon fine sea salt
2 ripe bananas, (about 10 ounces) mashed
1 teaspoons vanilla extract1 tablespoon dark rum
Directions
1. Whisk yolks in medium saucepan; gradually whisk in evaporated milk. Add sugars, butter and salt and cook over medium heat, whisking constantly, until sugars have dissolved.
2. Stir in bananas and continue to whisk until it comes to a boil, frothy and slightly thickened, about eight to 10 minutes. Transfer mixture to bowl, whisk in vanilla and rum. Cool until just warm, cover with plastic wrap and refrigerate until cool or cold, about two hours.
Grape Frosting
Adapted from Cook's Countryyield: about 2 cups  
Ingredients
1/2 cup (3-1/2 ounces) granulated sugar
1/8 teaspoon baking soda
2 tablespoons all-purpose flour
3 tablespoons cornstarch
1/4 teaspoon fine sea salt
1/2 cup whole milk
1/2 cup, plus 2 tablespoons grape jelly
1 teaspoons pure vanilla extract
3 drops violet food coloring (optional)
12 tablespoons (1-1/2 stick/6 ounces) unsalted butter, softened, cut into 12 pieces
Directions
1.Combine sugar, baking soda, flour, cornstarch and salt in medium bowl. Slowly whisk in milk until very smooth. Pour mixture and 1/2 cup grape jelly into medium saucepan. Cook over medium heat, whisking constantly, until mixture boils and is very thick, five to seven minutes. Transfer grape mixture to clean bowl and cool to room temperature, about two hours.
2. In stand mixer fitted with whisk attachment, beat cooled grape mixture, extract, remaining two tablespoons grape jelly and food coloring (if use) on low speed until combined, about 30 seconds. Add butter, one piece at a time, and beat until incorporated, about two minutes. Increase speed to medium-high and beat until frosting is light and fluffy, about five minutes. Refrigerate until firm, about 45 minutes.
Recipe Note
1. Grape-milk base can be made ahead and refrigerate for up to two days.
2. Frosting can be refrigerated in airtight container for one week. When ready to use, let stand at room temperature until softened, about one hour. Beat with stand mixer on medium-high speed until light and fluffy, about one minute.
3. Use food coloring sparingly or it will take over the grape flavor of the frosting.
Assembly
1. Line an eight-inch cake pan with plastic wrap with ample overhang, about six inches. Cut each cake in half horizontally. Place one cake layer on the bottom of prepared cake pan, spread approximately 1/3 banana filling over cake layer and top with another layer. Repeat with filling and cake layers until top with the fourth cake layer. Wrap cake with overlap plastic wrap and refrigerate for 30 minutes.
2. Remove cake from refrigerator, unwrap cake and place it on a serving platter or cake stand. Spread or pipe frosting  on top and side of cake.Garnish with chopped peanuts. Refrigerate cake for 30 minutes, Serve.