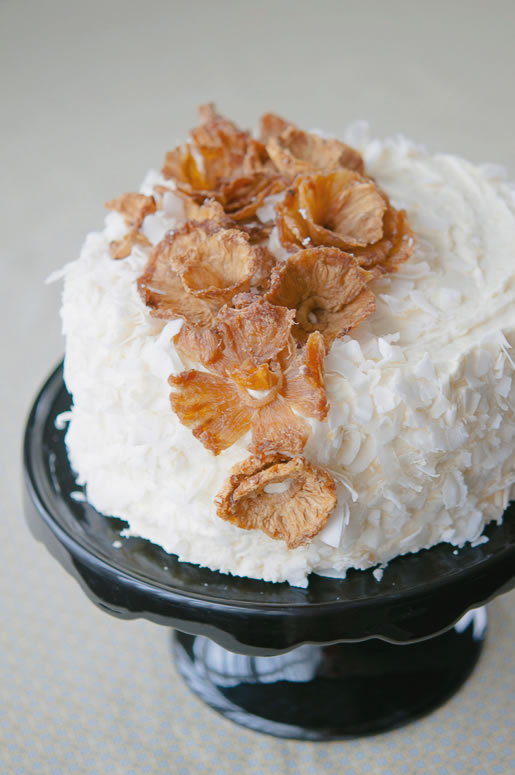 Now that summer is coming to an end, I'm charging full speed into my favorite flavor season. That doesn't just mean apples, cinnamon, pumpkins, and warm spices. There are more choices...
Pineapple and coconut are tropical fruits, but when was the last time in the northeast or other colder regions you heard someone refer to a "tropical fruit season"? In the northeast, they're imported from either Florida, Mexico or South America and are pretty much available year round. I'm very happy with this arrangement because I can use pineapple and coconut whenever I feel like making a dessert that can take me on a mini-vacation.
For this cake, I wanted to highlight the sweet and tangy taste of pineapple. Coconut, in the form of a chiffon cake, is the canvas that receives the pineapple in two ways. It appears as an intensely concentrated pineapple filling spiked with rum. Then the filling reappears in a frosting that's light and fluffy, yet intense enough to engulf your palette with pineapple. I use dried pineapple for decoration with floral-like slices, which also lend a contrasting texture and a fun way to make the flavor last just a bit longer.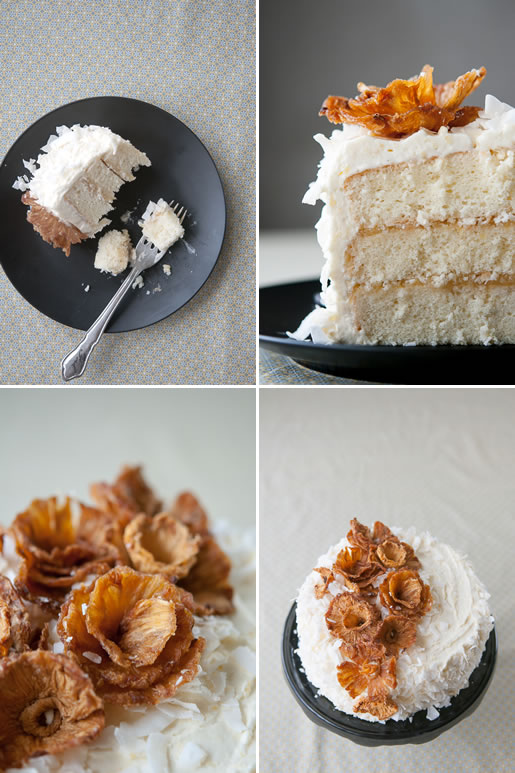 Pineapple Coconut Cake
yield: one 8-inch cake
Coconut Chiffon Cake
Ingredients
1-3/4 cups (7 ounces) cake flour
1 tablespoon baking powder
1/2 teaspoon fine sea salt
1 cup unsweetened shredded coconut
1-1/2 cups (10-1/2 ounces) granulated sugar, divided
8 large eggs, separated
1/2 cup coconut oil
3/4 cup water
1 tablespoon coconut rum
1 teaspoon pure vanilla extract
1 teaspoon coconut extract
1/2 teaspoon cream of tartar
Directions
1. Adjust oven rack to middle position and heat oven to 325℉. Line three 8-inch cake pan with parchment rounds, do not grease pans; set aside.
2. In a medium bowl, sift together cake flour, baking powder, salt, and 1-1/4 cup of sugar. Add shredded coconut. In a separate bowl, whisk together egg yolks, coconut oil, water, rum and extracts.
3. Make a well in the center of the dry ingredients and add wet ingredients. Whisk to combine, set aside.
4. In a grease-free mixing bowl, beat egg whites and cream of tarter with an electric mixer until light and foamy. Slowly add remaining 1/4 cup of sugar, beating until soft peaks form.
5. Whisk one-third whipped egg whites into batter. Using a rubber spatula, gently fold in the remaining egg whites mixture in three or more additions, until we'll combined.
6. Divide the batter evenly between prepared pans. Bake until tooth-pick inserted into center comes out clean, about 30-40 minutes.
7. Remove pans from oven and set over wire rack to cool for 20 minutes. Run a blade around the edge of the cake and invert to remove the cake from the pans. Peel away the parchment paper.
Pineapple Filling
Ingredients
2 pounds frozen pineapple, thawed and drained, reserve liquid
1/3 cup (2 1/3 ounces) granulated sugar
1/4 cup coconut rum or dark rum
1 tablespoon instant tapioca, grind to a fine powder
1/4 teaspoon fine sea salt
2 tablespoons unsalted butter
Directions
1. Pulse pineapple in food processor until coarsely ground, 8 to 10 pulses. Combine ground pineapple, sugar, rum, tapioca powder and salt to medium saucepan. Bring to boil over medium heat and cook until thickened, about 4-6 minutes. Off heat, stir in 2 tablespoons butter until incorporated. Transfer to bowl and refrigerate until set, at least 4 hours or up to 24 hours.
Pineapple Frosting
Ingredients
24 tablespoons (12 ounces) unsalted butter, softened
5 cups (20 ounces) confectioners' sugar
1/2 teaspoon fine sea salt
1 tablespoon coconut rum or dark rum
24 ounces cream cheese, cut into 24 pieces and softened
2 cups pineapple filling
Directions
1. In the bowl of a stand mixer fitted with a paddle attachment, mix butter, sugar and salt on low speed until combined, about 30 seconds. Increase speed to medium-high and beat until pale and fluffy, about 2 minutes. Add rum and then cream cheese, one piece at a time, and beat until incorporated, about 1 minute. Add pineapple filling, 1/2 cup at a time, and mix until combined. Refrigerate until ready to use, up to 2 days.
Assembly
Ingredients
2 tablespoon coconut rum or dark rum
1 tablespoon superfine sugar
Cake layers
Pineapple Filling
Pineapple Frosting
2-3 cups unsweetened coconut flakes or shredded coconut
Dried Pineapple slices for decoration (optional)
Directions
1. Place on cake layer on the bottom of cake stand or serving platter. Brush top of cake with rum syrup. Spread about 1/2 cup of pineapple filling over cake layer, top with another cake layer. Repeat until you have 1/2 cup of filling onto of the last layer of cake.
2. Spread frosting over top and sides of cake. Press coconut flakes into sides of cake and sprinkle evenly over top. Garnish with dried pineapples slices (if use). Refrigerate cake for 30 minutes, serve. (Cake can be refrigerated for 2 days. Bring to room temperature before serving.)