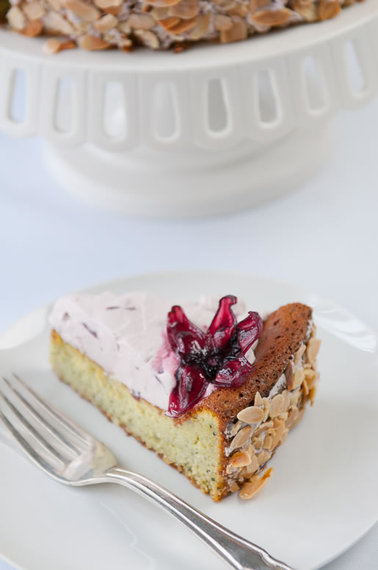 For the last few weeks, I've been changing up my workout routine, taking a class at my gym's branch in Rockefeller Plaza. It's an area I don't frequent because of the high density of tourists. For Atletica, though, I'm willing to push through the out-of-town gawkers for a good sweat.
 
Just when I thought I had down the routine of how to navigate through bustling Rock Center, I spotted a large unmoving crowd, blocking the pathways of the plaza.
 
It turned out that the tree -- the annual holiday tree taller than many buildings -- had arrived in the middle of mid-town. Lying on its side, enmeshed in cables and ropes  to hoist the  magnificent Connecticut spruce.
For the rest of that week, I dreamt beyond Thanksgiving, I want Christmas, I want to go beyond the season of brown food. The cake reflects my desire to skip ahead to December, taking a break from baking pies.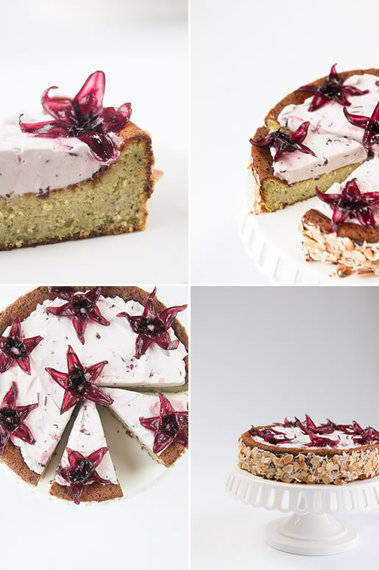 Matcha White Chocolate Cake w Hibiscus Cream
yield: one 9-inch cake
Ingredients
1 cup heavy whipping cream
1 tablespoon matcha powder
10 ounces white chocolate, finely chopped
5 large egg yolk, room temperature
5 large egg white, room temperature
1/2 cup/8 tablespoons (3-1/2 ounces) granulated sugar, divided
8 ounces cream cheese, room temperature
2 teaspoons pure vanilla extract
1 cup (4 ounces) almond flour/ground almonds
Directions
1. In a small saucepan, whisk together heavy cream and matcha powder. Bring mixture to a near boil, remove from heat.
2. In a medium bowl, add white chocolate, pour matcha cream over white chocolate. Allow mixture to sit for 1 minute, whisk until white chocolate has melted and smooth. Set aside to cool slightly.
3. Adjust oven rack to center position and heat oven to 350℉. Line bottom of one 9-inch round cake pan with parchment, set aside.
4. In the bowl of a stand mixer with a whisk attachment, add egg yolks and 6 tablespoons sugar, beat on medium-high speed until pale and creamy about 2-3 minutes. Reduce speed to medium, add cream cheese, one piece at a time, until incorporated. Add melted white chocolate and vanilla, until combined. Add almond flour and beat until fully incorporated.
5. In a clean medium bowl, add egg white whites, with an electric hand-mixer, beat to soft peaks. Slowly add remaining one tablespoon of sugar and beat until stiff peaks. Stir 1/3 of the egg whites into the batter until combined. Using a rubber spatula, gently fold in remaining egg whites until there are no white streaks remain.
6. Pour batter into prepared pan and bake until set, 45-50 minutes. Turn oven off and cool cake for an hour in oven with door ajar. Cover with plastic wrap and refrigerate cake until use.
Hibiscus Cream
Ingredients
1 jar Wild Hibiscus flower in rose syrup
1 cup heavy whipping cream
1/4 teaspoon pure vanilla extract
2 tablespoons granulated sugar
Directions
1. Finely chopped 6-7 hibiscus flowers, set aside. In a medium bowl, add 1/4 cup of hibiscus syrup (make sure you shake the bottle before spooning out the syrup), heavy cream and vanilla, with an electric hand-mixer, beat to stiff peaks. Stir in chopped hibiscus flowers and beat until combined. Cover in plastic wrap and refrigerate until ready to use.
Assembly
Matcha White Chocolate Cake
Hibiscus Cream
1/2 cup sliced almonds, toasted
6-7 hibiscus flower for garnish (optional)
Directions
1. Remove cake from pan and place it on a plate or 9-inch card board round. Spread a thin layer of hibiscus cream on the side of the cake and gently press sliced almonds on the side. Spread remaining hibiscus cream in the center of the cake, smooth top with off-set spatula. Decorate with hibiscus flower. Serve or refrigerate until ready.