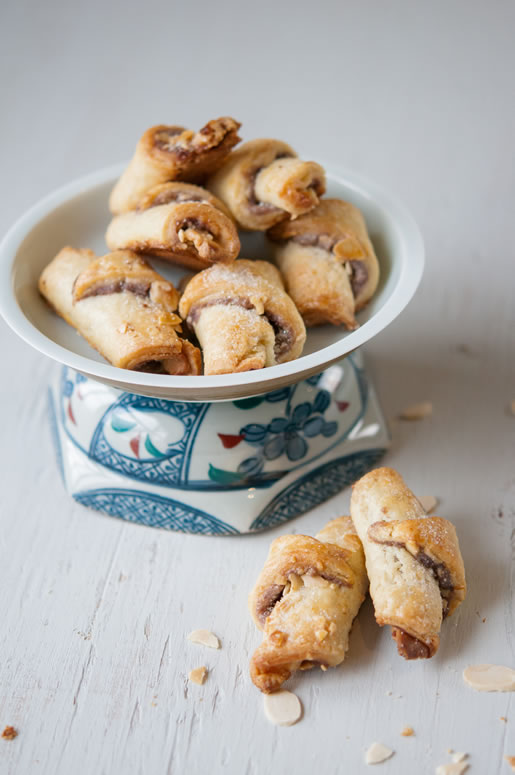 I have expressed my desire to attend a Seder for the last two years, and still, no Passover celebration. Most likely it's going to be myself and the rest of the goyum at a half-empty gym again. Oy, so what must I do to get an invitation? Walk around the streets of Manhattan with a Seder plate? You'd plotz for my charoset.
I'll just make myself a big brisket and chew on some bitter herb and pretend I'm at a seder. What I ask is such a bisel. Whatever happened to the Chinese-Jewish bond? My people served your people dinner on Christmas Day during all those years when no other restaurants were open. It's tradition! Is it so much to ask to pay back the favor? Be a mench, already.
Ok, no more kvetching... for now. I just slaved in the kitchen so you would have something to nosh. No, no, don't worry about me. I'm fine. You eat. I made them just for you -- Rugelach with Almond-Azuki Bean Filling.
These Jewish pastries reach a new not-quite-kosher-for-Passover cultural mish-mash with the injection of a popular Asian dessert ingredient: azuki beans (a.k.a red beans), which are used in Chinese culture to make desserts, sweet soups and fillings. The color is considered lucky, so the beans are commonly used for all festive occasions. I think these auspicious rugelachs will bring mazl to any seder -- or Chinese dinner, for that matter. With a little mazl, may be I'll even receive an invitation for next year.
plotz -- burst
charoses -- chopped fruit and nuts; one of the symbolic foods of the seder plate
a bissel -- a little
mench -- a good or respected person
kvetching -- whining, complaining
mazl -- good luck
Me ken lecken di finger -- It's delicious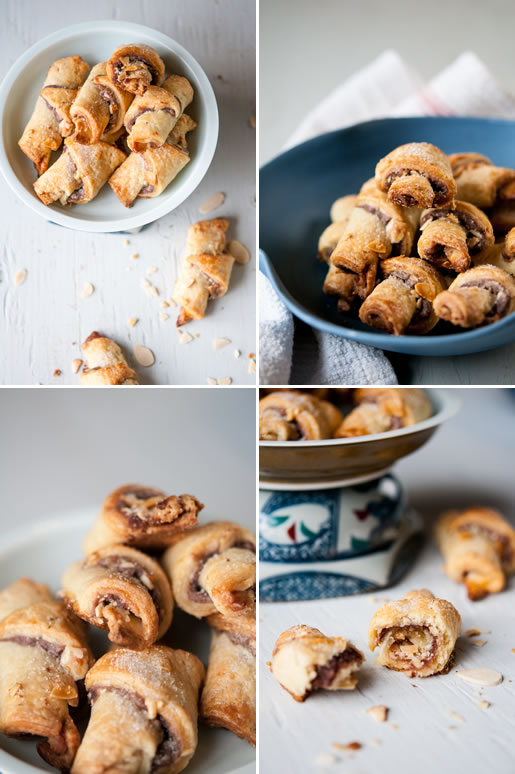 Rugelach w Almond-Azuki Bean Filling
yield: 32 cookies
Dough
adapted from Cook's Illustrated
Ingredients
2-1/4 cups (11-1/4 ounces) unbleached all-purpose flour
2 tablespoons granulated sugar
1/4 teaspoon table salt
8 ounces unsalted butter (2 sticks), chilled and cut into 1/4-inch pieces
8 ounces cream cheese, chilled and cut into 1/2-inch chunks
2 tablespoons sour cream
Directions
1. Pulse flour, sugar, and salt to combine in food processor fitted with steel blade. Add butter and cream cheese pieces and sour cream; pulse until dough comes together in small, uneven pebbles the size of cottage cheese curds, about sixteen 1-second pulses. Turn mixture onto work surface, press gently until it comes together. Divide dough into four equal portions, and press each into 4 1/2-by-3/4-inch disk. Place each disk between two sheets plastic wrap; roll out to form 9-inch circle (don't worry if disk is not a perfect circle. Stack dough circles on plate; freeze 30 minutes. Meanwhile, prepare filling.
Almond-Azuki Bean Filling
Ingredients
1 cup almond paste
1 cup sweetened azuki bean paste
1/4 cup granulated sugar
2 cups sliced almonds, toasted
Directions
1. Place 1/4 cup of almond paste between two sheets plastic wrap; roll out to form 9-inch circle. Set aside.
Assembly
1. Working with one dough round, remove from freezer and place a disk of almond paste on it. Spread 1/4 cup azuki bean paste then sprinkle 1 tablespoon of sugar, follow by 1/4 cup of toasted almonds; pat down gently with fingers. Cut dough round into eight wedges. Roll each wedge into crescent shape and place at 2-inch intervals on parchment paper-lined heavy rimmed baking pans. Freeze crescents at least 15 minutes. (Frozen crescents, if well-wrapped, can be frozen in a zipper-lock bag up to 6 weeks.) Repeat with remaining dough rounds.
Glaze
Ingredients
1 large egg yolk
1 tablespoons milk
About 2 tablespoons granulated sugar, for sprinkling
Directions
1. Adjust oven racks to middle positions and heat oven to 375 degrees. Whisk egg yolks and milk in small bowl until smooth. Brush top and sides of frozen crescents with egg-milk mixture. Bake crescents, turning baking pans from front to back halfway through baking time, until pale gold and slightly puffy, about 25 minutes. Immediately sprinkle each cookie with granulated sugar; carefully transfer hot, fragile cookies to cooling rack using thin-bladed spatula. (Can be stored in an airtight container up to 4 days.)