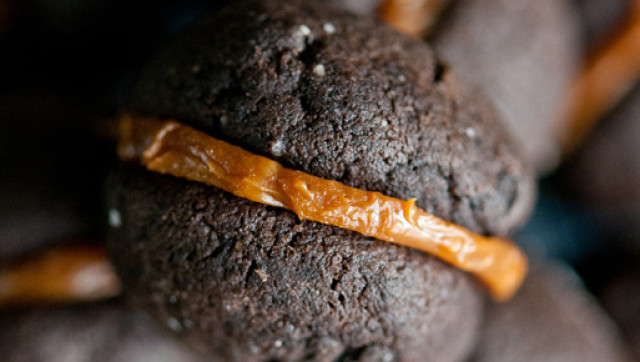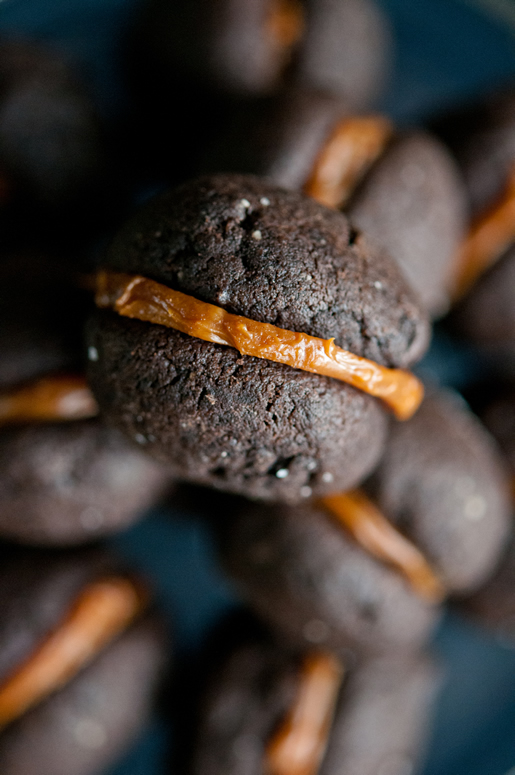 Are you a hugger or a kisser? How do you greet your friends and family? A hug, kiss, or both? For acquaintances, do you kiss one check or both.?
A kiss on the cheek may be quite continental, but hugs are this boy's best friend. When I greet someone, unless it is in a VERY formal setting, I like to say hello with a hug. Much like a handshake, you can tell a lot from the interaction. I know if that person is warm, reserved, noncommittal, or uncomfortable. Hugging isn't for everyone--so shaking hands will have to do. Just make it a good one.
I offer you these chocolate creamy caramel bites--sweet hugs with warm wishes from me to you.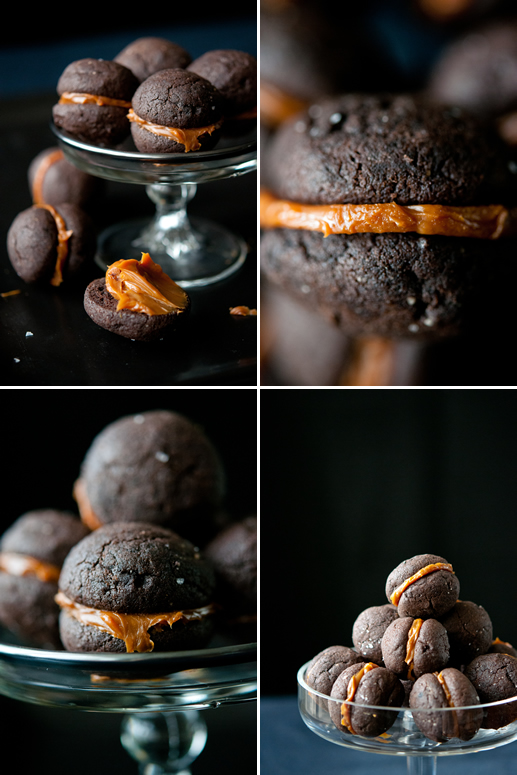 Midnight Kisses (Chocolate-Dulce Sandwich Cookies)
recipe adapted from Cook's Country
yield 24 cookies
Ingredients
2 tablespoons almond flour
1-1/2 cups (7-1/2 ounces) unbleached all-purpose flour
1/4 cup (3/4 ounces) Dutch-processed cocoa
1/2 teaspoon fine sea salt
1/4 teaspoon instant espresso powder
1/8 teaspoon cayenne pepper
12 tablespoons ( 6 ounces) unsalted butter, softened
1/2 cup (3-1/2 ounces) granulated sugar
4 ounces bittersweet chocolate, melted and cooled
2 large egg yolks
2 tablespoons Kahlua (coffee liquor)
1 teaspoon vanilla extract
Malden Sea Salt (flake sea salt)
1/4 cup dulce de leche
Directions
1. Adjust oven racks to upper-middle and lower-middle positions and heat oven to 350 degrees. Line 2 baking sheets with parchment paper. Combine almond flour, AP flour, cocoa, salt, espresso and cayenne in a bowl, set aside.
2. Using a standing mixer fitted with paddle, beat butter and sugar on medium-high speed until pale and fluffy, about 2 minutes. Add melted chocolate, egg yolks, liqueur, and vanilla; beat until incorporated. Reduce speed to low, add flour mixture in 3 additions and mix until just combined, scraping down bowl as needed.
3. Roll dough into 1-inch diameter balls (about 2 teaspoons) and place 1 inch apart on prepared sheets. Sprinkle Malden sea salt on top, pressing lightly to adhere. Bake until edges appear dry, 8 to 10 minutes, switching and rotating sheets halfway through baking. Let cookies cool on sheets for 5 minutes and then transfer to wire rack to cool completely, about 40 minutes.
4. Spread 1/2 teaspoon dulce de leche over bottom of half of the cookies and then top with remaining cookies to form sandwiches. Serve. (Cookies can be stored at room temperature for up to 3 days.)