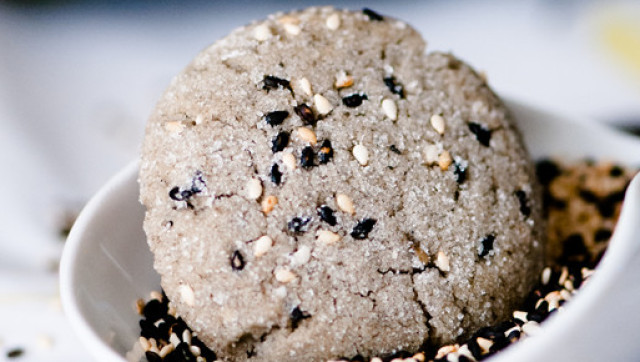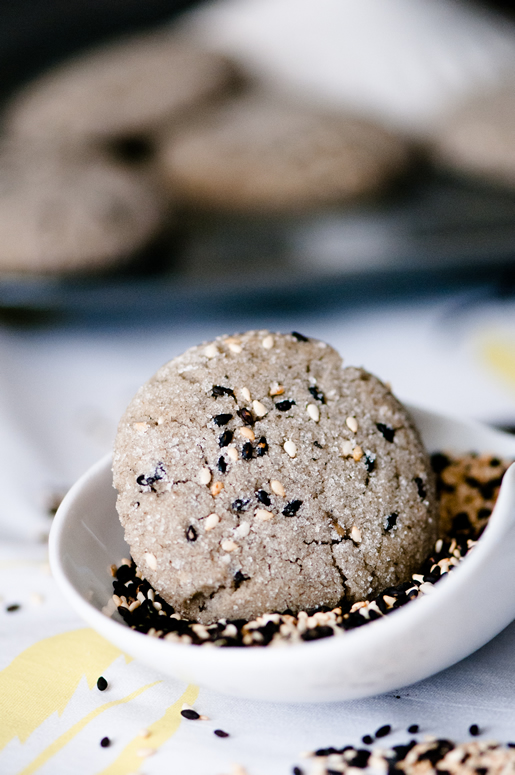 I'm re-touring my favorite flavors and/or ingredients one by one from our Asia trip to prolong our sensory vacation. An ingredient high on the list is black sesame, which has much deeper flavor and aroma than its paler relatives.
Sesame--whether in seed, paste, or oil form--are use in different cuisines, but it's pervasive in Asian dishes. The Chinese uses sesame oil in numerous savory dishes, but it was the sweet Black Sesame Soup and Black Sesame Rolls that captured my heart when I was young and etched an everlasting food memory.
In the last several years, I discovered a combination that took the flavor to a new level of east-west enlightenment: black sesame and butter in baked goods. Given all the other ingredients I want to explore, however, even this favorite will have to wait for its turn in the oven.
The simplicity of these cookies can be deceiving--they pack an intense black sesame punch. On these cold winter days, they go beautifully with a cup of tea or coffee.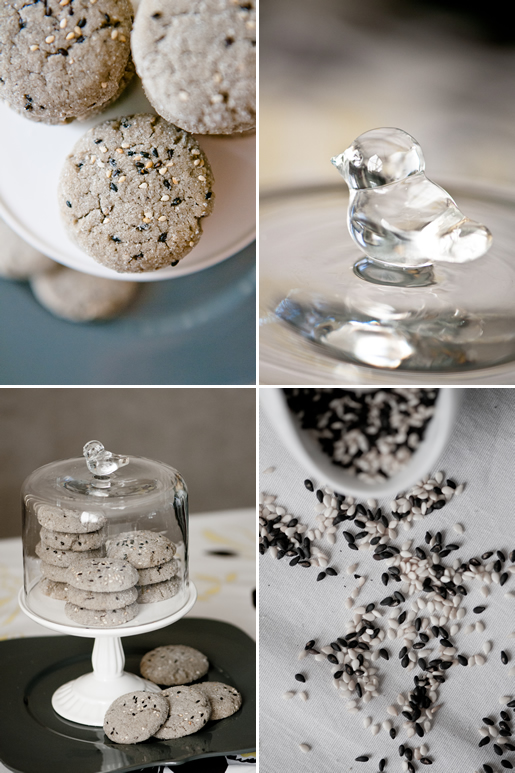 Black Sesame Cookies
yield: 30 cookies
Ingredients
12 tablespoons (6 ounces) unsalted butter, divided
2 tablespoons black sesame paste
1 tablespoon rice wine vinegar
2 cups all-purpose flour
1 teaspoon baking powder
1/2 teaspoon fine sea salt
2 tablespoons sesame seeds, mixed, black or white, toasted
1-1/4 cup granulated sugar, divided
1 large egg, room temperature
1-1/2 teaspoons pure vanilla extract
1/2 teaspoon pure almond extract
Directions
1. Adjust oven rack to middle position and heat oven to 375 ℉. Line three baking sheets with parchment paper or silpat; set aside.
2. In a small sauce saucepan, melt 4 tablespoons of butter over medium heat. Remove from heat and add black sesame paste and vinegar; stir to combine.
3. Whisk together flour, baking powder, salt and 1 tablespoon of sesame seed. set aside.
4. In standing mixer fitted with paddle attachment, combine butter and sugar, beat on medium speed until light and fluffy, 1 to 2 minutes. Add black sesame butter, egg and extracts, continue to beat until combined, about 1 minute. Reduce speed to medium-low and add flour mixture, mix until combined.
5. Stir together remaining 1/4 cup sugar and 1 tablespoon of sesame seed. Roll spoonfuls of dough into 1-inch balls; roll them in sugar/sesame seed mixture. Place 2 inches apart on baking sheets. Flatten each ball with the bottom of a glass to 1/4 inch thick.
6. Bake until just browned around bottom edges, about 10 minutes. Transfer to wire racks; let cool completely. Store in an airtight container up to 1 week.