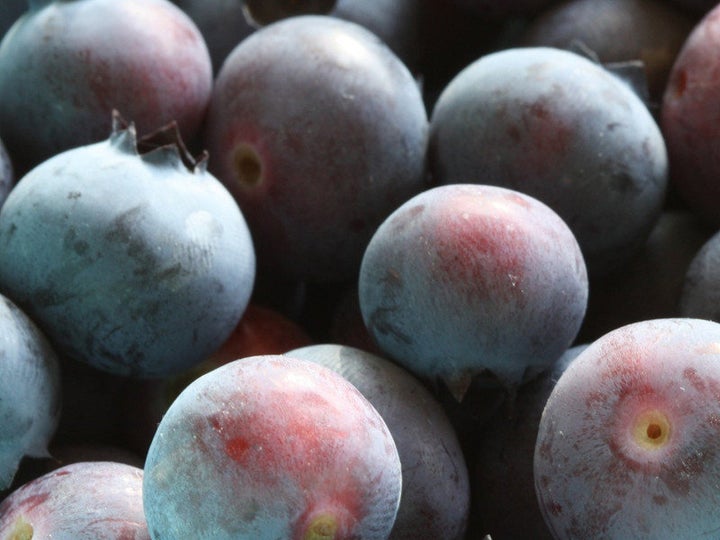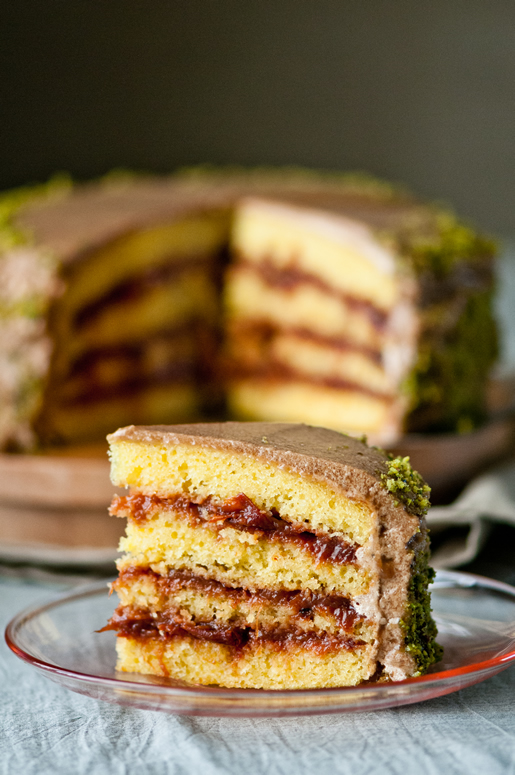 Now is the time of year when M and I plan our annual visit to my family in Asia--and a side trip for the real vacation part of our journey. This year, Japan with friends is the destination, and culinary adventures await.
Lately though, I've also been thinking about Morocco since talking to my friend, Khadija, who has been working on her new venture, Kenza, Pure Moroccan Beauty Oils. They're handmade by women's cooperatives in Morocco, and the company provides financial assistance to women in Morocco and the US. My favorite oil is argan and prickly pear.
When I dream of Morocco, I see sacks of spices and stacks of colorful fabrics in the local markets. I inhale intoxicating aromas from home kitchens and local restaurants. Back in reality, Khadija always brings me the freshest spices (saffron, cardamom, and more) from her regular visits to Morocco. Now that the weather is cooler, the combination of these spices is just the perfect scent to warm up any home.
Making this recipe is a broader sensory experience than most others. Plums with brandy and cinnamon glisten as you sautᅢᄅ them on the stove top. Not long after your start baking the cake, the vibrant notes of saffron permeate the kitchen. Then, the spicy scent of chai, cardamom, and cinnamon as it whips into the frosting suggests the exotic experience to come. It might take us a while to get to Morocco, but in the mean time, this cake will fuel our imaginations.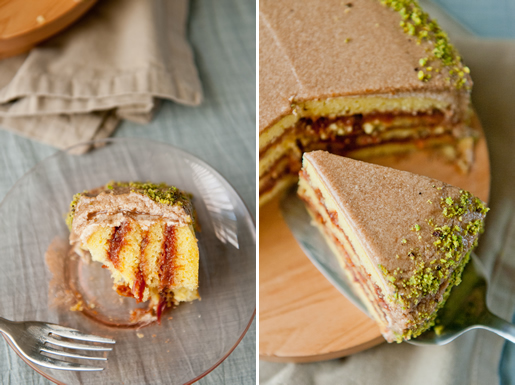 Chai Saffron-Plum Cake
recipe adapted from Cook's Illustrated
Ingredients
2 large eggs, room temperature
1/4 cup whole milk, room temperature
1 teaspoons pure vanilla extract
1/4 teaspoon saffron threads
3/4 cup, plus 2 tablespoons (3-1/2 ounces) cake flour
3/4 cup (5-1/4 ounces) granulated sugar
1 teaspoon baking powder
1/2 teaspoon fine sea salt
8 tablespoons (4 ounces/1 stick) unsalted butter, cut into 4 pieces, softened
Plum Filling, recipe to follow
Chai Frosting, recipe to follow
1/2 cup pistachios, finely chopped (for garnish, optional)
Directions
1. Adjust oven rack to lower-middle position and heat oven to 350℉. Grease two 6-inch cake pans with butter or cooking spray and cover pan bottoms with rounds of parchment paper. Grease parchment rounds, dust cake pans with flour, and tap out excess. Set aside.
2. Beat eggs, milk, vanilla and saffron with fork in small bowl, set aside. Combine flour, sugar, baking powder, and salt in bowl of standing mixer fitted with paddle attachment; mix on lowest speed to blend, about 30 seconds. With mixer running, add butter one piece at a time; mix until butter and flour begin to clump together and look sandy and pebbly, with pieces about the size of peas, 30 to 40 seconds after all butter is added.
3. Add about 2/3 of egg mixture and mix on low speed until incorporated, 5-10 seconds. Increase speed to medium-high and beat until light and fluffy, about 1 minute. Add remaining egg mixture in slow steady stream, about 30 seconds. Stop mixer and thoroughly scrape sides and bottom of bowl. Beat on medium-high until thoroughly combined, about 20-30 seconds.
4. Divide batter equally between prepared cake pans; spread to sides of pan and smooth with small off-set spatula. Bake until cake tops are light golden and skewer inserted in center comes out clean, 20-22 minutes. Cool on rack 10 minutes. Run a knife around pan perimeter to loosen. Invert cake onto large plate, peel off parchment, and re-invert onto lightly greased rack. Cool completely before icing.
Plum Filling
Ingredients
1/4 cup (2 ounces) light brown sugar
3 tablespoons unsalted butter
Pinch of fine sea salt
5 medium size plum (I used fortune plums), pitted and cut into eight wedges
1 tablespoon rum
1/8 teaspoon cinnamon
Directions
1. Add sugar, butter and salt in a 12-inch skillet and cook over medium heat until sugar is melted. Add plum wedges, increase heat to medium-high and continue to cook until mixture resembles a chunky jam-like consistency, about 6-8 minutes
2. Remove from heat and stir in cinnamon and rum, cool to room temperature.
Chai Frosting
adapted from Cook's Country
Ingredients
1 cup whole milk
5 chai tea bags
1/4 teaspoons ground cardamom
1/4 teaspoon ground cinnamon
3/4 cup (6 ounces) packed light brown sugar
1/8 teaspoon baking soda
2 tablespoons all-purpose flour
3 tablespoons cornstarch
1/4 teaspoon fine sea salt
1 teaspoons pure vanilla extract
1/2 teaspoon pure almond extract
12 tablespoons (6 ounces/1-1/2 stick) unsalted butter, softened, cut into small pieces
Directions
1. Add milk, tea bags, cardamom and cinnamon in a small sauce pan and bring to a simmer. remove from heat and let steep for 30-45 minutes, cool to room temperature. Remove tea bags and measure 3/4 cup, set aside.
2. Combine sugar, baking soda, flour, cornstarch, and salt in medium bowl. Slowly whisk in milk mixture until very smooth. Pour mixture into medium saucepan. Cook over medium heat, whisking constantly, until mixture boils and is very thick, 5 to 7 minutes. Transfer milk mixture to clean bowl and cool to room temperature, about 2 hours.
3. In stand mixer fitted with whisk attachment, beat cooled milk mixture and extract on low speed until combined, about 30 seconds. Add butter, 1 piece at a time, and beat until incorporated, about 2 minutes. Increase speed to medium-high and beat until frosting is light and fluffy, about 5 minutes. Refrigerate until firm, about 45 minutes.
Recipe Note
1. Adjust the quantity of tea bags base on the strength of your tea.
2. Milk base can be made ahead and refrigerate for up to 2 days.
3. Frosting can be refrigerated in airtight container for 1 week. When ready to use, let stand at room temperature until softened, about 1 hour. Beat with stand mixer on medium-high speed until light and fluffy, about 1 minute.
Assembly
1. Cut each cake in half horizontally. Place one cake layer on the bottom of cake stand or serving platter, spread approximately 1/3 plum filling over cake layer and top with another layer. Repeat with filling and cake layers until top with the 4th cake layer.
2. Spread or pipe frosting on top and side of cake. Garnish with pistachios. Refrigerate cake for 30 minutes, Serve.