On occasion, someone will send me a story which needs a larger audience and nothing else from me. This is such a story, sent (along with the photo) from Anne Sallot.
Dear Mr. White,
I just have to write you to tell you about our Maggie Mae, the sweetest member of our family.
Maggie is a Shetland Sheepdog mix and came to me from PHS in July 1999 when she was 1 - 1 ½ years old. It was a very difficult time in my life and she came bouncing in and brought joy and energy with her. Not only that, within a few months, she brought me my husband - he fell in love with her before me!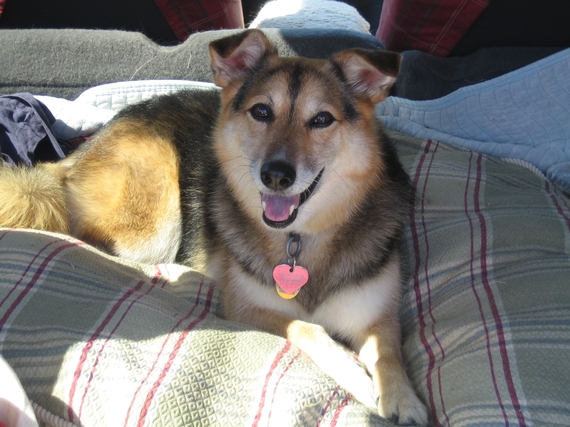 I prayed she would be with me for at least 10 years and now she's 16 ½ and is still bringing joy and energy into our lives. My husband walks her religiously every night - just last night they walked 4 ½ miles! She's a little hard of hearing and her eyesight's not the best, but she still chases her tail as well as the squirrels. One of my greatest joys is to watch her, every night, as she bounces down the porch steps to head out on her walk, then marches down the street with a huge smile on her face, her ears flopping with every step, and her tail joyously wagging. I smile as my eyes well up and I walk back up the driveway into the house to wait for Maggie and Jim to come home, which is whenever she decides - anywhere from 15 minutes to 2 hours later! I've attached a 'few' photos - I thought you might like to see some pictures of the pooch I so brazenly brag about!
So it is with a full heart that I thank you and all the staff at the Peninsula Humane Society for saving Maggie... so that she could save me.
Gratefully yours,
Anne Sallot
P.S.: This is the work not just of the Peninsula Humane Society & SPCA, but of every one of the thousands of humane societies, SPCAs, and animal care and control organizations across the nation. We're each independent (no national affiliations), and we're each working to find homes for the animals in our care. If you're interested in adopting, volunteering or donating and are not sure who is doing the work in your community, just send me an email and I'll be happy to connect the dots for you.