I'm on the long flight from JFK to Malawi via South Africa, and I'm worried. Our nonprofit, the Face-to-Face AIDS Project, is having its first major youth event in which our rural youth group is hosting a sports tournament for eight villages. We're calling it the Kang'oma Youth Tournament of Hope, a two-day event with eight soccer teams for the boys and eight netball (a cross between basketball and ultimate frisbee) teams for the girls.
While the youth are very excited about winning the tournament, the real goal is for an existing youth group to help establish new youth groups in neighboring villages. We're expecting thousands of people to attend, including scores of traditional chiefs and perhaps members of parliament. Our Malawi field staff of two, both of whom started working for Face-to-Face as our drivers, are organizing this event on a very shoestring budget.
How could I not be worried?
What We Don't Do
Over the eight years of working in Malawi, one of the poorest countries in the world, I've learned a lot of what we can't provide. It's like growing out of childhood idealism -- you go from imagining what you can do to understanding more about what you can't do.
Here's my list and reasons of what we try not to provide as a charity:
food (necessary at times, but free handouts have consequences)
seed or fertilizer for monoculture maize farming (need I say more about corn and drought?)
water pumps and wells (if everyone drilled for water, there will be no water for anyone)
medicines such as antiretroviral medicines for HIV (we facilitate access to medicines)
infrastructure, such as electrical systems and roads (too costly)
scholarships or building schools (too costly, besides, learning about organic farming has more relevance in our youth's lives than studying the French Revolution)
technology (we'd love it if it's practical, cheap, and local)
anything that relies on an economy (economies crumble in the face of inflation, instability, or drought)
In fairness, we've provided many of the above services, and in some cases, we still have projects that utilize them. But over the years, we're turning our focus to something different. Something more akin to nothing.
Nothing Leads to Something
Our mission has come to focus less on "we give and they receive." Rather, we facilitate public meetings where chiefs and leaders discuss what they might do to help all of their people. We try not to lead these meetings. We try -- as best we can -- to keep our thoughts to ourselves.
The purpose here is to nurture a mindset of community responsibility, service, and discovery. In other words, we try to make residents believe that they can make impoverished, drought or disease-affected villages into nice places to live. We try to nudge them into believing that they can do this on their own.
I think of it like this -- instead of providing the seeds to grow crops, we help villagers prepare the soil so that whatever seeds of improvement they want to try might have a better chance of taking root.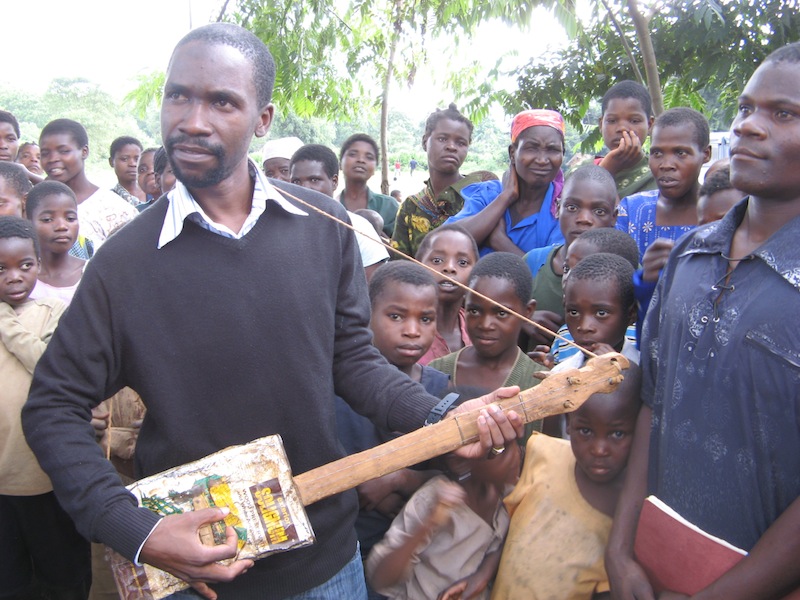 So at these meetings, Mike, Arichie (right, playing an oil can banjo), and myself (when I'm in Malawi), try to let the chiefs, leaders, and villagers talk. Oh sure, we can't help but nudge, suggest, wince, applaud, nod or twitch our heads in perplexity... and that, I'll admit, is mostly me. Mike and Arichie are much better at keeping their thoughts to themselves.
But how these meetings can bear fruit over time! In 2008, Kang'oma was a typical impoverished village; now it's one in which most people have been tested for HIV, HIV patients are active, visible members of the community, scores of mostly illiterate women have learned basic home-based health care skills, hundreds of trees have been planted, and there's a movement away from maize monoculture and toward organic, sustainable farming and composting.
There's also an active youth group who've educated thousands of residents about AIDS and have prompted at least hundreds of people to get tested for HIV. They also help disabled farmers with farm chores, clean the local clinic which has no running water twice a month, and work an experimental organic garden with the help of a agricultural specialist. From the original group of 16 youth, they now say that their meetings attract over a hundred youth.
The Worry List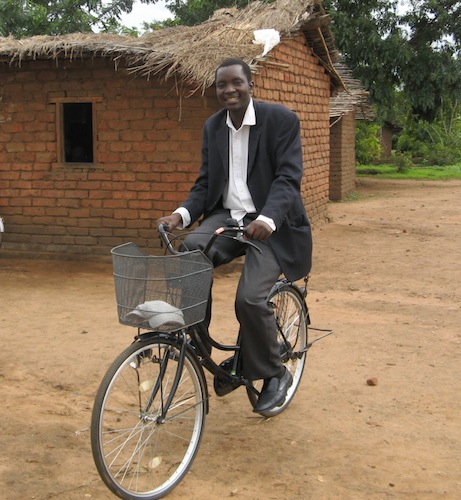 So here I am, on my way to witness Mike (on the bicycle) and Arichie, our Kang'oma Youth Group, and village leaders pull off what is probably the biggest event that's ever happened in Kang'oma. Have they notified the press? Have they made sure they're taking care of the visiting youth groups and chiefs and leaders? Are they prepared for an accident or injury?
Have they remembered that the purpose of the tournament is to emphasize how youth groups can transform a village, and have they prepared the dances, dramas, speeches, and workshops to convey this to the crowd?
Have they thought about how they'll engage the visiting Crossfit Gym members from Switzerland, who've done crazy endurance sports-a-thons and other events to raise money for Face-to-Face and Kang'oma?
Have they found enough banana plants that they can use as goal posts?
Would I be doing my job in charity if I didn't worry about all this details?
Here to Stay Out
Well, perhaps... yes. I should not worry.
Maybe the best thing for charity to do is to come here and to stay out of the way. This is their undertaking, their ownership, and their responsibility. If nothing else, the event will bring together all these villages like never before. And surely the new villages will see all the trees growing in Kang'oma, those compost piles, those fields with the varieties of vegetables planted in new ways. And surely the new youth groups will think that those Kang'oma youth are cool and perhaps they'll want to form groups just like them.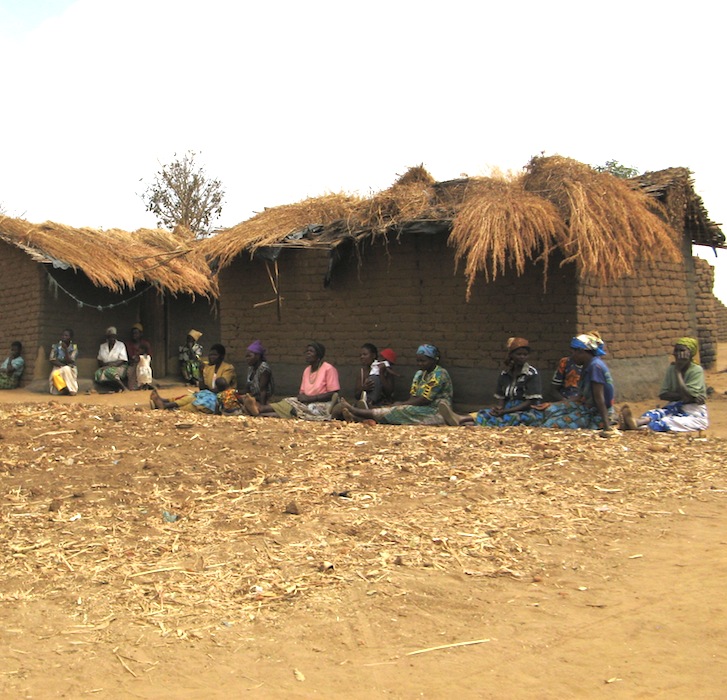 Surely people will have a good time. Surely there'll be lots of singing and dancing. And laughing. Especially when they throw me in the middle and I have to dance in front of everyone.
This is their time, and their taking ownership, and their not relying on charity.
So, with a good many hours before we land in Africa, as I'm about to turn off my laptop, I'll have a bit more wine, after which it's ear plugs, an eye mask, and a little white pill... May I wake up later free from worries and ready to see what exciting, unforeseeable good things may happen.
* * * * * * * * * *
Ken Wong is the director of the Face-to-Face AIDS Project, a Brooklyn-based nonprofit helping impoverished communities in Malawi and Cambodia. For more information, please visit www.facetofaceaids.org. The Face-to-Face AIDS Project thanks the Isora Family Foundation in New Mexico, the Granny Connection in Indiana, Crossfit Gym in Zurich, Switzerland, and individual donors for supporting our work in Kang'oma. For further information about the Face-to-Face AIDS Project and how you can help support our students in Cambodia, or to donate to the Face-to-Face AIDS Project, please visit the Contact & Donate page at www.facetofaceaids.org. Special thanks to Mitch Farrar of Sydney Australia. All photos taken by author unless otherwise noted.