When Google gives you $10,000,000 in office space, you take it, right? Well, that is until you open a school for geniuses on New York City's forgotten island. Yes, ladies and gentlemen, you now have a reason to travel to Roosevelt Island - it only took the Israel Ministry of Tourism helping me get to Haifa, Israel to be able to give you this insight. During my recent trip to Israel, I visited the Technion - Israel Institute of Technology, a university that is described by locals as "the MIT of Israel."
During my visit to Technion, officials shared the story of Israel as a startup nation and the innovative Technion-Cornell Innovation Institute (TCII), which has set up temporary shop at Google's New York office in the heart of Chelsea. If all goes according to plan, TCII is poised to make NYC a magnet for tech talent and entrepreneurship through the development of super-tech entrepreneurs. Over the past six decades, Israel has become a beacon of technological breakthroughs due to the agile, startup perspective of its citizens. Bringing Israel's leading school of innovation to the cultural mecca of New York City is a recipe for disruptive change. As New York City's economic engine becomes technology, what would be a better space to explore for New York's most popular entrepreneur?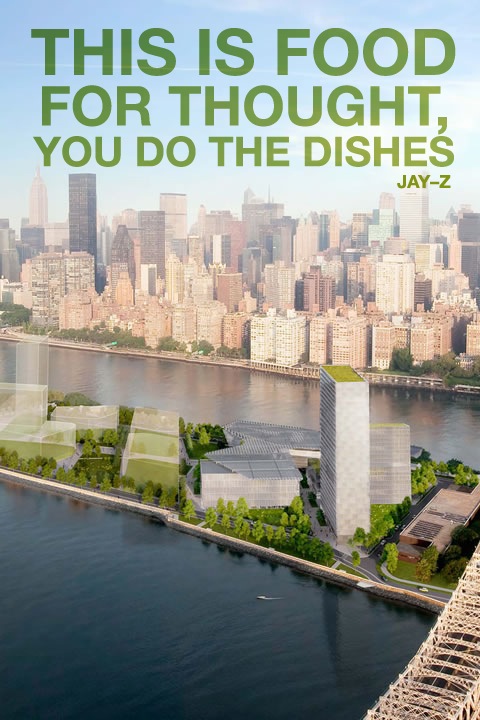 Four months ago, Jay-Z declared at the opening night of the Barclay's Center in Brooklyn, NY: "I believe every single person has genius level talent. I think we just have to find that genius and then figure out how to apply that genius." Mayor Bloomberg and the city of New York are betting that master's degree candidates in the applied sciences will want to apply their genius at TCII. The innovative model of TCII, which bridges academia and enterprise, will address the shortage of genius level talent for NYC's private and public companies.
Companies partnering on Roosevelt Island, include young startup, Artsy; nonprofit, Robin Hood Foundation; management consulting company, McKinsey & Company; and Google itself. The aforementioned brands all have a lot to gain from their partnership, but no more than successful businessman and brand, Jay-Z. The following are two reasons why Jay-Z should invest in Roosevelt Island:
Talent. The tech talent that is needed to fuel the future of all of Jay-Z's enterprises will eventually flow out of TCII. Cornell's president, David J. Skorton confirms, "The (Cornell NYC Tech) campus was set up specifically to increase the talent pool in New York City". As tech becomes more integral to connecting with citizens and consumers, Jay-Z can take a step to ensuring his enterprises are staffed with genius level talent.
Entrepreneurship. From the street to the suite, Jay-Z has said "yes" to the right opportunities - time and time again. Since his SC | Enterprises is headquartered in New York, Jay-Z should be aware of how TCII will impact his city, Dr. Skorton notes that the campus is designed to positively influence the New York City economy. In the same way Massachusetts Institute of Technology (MIT) influences Massachusetts technology scene and Stanford have collected over $1 billion in royalties from market innovations linked to the school, one day TCII will powerfully impact the tech scene in New York. Jay-Z can add to the long list of his innovative partnerships by aligning his brand with a school that has an interest in developing the next generation of New York hustlers.