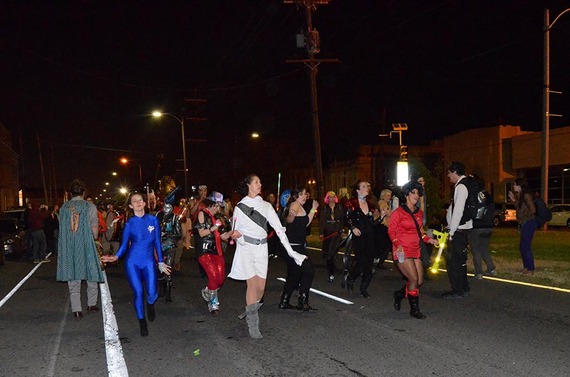 Mardi Gras. The time when parades occur. Beads are thrown. Drinks are drank. Geeks are on the move.
Wait, what? Geeks??! Why yes... New Orleans Geeks! Saturday night, in the Marigny, thousands turned out for our Mardi Gras Science-Fiction/Fantasy/Cosplay parade: The Intergalactic Krewe of Chewbacchus!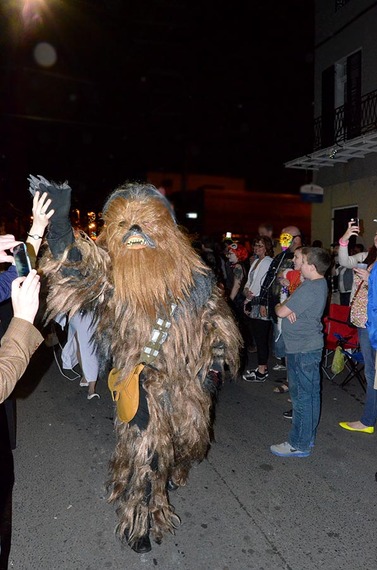 High Fiving the Drunken Wookie
Because I have a girfriend who is a krewe co-captain, and several geek friends who are captains, parade mistresses and ChewbacchanAliens, I have the privilege of being involved in watching various aspects of planning and executing this awesome parade. I began my coverage of the event at the home of Elena Wolf, who with Lauren DeVoe captains the Krewe of Party Elves Of Mirkwood.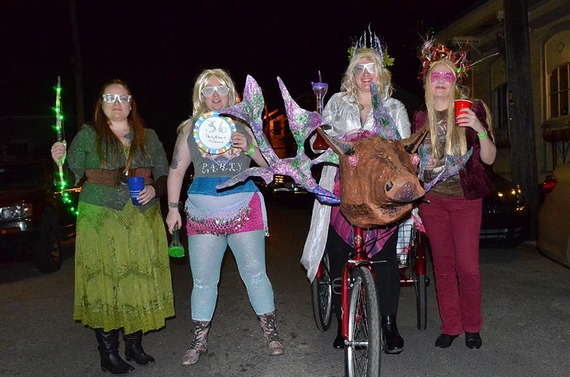 LtoR, Annie, Lauren, Elena, and Elizabeth of the Party Elves of Mirkwood
I arrived at Party Elf central just in time to complete the Moose Mobile. Chewbacchus is a DIY parade, meaning all costumes and contraptions are handmade by the krewes. There are no tractor pulled floats like in the larger parades: Contraptions are bicycled or hand pushed/pulled/cajoled. The Party Elves created a Moose Mobile to parody the elk ridden by The Hobbit character King Thranduil. That's how ChewbacchanAliens roll.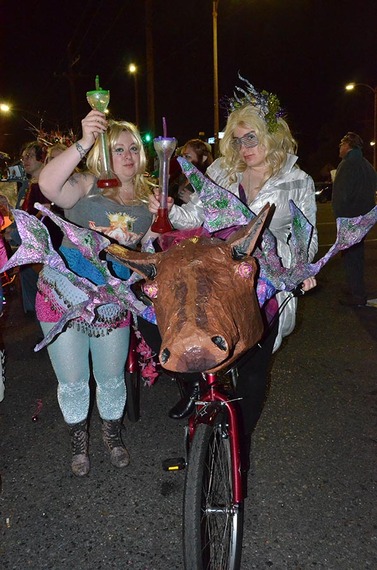 I followed the Party Elves to the secret lair of the Intergalactic Krewe of Chewbacchus in the Marigny, where various geeks, aliens, trekkies and whovians were preparing to roll. I caught some great shots of the costumes and contraptions there.
Above, the Krewe Of P. U. E. W. C., (People For The Inclusion Of Unicorns, Elves and Winbots In Chewbacchus) gather to parade. Midori Tajiri is center, holding the banner. Below, parade mistress Gin Walker keeping the aliens in line. Literally.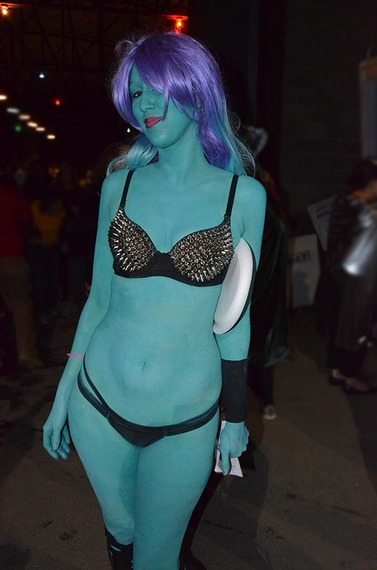 As the paraders lined up, I scurried over to Frenchmen Street, where I planned to watch the parade roll by. It was a madhouse! Last year there were an estimated 20,000 people watching Chewbacchus. From where I stood on Frenchmen Street at eight o'clock, I'd say that number had tripled this year. the crowds were overwhelming, waiting for the event. At about 20 past eight or so, the parade rolled up Frenchmen.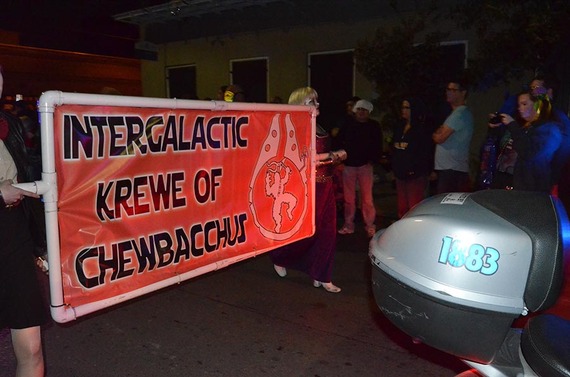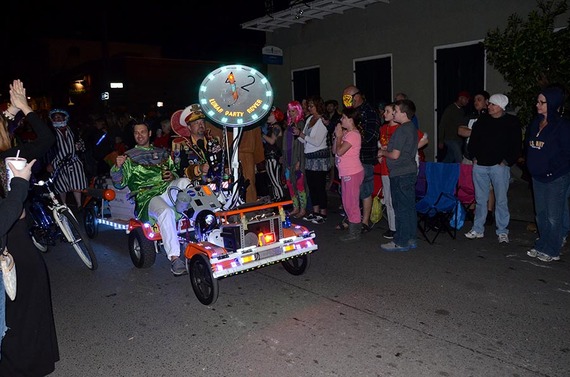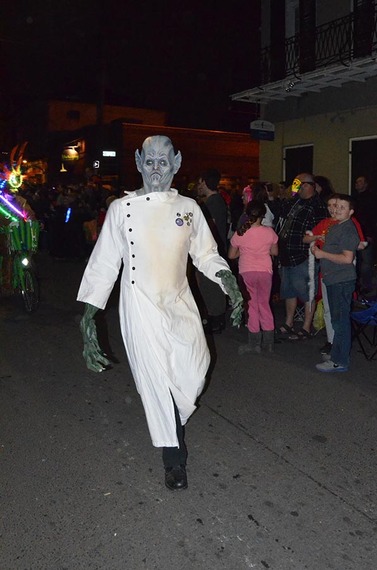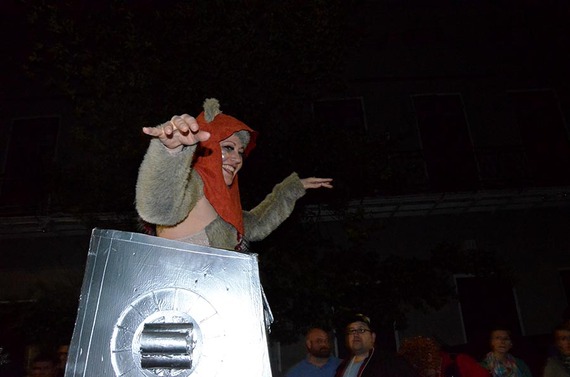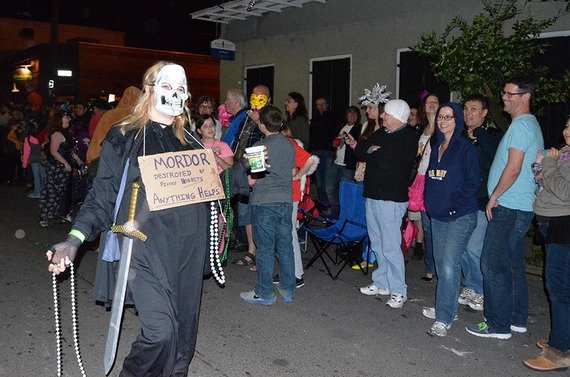 A member of KRAP (Krewe of Really Awesome Parodies), this homeless orc's sign says "Mordor destroyed by filthy hobbits: anything helps." Below, the Jane Austin Book and Gun Club.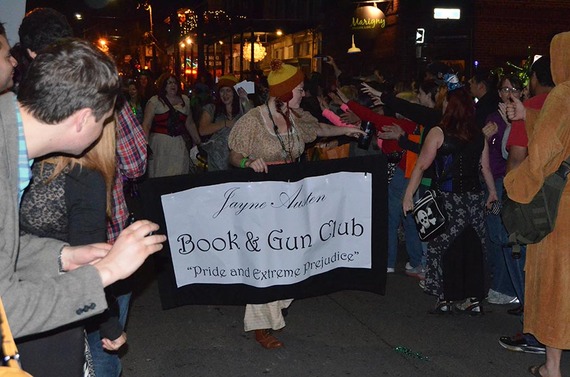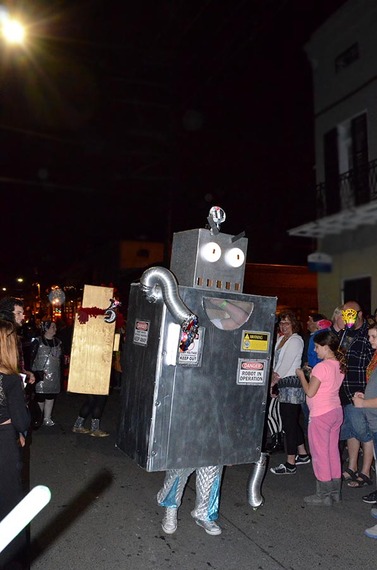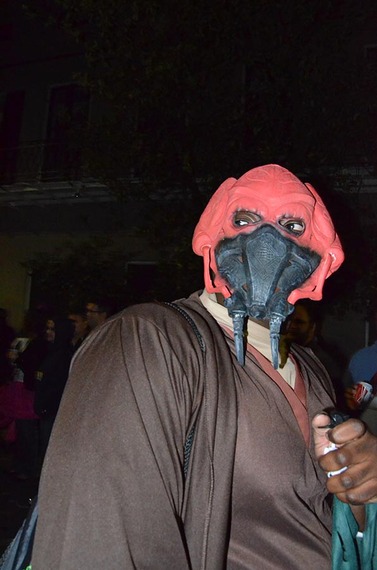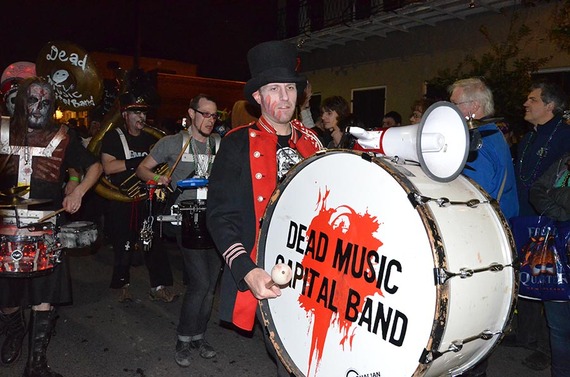 Austin's Dead Music Capitol brass band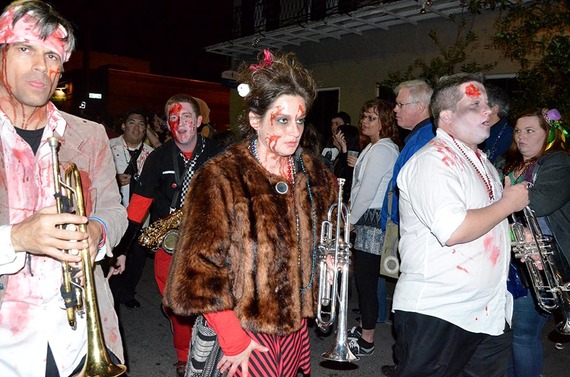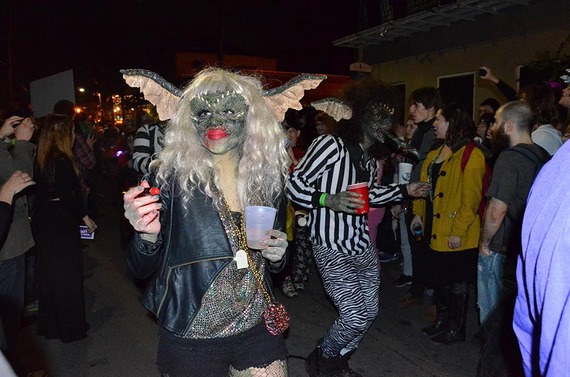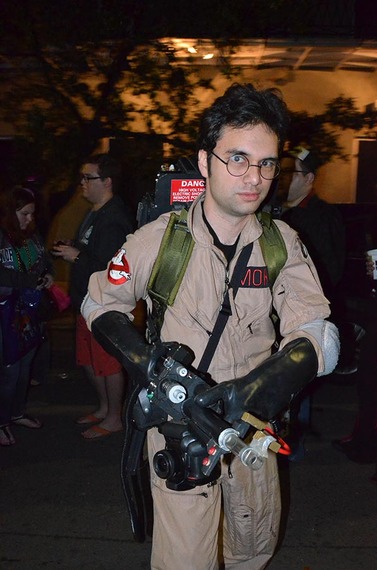 New Orleans is a very haunted city. Most houses have ghosts and spirits. So...who you gonna call?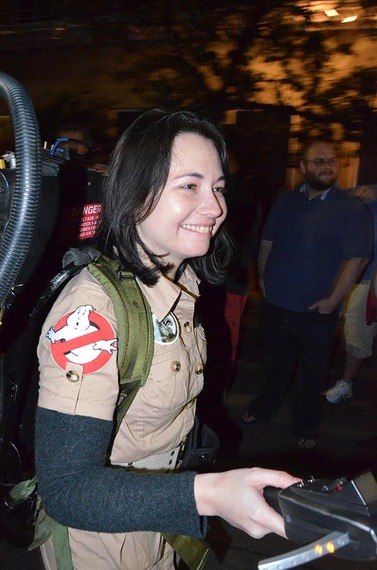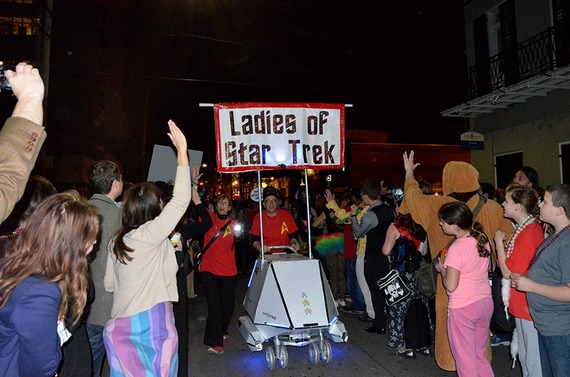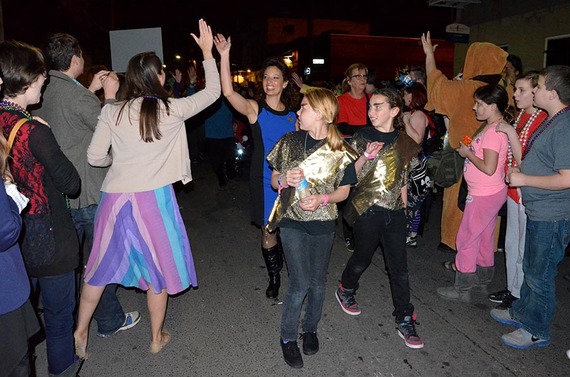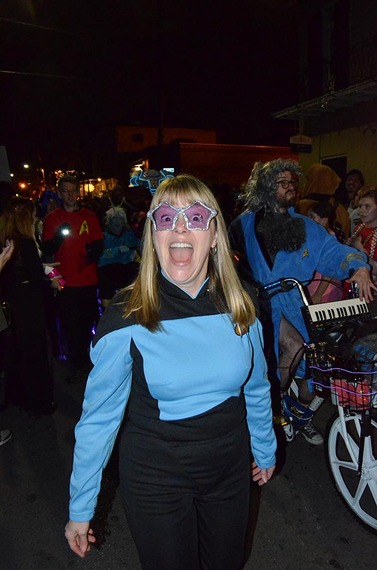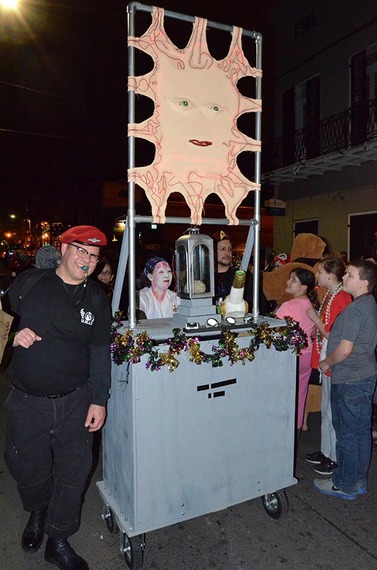 Above and below, Krewe Du Who, a krewe based on the TV show Doctor Who, ran a Kickstarter to fund some of their awesome contraptions.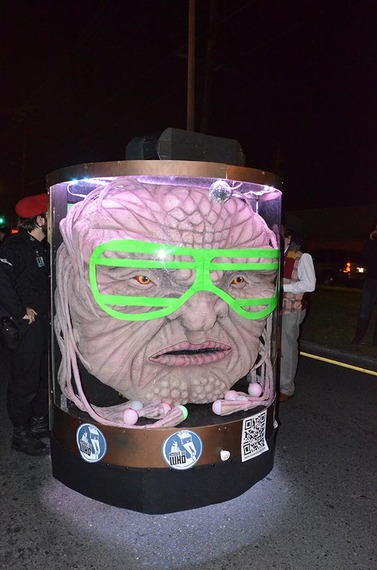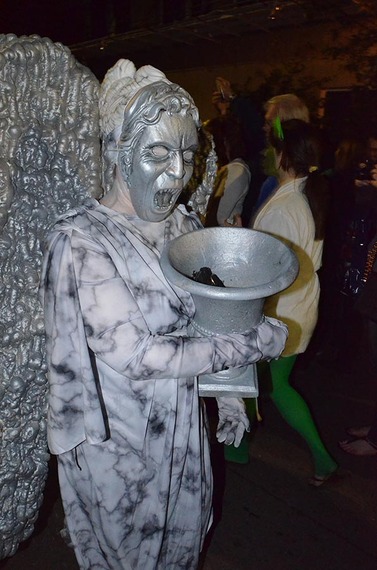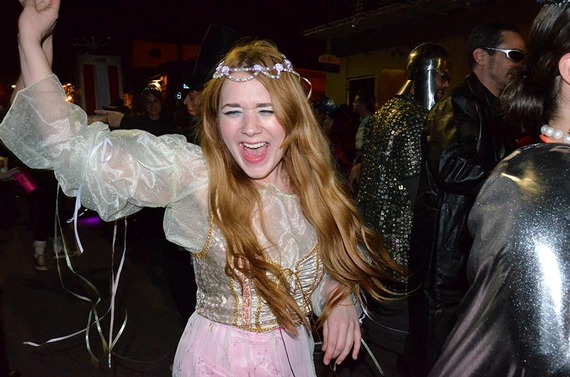 Crowds on Frenchmen Street were huge, and spectators wanted to high-five all of the paraders. Red Shirts, volunteers who work hard to make the parade run, had trouble getting contraptions past the enthusiastic spectators.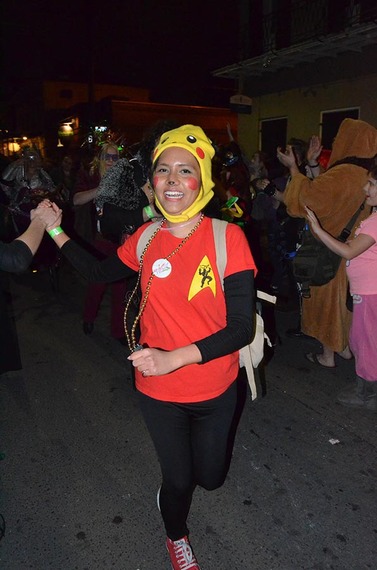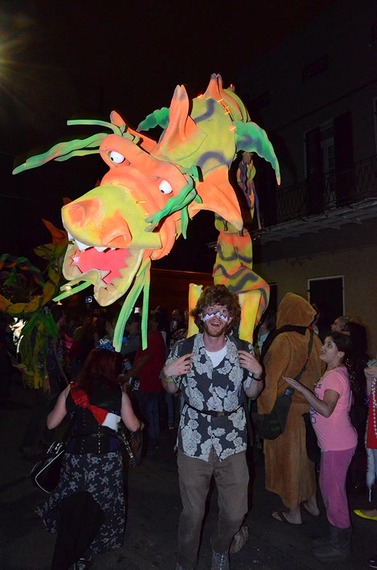 Feeling a bit overwhelmed by the crowds on Frenchmen, I followed some dragons up to Saint Claude. There were fewer people there, but more who were true Chewbacchus fans, rather than spectators simply waiting to watch a parade. Onlookers were costumed like paraders, and it was sometimes hard to tell the onlookers from the ChewbacchanAliens.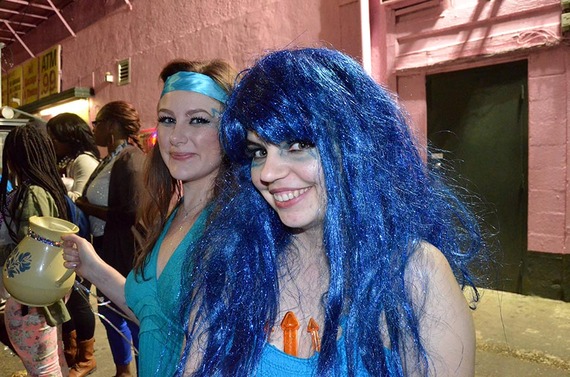 Above and below, a few faces in the crowd on Saint Claude...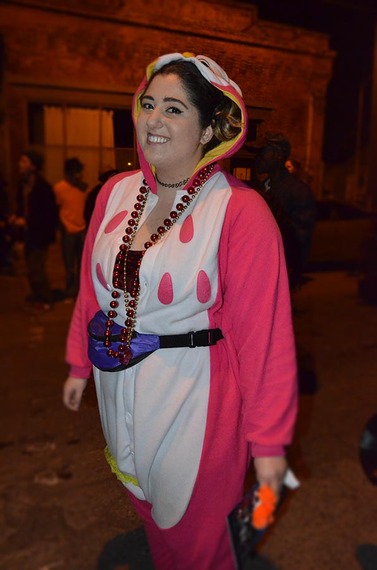 When I caught up with the parade on Saint Claude, they had stopped, as they do each year, so that a few ChewbacchanAliens could get a drink at the local bar, the Hi-Ho. This gave me an excellent chance to photograph some of the krewes as they rested and hijinxed (is that a word?).
Red Shirts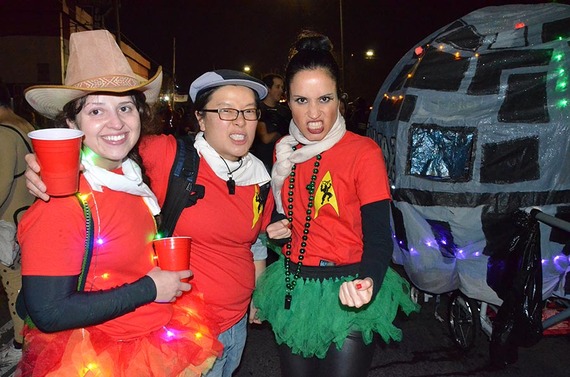 Red Shirts are the unsung heroes of Chewbacchus. They make the contraptions roll, keep the paraders parading, and save the galaxy from Imperial destruction. They also make sure you can get a drink from Bar-2-D-2.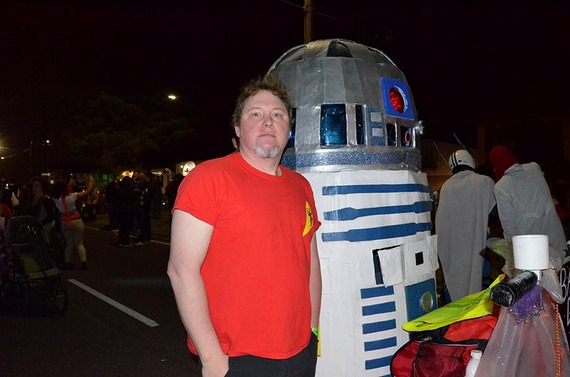 Rolling Elliots
Here in New Orleans we have several "krewes at large," parade krewes that attach themselves to larger parades. One of these is the Rolling Elvi, Elvis impersonators who ride scooters in parades. A parody of the Rolling Elvi this year are the Rolling Elliots, a reference to the movie E.T.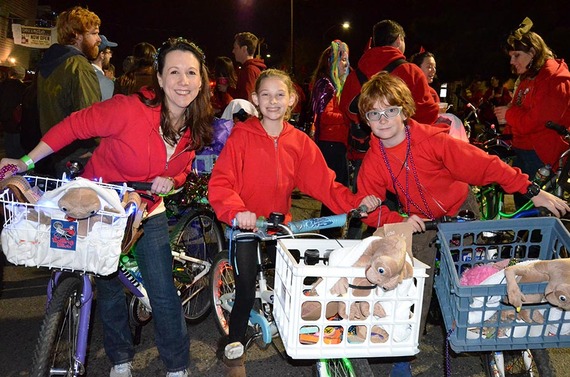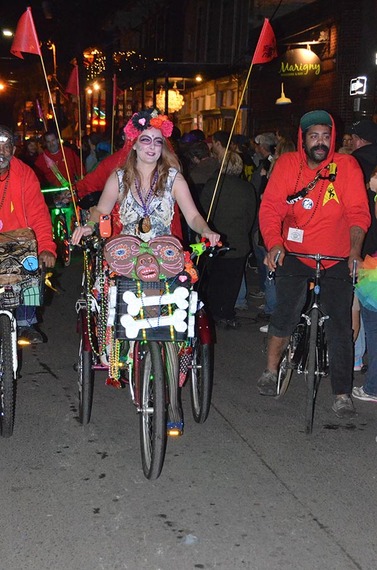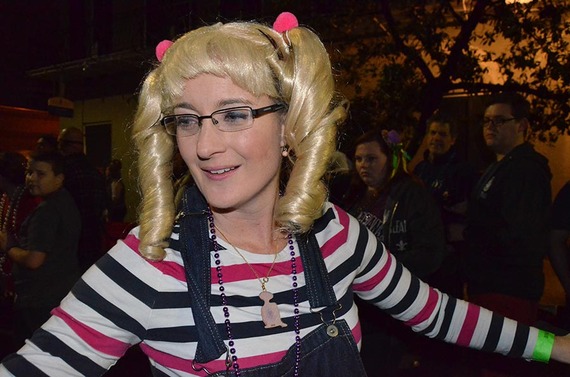 P. U. E. W. C.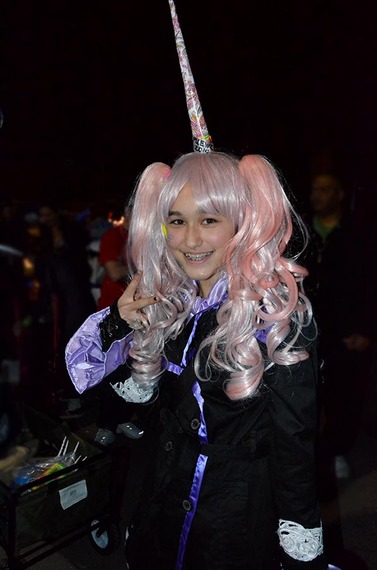 Members of the Krewe Of P. U. E. W. C.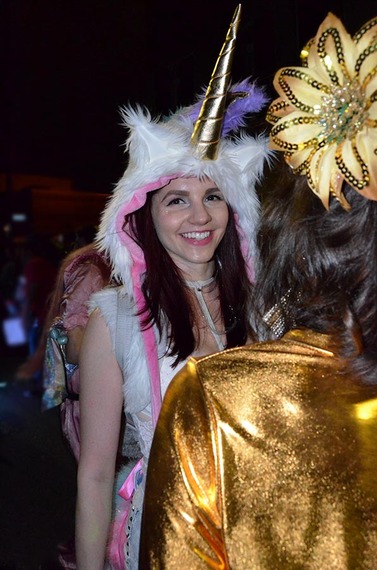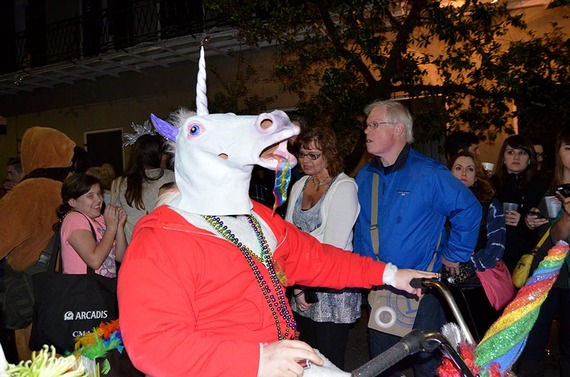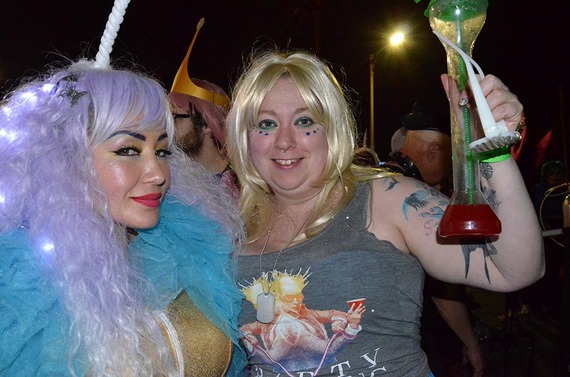 Captains Courageous: P. U. E. W. C. captain Midori and Party Elves co-captain Lauren DeVoe.
Chewbacchus Children
I love adorable geek kids. And Chewbacchus has bunches.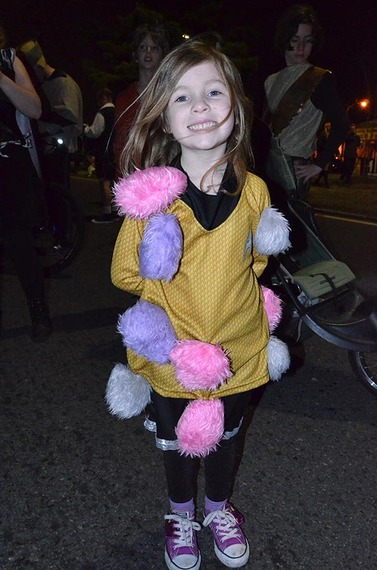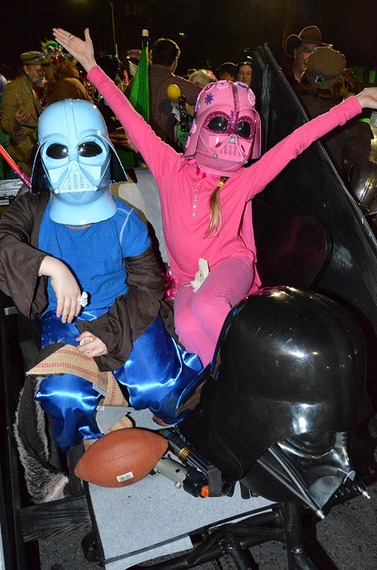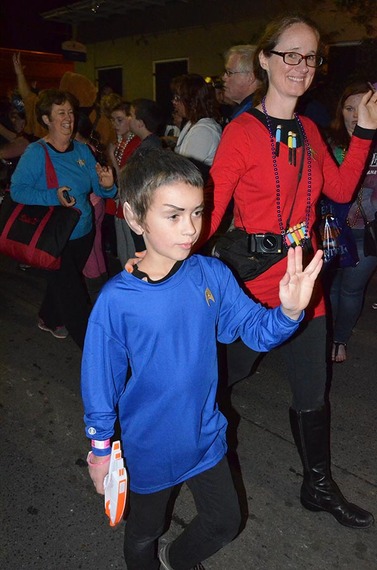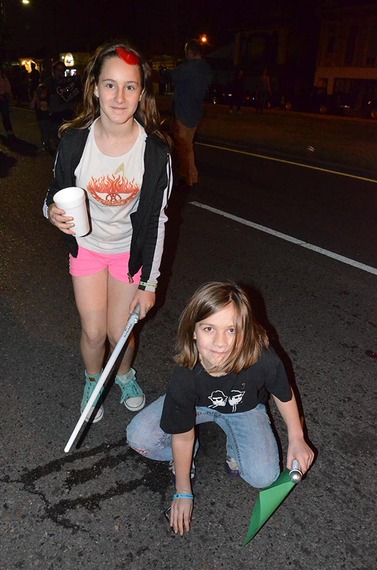 Music Of The Stars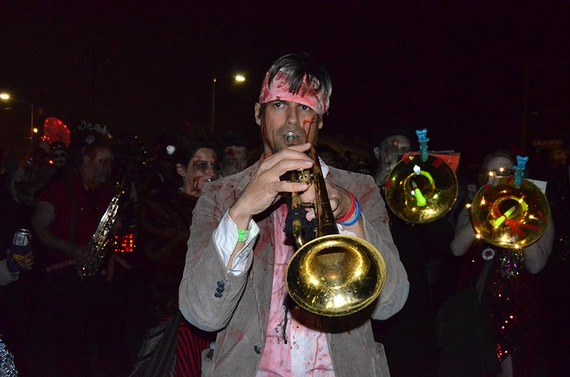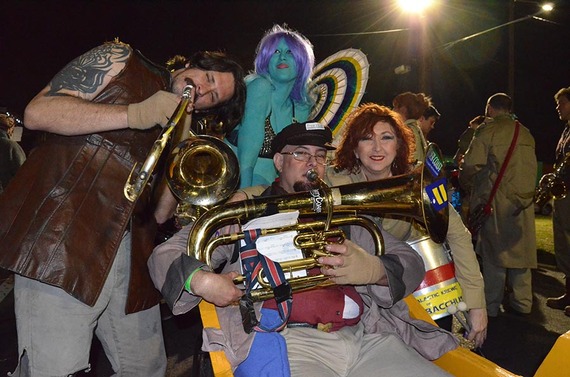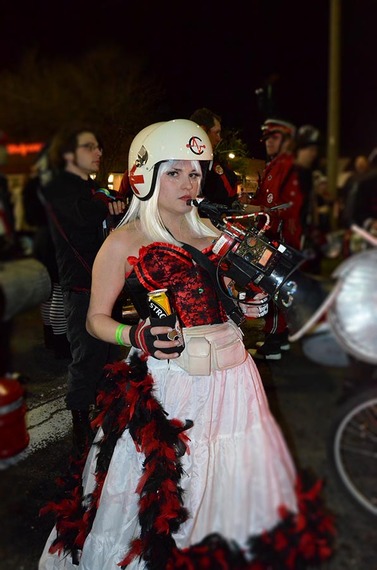 Members of the Noisician Coalition play weird stuff.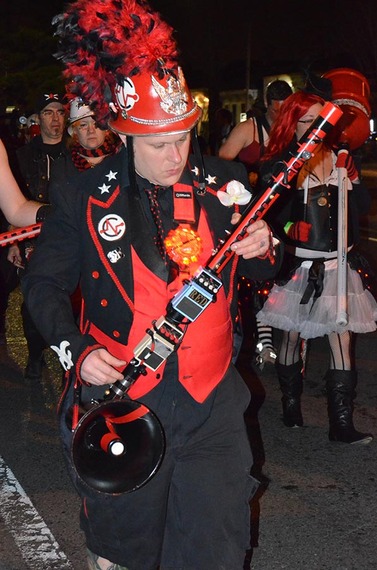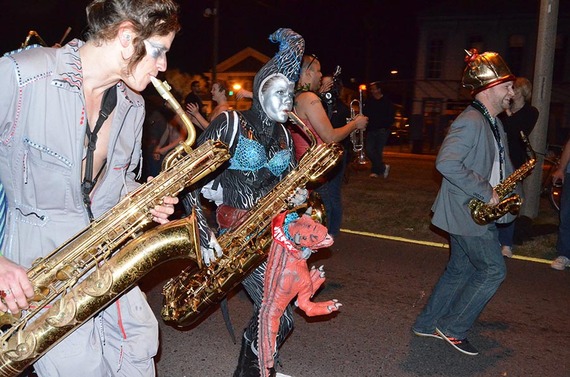 My friend Candace (painted silver) with Junior Raptor (who is red) plays with the Brass Band Mission.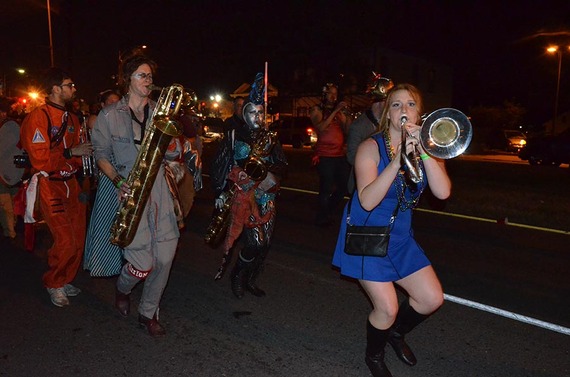 Gin Walker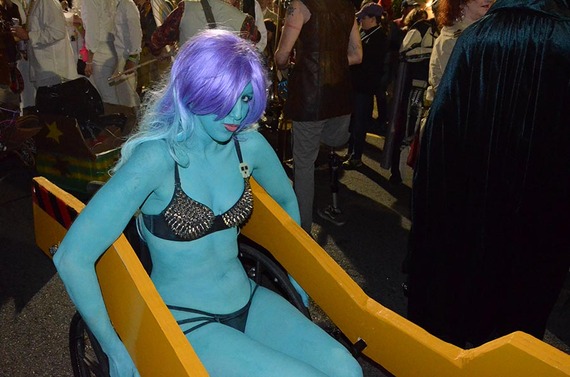 Parade Mistress Gin Walker rolled, strolled and danced across the parade. She seemed to be everywhere. No one complained.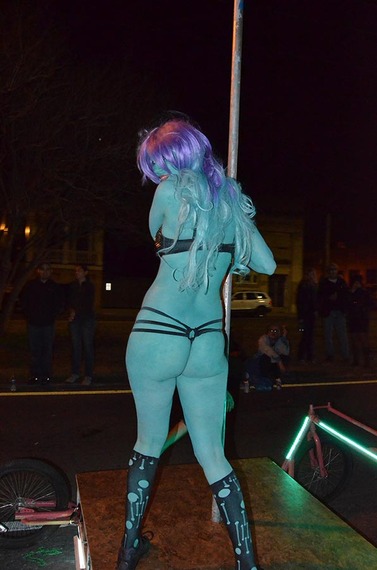 We began rolling again down Saint Claude, and I shot the paraders as we rolled.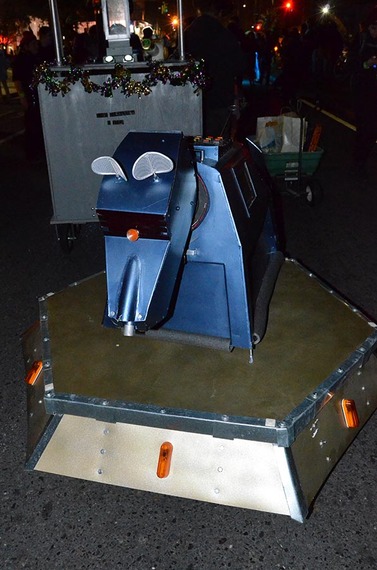 More awesome Chewbacchus contraptions: Whovian K-9 (above) and a hungover Mardi Gras robot (below).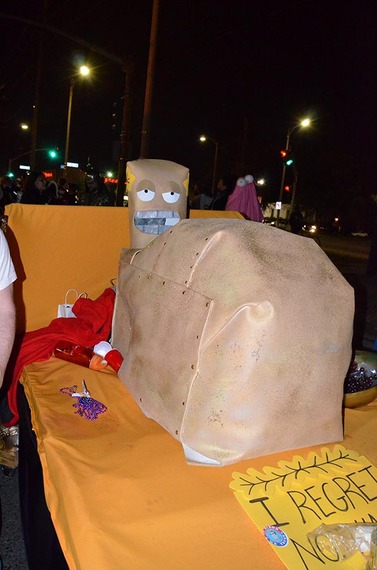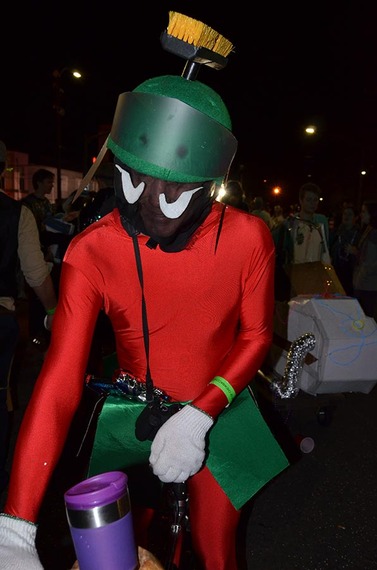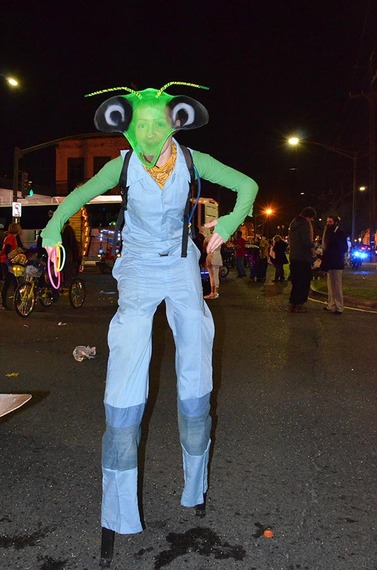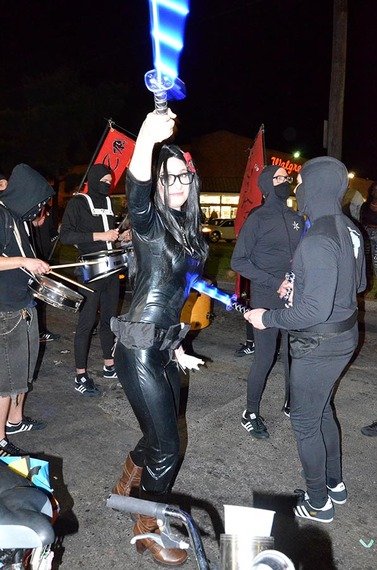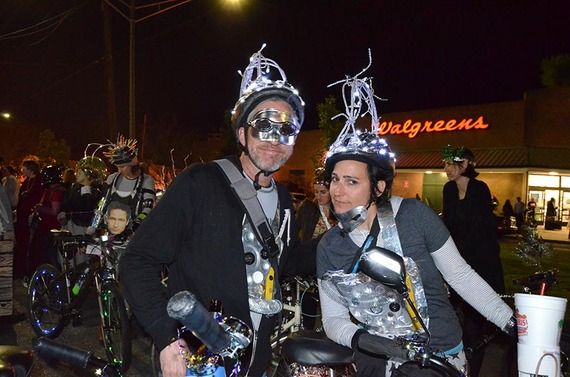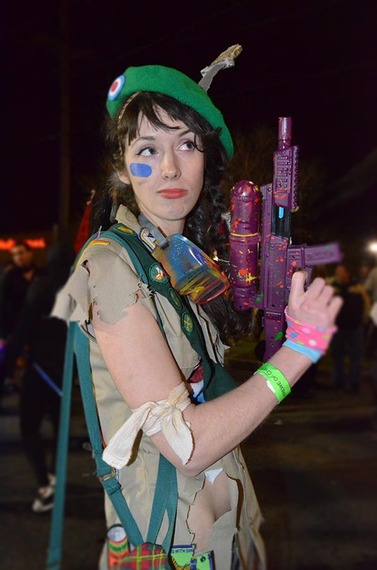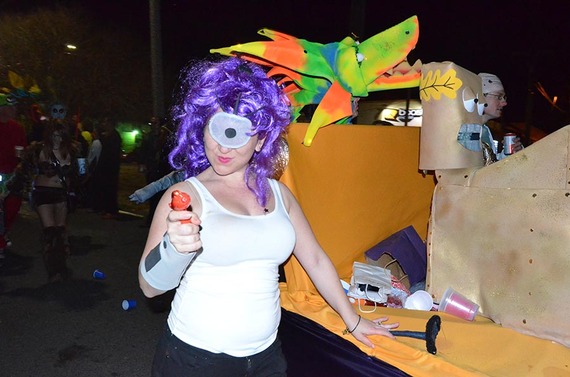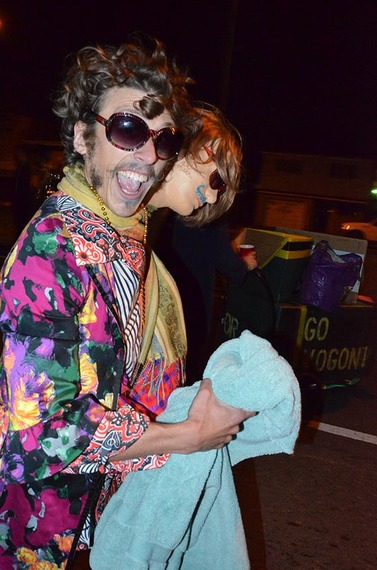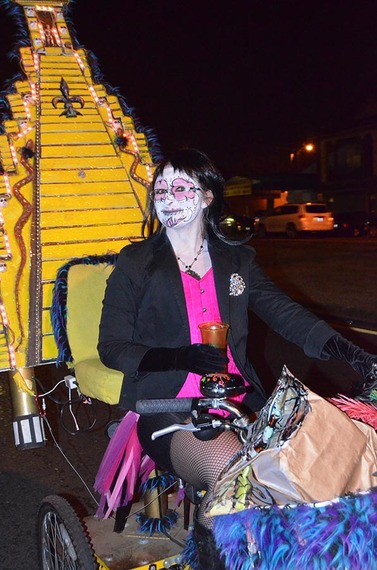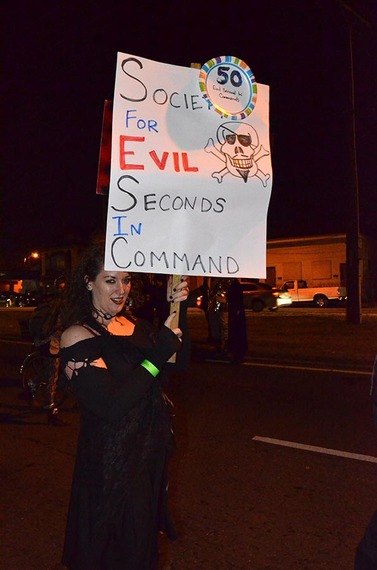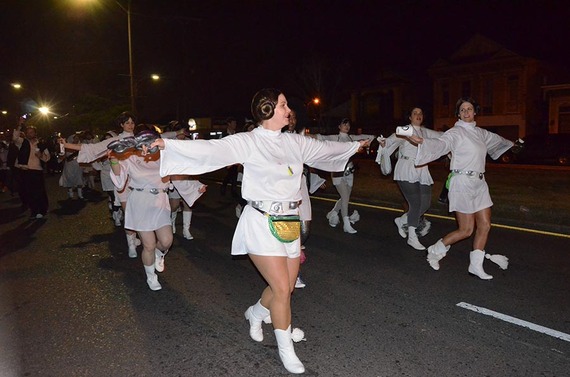 I leave you with shots of dancing Leias and adorable Unicorns.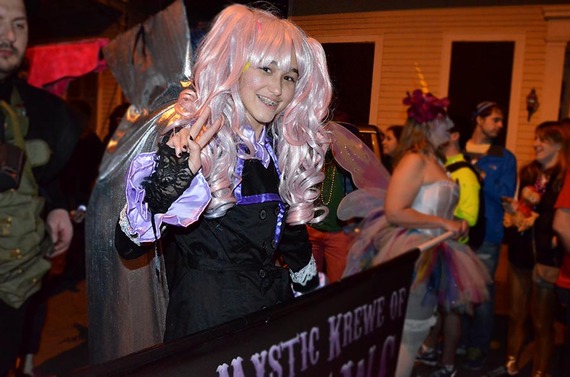 If you'd like to see more photos of the 2014 Chewnacchus parade, look here, my personal blog with all of my photos of the event.
This year's Chewbacchus was pretty amazing. I'll be covering more parades, so keep watching! And all hail the drunken Wookie!!
You can always visit me on my website. See you there.