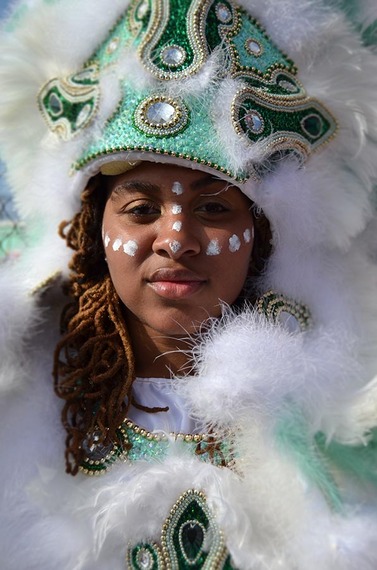 Last night was March 19, and in the catholic Church, that is the Feast of Saint Joseph. In New Orleans, it's the night when Mardi Gras Indians roam the streets, fully "masked Indians," wildly singing songs and chants. Throughout the city you can hear the sounds of drums beating, Indians singing, and in some places, a full brass band playing "My Indian Red."
To me, it's the most exciting, amazing celebration in our year of exciting, amazing celebrations. Mardi Gras Indians!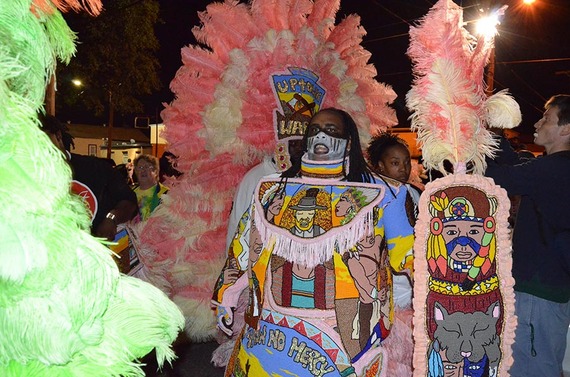 My evening began early, with the Washitaw Tribe in the Seventh Ward. Big Chief David Montana likes to gather Washitaw a bit earlier than most of the tribes, who begin to gather at sundown. Big Chief has a sister in the St. Margaret's care facility in Mid City, and before nightfall he marches Washitaw there to perform for the elderly of the facility. This is good for a couple of reasons: for one, it means the children involved in the tribe can march for several hours. Mardi Gras Indians are a generational tradition, passed down through families. In fact, Big Chief David Montana is the nephew of Tutti Montana, one of the greatest Mardi Gras Indian chiefs ever.
Another advantage is that I can photograph the tribe in daylight.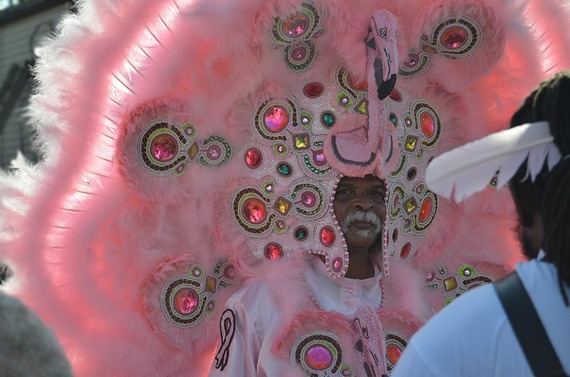 Big Chief David Montana, Washitaw Tribe.
The gathering began with Queen Ya-Ya, perhaps the youngest queen I've seen, arriving in front of Big Chief's home and dancing. When each member of the tribe comes out to process, each announces themselves by singing out their position in the tribe. Queen Ya-Ya danced and sang "Pretty Queen, Pretty Pretty Queen; Pretty Queen in White and Green!"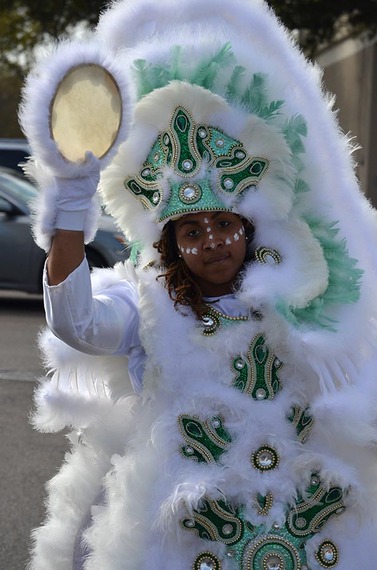 Queen Ya-Ya; Pretty Queen in White and green!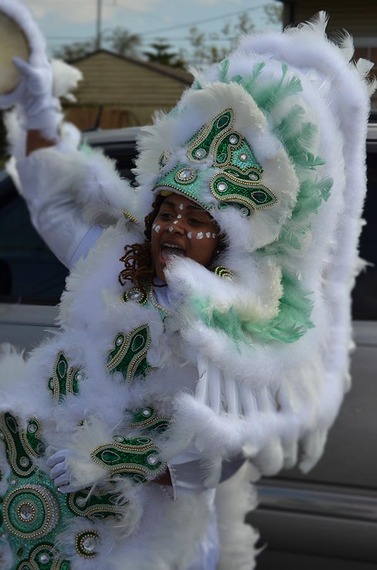 As she danced, a crowd of spectators approached her -- the entire neighborhood waits for their tribe to come out on Saint Joseph's Night. The crowd called to Ya-Ya, "Call out your Big Chief! Pretty Pretty Queen! Call out your Big Chief!"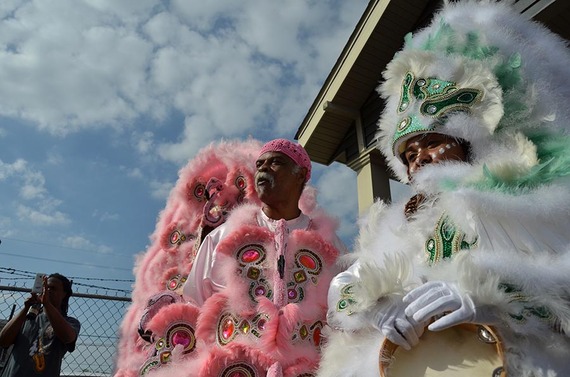 Big Chief David and Queen Ya-Ya. Note Big Chief has not yet put on his bonnet.

Big Chief came out at Ya-Ya's call. He recited a poem to the crowd about the devastation he witnessed after Katrina. As the other members of the tribe assembled, they sang the most important Indian prayer song, "My Indian Red" (Hear the song HERE, a field recording of an unknown tribe posted by 9th Ward Jukebox).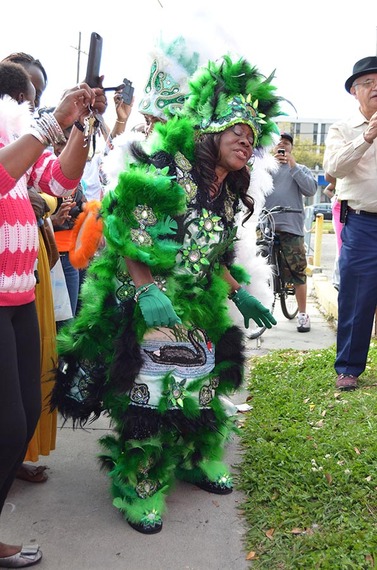 Members of the tribe gather: two more Queens. A tribe might have several chiefs and several queens.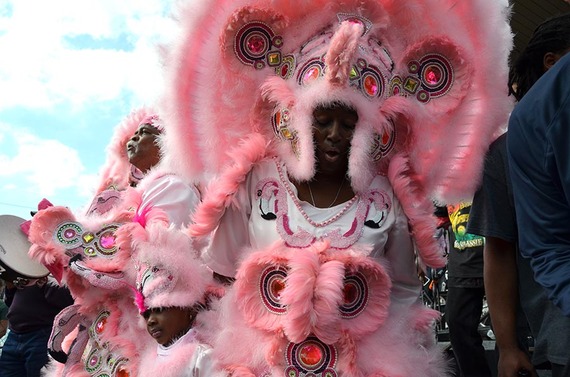 Who are the Mardi Gras Indians, and why do they come out on Saint Joseph's Night?
Mardi Gras Indians are a very old New Orleans tradition. Part parade krewe, part gang, part cultural guardians, the African-American tradition of "Black Indians" began soon after emancipation (1865), when newly freed African-American New Orleaneans began dressing in feathered "suits" to honor the Native Americans who had been part of the Underground railroad, helping slaves escape to Canada. The tradition of "Masking Indian" became a gang tradition, and gangs called tribes would parade on Mardi Gras day. On Saint Joseph's Night, tribes would go out after dark, and tribes with hostility toward each other would engage in violent confrontation.
Many people know the song "Iko Iko." The Grateful Dead covered the tune. What most people don't know is that the song is about Mardi Gras Indians, and about a time in the 1920s when two tribes faced off, and a Big Chief was shot and killed. (Hear the Dead's version here). The lyrics, by the way, come from a Mardi Gras Indian chant derived from Creole, meaning "listen, listen this day!"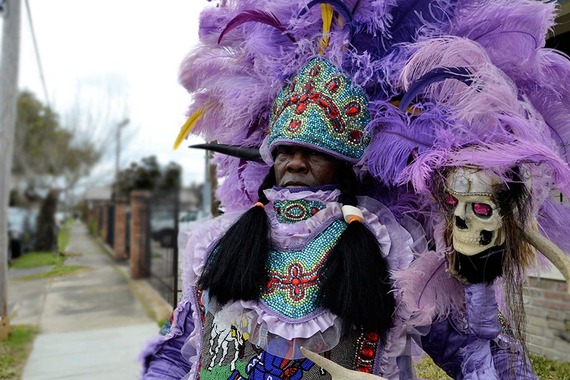 A Mardi Gras Indian Wild Man. Photo taken Super Sunday 2013.
In the last few decades, Mardi Gras Indian tribes have put aside violence, and have adopted a tradition of marching together on Super Sunday, the Sunday before Saint Jospeh's Day. In the wake of Katrina, Big Chief Tootie Montana was instrumental in gathering the tribes together to carry on New Orleans culture, forgo hostility and work to restore the city. Saint Jospeh's Night is now a huge celebration in African-American neighborhoods. Last night thousands gathered at Lasalle Park in Central City, and tribes marched through the crowds.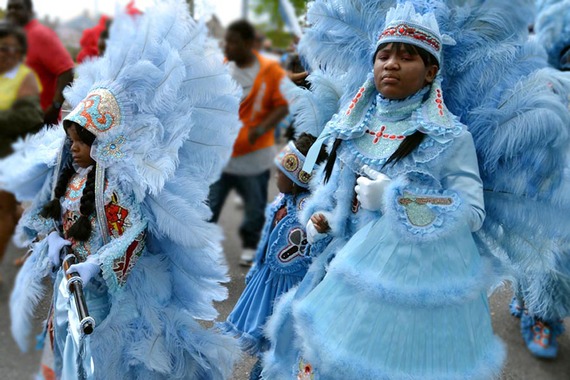 Above and below, tribes march together on Super Sunday, 2013. Washitaw Tribe is pictured below in their 2013 suits.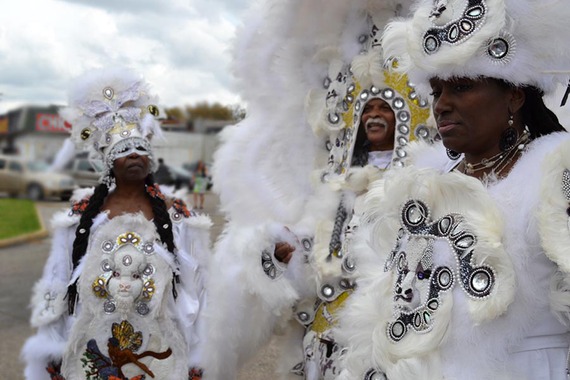 Despite ceasing hostility, meetings between tribes can be tense. The tribe's Spy Boy, the point man of the tribe, harries approaching tribes. Insults are traded, and mock warfare might ensue. Here is a video shot by Lauren DeVoe, showing the Uptown Warriors meeting another tribe on Daneel St. and Washington (a few blocks from our house). Advisory: this video contains graphic language!

Spy Boys face off and trade insults, each standing their ground as their Big Chiefs watch from behind. Note a Wild Man moving in and out of the action. Graphic Language!!
Lauren says this about the video:
When two tribes meet, there is an complex ritual of greeting. A great deal depends on whether or not the two tribes are friendly with each other. Even when the tribes are friendly, the ritual of greeting is an elaborate dance and contest of wittiness. This tradition comes from "Playing the Dozens," a contest of insulting each other in witty ways.
Back in the Seventh Ward, gathered together, Washitaw began to march over Broad Street, through the Tremé to Mid City, where they would perform songs, chants and dances at Saint Margaret's nursing home.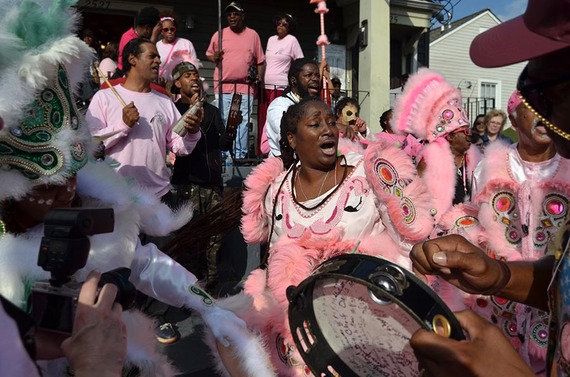 Above and below, the tribe sings as they gather to march.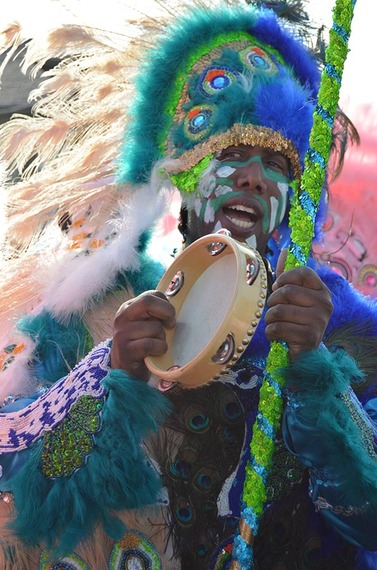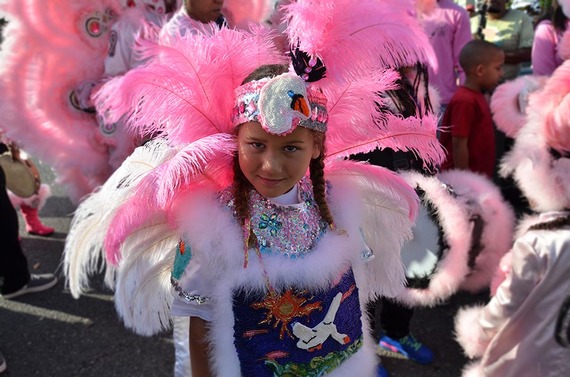 Mardi Gras Indian tradition is passed through generations. Children march beside adults and learn the culture and the songs and chants. Below, Little Queen Lavender walks with a friend, following the tribe along Bayou Saint John on our way to Saint Margaret's.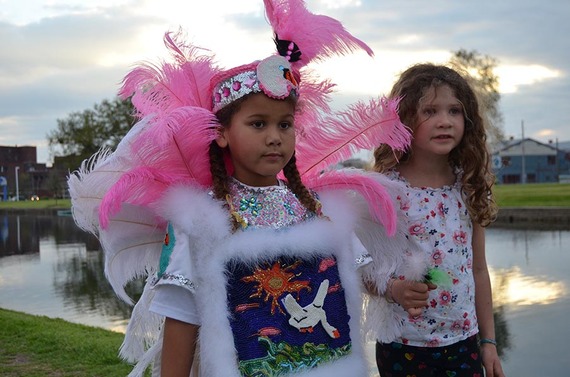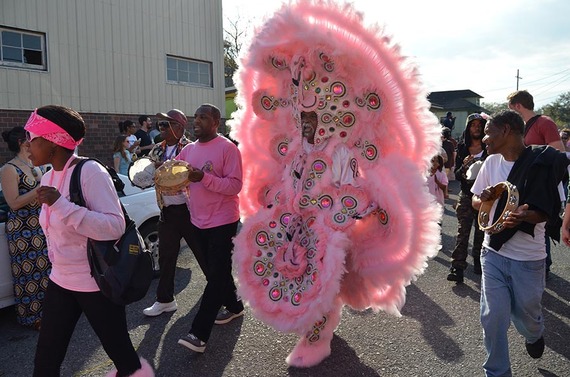 Big Chief and his Queens walk us through the Tremé.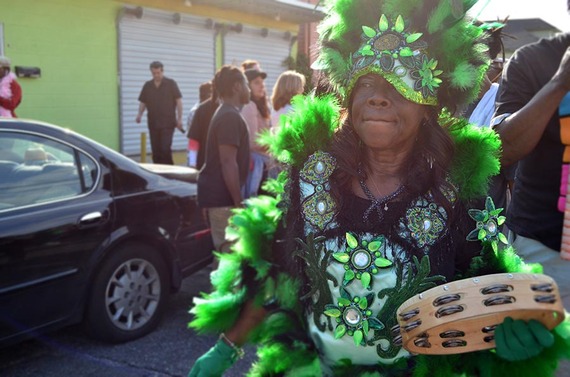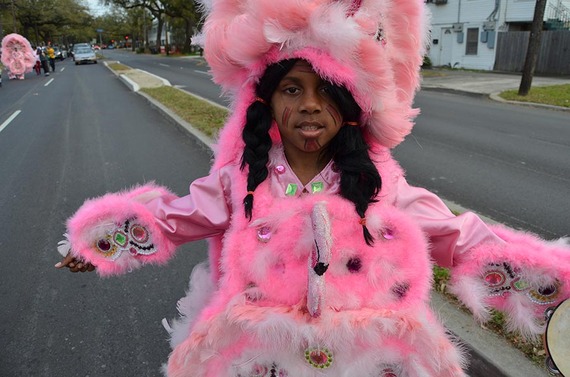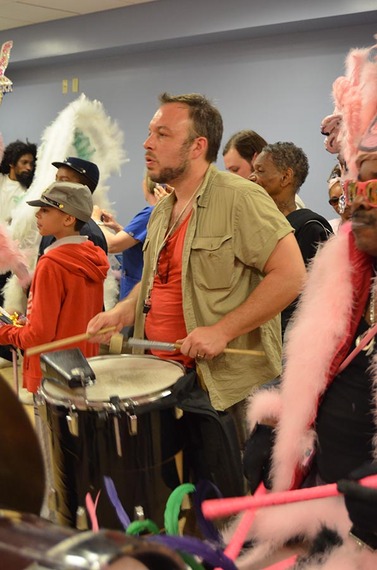 My friend and bass player Paul Edmonds plays with other drummers of the tribe at Saint Margaret's.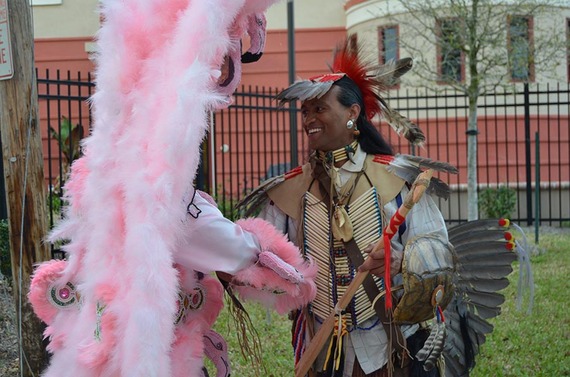 Indian meets Indian. Ray, a Mescalero Apache, believes he is the first Native American to ever march with a Mardi Gras Indian tribe.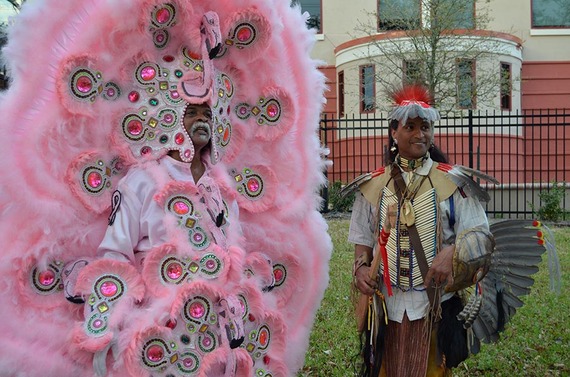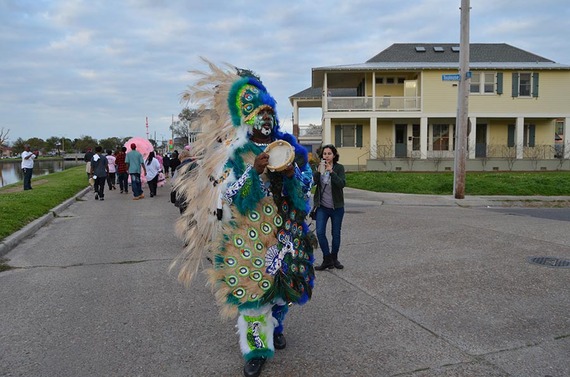 Processing along Bayou Saint John.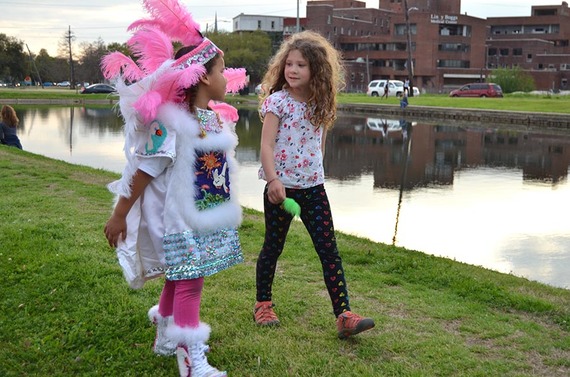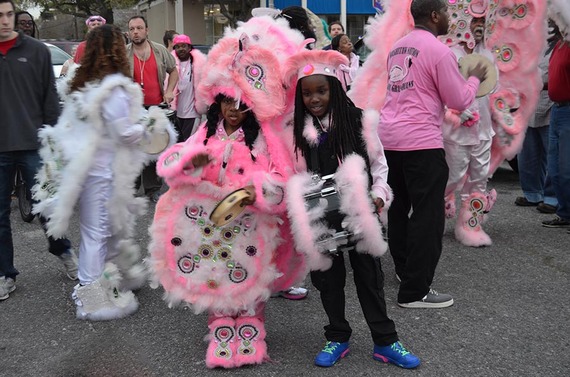 Drumming and chanting on our return to the Seventh ward. Note Paul in the back.
After leaving Washitaw, I met up with Lauren DeVoe and we strolled through a crowd of thousands up Washington Street in our neighborhood of Central City. A dozen tribes were out.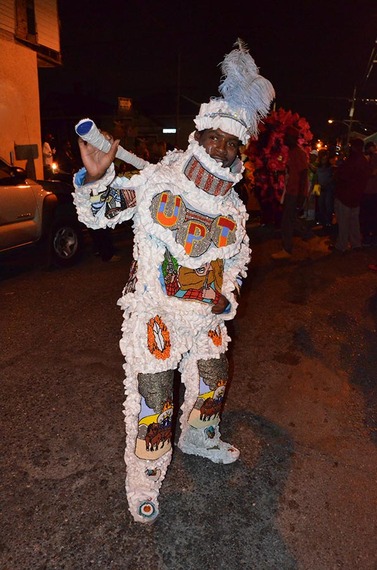 The Spy Boy of the Uptown Warriors.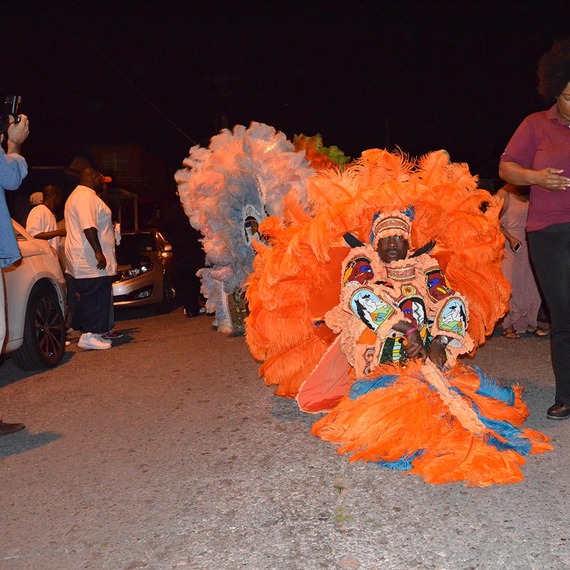 The Uptown Warriors' Flag Boy watches the confrontation between Spy Boys, waiting to signal his Big Chief.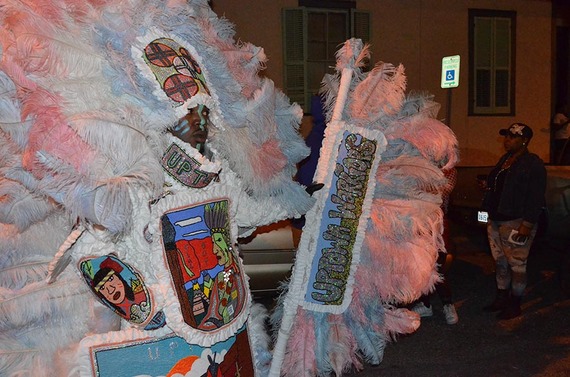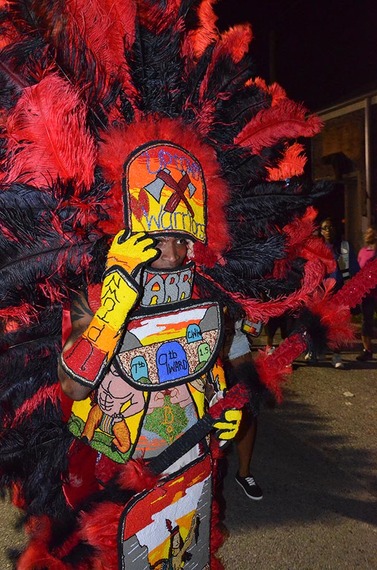 This Uptown Warriors' mask is a bit of graveyard humor, literally. It depicts tombstones of rival tribes (7th Ward Creoles, 9th Ward Hunters, Algiers 1-5 and Creole Wild West are marked on headstones).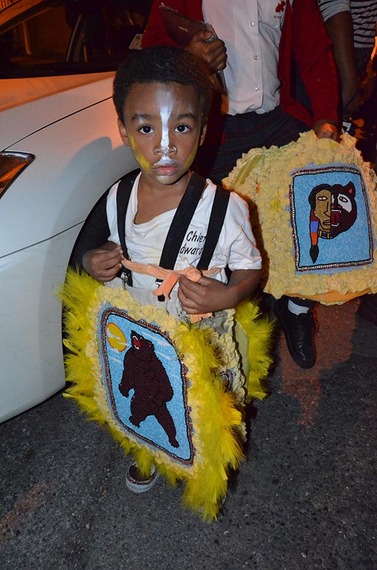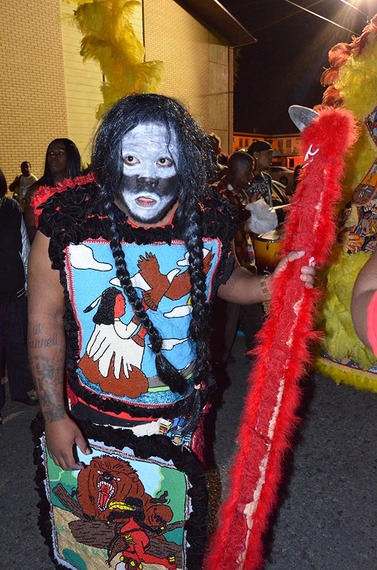 The Wild Man of Uptown Warriors. The Wild Man tradition is inspired by Medicine Men of Native America. He wears images of death, such as skulls, and calls out the name and credo of the tribe. the Wild Man often appears as if he is in a trance.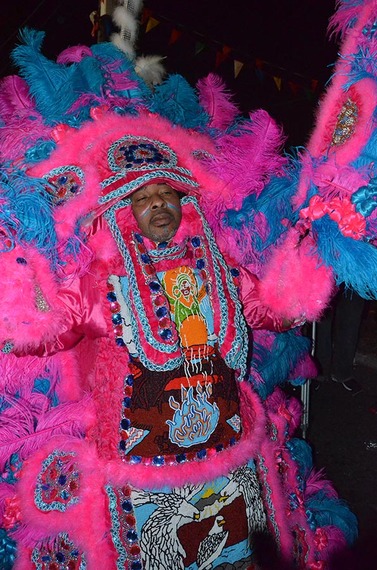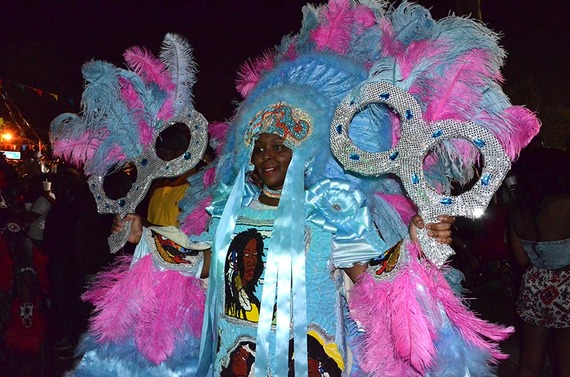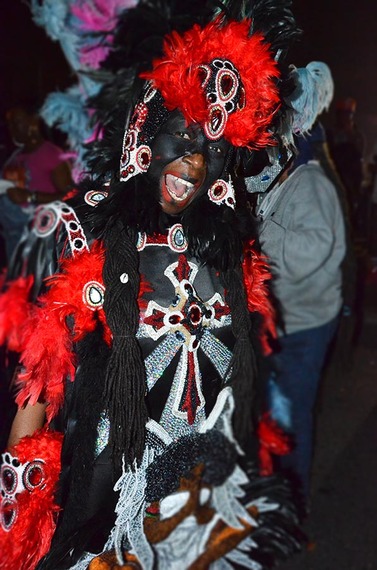 Above and below, my friend Queen Rukiah. She says her beautifully crafted suit represents black blood shed in the streets, and is a protest of violence in the African-American community.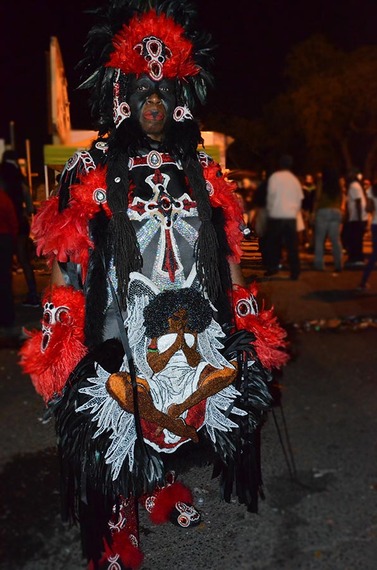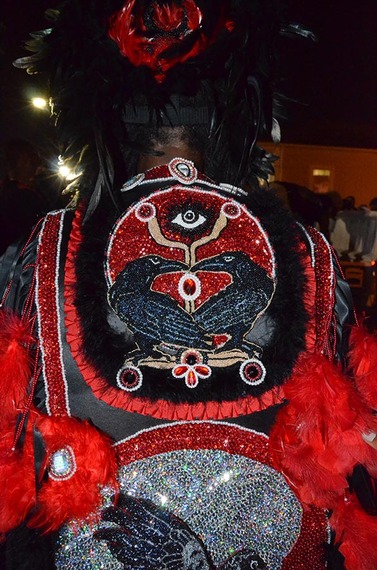 Above, a detail of Queen Rukiah's suit. Below, Queen Rukiah on Super Sunday 2013. Last year her suit represented the spirit of the white buffalo, and her totem spirit, the monarch butterfly.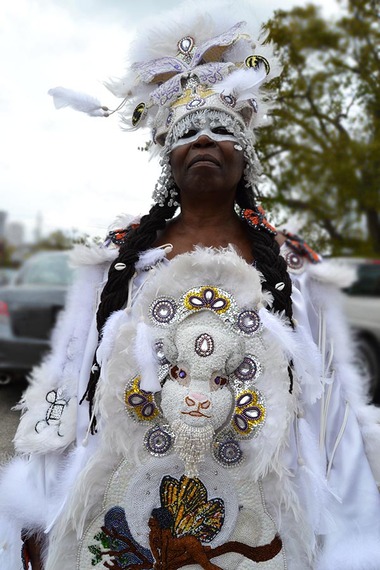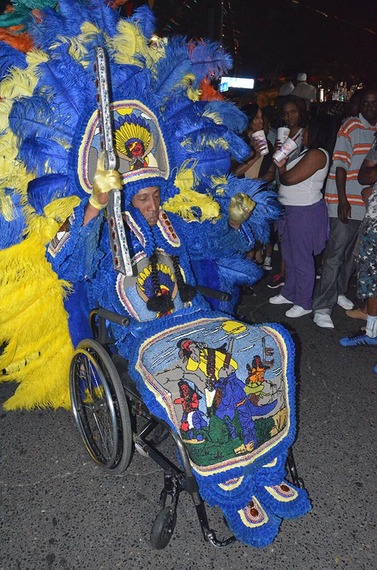 Being in a chair did not stop this Indian from dancing!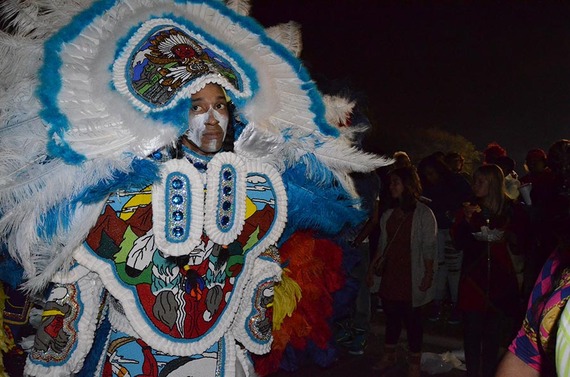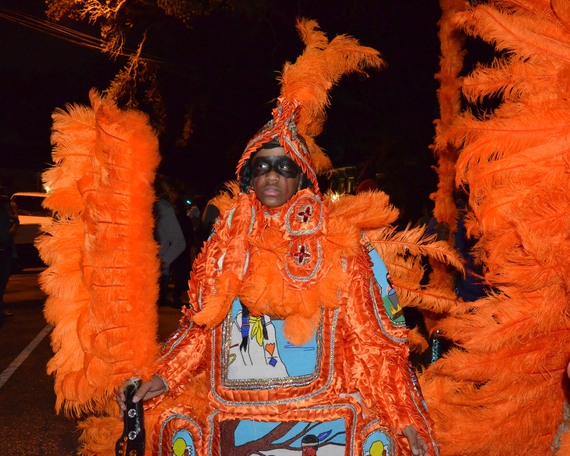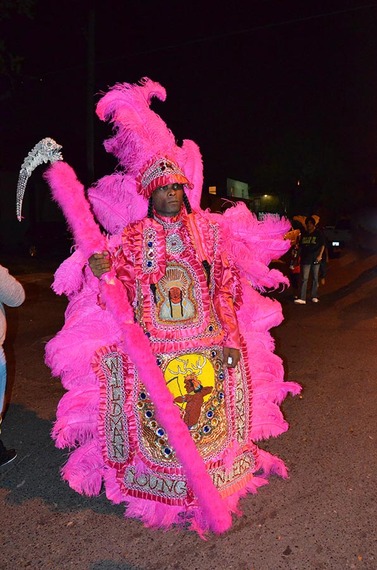 Above, the Wild Man of the Young Hunters. Below, the Young Hunters process down Washington.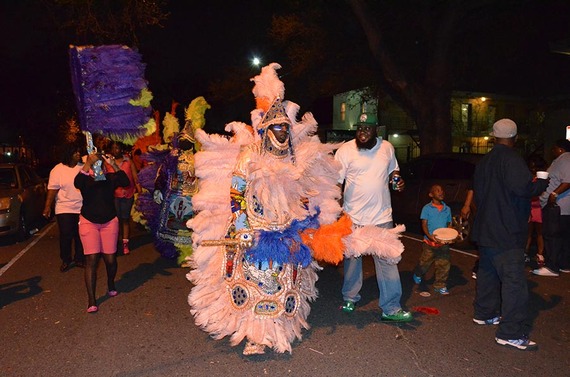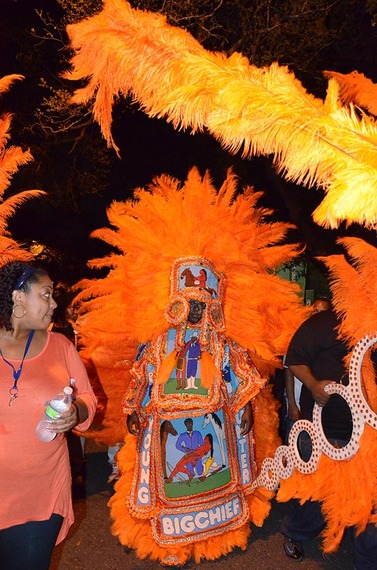 Big Chief of the Young Hunters. Pretty Pretty Chief!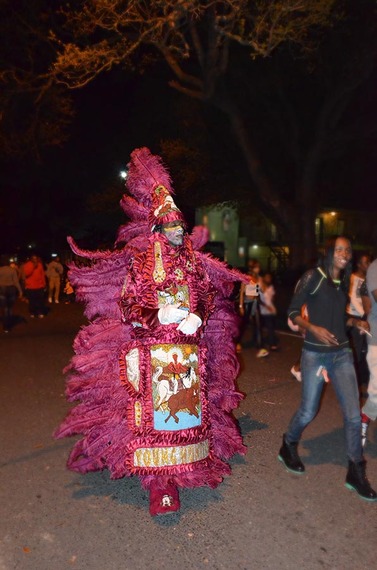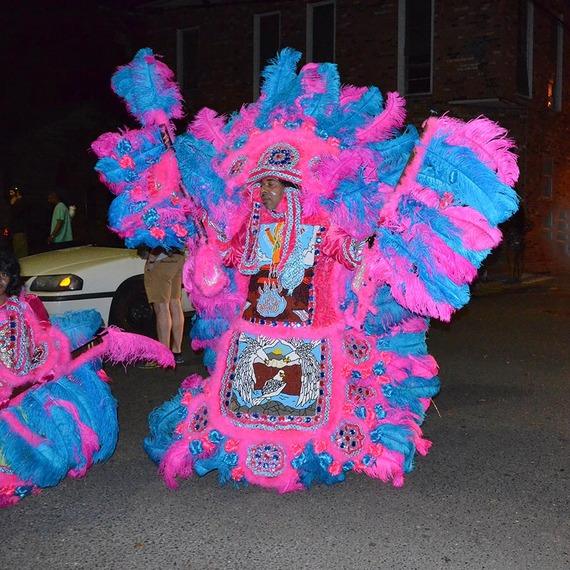 As I write this, we are finally having a warm, sunny day. Despite the forecast, we wait and hope this Sunday will be a similarly beautiful day so that we can have Super Sunday, the day all of the tribes march together. If it is, there will be many more photos of our New Orleans Mardi Gras Indians.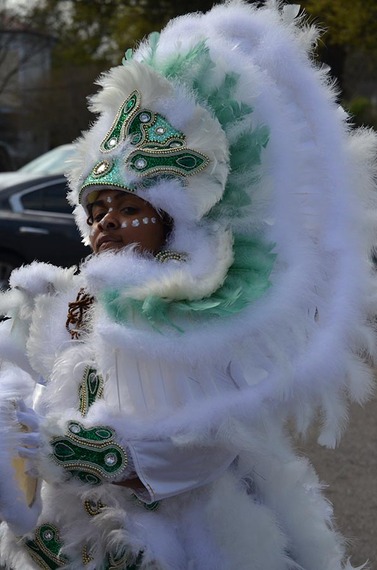 All photos by Kenny Klein, taken the night of March 19th, 2014 unless noted: Video by Lauren DeVoe
Visit my website for my CDs, books and photo galleries.