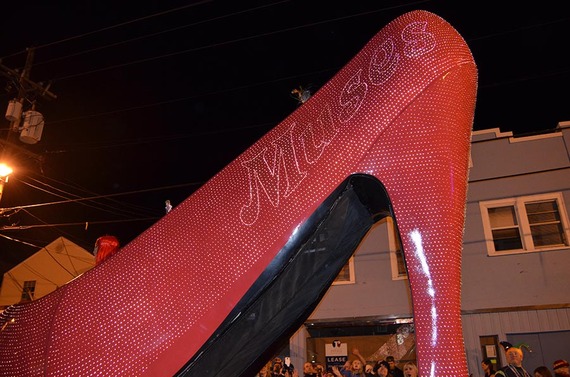 Okay, I'll admit it. When I first came to New Orleans back in the '80s, I didn't know much. I was here to do a gig (I am, among many other things, a musician), and I was given home hospitality with a family who lived in Saint Charles (in fact, just around the corner from where I live now). They fed me boiled crawfish and took me for coffee and beignets: all the things one does for first-time tourists. And in conversation they said, "Oh, we're so lucky. We live right on the parade route."
"Parade route?" I wondered. "What's that? Aren't the parades on Bourbon Street, the only place in New Orleans I've actually heard of?"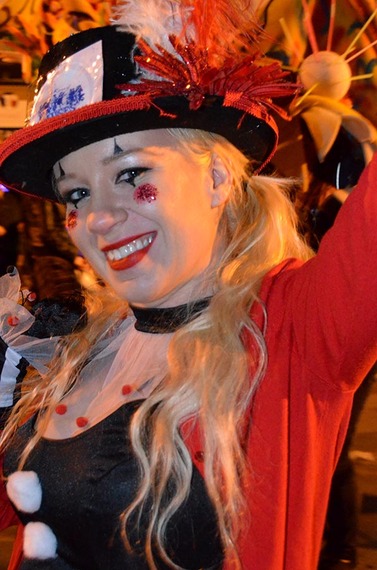 In the 30 years since that conversation, I have learned much. Now I live on the parade route. This means that for two weeks a year, I cannot move my car. At least not with the expectation that I will have a spot when I return. It also means this week I have seen some amazing Mardi Gras parades, including last night's Krewe Of Muses.
So for those of you who, like me 30 years ago, need a crash course, let's talk about Muses, and compare it to the various parades that have rolled all week.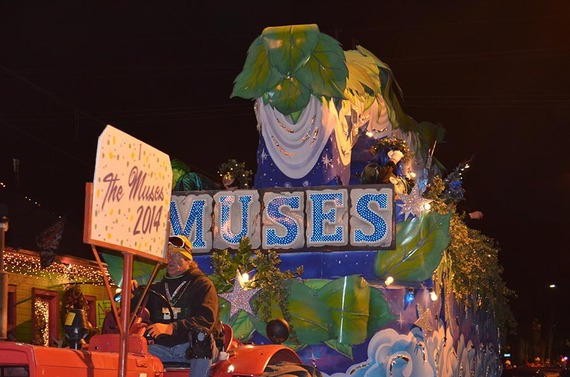 Mardi Gras parades are like no other parades in America. They are beautiful, chaotic and each has a distinct personality. Each Mardi Gras parade differs in size, scope and membership. Each parade is run by a krewe, a volunteer group whose membership dues make the parade happen. The Krewe Of Muses is an all-female krewe, one of the very first to march on the major parade route which begins at Magazine street in the Garden District, rolls up Saint Charles along the street car line, and ends in the Central Business District. Crowds line the entire six miles of the route, cheering, watching bands and dancers, and waiting for "throws" thrown from the many beautiful parade floats.
The Muses floats always express the theme of that year's parade, which is held secret until parade day. The floats are always parodies of world news, local events and things important in women's lives. In fact, the main float, summing up the all-female krewe, is the famous Muses' shoe.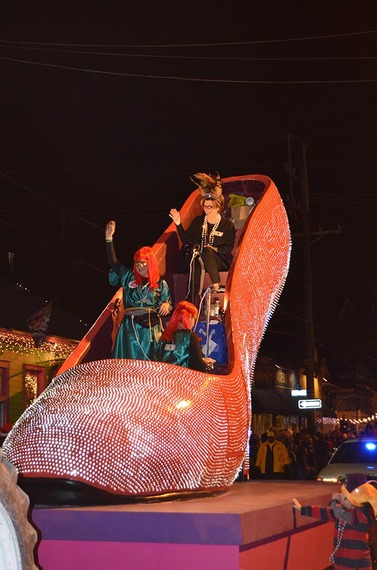 Riding in the shoe this year is author Julia Reed, Muse-Of-Honor, whose work has appeared in Vogue and the Wall Street Journal.
The shoe is followed by 25 floats, each beautifully created by Blaine Kern Studios. Each is funny, sarcastic, and provocative. Sexual jokes are the norm...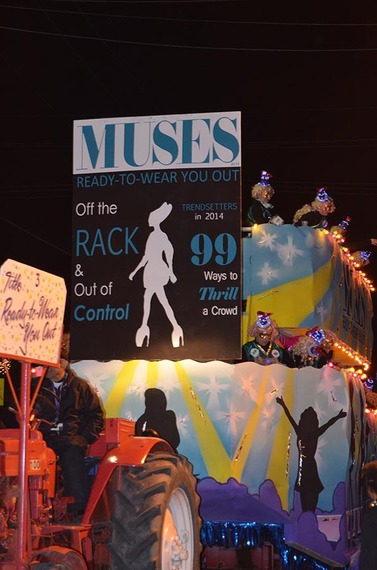 This year's theme is Ready To Wear You Out, expressed in the first float following the shoe.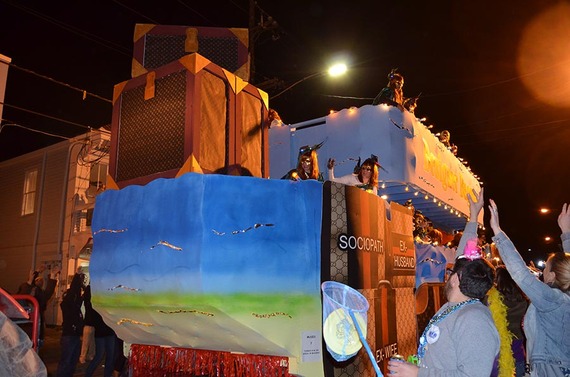 Above and below, Designer Baggage: some of the baggage includes sociopath exes, being a Scientologist, and massive debt.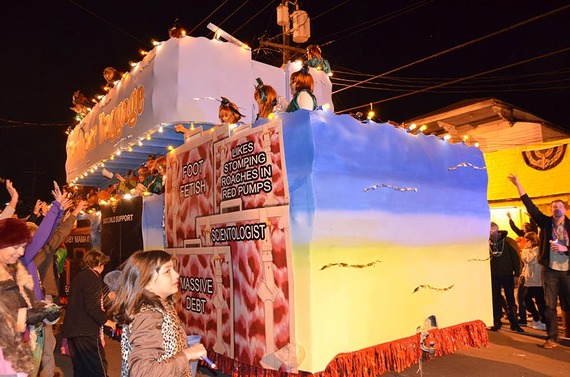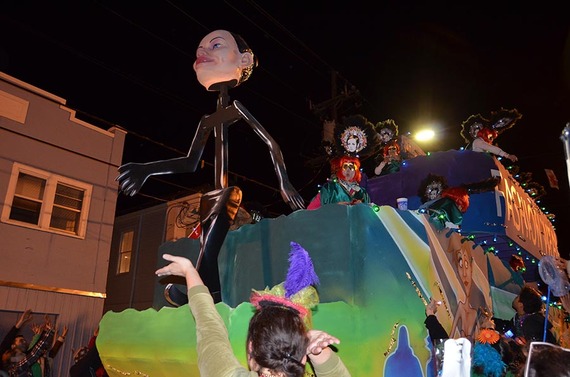 Above, Fashion Weak. Riders each wore a photo of Twiggy on their head: Below, Halters And Filabustiers, bra jokes as a commentary on politics.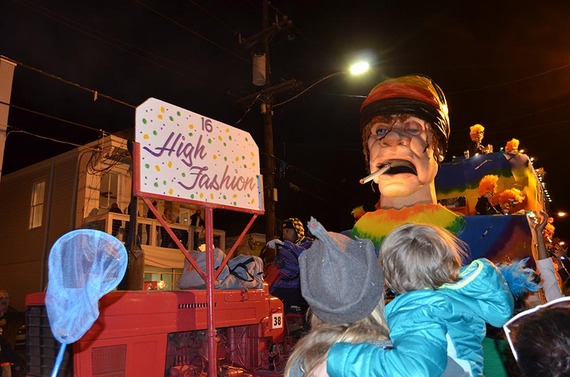 High Fashion...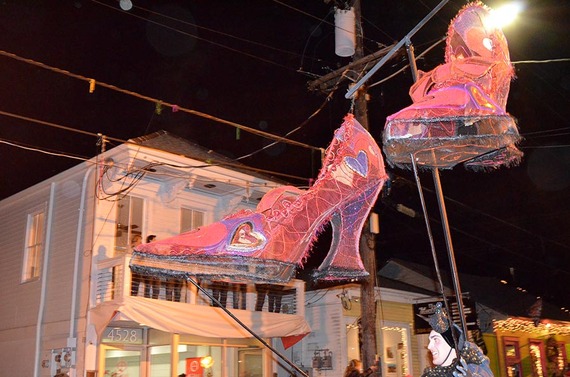 Before I continue with how totally awesome Muses was, I will talk about a down side. Muses has become one of the most popular of all the parades. Muses awesomeness and popularity has apparently brought out the worst in its spectators. Last year, drunken spectators said horrible things to Emily Mueller, an autistic 11-year-old. The girl was so upset by the jeering that her mother took her from the parade midway through the event. When the Muses heard about this, to their credit, they threw the girl a private party in the Muses' den. (Read about it here).
This year spectators were, in my own experience, just as bad. My friends and I chose a place on Magazine, near the start of the route, hoping it would be less crowded. We were terribly mistaken. Before the parade rolled, I noticed that the two moms of small children standing beside us were already drunk. As the Muses rolled, people shoved and collided to try to get throws, especially the ornate shoes given by the Muses as special, one-of-a-kind throws. Parents encouraged their children to push and poke their way through crowds to grab throws out of adults' hands. Some parents put their children on their shoulders and pushed their way up to floats, hoping the Muses would give special throws to children. Adults jostled and scrambled. I watched one Muse try to give a shoe away (the Muses pick special spectators for their one shoe each), only to have that spectator pushed away by others greedy for the shoe.
If you are saying to yourself, "Well, these things happen in large crowds," remember that down here we pride ourselves on our hospitality, friendliness and manners. I guess Muses has gained the status of sports figures or rock stars, and their presence brings out the worst in the crowds.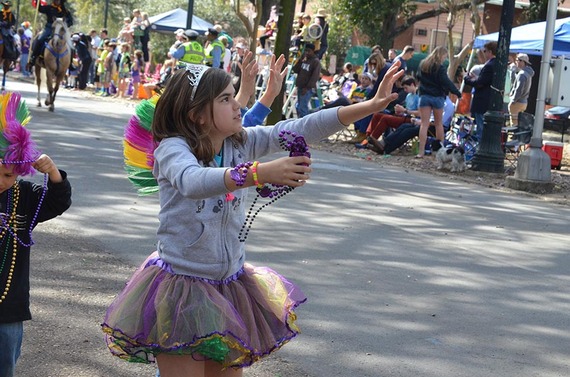 A well-behaved child at Choctaw, a day time parade, catches beads from a float.
Alright, lets get back to the awesomeness of Muses...
Besides floats, all Mardi Gras parades have music. All of the large parades use high school marching bands, with their cheerleaders, pom-pom girls, twirlers and color guard. In a city that has gotten a lot of attention for its crime and delinquency from the national press, we are very, very proud of the talented students who march in these amazing bands.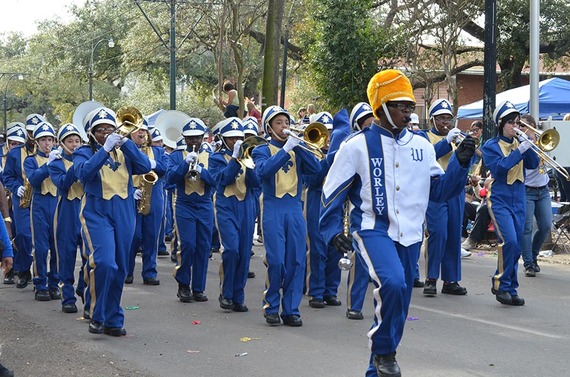 Bands and dancers marching in this year's Pontchartrain and Choctaw, day time parades on the Saint Charles parade route,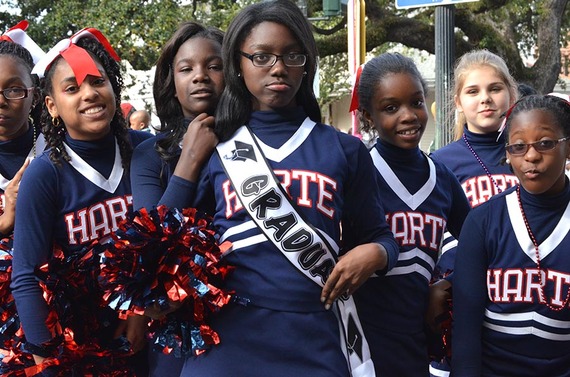 Adorable cheer leaders.
Floats also carry bands. The United States Navy Band performed on a float in Pontchartrain.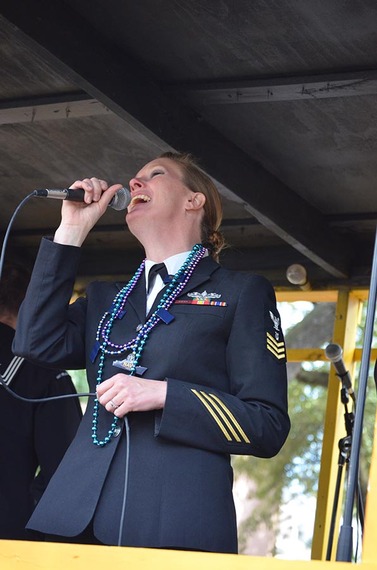 Above, my band mate and friend Mallory Overton-Andrews, who is a Navy officer, sings for the Navy band on its float. When she's off duty, she and I play around the French Quarter in the band Longfellow Street.
While Muses uses several high school and military bands, they also employ some more outlandish musicians as well.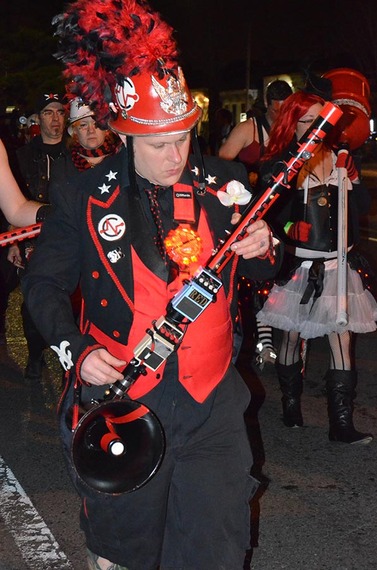 The Noisician Coalition play home made instruments for Chewbacchus (above) and for Muses (below).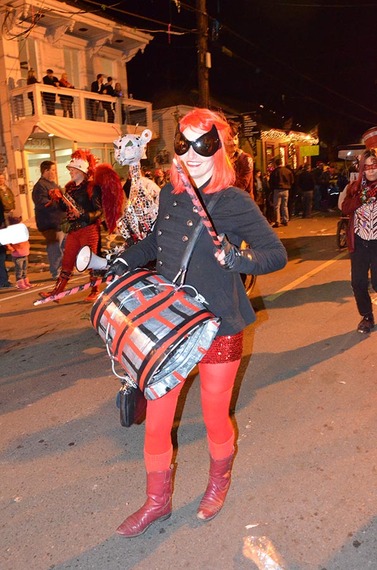 All parades also have dancers of varying ages, from children to adults. Again, Muses goes for the outlandish...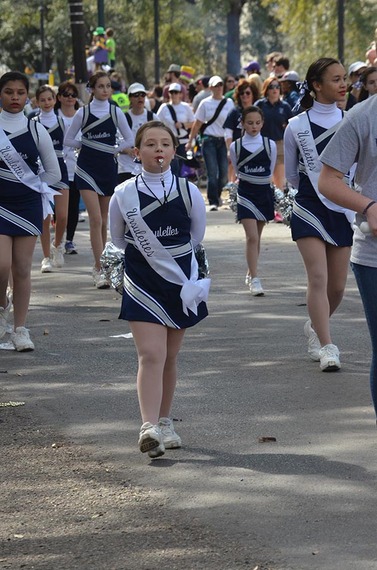 Dancers in daytime parades include the Ursuines Ursulettes, above, and the Xtreme Voltage dance team, below.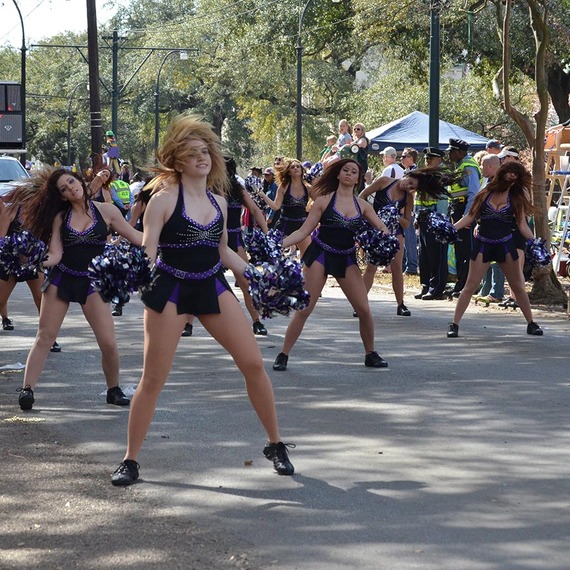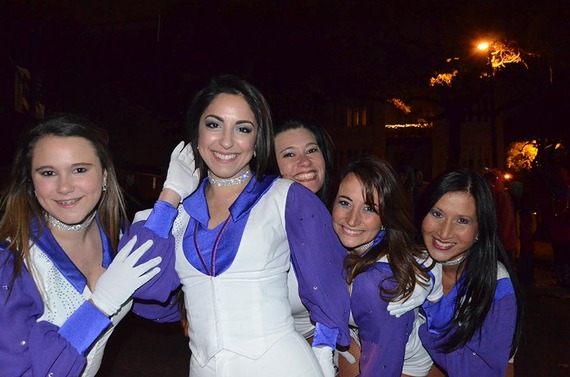 Dancers of The Dance Connection during the Nyx parade.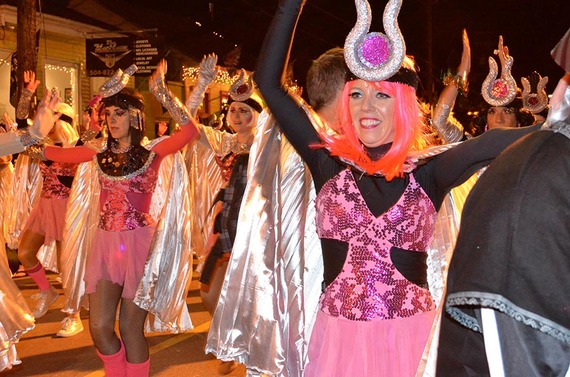 Muses dancers included the Camel Toe Steppers...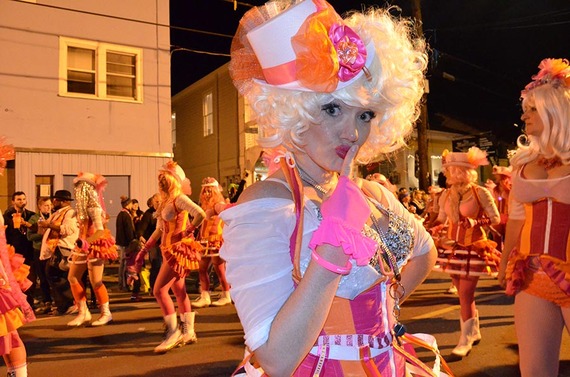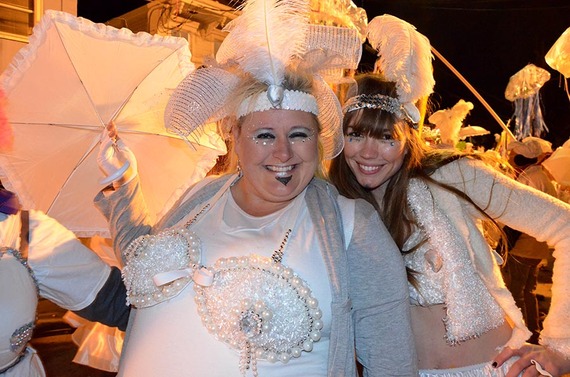 ...The Bearded Oysters...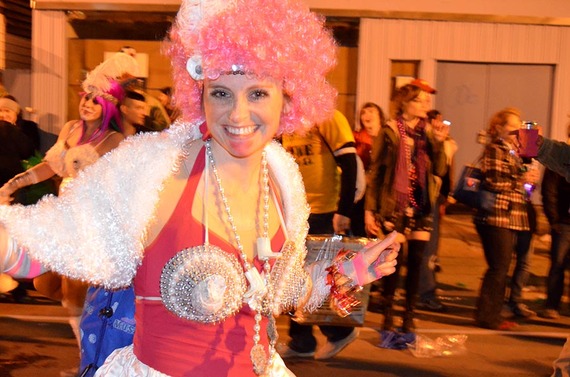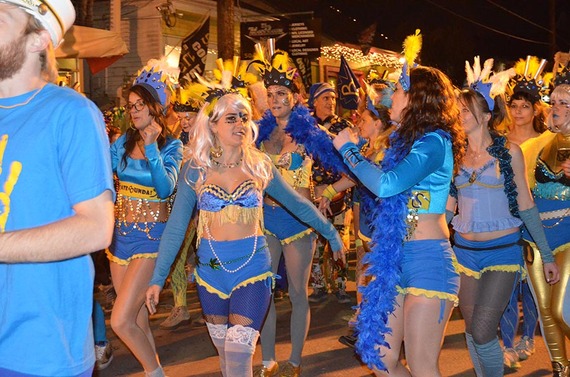 ...And Bate Bunda, a team whose name in Portuguese means "spank the booty."
Every parade also has krewes at large, krewes that exist outside of official krewes, and that attach themselves to one or to several parades. Some of these include the Sirens, seen here during the Krewe Of Nyx parade, another all female krewe parade...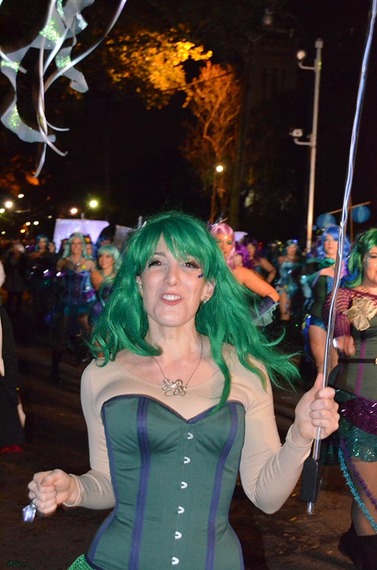 Above and below, Sirens during Nyx.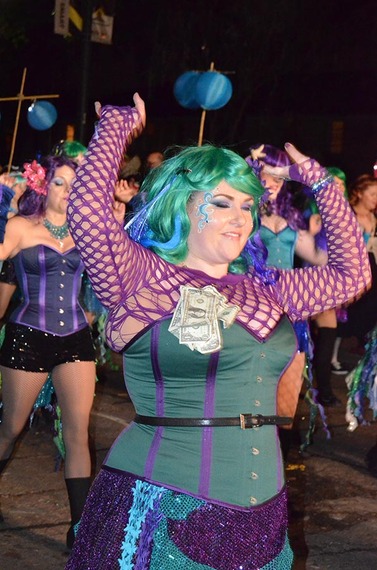 Muses krewes at large included the Rolling Elvi, Elvis impersonators who ride scooters...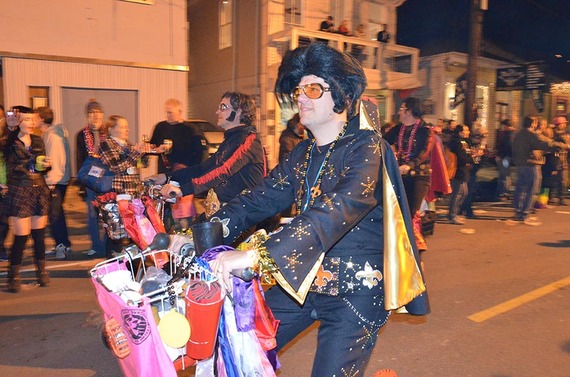 ...A krewe of Circus Arts school kids, who are amazing, incredibly talented performers...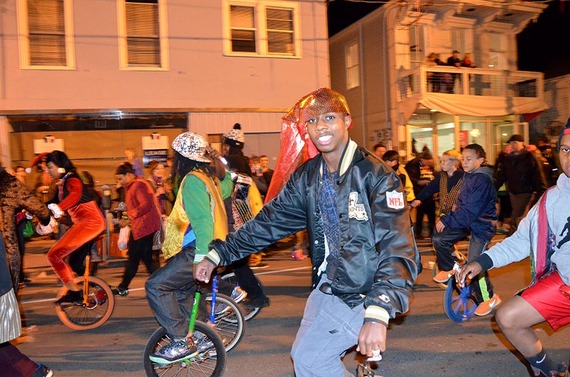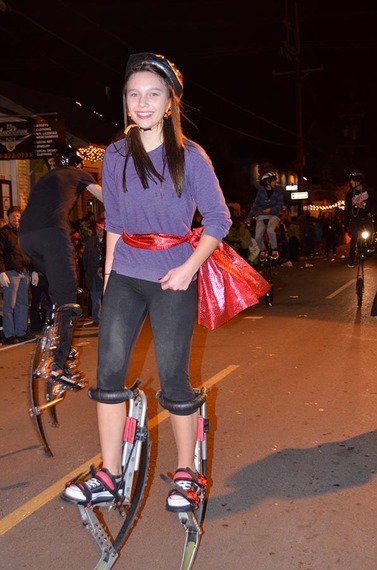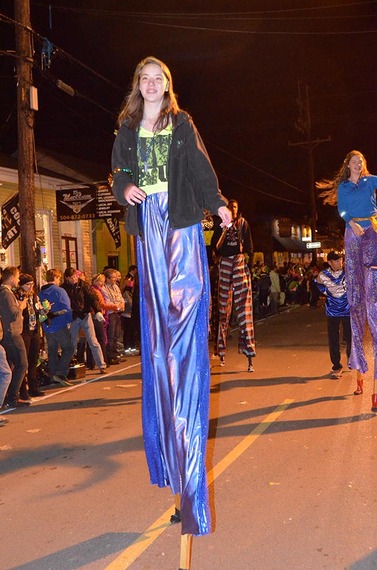 ...And some amazing tricycle riders...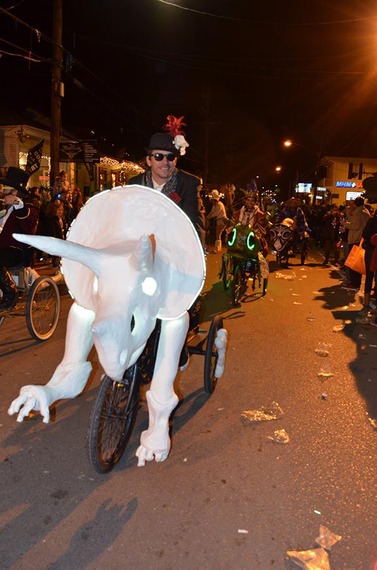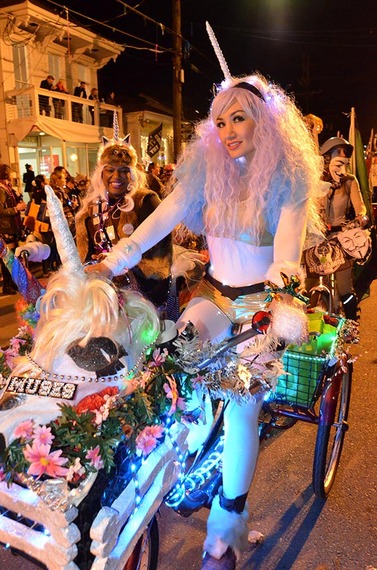 Midori on a unicorn tricycle. Yes, she really is in every gosh-dern parade!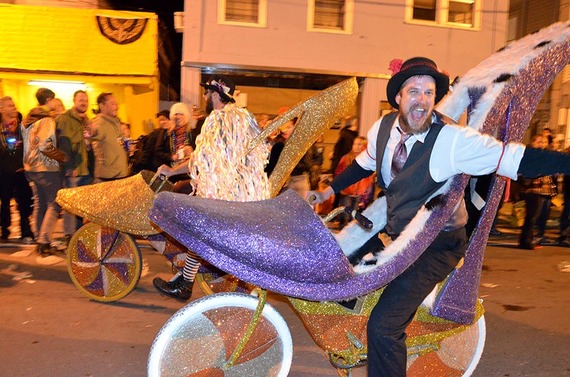 The tricyclists know it would not be Muses without the shoe...
The final float in Muses each year is the Sirens float (not associated with the Sirens dance team seen above). When deciding on a name, my sources tell me, the Muses considered calling the parade Sirens. They then discovered that in classical Greek mythology, the Muses bested the Sirens in a singing contest. Krewe of Muses was the name decided upon. But to honor the beaten Sirens, the krewe roll the siren float at the end of each parade, preceded by a fire engine whose siren is sounding.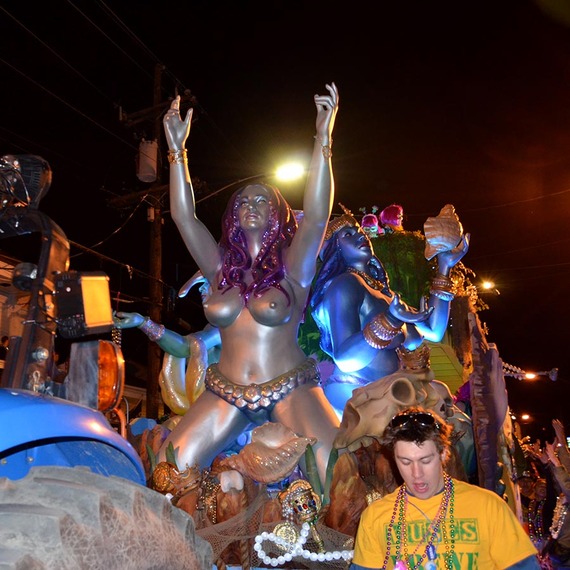 Despite the horrific spectators, for which the Muses cannot be blamed, the parade was amazing this year. I really enjoyed the sexual and political satire, as I always do. And my friends did not get a shoe, but did get some great throws nonetheless.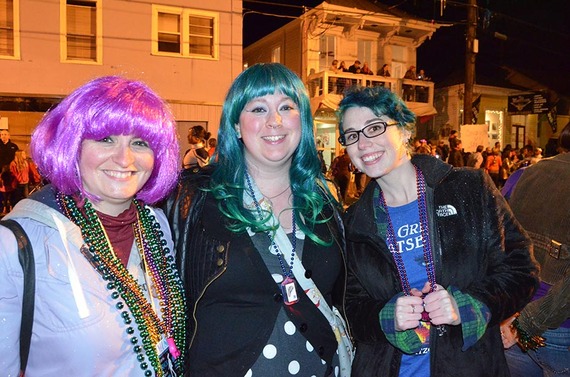 Above, my girlfriend, author and scholar Lauren DeVoe, center, flanked by librarian Anna, left, and our friend Natalie, right...Below, Lauren didn't get a shoe, but she did get a Muses doll.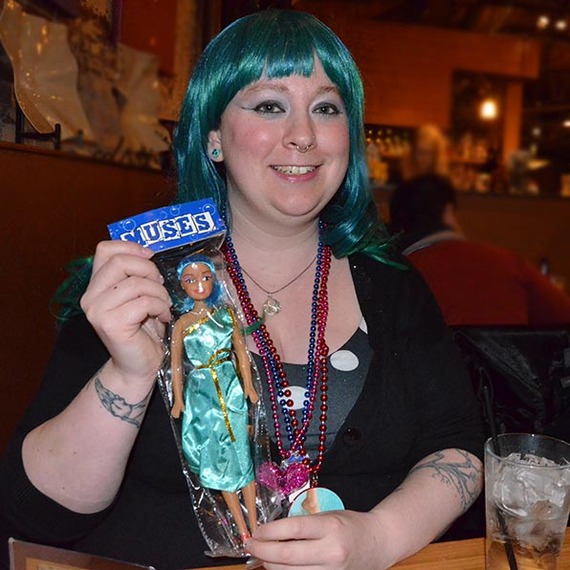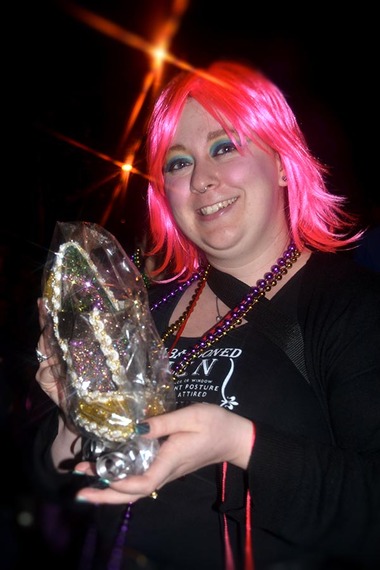 Lauren at Muses 2013, when she did get a Muses shoe.
The Krewe of Muses is awesome, and I love them. All photos by Kenny Klein. Come visit me at kennyklein.net.