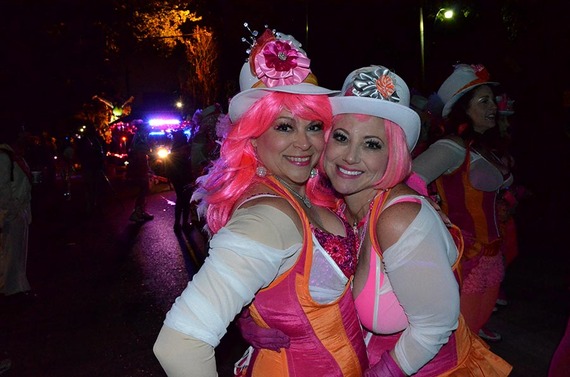 In the wake of Mardi Gras, I still have a lot of thoughts and experiences to process. As it is every year, Mardi Gras 2014 was a huge experience, filled with sights, sounds, music and art that one remembers for months, years, even decades.
When I posted my piece last week on the Krewe of Muses parade, Krewe of P. U. E. W. C. captain Midori Tajiri had this comment:
Kenny, I really like how you showcase the smaller dancing groups and artist groups. It's this kind of year round parade culture environment that defines a part of New Orleans and makes it like no place else.
I agree with Midori (who I interviewed a few weeks ago, here). While the huge parades with tractor pulled floats and celebrity guests attract tourists and cause a wonderful commotion, we locals are involved year-round with the dance troupes, artist groups and DIY parade sub-krewes.
Many of these groups are krewes-at-large, meaning they do not belong to a specific parade krewe, but march/dance/ride in one or several parades throughout the season. Some put on small, local parades, that fly way under the radar, but are a huge attraction to locals. Let's look at a few groups that I happened to catch this year (or even last year, or the year before).
Dance Groups:
Many parades use dance groups at large, and these range from very conventional dancers, to the completely absurd, sexual and hysterical.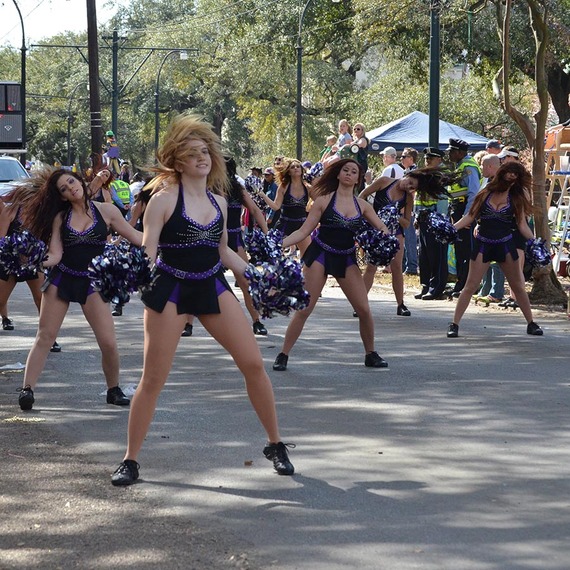 Above and below, Xtreme Voltage is an example of a conventional dance krewe. These photos were taken during Choctaw, a day time parade.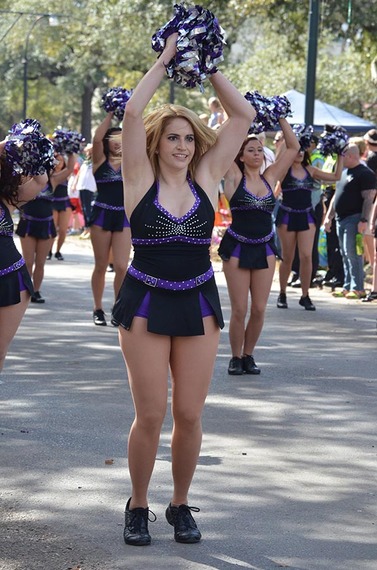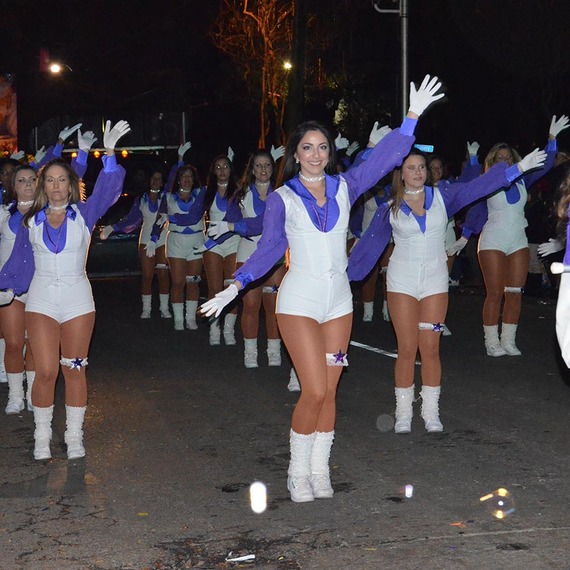 Above and below, another great conventional dance team, the Dance Connection, marching (and posing during a stop) at the Krewe of Nyx parade.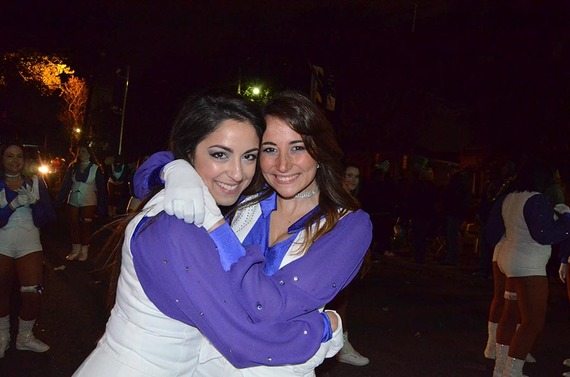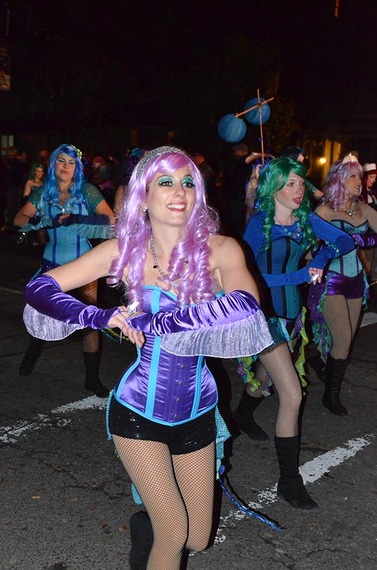 Above and several below, the Sirens are a less conventional dance group. They are daring, weird and beautiful.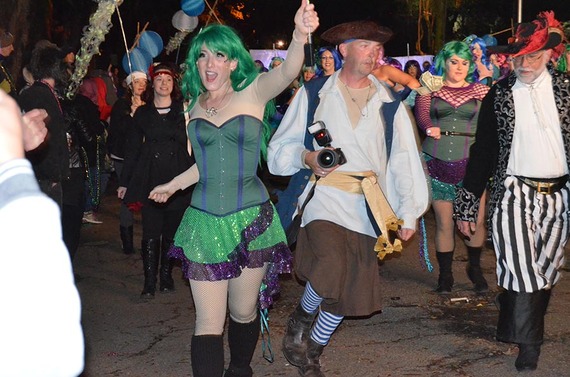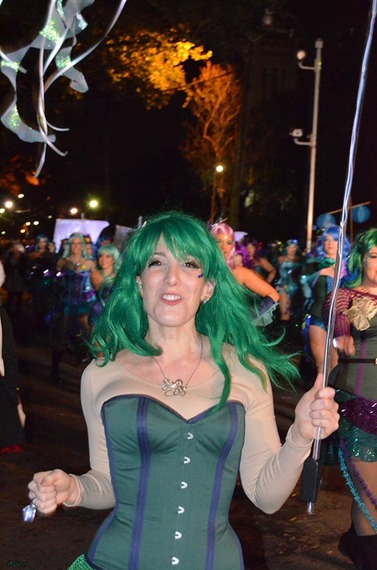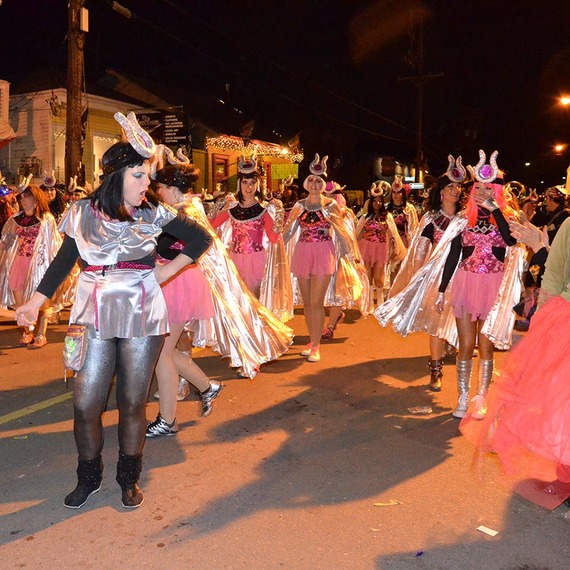 Above and below: An allusion to a very awkward fashion faux-pas, the Camel Toe Steppers are seen here during Krewe of Muses 2014.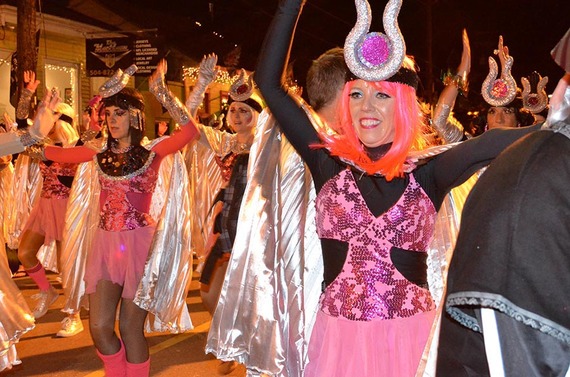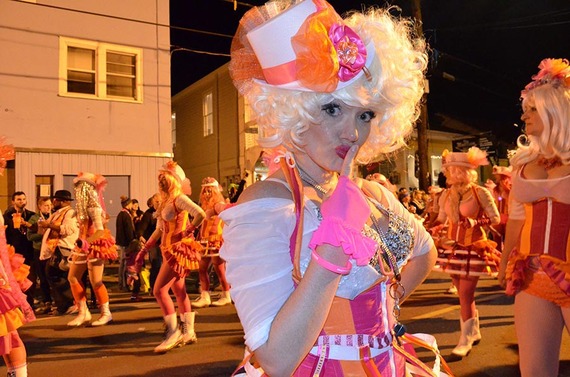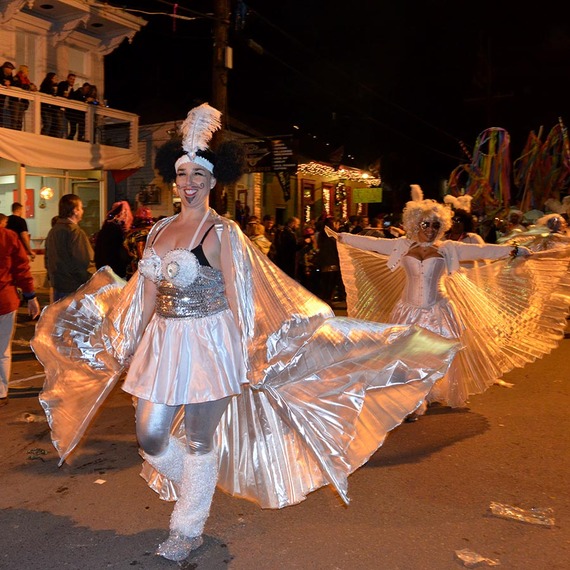 Above and several below: the Bearded Oysters, another tongue-in-cheek sexual allusion. Most of these dance troupes are DIY: they make their own costumes, arrange their own hair and make-up, and express themselves individually and as members of these amazing dance groups.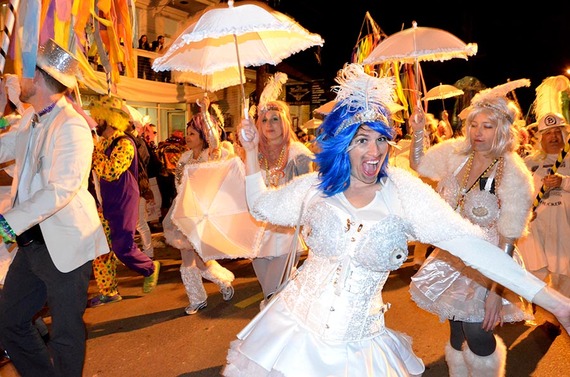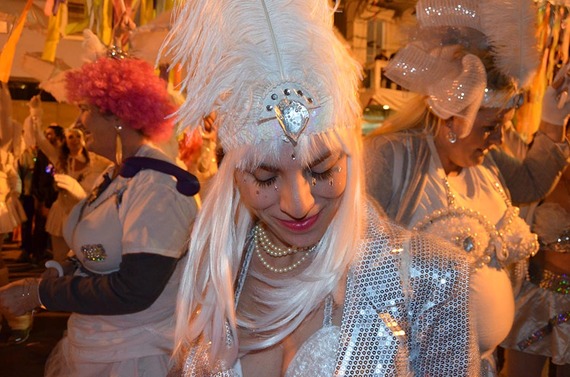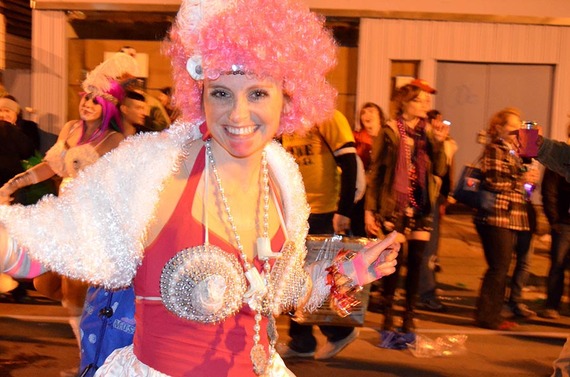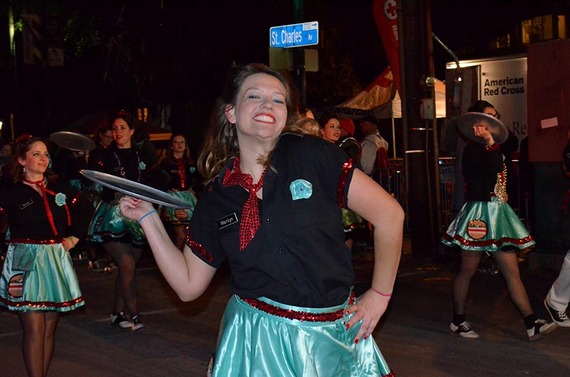 The Muff-A-Lottas, above and several below. We have very delicious local sandwich called a muffaletta. This dance troupe is, again, a sexual reference to that sandwich and to a very delicious anatomical part... I love the campy '50s outfits. I was lucky to have the parade stop for a few minutes so I could get some great shots of these women.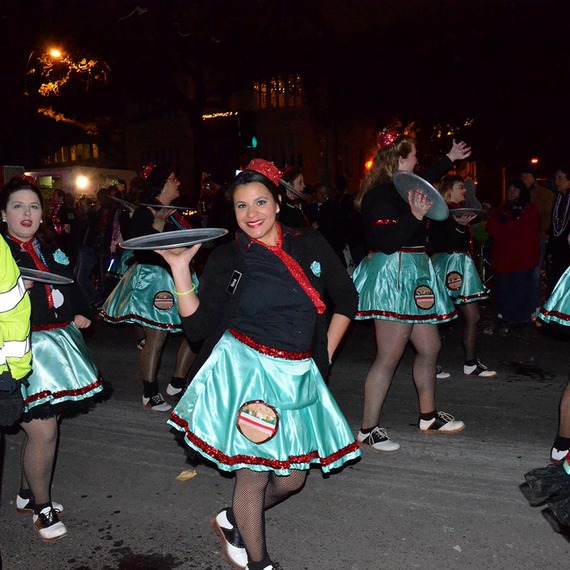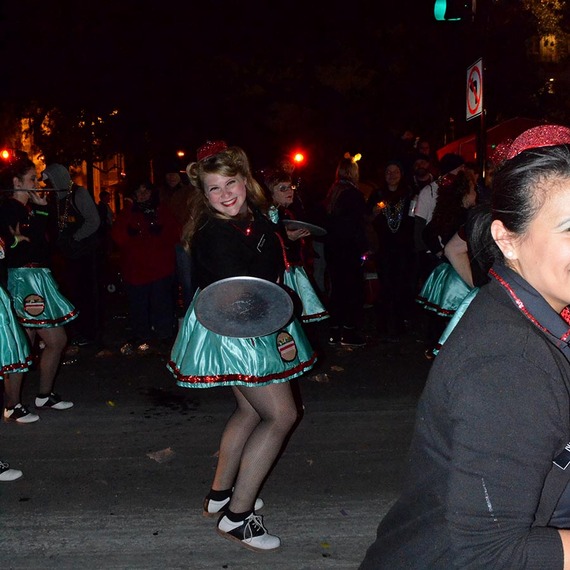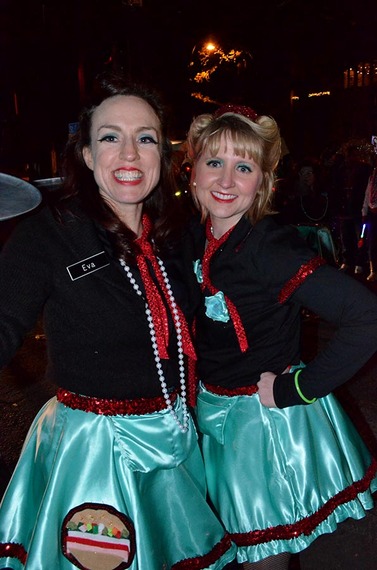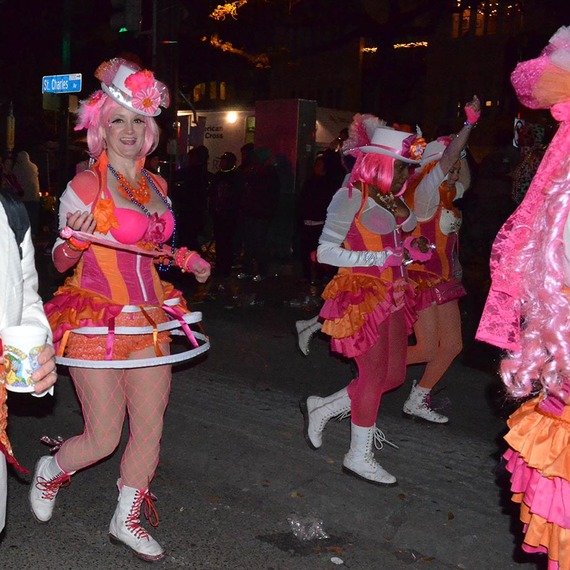 Above and several below: Hey, it's New Orleans. The sexual innuendos never stop. The delightful, lovely Pussyfooters.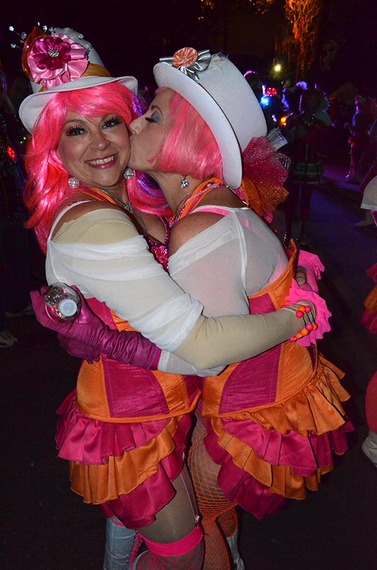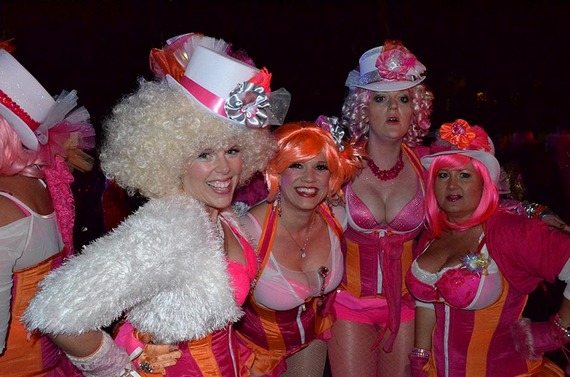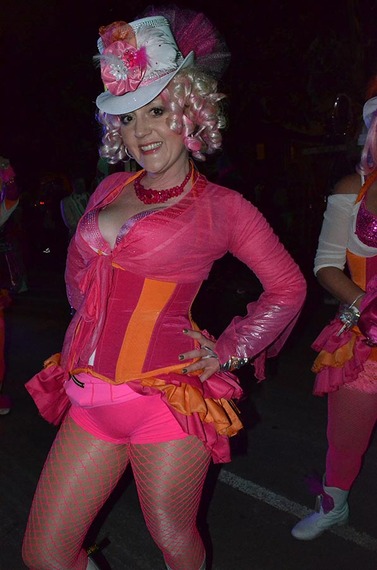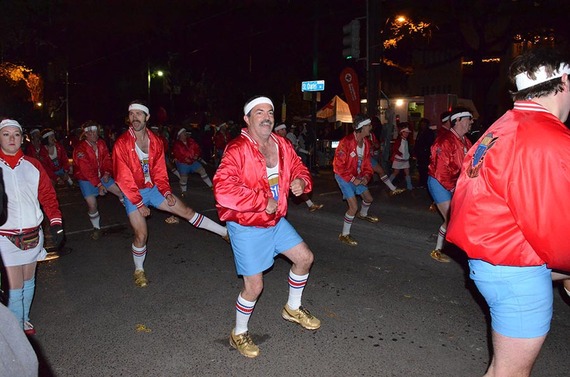 Above and below, as much as I do love beautiful women, I am not forgetting the guys. The awesome 610 Stompers, whose motto is "Ordinary men, extraordinary moves."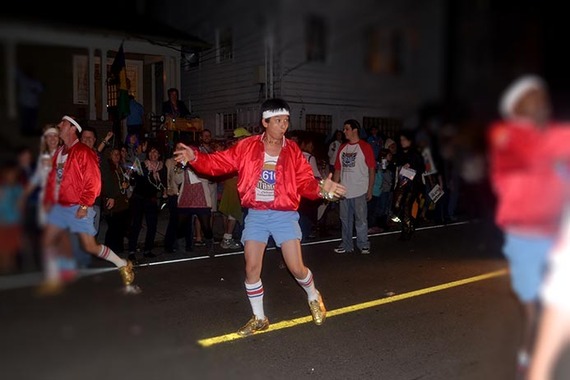 Other Krewes:
Beside dancers, tons of other awesome DIY krewes are involved in our parades. Here are just a few.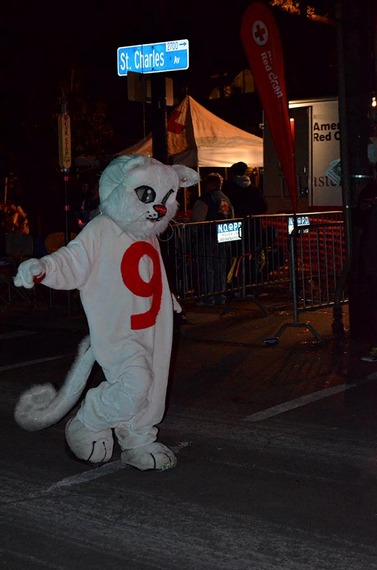 The Ninth Ward Marching Band appearing this year in the Krewe of Orpheus. The Ninth Ward is a New Orleans neighborhood that became famous for taking terrible damage during Hurricane Katrina. The area now attracts many artists and musicians.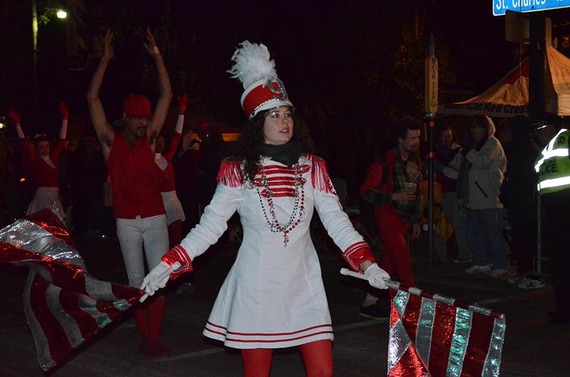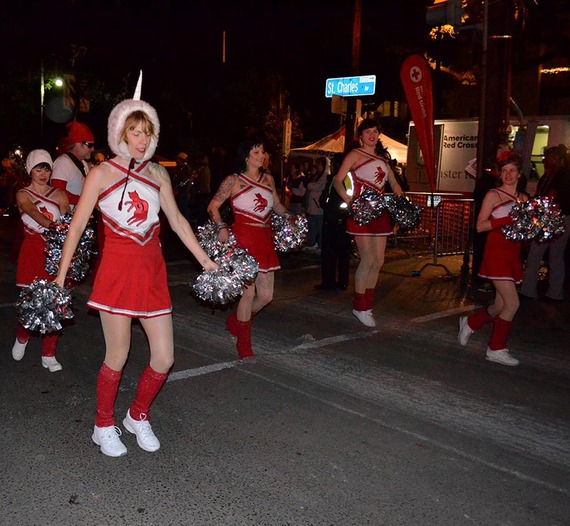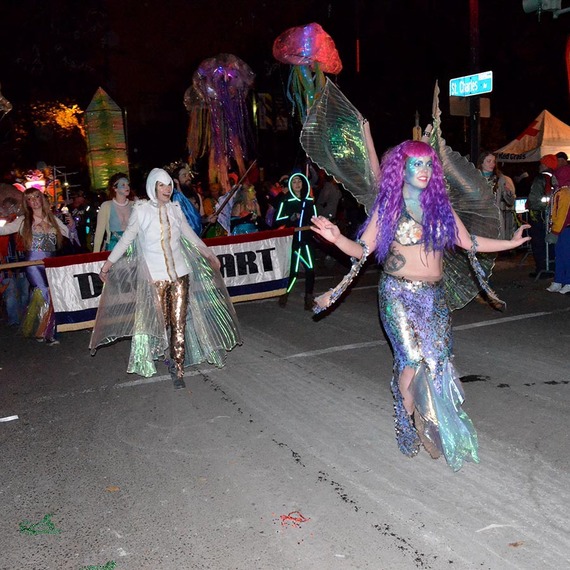 Above and several below, Drumkart is an amazing, creative krewe that marches in a couple of parades. Fitting in with the theme of this year's Krewe of Proteus, they portrayed fantasy and mythical beasts, and...um...fish.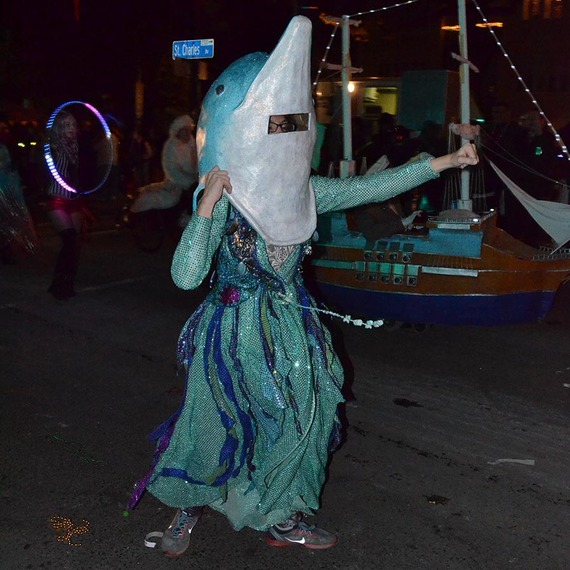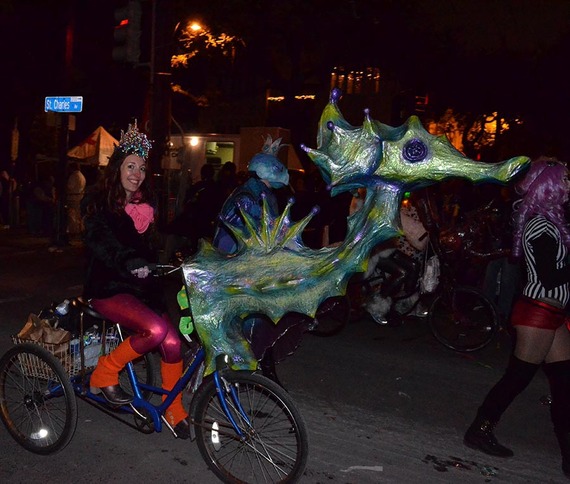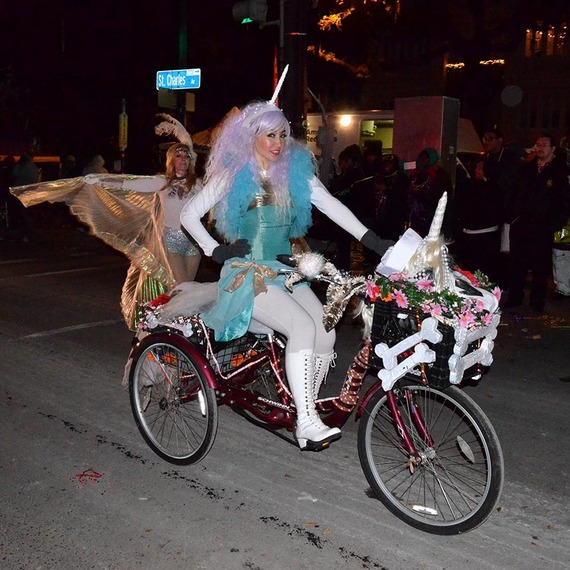 Above, it wouldn't be a New Orleans parade without Midori.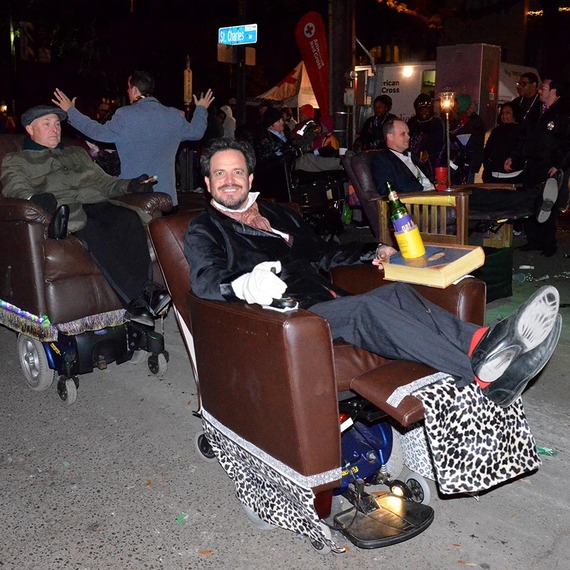 Above and below, the Laissez Boys. This is the way to roll through a six mile parade route!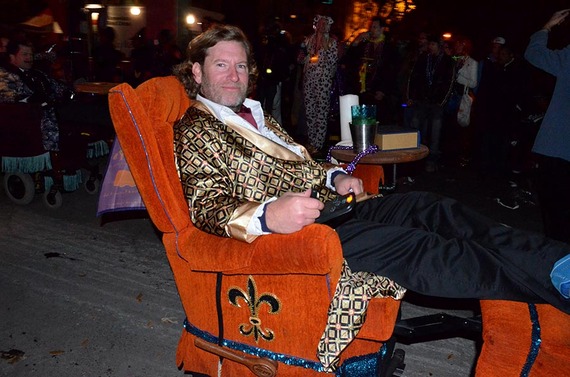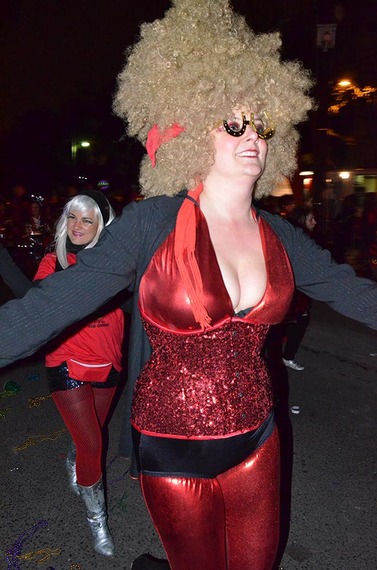 Above and several below, the Disco Amigos.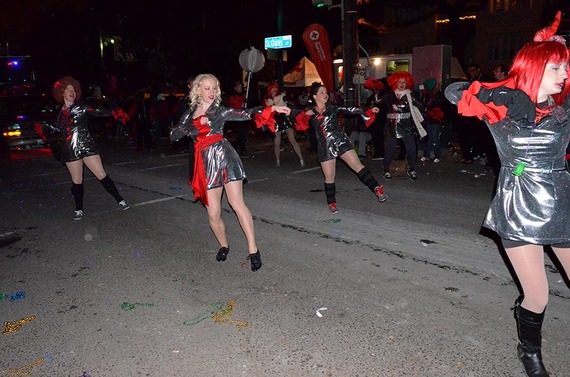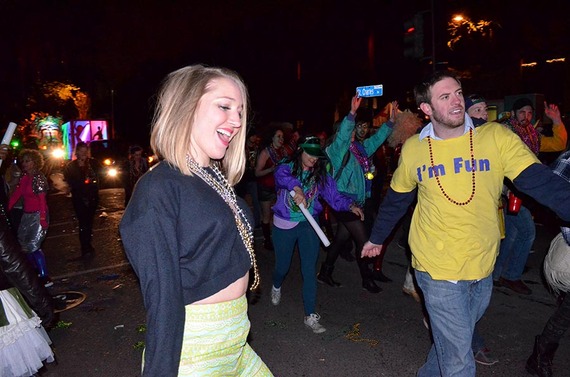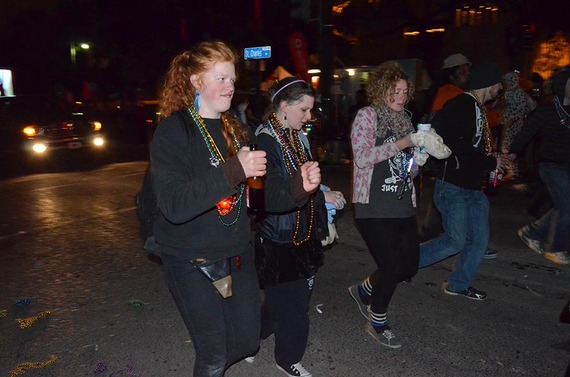 I'm not even sure of these three were actually in the troupe. I just really like red heads.
DIY Parades:
Way off the beaten track of the parade route are DIY parades, where krewes make their own costumes and contraptions.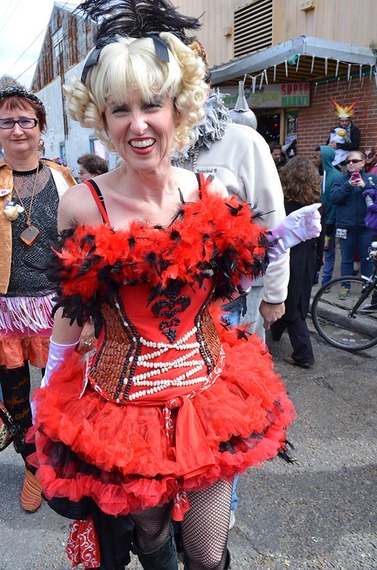 Above and several below, the Red Beans parade, which rolls each year on Lundi Gras (the Monday before Mardi Gras): Monday in New Orleans is traditionally a day to serve red beans and rice as dinner. All costumes and contraptions in the Red Beans parade are made of, well, beans.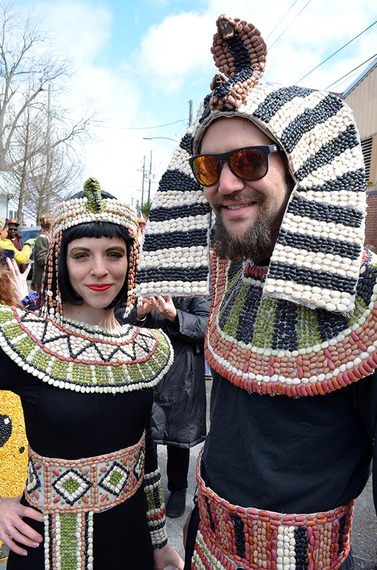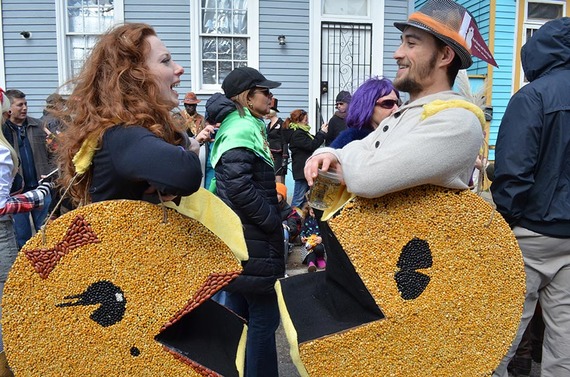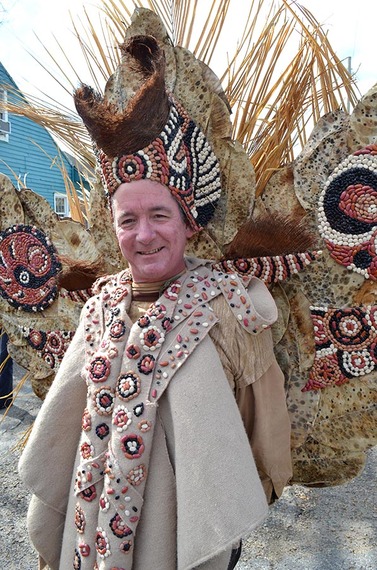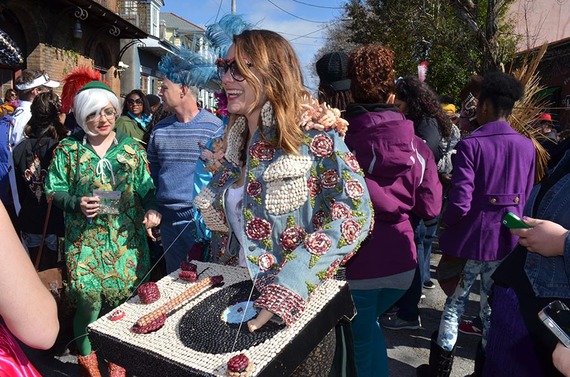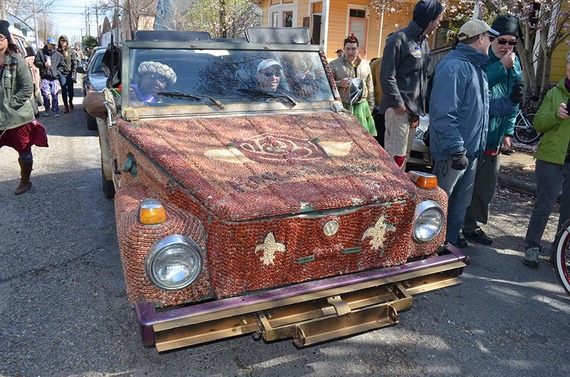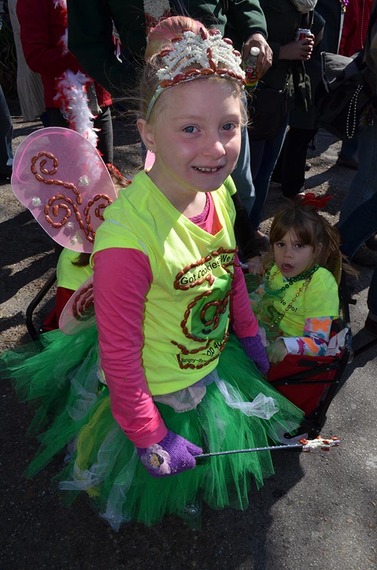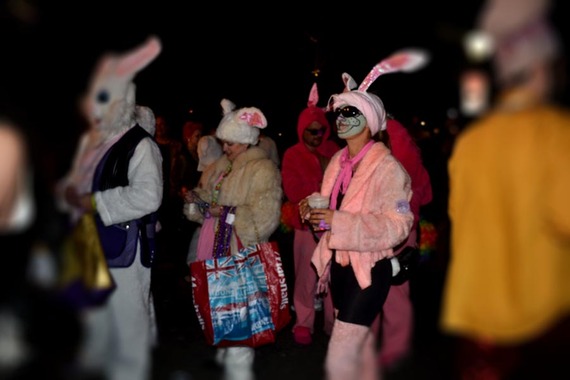 Arguably the most popular DIY parade among New Orleans locals is Krewe Du Vieux. The parade, which involves several sub-krewes including Krewe Delusion and Krewe Du Jieux, is known for its raunchy sexual humor and political satire. Because of an out-of-town gig I missed this year's Krewe Du Vieux, so above and several below are photos from Krewe Du Vieux 2013.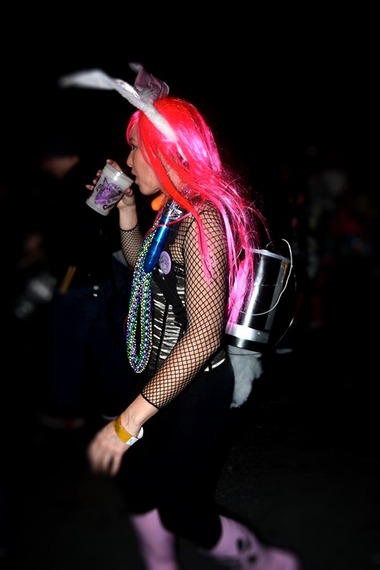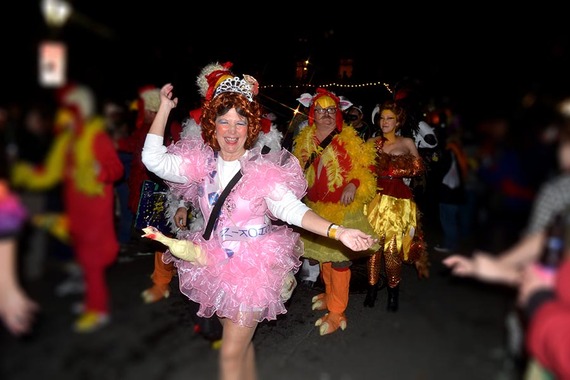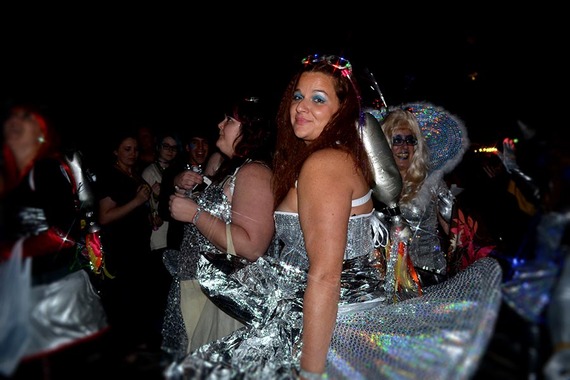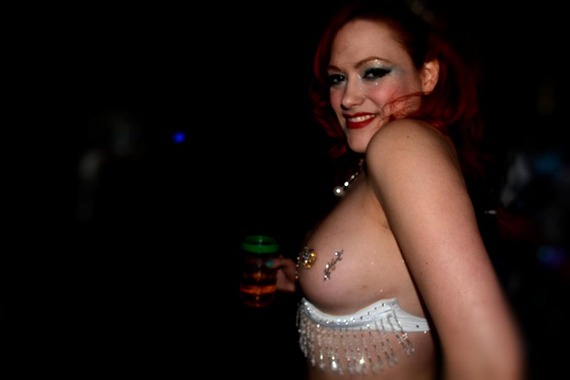 Above and below, the beautiful Krewe of Goddesses marching in the 2013 Krewe Du Vieux parade.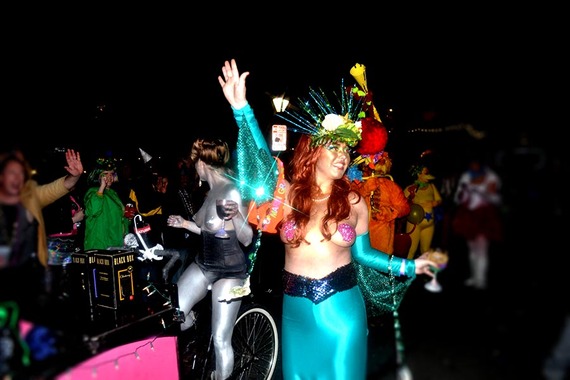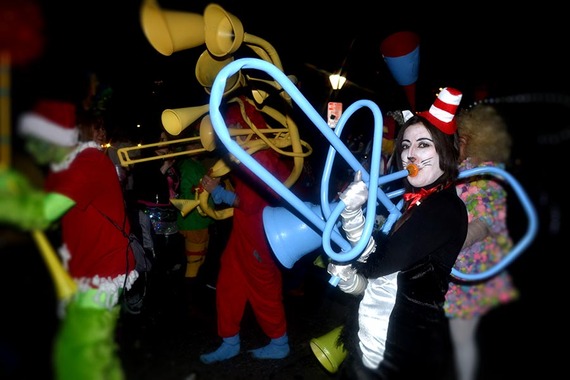 Above, the Krewe Du Suess playing amazing DIY instruments.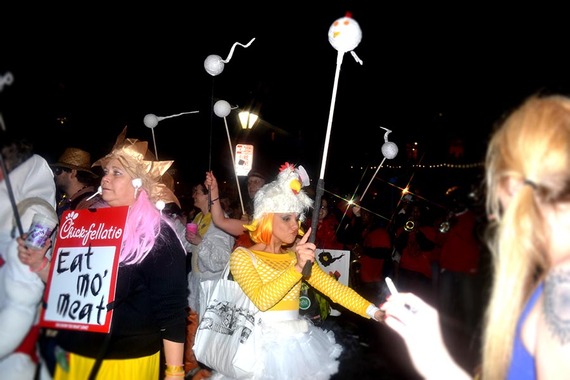 Above, the hyper-sexual Krewe Of Spermes caught the attention of the television show Tremé during its first season.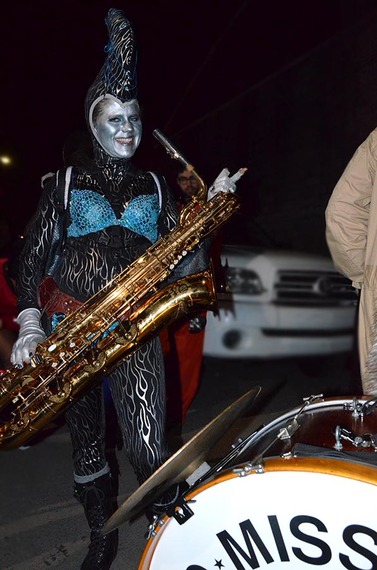 Of course, the only reason Krewe Du Vieux's popularity as foremost among locals might be arguable is because of the Intergalactic Krewe Of Chewbacchus, seen above and several below.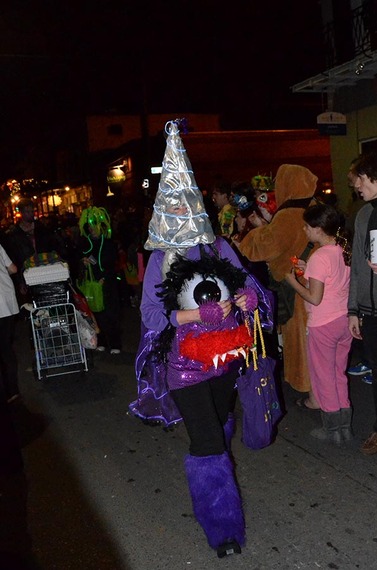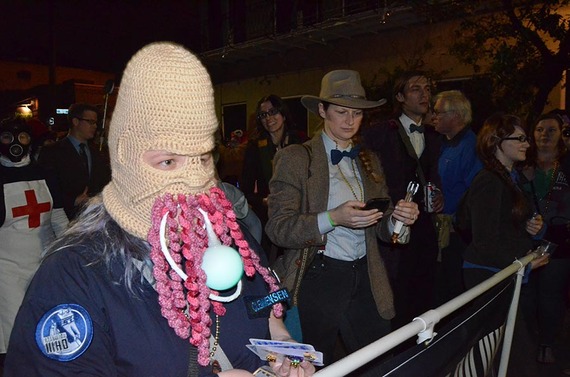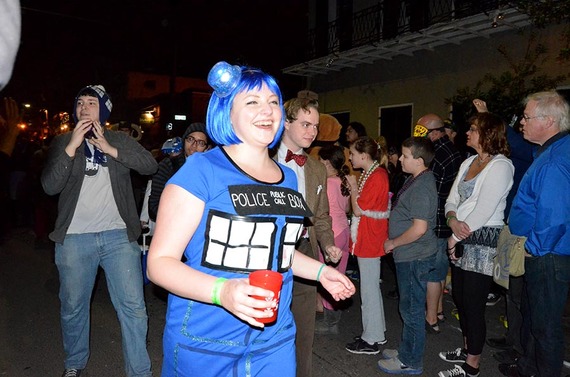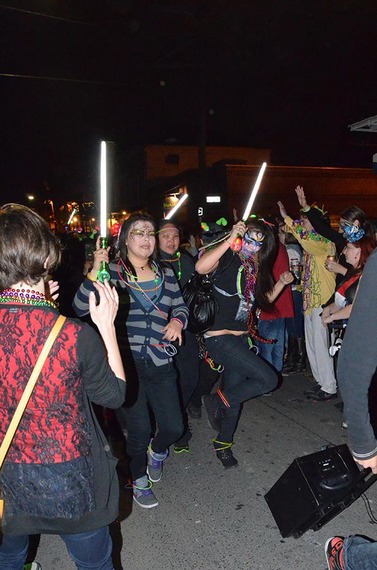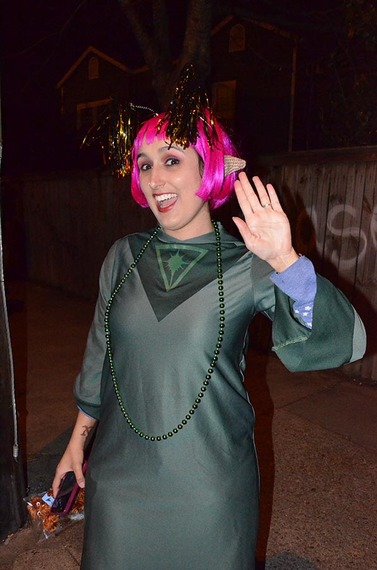 I could not even begin to list all of the amazing DIY krewes, troupes and dance groups that make up the enormity of parades, but this should give you an idea of the ways in which local artists, crafters, costumers, dancers and musicians stay busy year-round preparing for this incredible adventure that we call Mardi Gras.
All photos by Kenny Klein. Please visit my site at kennyklein.net.