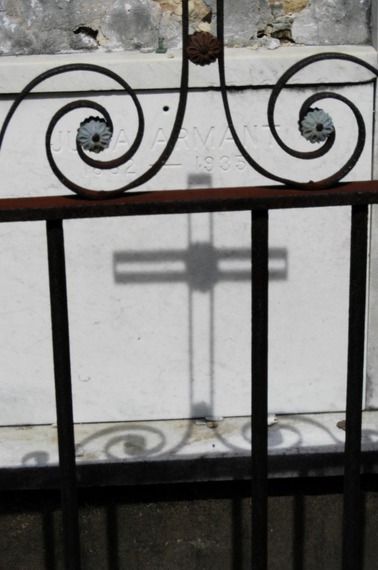 In New Orleans we live with the dead every day. That's an odd thing to say. But the spirit of death is ever present: in the devastation of Katrina; in the evidence of Voodoo practices seen here and there; and in our cemeteries, which are landmarks, shrines, and part of the landscape of our dizzying urban environment. Many people are drawn to our cemeteries, both locals and tourists. A glance at Google results for a search of New Orleans yields a long list of cemetery tours. And where I live, just a block from Lafayette Cemetery Number One, I see tourists every day wending their way to view that particular "city of the dead."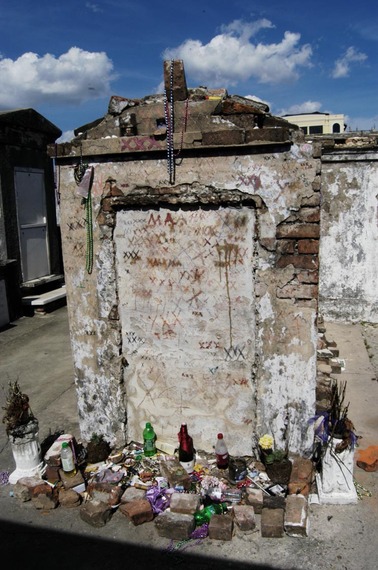 Most people know the cemetery closest to the French Quarter: Saint Louis Number One is reputed to be the final resting place of Voodoo Queen Marie Laveau (whose supposed tomb is pictured above: no one knows if she's really in there), and is home to some monumental monuments, like the tomb pictured below. Just off of Basin Street, St. Louis #1 and #2 stand on the edge of what used to be Storyville (they now sit astride the Iberville low income housing projects), and are collectively the oldest burial sites in New Orleans, with tombs dating back to 1789, and even earlier remains relocated there.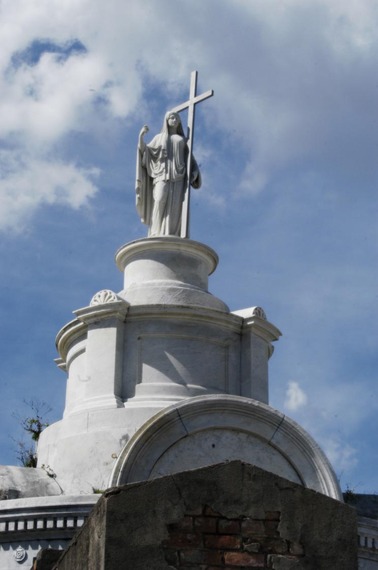 But many tourists never see the other New Orleans cemeteries: some of them remain unseen because they are too far off the beaten track, others because they are worn down, unkempt, or just downright creepy. Let's look at a few of the "other" cemeteries around the city. Most are easily reached by streetcar.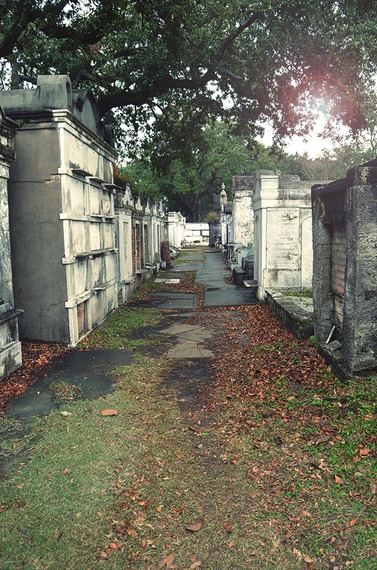 Lafayette Cemetery Number One (above), on Washington Avenue off Prytania, is a tourist destination. A block from the Saint Charles streetcar line, in the lovely Garden District, the cemetery is beautiful.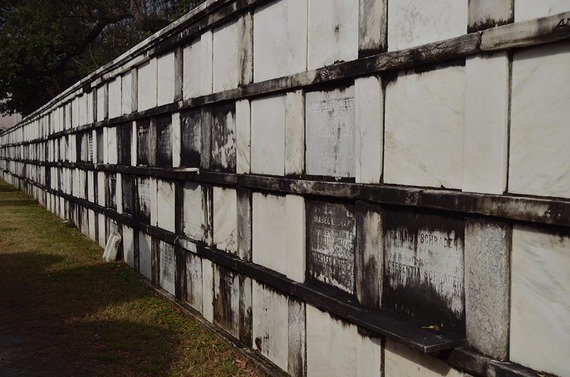 Above, the cemetery is lined by high "wall tombs," walls actually comprised of rows of tombs. This separates the cemetery from the street beyond, giving a feeling of calm and solitude.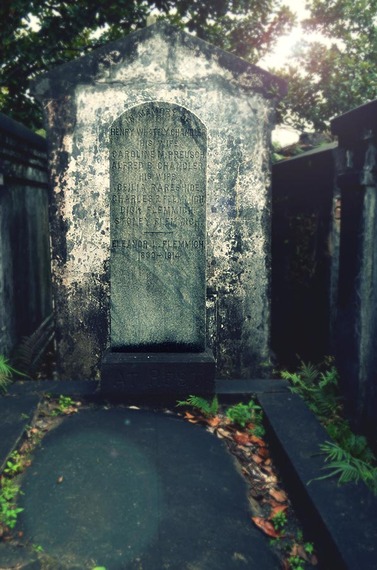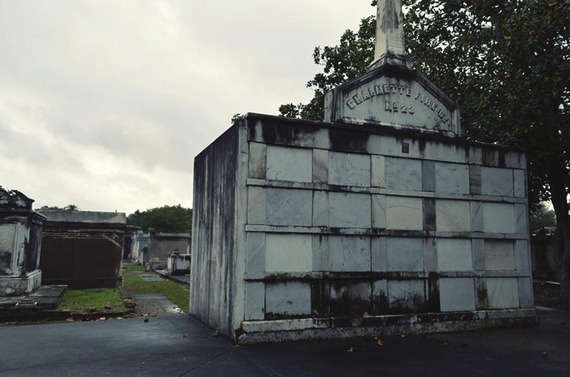 Another popular tomb type is the "society tomb," above and below: the one pictured above is the tomb of the Chalmette Fire Department of the late 1800s (Chalmette is a neighboring city). Society tombs offered those who did not wish to be buried with their families, or who could not afford elaborate tombs, the chance to be buried with their co-workers or their philanthropic society.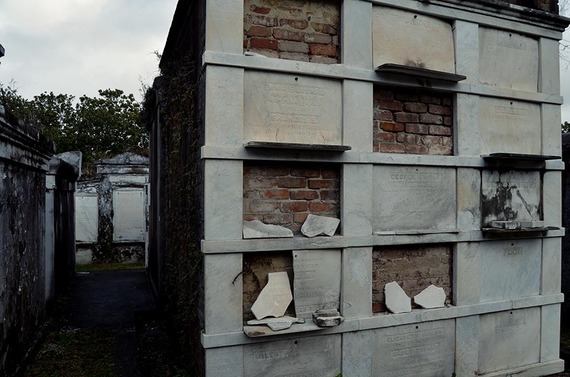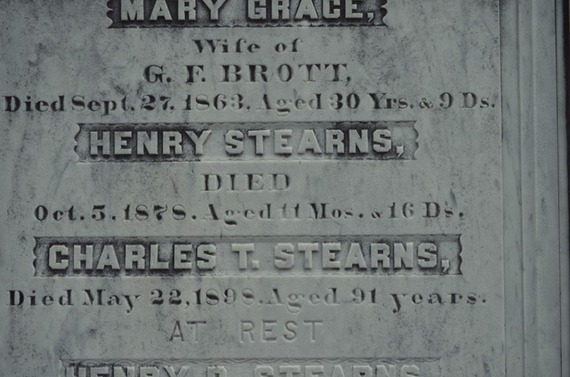 Much of Lafayette Cemetery #1 was built as a response to the yellow fever epidemics of the later Nineteenth Century. 1878 is a very common year on tombstones here: that year 4,046 New Orleans residents died of yellow fever. Families were torn apart, and parents and children died within days of each other, as seen above and below.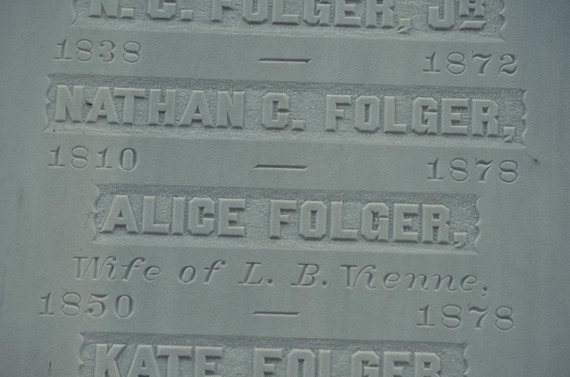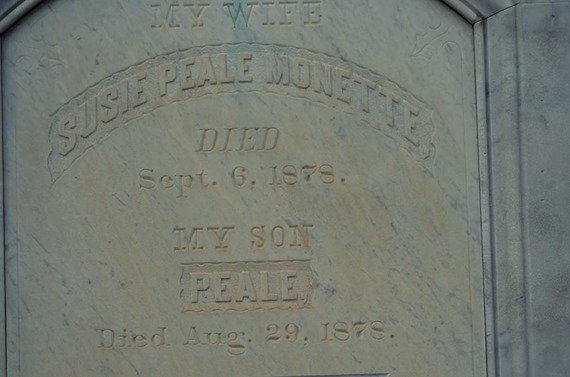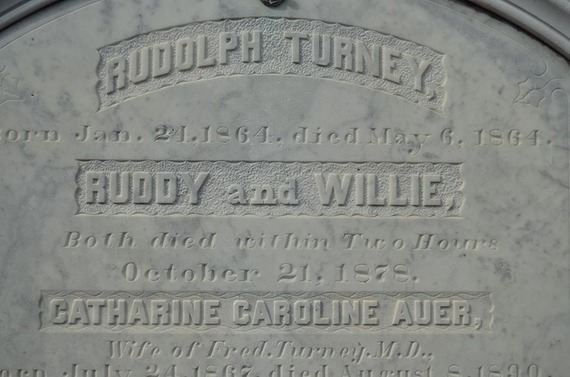 The cemetery is also the resting place of many who died in battle during the Civil War (fought 1861-1865). Below is the monument and the graves of the 15th battalion of Louisiana cavalry, who fought for the C. S. A. from 1861-63.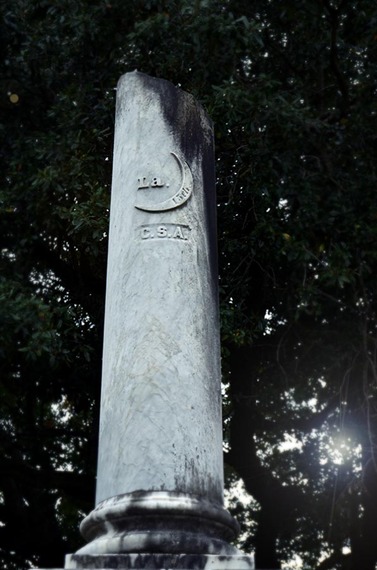 Just up Washington, past Saint Charles, and into historic Central City, is Lafayette Cemetery Number Two. Both cemeteries were named for the city of Lafayette, the locale of the two before Lafayette was incorporated into the city of New Orleans in 1852. Lafayette #2 is not much like #1. It is surrounded not by majestic wall tombs, but by a chain link fence that offers a view of the housing that surrounds it. It is run down, uncared for, and unkempt. I refer to it as the creepiest cemetery in New Orleans.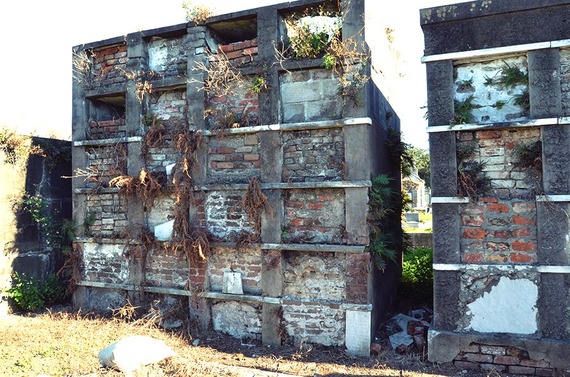 Lafayette #2 is the home of several philanthropic society tombs. Below is the society tomb of the Young Men Olympian benevolent Association.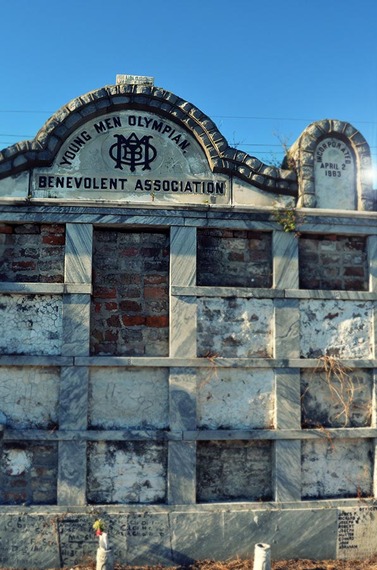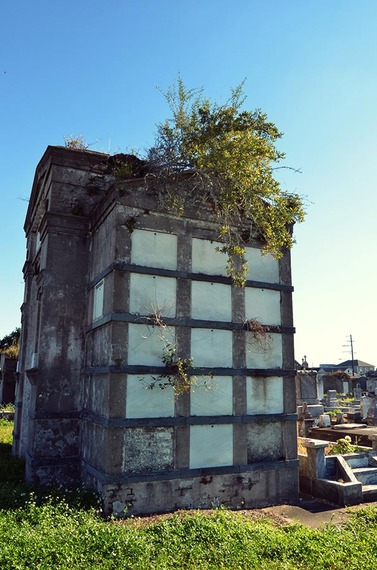 Above and below, the society tomb and grave plot of the Protestant Orphan's Society. The board members and philanthropists, who cared for protestant boys orphaned by the yellow fever outbreaks, lie in the massive society tomb above. Five orphans lie beside it, in the grassy plot of graves.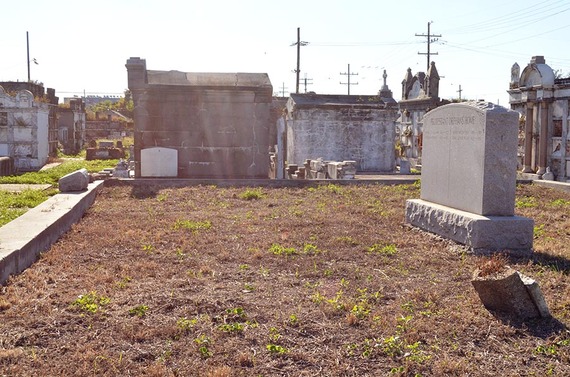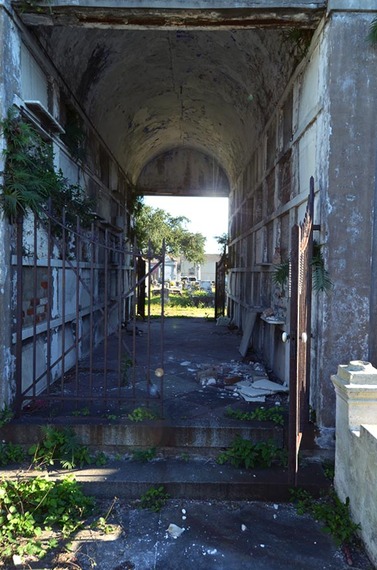 Above and below, the open gates of a family tomb beckon one inside. There one finds the effects of a century of neglect. The broken glass is a candle probably used in a Voodoo working. Lafayette #2 is a popular site for practitioners of this Catholic sect. A Voodoo practitioner might work in a cemetery to feel close to the spirits of her ancestors, or to ask the aid of the departed in a working (usually a healing, not a curse). Candles in glass sleaves like this are a common sight in Lafayette #2.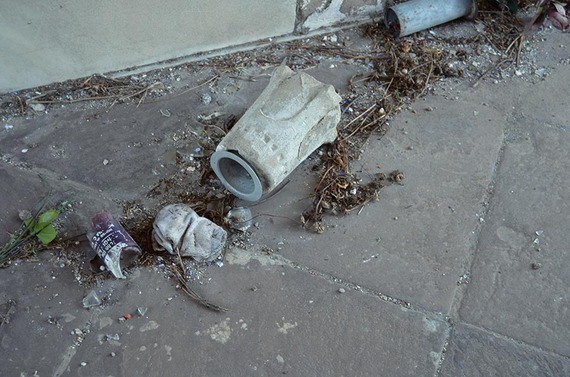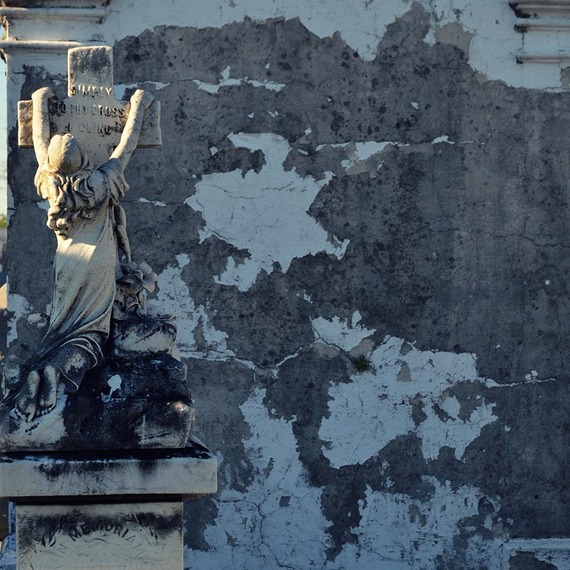 Above, some of my favorite statuary is found in Lafayette #2. Below: yes, that sign is for real.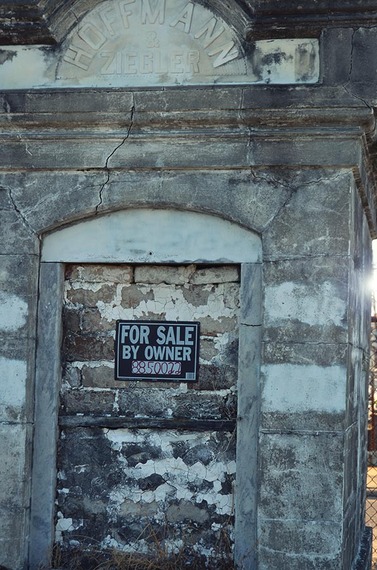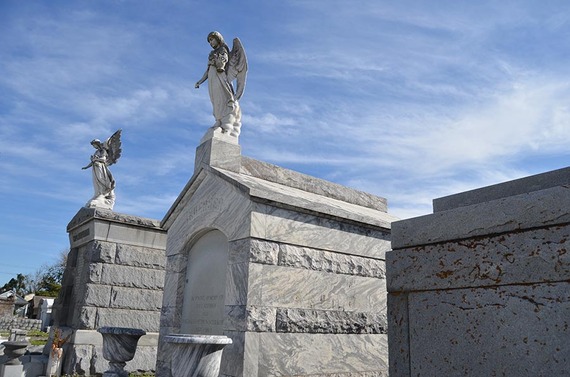 The Saint Charles streetcar rounds a curve way uptown, at Riverbend, and takes riders to Carrollton. Once a separate city, the farthest uptown portion of New Orleans houses Carrollton Cemetery, home to some of the finest cemetery statuary in the city. The cemetery is on Hillary and Birch streets in East Carrollton.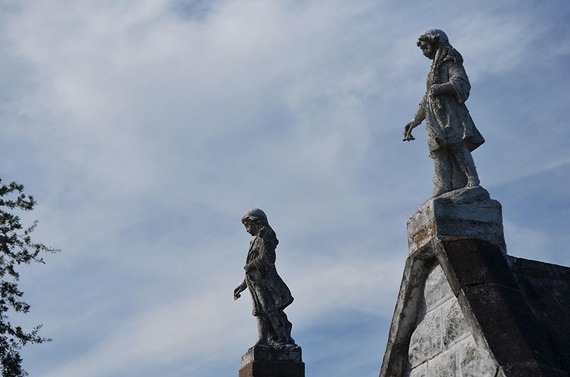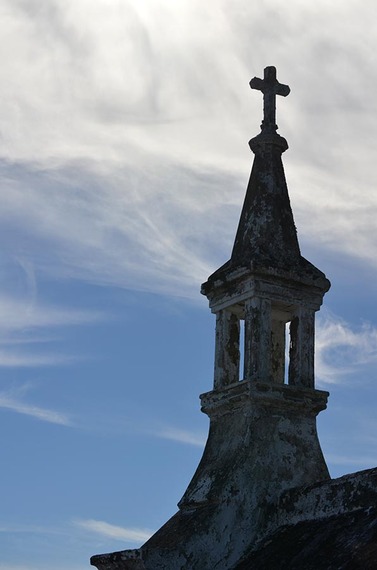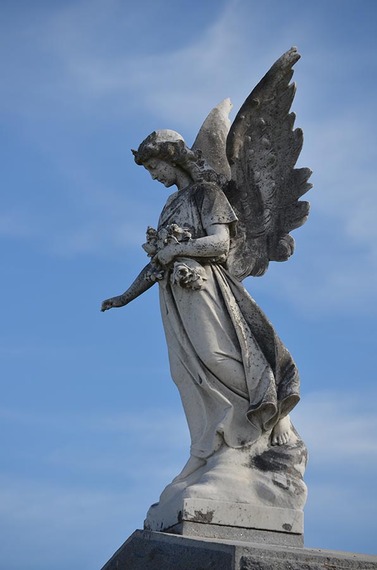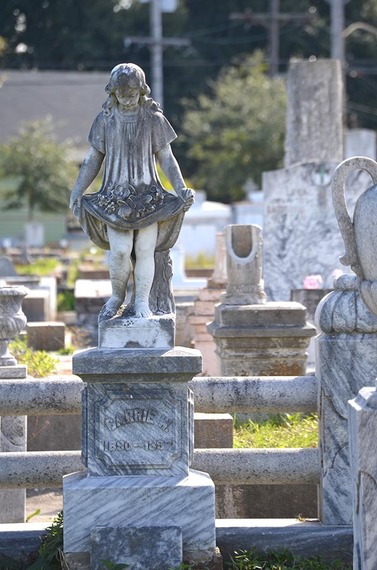 Above and below, perhaps my favorite cemetery statue, the sad, beautiful likeness of Carrie W. Hecker, who died in 1897 at age 7.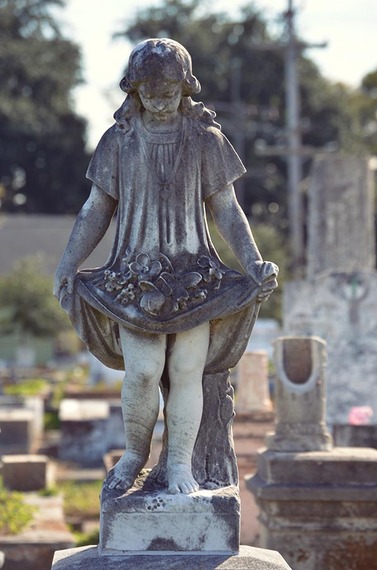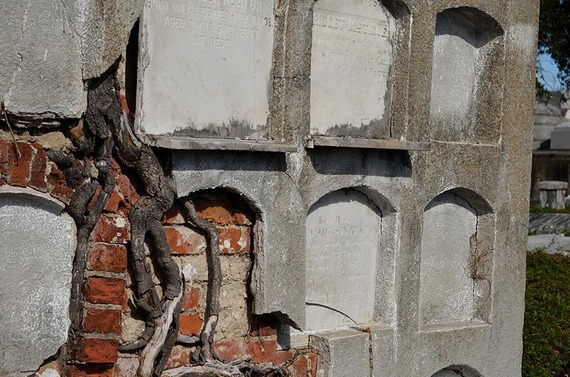 As in most cemeteries in New Orleans, a century of age and hurricanes takes its toll. Above, trees and other plants often find a home in the roofs of tombs. A tree on the roof of this society tomb sends its roots through the tomb's walls. Below, a tomb without a roof, and with holes in the walls.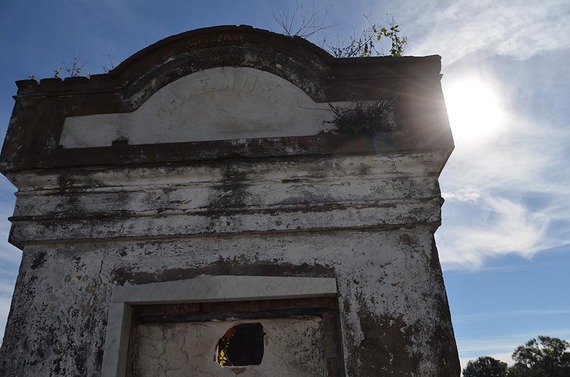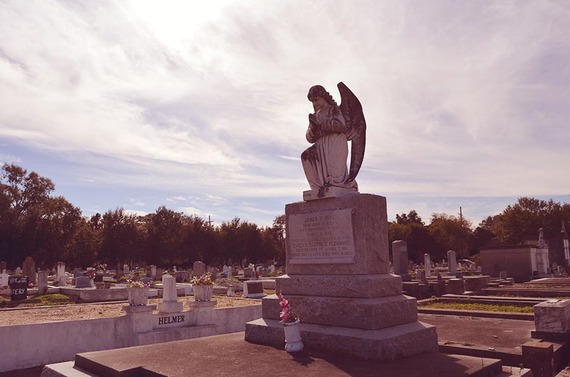 Once a part of the city of Carrollton, whose laws and attitudes are very different from that of New Orleans of which it came to be a part, Carrollton Cemetery has the dubious distinction of being New Orleans' only segregated cemetery. While whites find eternal rest amid the beautiful monuments and marble tombs, above, the graves of black residents are in-ground, below.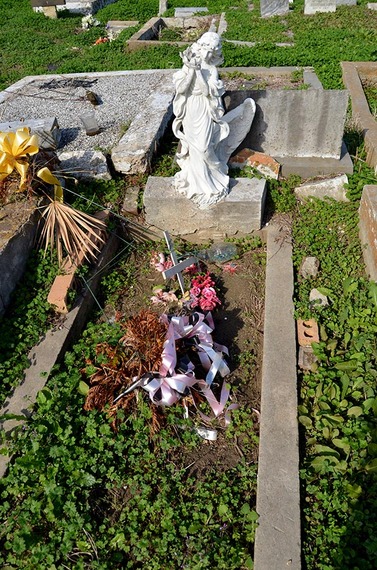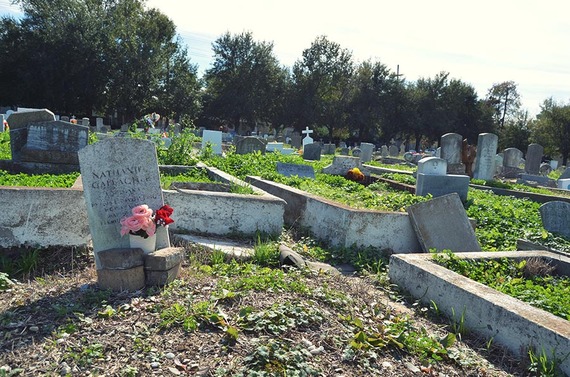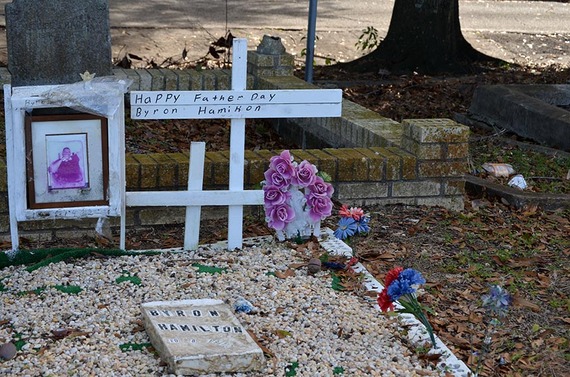 Above and below, familes with relatives buried here are often unable to afford carved headstones: hand lettered stones often suffice.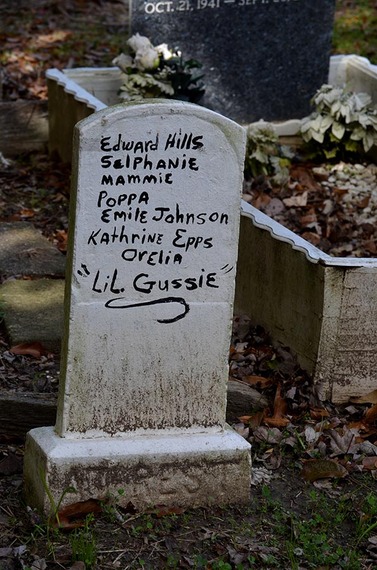 Without marble walls to protect them, hurricanes and semi-tropical rain take their toll on graves on this side of the cemetery. Below, a stuffed animal that blessed a child's grave shows wear from the elements.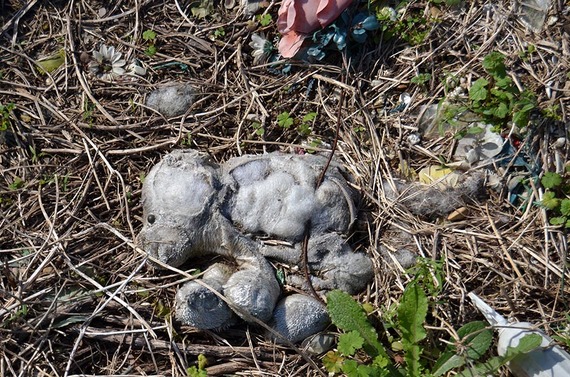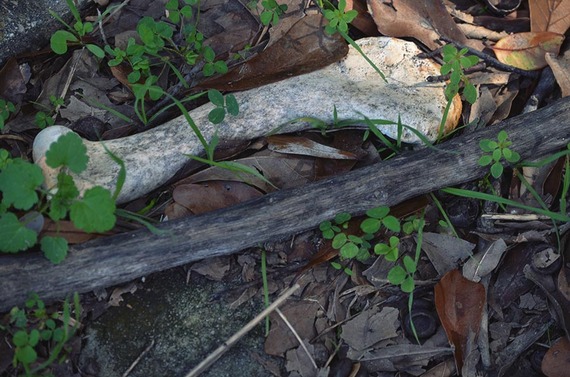 Why don't we bury our ancestors in-ground in New Orleans? Above and below lies the answer: rain and hurricanes unearth most things here. Bones commonly lie atop in-ground graves on this side of the cemetery. In the twenty or thirty minutes I visited Carrollton on this trip, I found three different graves with bones easily visible: the last time I was here, just after a rain storm, I found nearly an entire skeleton.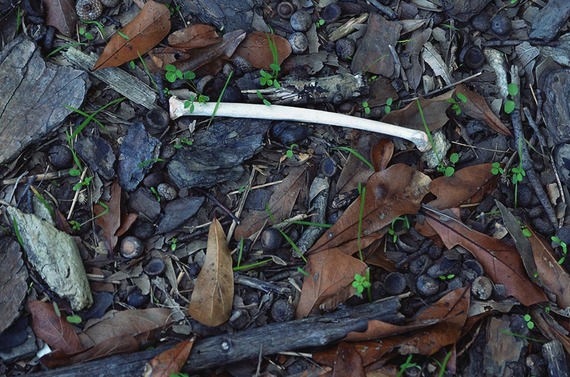 There is a rich history, and a sense of ancestry, in visits to our cemeteries. I go to Carrollton and both Lafayettes often, when I need to think, meditate, or when I want to be inspired by photographing their treasures. I find some new wonder at every visit. I'll leave you with a few final photographs from the three cemeteries we've looked at here. Soon I will take a trip to some others, and share those with you.