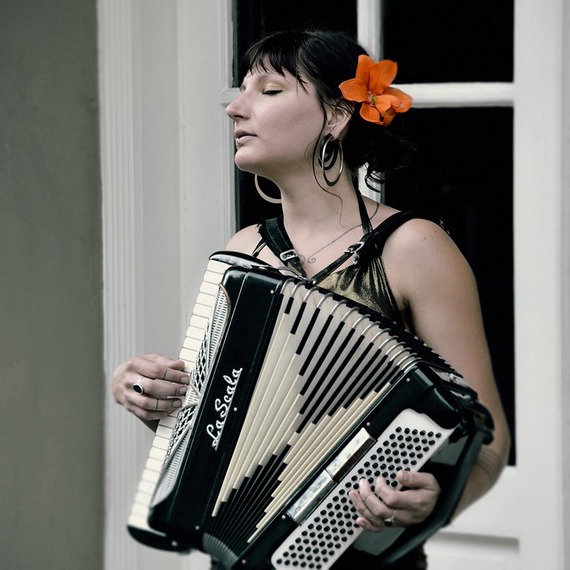 I think it's fair to say that among the top reasons people visit New Orleans, setting aside food, booze and certain anatomical parts of women that also begin with B, is our music. New Orleans is the birthplace of jazz and blues, and our heritage as a music city is strong. On any night of the week, a walk down Frenchmen Street will present you with swing. Modern jazz, blues, country and pop music flowing out of the open doors of booze clubs and music saloons. National acts and local legends perform side-by-side, on any night you name.
But some of the best musicians in the city play out on the streets of New Orleans, asking nothing more than tips and perhaps a few CD sales. Every kind of music, from brass band swing to Appalachian strings, can be found on the streets of the French Quarter on a typical day. Street musicians are often called "buskers," a European term for, well, street musicians. Some make their entire living this way; some play on the street by day, and in clubs and bars by night (I would fall into that category).
Let's take a walk through the Quarter and see what musical delights present themselves. We'll begin our walking tour on Royal Street.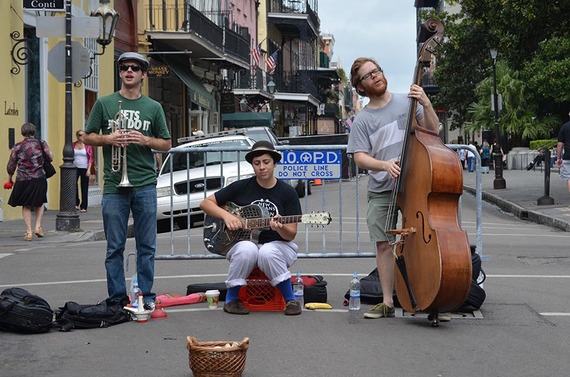 There is definitely an informal hierarchy of players in the Quarter, and the most polished bands play daily on Royal Street. Royal Street, between Conti and Saint Peter, is blocked off during the late morning and early afternoon, making the street a pedestrian mall, lined with art galleries and eateries. Performers take advantage of this, setting up in streets and doorways. Above and below, members of the Messy Cookers perform on Royal and Conti with local swing dancer Mariella Fuhr dancing, and playing washboard.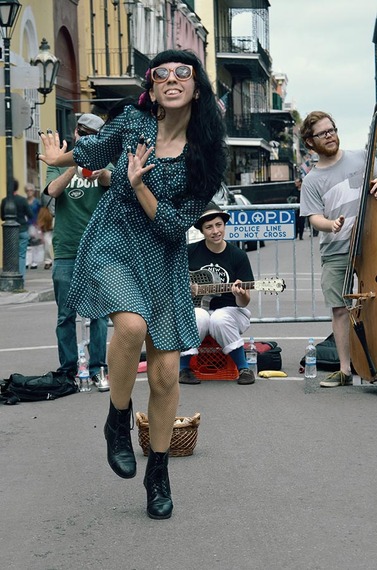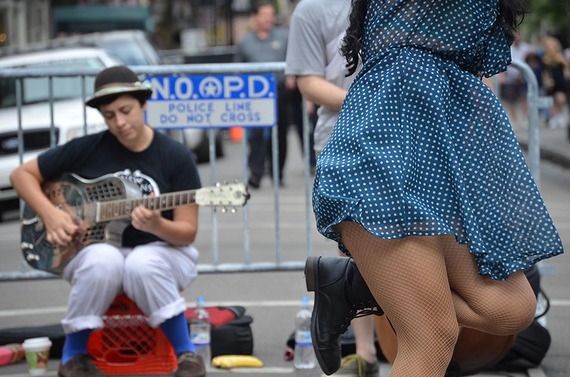 Down the block at the Louisiana Supreme Court building, some members of the Yes Ma'am Band play to listeners on the court house steps.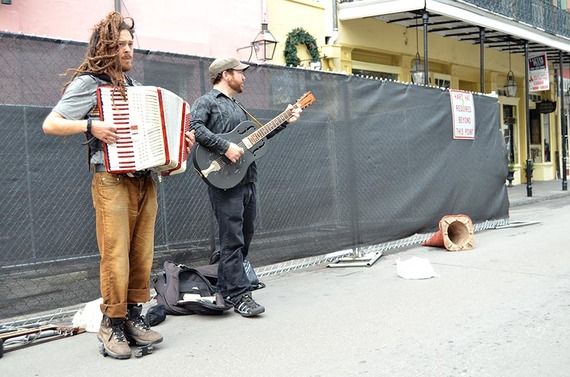 This woman, playing a few blocks down, tap dances while playing the banjo. She's pretty awesome. You're just not going to find stuff like this anywhere else...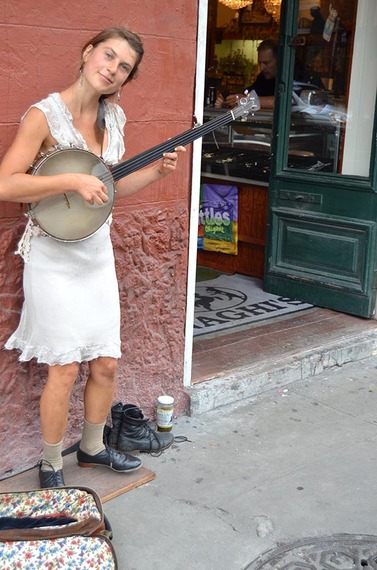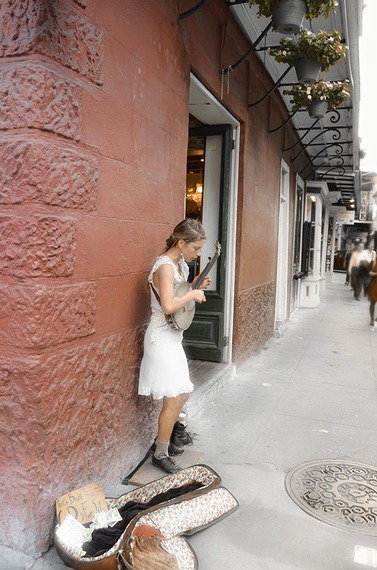 If you read my post a couple of weeks ago about my experience at MEOW Con, you may know very well that female musicians around the U.S. complain that they are not taken seriously as instrumental players, and that male players often refuse to play in bands with women instrumentalists (read an excellent HuffPost item on this issue here). But that is not so in New Orleans. Here, men and women play together in clubs and on the street. If you can play well, no one cares if you are male or female. I can't say gender roles are completely equal: My female musician friends tell me that after a day on the street or a night at the bar playing with the guys, they are still expected to wash the dishes. But in the arena of music, anyone who can play well is welcome: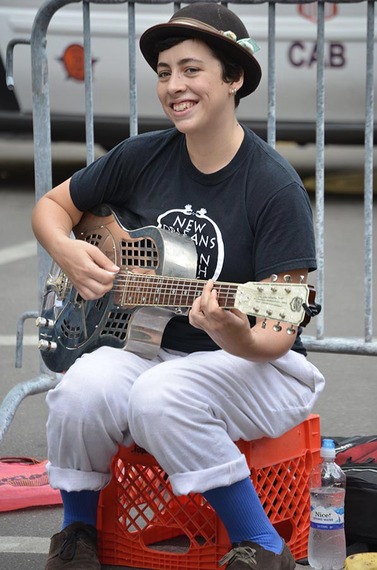 Above: Albany playing with the Messy Cookers.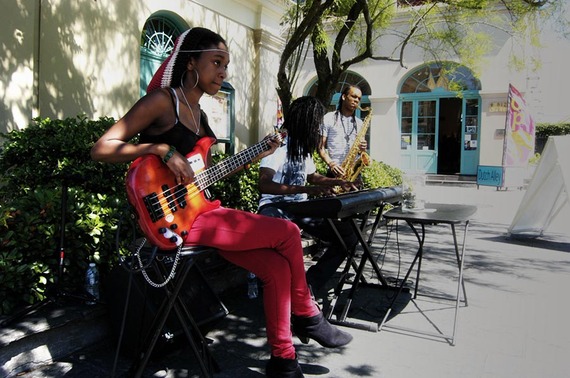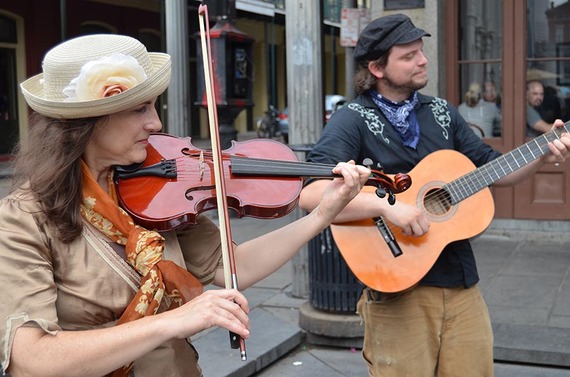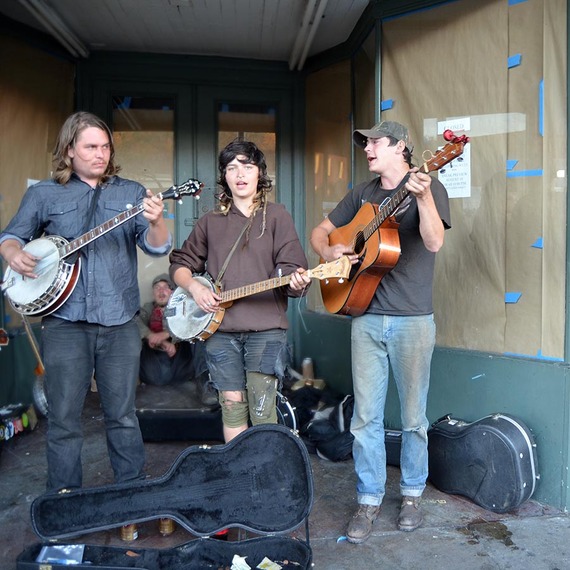 The same may be said for race: Bands in this city embrace the ethnic diversity of New Orleans. We figured out long ago that music is a language people from all backgrounds can understand.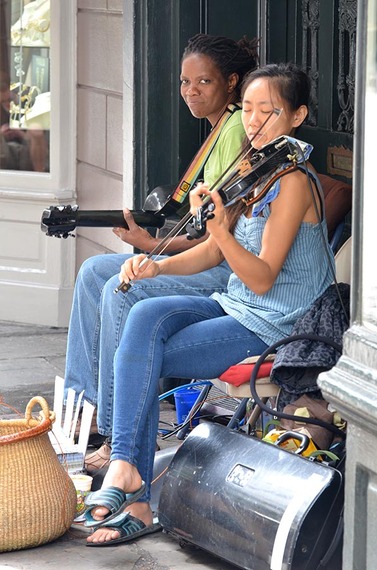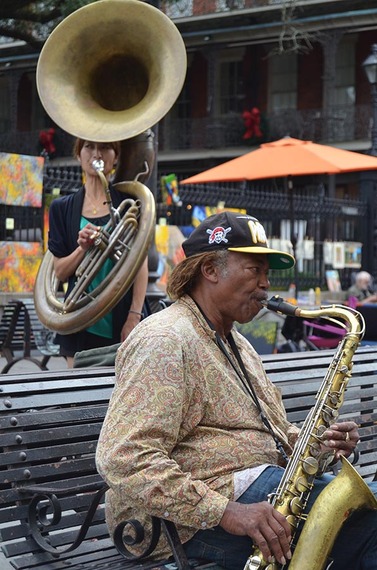 Here's my perfect segue from women musicians to brass bands... Above: Brass bands are huge part of the city's heritage. These players join a loosely knit brass band in Jackson Square most afternoons. Below, dancers with a brass band on Royal Street.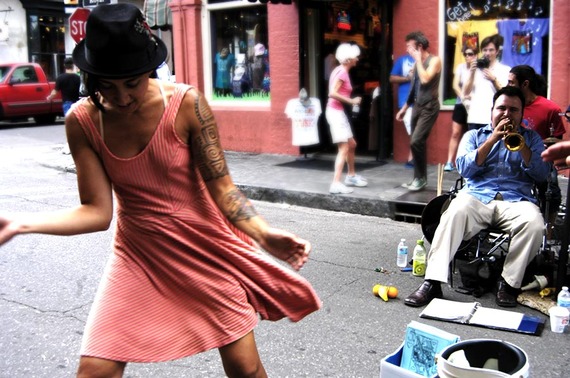 Moving from Jackson Square down to Decatur, there's a very different vibe among street players. Decatur draws many "Dirty Kids," young people who travel from city to city, busking for their food and drink. Many "hop" freight trains for transportation, and many "squat," or live in abandoned buildings. While their look is far from the norm, and may be off-putting, Traveler Kids are a closely knit community, with well defined ethics, and often, enormous musical talent.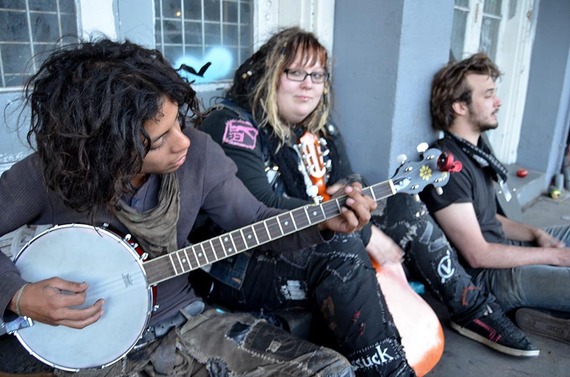 While Royal Street buskers keep well defined hours (playing from 11 to 2, the hours Royal Street is a pedestrian mall), Decatur Street players have a much looser schedule. I found this young woman leading a group of players close to midnight. A bright girl with a huge personality, we had a great conversation about her travels and her pizza delivery shirt.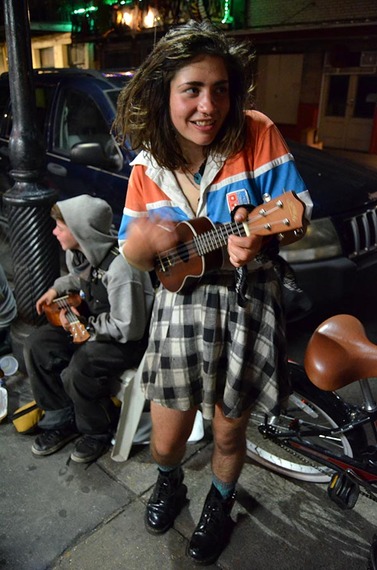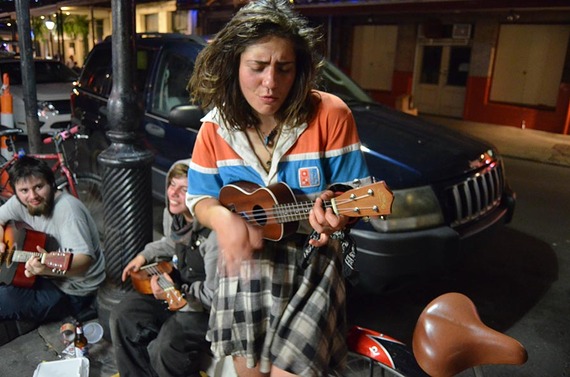 Decatur Street draws more traditional musicians as well. I met this blues player while walking on Decatur.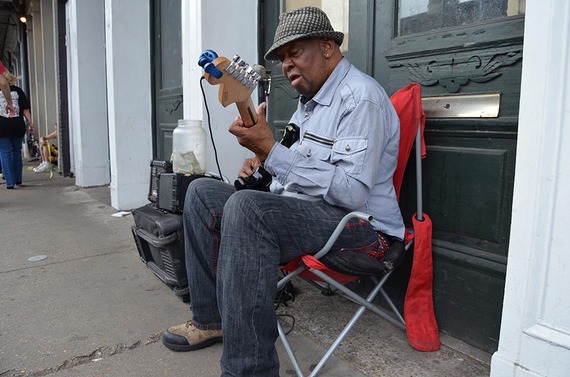 I often hear from tourists that the styles of music they hear on the streets of the Quarter are simply not played in their home towns. Brass bands play traditional swing jazz, a style of music that evolved after Emancipation, based on African music, slave work songs and spirituals; string bands play Americana, a synthesis of Appalachian, country, folk, and often punk songs modified for acoustic instruments. Guitarists play Delta Blues, the origin of modern blues and rock music. Many of these styles originated right here on the New Orleans streets.
You will also see an array of instruments you may not be used to seeing anywhere else. Most street bands have a washboard: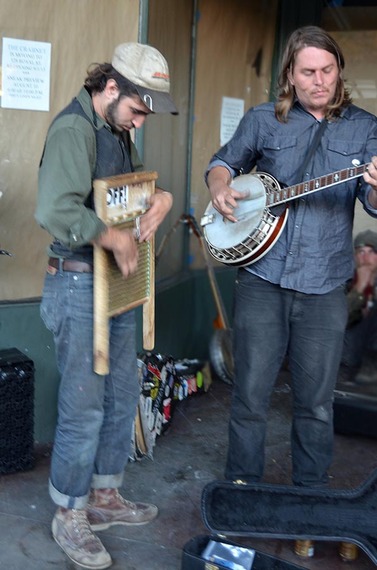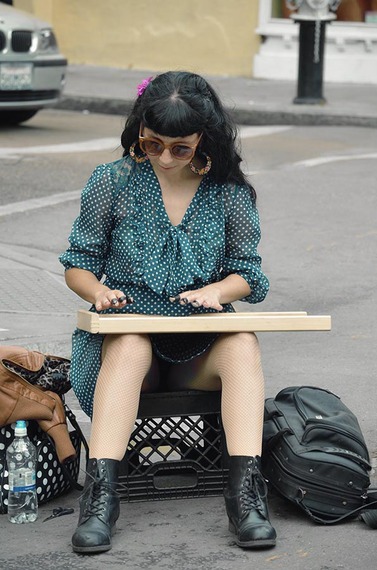 (Don't worry...she's wearing shorts under that dress).
Many have a stand-up bass...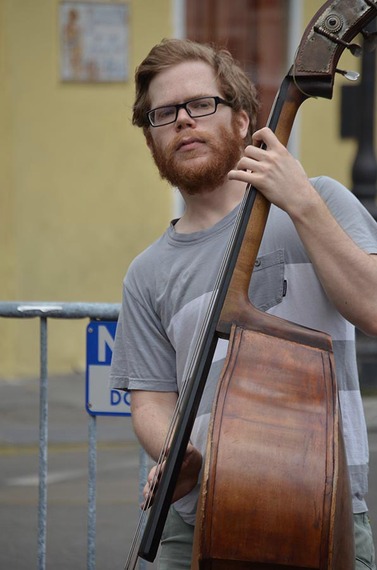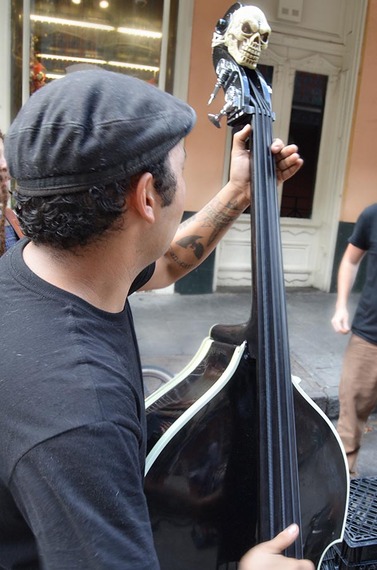 Or a washtub bass, made from an old-style washtub, a stick and a string. These have a great, thumping bass sound: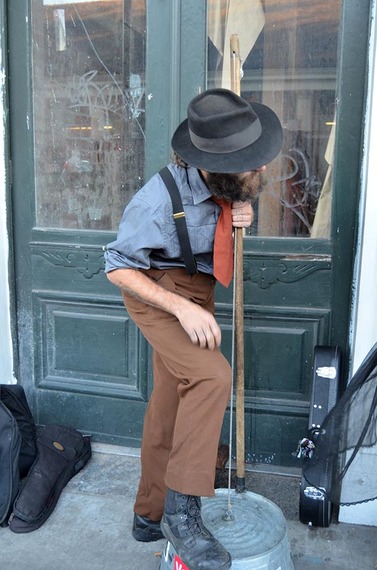 And it is not unusual to see accordions, like the one played by this woman, who is also an amazing singer: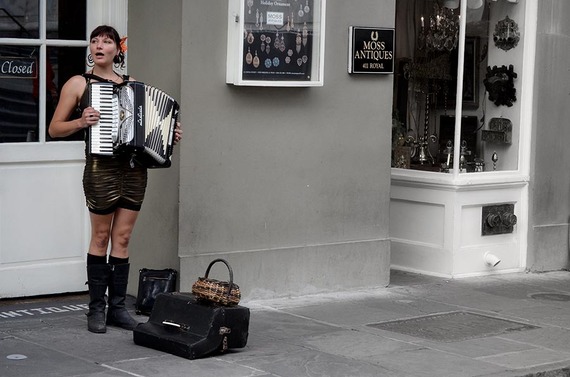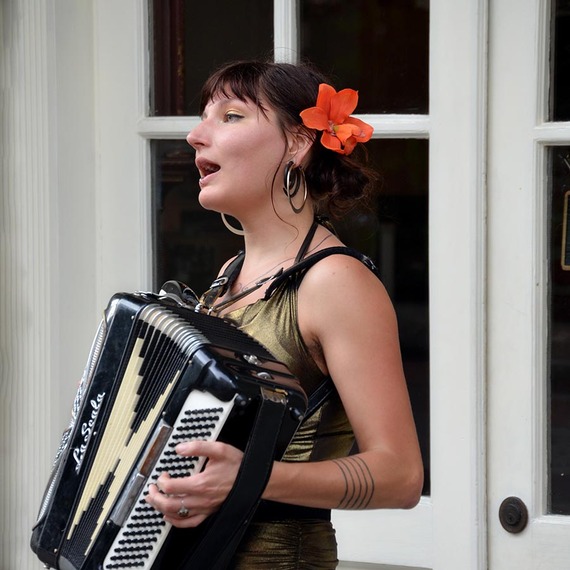 While the draw of booze and, um, the other "B," abound on Bourbon Street, remember that some of the best music can be heard walking down Royal and Decatur streets. Also remember that these musicians work for tips: give what you are truly able to, and remember what you would pay for music of this caliber in a club or concert hall. Always tip before taking a photo or video. And if you like what you hear, buy a CD, usually way below what you would pay in a store. Your friends at home will thank you for letting them share in the experience.
Below, myself playing with the Slick Skillet Serenaders on Royal Street. I'm the one with the fiddle. All photos by Kenny Klein, except this one, by Pamela Paige Terril.