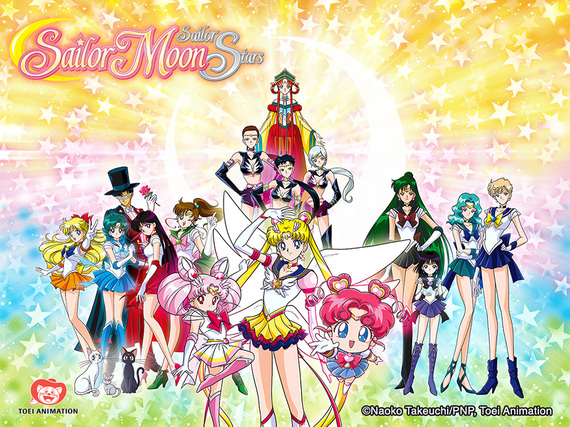 Since it first debuted as a monthly comic in Japan'sNakayoshi magazine in December of 1991, Pretty Soldier Sailor Moon has been a favorite with fans around the world. Originally the brainchild of a young woman named Naoko Takeuchi, the brand has grown to become one of the most iconic (and profitable) in the history of manga and anime. A year after its release in Nakayoshi an animated series was produced and became the golden standard for what would soon be known as the "magical girl" genre. By the time Sailor Moon reached American audiences three years later, thanks to DIC Enterprises, she and the other Sailor Guardians had already become a global phenomenon and have remained incredibly popular across the world for over twenty years. Though the original North American DVD releases of the series have long been out of print and fetching incredibly high prices on the secondary market, the classic anime series is finally receiving a North American Blu-ray release thanks to the people at VIZ Media.
"Releasing such an iconic and important series is quite the undertaking for all involved and it has been an amazing journey so far," Charlene Ingram, Senior Marketing Manager, Animation, VIZ Media states. "For me, it's hard to pick just one thing and I'm honestly in awe of the whole team at VIZ Media working their hardest on all aspects of the title. Even the daily details like working on the packing schematics with the phenomenal design team here, planning fan interactive events at conventions or online with our Moonlight Parties are filled with magic! As for the localization, it always brings a smile to my face when I get to hear new episodes."
The original DIC releases do give me a sense of nostalgia, they're fun, and the totally 90s lingo is wicked cool, but if I'm being honest, they're terrible. Genders were changed, episodes were cut, and Sailor Uranus and Sailor Neptune were turned into cousins rather than being allowed to be lovers as they were originally created, which made a few scenes way creepier than if they'd just left them alone. "It was very important to stay as true to the original Japanese version as possible when making the localization," Ingram says. "This includes keeping all the original characters' genders, names and relationships. SAILOR MOON is a beloved anime series, one several members of the team grew up with, so we're very happy to present it to a new generation with none of these key elements altered. Personally, I'm really excited for the fans to finally hear Erica Mendez and Lauren Landa, who voice Sailor Uranus and Sailor Neptune in these iconic and powerful roles in season 3. I got chills when I first heard them together!"
As a fan of the original English dub, it was difficult to not hear the voice of Canadian actress Terri Hawkes behind the character of Sailor Moon and admittedly it's taken me a very long time to adapt to her new voice, now performed by Stephanie Sheh, (who was also Zhu Li from Nickelodeon's The Legend of Korra). However, after having grown accustomed, I can say in all honesty that I absolutely love her fresh portrayal. Not only is it much closer in spirit to the original Japanese voice provided beloved seiyuu Kotono Mitsuishi, but it brings a youthful energy and vibrancy to the character sorely lacking in the previous dub. It's also been nice to finally see the episodes that were skipped over during the show's original American run and are just now making their English language debut. VIZ Media also seems to have a lot of fun promoting the series and have shown support for fan gatherings during the first "International Sailor Moon Day" which occurred this past August in Los Angeles and San Francisco. As Ingram says, "I always look forward to is hearing all the wonderful stories from fans about how SAILOR MOON has empowered their lives in a positive way. Usagi and her friends definitely had a positive impact on me and, through working on this title, she still helps me learn and grow stronger every day."
You can purchase the entire first and second seasons of the Sailor Moon series through Right Stuff Anime, Amazon, and Barnes and Noble. You can also watch the series on Hulu and www.viz.com/anime/streaming