In 1984, the canvas of children's entertainment got a lot more colorful when Hallmark Cards introduced the character of Rainbow Brite to the world. A lovable little girl who brought color and happiness to people everywhere, Rainbow Brite was responsible for making the entire universe bright and beautiful. Though originally created as a way to break Hallmark into the licensing business, Rainbow Brite became a pop-culture icon and one of the most beloved properties of the 1980s. For me, she was a very bright light in a very dark time of my life, and for the last 30 years she's helped shape me into the person I am today.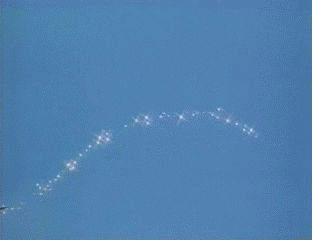 Rainbow Brite was the story of a girl named Wisp who came to a dark and dismal planet that had been conquered by the King of Shadows, who wanted to destroy color and happiness forever. However, even in the darkness, friends were found in the form of Twink, a white Sprite, and Starlite, the (self-proclaimed) most magnificent horse in the universe. In the end, Wisp defeated the King of Shadows and freed the seven Color Kids, returning the light and hope to the dismal world. Henceforth, she became known as Rainbow Brite, the keeper of the galaxy's hope, light, and color.
1. An early design of Wisp (Rainbow Brite) and Twink / with the first design of Starlite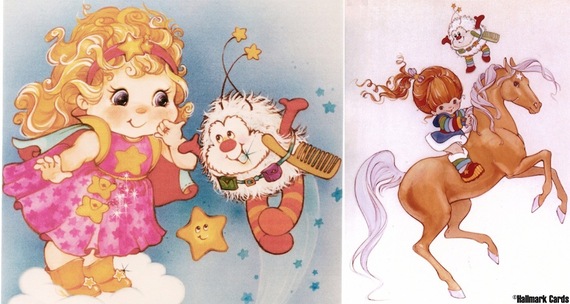 The original characters of Rainbow Land were first designed by artist G.G. Santiago and were all female. However, to add diversity to the vastness of the world of Rainbow Land, two of the color kids became male. The character of Scarlet Rose became Red Butler, while the character of Blue Moon became Buddy Blue. The other names of the characters remained the same from concept to final release.
2. The original concept designs vs the final renderings


Though created by Hallmark, mega-powers like Disney, DiC, and Mattel had a hand in painting Rainbow Brite's success. Major corporations, often pitted against each other, were coming together to create something wonderful. The result was a billion dollar commodity that took the world by storm.
3. Designs for a Rainbow Brite store / product / designs for a Rainbow Brite bedroom

The first animated special, "Peril in the Pits," was written by Woody Kling and premiered on June 27th, 1984. It met with so much praise that two more specials were immediately put into production. "The Mighty Monstromurk Menace" followed in December of 1984 as a two-part special also written by Kling. "The Beginning of Rainbow Land" was released in April of 1985 and served as an origin story for the series. Another two-part special, it was written by Howard R. Cohen after Kling became ill and could not continue on with the property.
4. The VHS covers of the first three specials released by Children's Video Library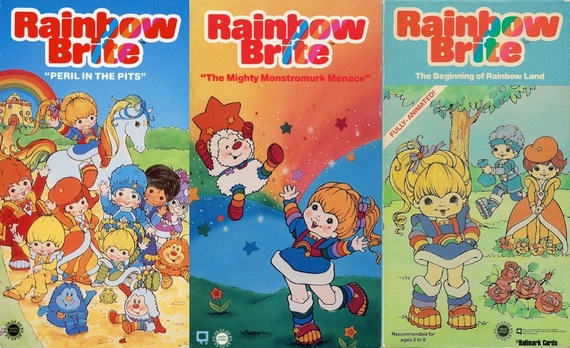 Bettina Bush, who had already provided voices for characters like Lucy Little in The Littles and Dottie Dog in The Get Along Gang, was cast as Rainbow Brite and was one of the only real child voices in the series. Actress Robbie Lee not only portrayed Rainbow Brite's spritely sidekick Twink, she also voiced several of the Color Kids including Shy Violet, La La Orange, and Indigo. "Twink is my most favorite character that I ever played," Lee says proudly. "I love him." The series also starred actor Peter Cullen as the main antagonist, Murky Dismal, who along with his bumbling assistant Lurky, tried (and failed) repeatedly to steal Rainbow Brite's color belt and make the world grey and gloomy. Cullen is most notably recognized as the voice of Optimus Prime in the Transformers series.
5. Some of the characters and the actors who gave them their voice.
Disney's Buena Vista Records was responsible for releasing several read-along books on vinyl and cassette (which used the same voices as the television specials), as well as two original full-length albums. The first album, Paint a Rainbow in Your Heart, was produced by Jym Magon and Jim Andron. It included songs written by husband and wife songwriter duo, Michael and Patty Silversher, as well as Lois Blaish, who also wrote Tiffany's "Could've Been." Blaish, who wrote the song "Rainbow Land" said in a Facebook post "I'll never forget when the head of the Disney Music Label called me and said 'If' ever there were a song I would want sung to my child, that would be the song and I would want you to sing it!' That was the sweetest thing a music biz executive ever said to me."
6. The albums released by Buena Vista Records (including variant picture disc)

"Patty and I were in our rented house in Eagle Rock and it was freezing cold," Michael Silversher recalls. "So we stood at the heater and worked out ideas over a two-week period. I remember the wall around the heater was much darker where we stood when we were finished! I had a recording set up in the garage in back of the house and we wrote and recorded a bunch of songs in that two-week period, and every one of them made it onto the album." Two of the demos, "Rainbow Land" and the title track, "Paint a Rainbow in Your Heart," ended up on two of the story tapes.
7. Some of the books on tape which included songs from the Paint a Rainbow album

Mattel was chosen to manufacture and release dolls based on the characters of Rainbow Land, which went through several designs before the team settled on the final rendering. The first image of Rainbow Brite shared with Mattel was similar to the final design, but had given her pigtails and a space helmet. "They loved her," a rep from Hallmark states, "but suggested we remove the space helmet. We did that and gave her moonboots instead, as she was originally designed to travel in space." The team also included their own prototype doll, which meant that many on the team had to learn how to sew.
8. The first concept and prototype doll sent to Mattel by Hallmark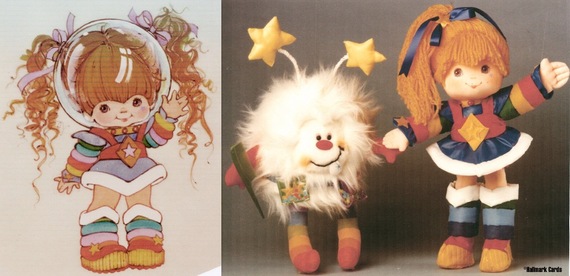 The scope of the Rainbow Brite franchise is almost as vast as the color spectrum itself. Beyond the best-selling dolls there were coloring books, trading cards, board games, backpacks, lunch boxes, cross-stitch patterns, figurines, night-lights, radio plays, live action specials, cereal, and even a theme park show. Just about any type of product geared towards children had Rainbow Brite's face on it. At the time, she was the hottest selling toy in Mattel's history and in 1985 had an advertising and marketing budget of over 35 million dollars. With inflation, that's over 77 million in today's dollars, and that was just for promotion. With her already-established success, Hallmark began to look for other ways to expand the reach of the brand. Their conclusion, like many other children's properties of the day, was to bring Rainbow Brite to the big screen.
9. Some of the original product released for Rainbow Brite in the 1980s

"Rainbow Brite and the Star Stealer" was released on November 15th, 1985. Written by Howard R. Cohen and Jean Chalopin, the film was not the success it was hoped to be. Critics saw it as an eighty-five minute toy commercial, while many found fault in the fact that it took Rainbow Brite and Starlite away from the characters children had grown to love and introduced them to new ones that they had no point of reference for. However, the film is well-loved by fans and for years was a staple on The Disney Channel.
10. Promotional images for "Rainbow Brite and the Star Stealer"

Despite its shortcomings, the film did introduce the fan-favorite character of Stormy, a rogue Color Kid, who was in charge of the winter rain and snow, as well as Tickled Pink (who made a cameo appearance during the film's opening song). According to her character biography, Tickled Pink was a little girl who visited Rainbow Land and liked it so much she decided to stay. Though technically not a Color Kid, Rainbow Brite put her in charge of the girl sprites and their color crystal laboratories. The final Color Kid introduced (via the series) was Moonglow. Moonglow and her faithful companion Nite Sprite, were the ones responsible for making the moon and the stars shimmer and shine. A doll for Stormy was created, but didn't make it past the prototype stage. Both Tickled Pink and Moonglow were mass-produced, but unlike the other dolls, Moonglow was only sold in Germany.
11. Character designs for Tickled Pink, Stormy, and Moonglow.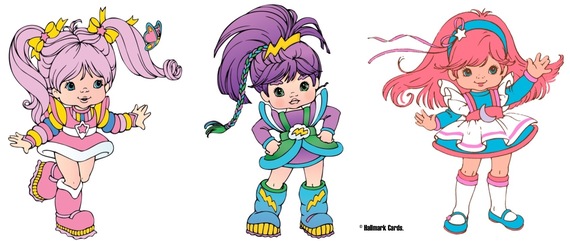 In papers donated to the Margaret Herrick Library after the passing of Howard R. Cohen, a treatment for an unproduced episode of the series (seemingly as a series finale), was discovered. "Journey to the Source," took Rainbow Brite and her friends back to the diamond planet Spectra (introduced in the film as the source of all light and color) to find a crystal that would energize her belt for all eternity. With the series over, and doll production slowing down, Rainbow began to lose her radiance.
12. Designs for two Neon Color Kids and the unproduced Stormy prototype doll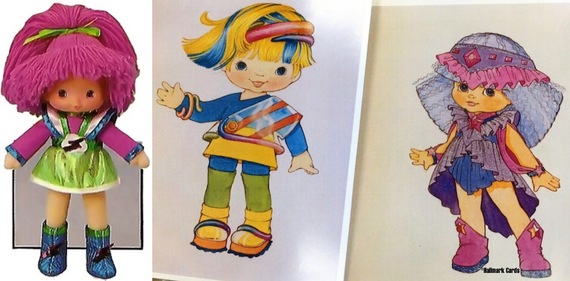 Though Rainbow Brite's initial popularity began to wane, it didn't fade completely. There were several attempts to repaint the colorful cutie in the image of what was current and new. Every few years a new line of Rainbow Brite was released. However, none of the redesigns seemed to shine as brightly as the original. Even still, some fans, like Katy Cartee Haile, have remained steadfast and true to the character. Haile is such a lover of the Rainbow Brite brand that she has turned part of her house into a museum, and has become so recognized in the fandom that she was featured on Buzzfeed, the Truffle Shuffle Blog, and even Metro UK. Haile, along with another Rainbow Brite super-fan, Renee Stowe, also produce BriteCast, the first Rainbow Brite podcast. "I've loved rainbows since toddlerhood, so when Rainbow Brite rolled out at age 4, she was an instant friend. In grade school, I was her for Halloween. In high school, Rainbow Brite became my nickname as I began collecting her memorabilia and learning more about her story," Haile says. "Since then, she's become a massive part of my life; from starting my website, beginning the fandom, to amassing the largest Rainbow Brite collection in the world. Rainbow will always be my favorite color and my favorite superhero!"
13. Images from Katy Cartee Haile's Rainbow Land Museum

But the Rainbow Brite fandom expands far beyond just the cute and colorful. Earlier this year, Rage Gear Studios released a series of art prints that mashed-up the Rainbow Brite characters with the X-men. "The X-Men represent diversity," artist Rey Arzeno says. "Their message is acceptance. They hope for the world embrace and respect all that makes us different. Today, we have a flag with similar purpose. The Rainbow flag of the LGBTQ community. I'm an 80's kid, I'm a comic geek and I'm gay. X-Men and Rainbow Brite together, make sense to me." The art series received national attention from sites like Nerdist and MTV. The full series can be viewed here.
14. A few of the Xolor Kids from Rage Gear Studios

In late 2014, Hallmark's online streaming service, Feeln, released a three episode revival miniseries that brought Rainbow Brite into the 21st century. Written by Rachel Vine, the series starred Emily Osment as Rainbow Brite and Molly Ringwald as the Dark Princess. The episodes are available for viewing through Feeln's official website. More information on the series can be found through RainbowBrite.Com
15. Various designs from the Rainbow Brite reboots

The miniseries was followed in 2015 by a release of new toys based on the classic character designs. Released exclusively through Hallmark's Gold Crown Stores, the line includes itty bittys®, a new 18 inch doll, a stuffed Twink and Starlite, as well as cards, books, and other products Hallmark can't seem to keep on the shelves. "We not only wanted to bring back Rainbow for her original fans, but for those fans to share with their kids," Pedro Martin, Hallmark Master Artist says. "Rainbow Brite has been doing really well for us this year and we plan on giving the fans lots of new surprises this Holiday season."
16. 2016 Rainbow Brite products released by Hallmark Cards

In her day, Rainbow Brite dominated the children's entertainment market. She was like lightning in a bottle and is still generating a certain amount of power almost 35 years after her initial release. She's had several vignettes in Cartoon Network's Robot Chicken, been featured in an episode of Family Guy, mentioned in comic books, movies, television series, and even songs. Now that her fans are adults, with jobs of their own, it's easier for them to purchase new product - and they do. Earlier this month, Hallmark released a special online exclusive of the character Shy Violet in their itty bitty line. The doll, which had a limited edition run of 800, sold out in less than three days. Through an announcement on the official Rainbow Brite Facebook page, it was reveled that the Hallmark booth at this year's New York Comicon will be selling an exclusive limited edition Christmas ornament and fans are already clamoring over themselves to get it. The proof is in the dollar signs, Rainbow Brite is still relevant, viable, and most importantly, sellable.
17. Online Shy Violet exclusive and the NYCC exclusive ornament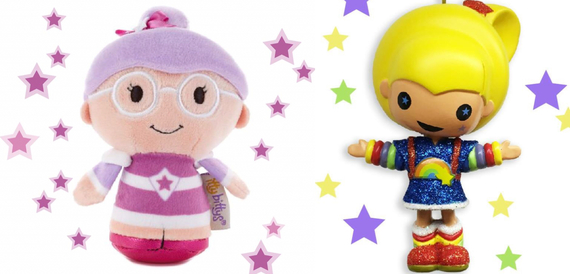 "I believe Rainbow Brite has such a long-lasting legacy because she's an inspiration." Bettina Bush has said of the character. "She represents hope, strength of spirit, and the power of believing in your purpose. Rainbows themselves feel like you've glimpsed a momentary miracle whenever you see one, they make everyone smile! Rainbow Brite embodies that, so people will always love her. I'm blessed to have had the opportunity to give her a voice." With 80s nostalgia in full swing with reboots of series like My Little Pony, Voltron, and even Jem and the Holograms, perhaps it's time to paint the world of Rainbow Brite back into another billion-dollar commodity.