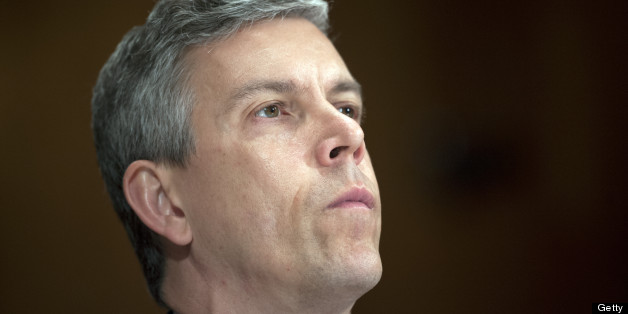 When class sizes swell to epic proportions and students are forced to use dilapidated textbooks that list George W. Bush as the current president, communities need relief, not platitudes.
When asked about the massive school cuts in Philadelphia, which are on par with those in Chicago, Secretary of Education Arne Duncan offered:
"I'm concerned about a lack of commitment, a lack of investment in public education," Duncan said. "We're looking at the kinds of massive cuts and a loss to basic curricular offerings. ... It's bad for kids, it's bad for education, it's bad for the city, it's bad for the state, it's ultimately bad for our country.
It's really hard to disagree with that, but who exactly is not investing in our schools?
It's not the taxpayers who aren't investing in education; we pay our taxes dutifully assuming that our money would be allocated responsibly and effectively. It's not the teachers who aren't investing. Beyond the blood, sweat and tears shed daily, teachers invest actual money in their classrooms. Teachers spend billions out-of-pocket on classroom supplies. It's not the parents who aren't investing; they spend hours at parent-teacher conferences and helping with homework.
So where should Secretary Duncan direct his ire?
Let's look at how we fund education. In Chicago, a huge chunk of it is dumped into Tax Increment Financing, a slush fund for the mayor that depletes revenue from the property tax base. Most often, that money goes to connected developers. There are pet projects like the millions going to finance a basketball stadium for a private university, a move that even alumni are not supporting.
And there are bad investments -- the Chicago Board of Education refuses to renegotiate "toxic swap" deals with clouted bankers, which cost the City of Chicago and Chicago Public Schools $72 million a year.
This lack of investment led to the closing of 50 schools in Chicago with budget cuts up to 25 percent at the remaining CPS schools.
It seems that Duncan, instead of making such a nebulous demand, should direct his anger at the mayors of cities who are forcing these cuts. This is going on in Philadelphia, in Chicago, and even in his backyard of Washington, D.C.
The time for talking about the problem has long passed; it's time to start acting. Budgets show priorities and in cities across the nation, schools are being sacrificed to continue business-as-usual political games.