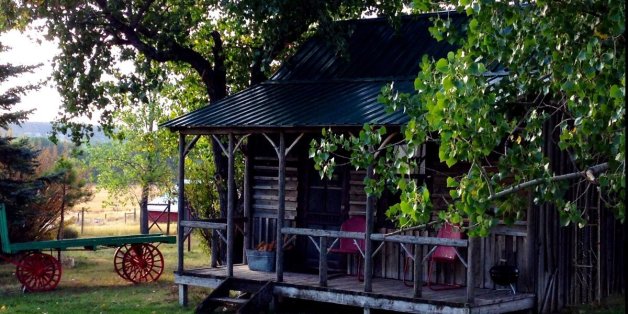 B&B's get mixed reviews. Some find the experience intrusive, with innkeepers acting more like nosy relatives than hospitality professionals. Others relish the history seeping out of mahogany armoires and well-thumbed "take one, leave one" paperbacks.
I appreciate the absence of aloof desk clerks with canned welcome speeches and plastic bathroom signs guilting me out of freshly-washed towels. The B&B evades all of that with its inherent authenticity, hominess, and butter-laden breakfasts.
Loma, Montana and New Hope, Pennsylvania are separated by over 2,000 miles of America, but the quiet warmth evoked by two singular B&Bs -- nestled near the Missouri and Delaware rivers, respectively -- is essentially the same.
PHOTO GALLERY
Inn-spiration Along the River
Oh, Give Me a Home
Take a bumpy dirt road outside of Loma, Montana into Virgelle, a Western ghost town next to a long-defunct railroad stop. There, you'll find an old general store, a handful of small cabins and one covered wagon.
The property and all of its structures are collectively called Virgelle Mercantile, owned and managed by history buff and lifelong Montanan Don Sorensen. The old general store itself occupies the ground level, with four sweetly appointed rooms on the second floor. But that's not the real fun of "The Merc." On the verdant property are seven restored homestead structures from the late 19th and early 20th centuries.
The mercantile store was built in 1912 with upstairs lodging for railroad crews. By 1920, the town had a bank, lumber yard and two grain elevators to accommodate just 30 residents. Not surprisingly, Virgelle quickly turned into a ghost town and remained so for decades.
Sorenson took over the abandoned mercantile building in 1975 and moved historic homestead structures to the site. He filled the store with rolling pins, gravy boats, vintage Folgers coffee tins and even old issues of the educational publication Reading in Montana. (The Summer 1966 edition addresses both "Reading for the Mentally Alert" and "The Student with Special Problems.")
I stayed in the Holmes Homestead Cabin, named for James Holmes, who built the structure in 1911. It first stood in an area known as Lonesome Prairie, which a sign in the cabin points out was "formerly called Paradise Prairie until residents learned its true nature." The dim room has just two beds, a desk and a wood-burning stove. Being smack in the middle of nowhere under a stiff wool blanket with no bathroom made me feel oddly at peace.
One of the hearty prairie breakfasts at the Merc is baked stuffed French toast, which Sorenson doles out while wearing a white cotton apron with the recipe stitched into the front. It's served up with crisp bacon, fresh fruit, and a pot of coffee strong enough for a cowboy It's the fuel for a canoe adventure on the Missouri River, for which Sorensen and the Missouri River Canoe Company will outfit you for up to a week in the wild.

A Delaware River Estate
Way back east by the Delaware River in New Hope, Pennsylvania is the Inn at Bowman's Hill, a AAA Four-Diamond Award winning B&B. (Suffice it to say the bathrooms are connected to the bedrooms here.)
"When you come in the gate, there is a tranquility," says owner Mike Avery. "People tell us this all the time that you feel a change." It's true. The property is stately but tranquil, and Avery and his team take care of your every need. Born in the UK, Avery worked in the medical device and pharmaceutical industry for many years before purchasing this enviable property near the Delaware in 2000. Nowadays, when not greeting guests, he might be found fiddling (literally) at the local tavern or nabbing awards as a bona-fide Cornish pasty chef.
While Don Sorenson is focused on Montana history and adventure on the river, Avery made his B&B the luxury visitor seeking charming but first-class comforts. The varied suites include amenities like whirlpool tubs, exquisite featherbeds with soft linens, Champagne service and in-room massage therapy. (During a previous visit to the area, I couldn't book a room at the Inn because the Prince of Monaco was staying there.)
Breakfast can be arranged the night before and brought to your room. The menu is designed by Anastasio Olivera, Avery's right-hand man. My perfect pair of over-easy eggs were accompanied by standard but good roasted potatoes and cherry tomatoes, mushrooms, beans, sausage and bacon.
Once fueled up, visitors can canoe or kayak along the Delaware River--just don't expect the rural solitude of the Upper Missouri near Loma, MT. Those looking for less sweat can wander through New Hope along the river and enjoy singular shops and restaurants.
Two men. Two rivers. Two inns. A continent may divide them, but these innovative B&B owners know how to create extraordinary experiences.

This is not a sponsored post nor does it contain any affiliate links. I received no compensation from any party mentioned. All opinions are my own.