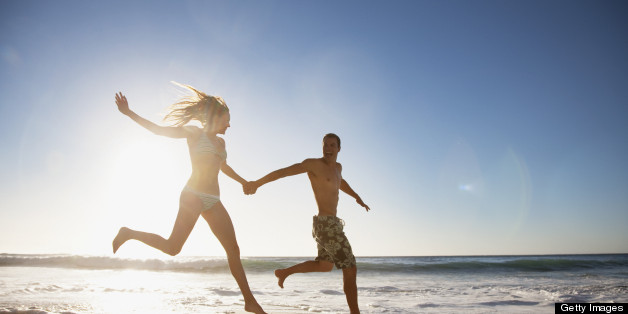 Spring is the time for blooms and blossoms but summer is the full on sexy season: Bare sun-kissed shoulders, days that last forever, cool night breezes and the lilt of your favorite music wafting out the open kitchen window. The combination makes singles everywhere want to snuggle into the delightful embrace of a summer romance. The official start of the season is four weeks away, so there's no time to waste. As the single mom advisor and author of It Takes All 5 I suggest you get your mojo in gear. The plan is to find yourself wrapped up in a sweet love affair by summer solstice (aka June 21). Here's five simple ways for you to have a hot summer romance:
1. Adjust your mindset. First and foremost you've got to wrap your head around the notion that you are looking for "Mr. Right Now." You just want some uncomplicated sexy summer fun. Throw out the list of must have's and open your options. Will he treat you to a nice dinner in exchange for a sultry romp? Will the two of you share cocktails on his rooftop deck followed by a roll in the hay? Does it really matter whether he meets your age requirement or follicle count? If he's aced the first kiss test, he could be worthy of a three-month thing.

2. Sign up for a dating service. Internet dating sites are the panacea for a short connection kind of opportunity. Many, though not all, of the men on dating sites would welcome a woman who'd engage with them for an uncomplicated sexy summer fling. Choose a dating service that suits your pocketbook, proclivities and personality. Then post your prettiest picture, write an alluring profile and start your search. You'll find that the stalwart sites like match.com and plentyoffish.com have lots of snuggle-worthy options in your neighborhood. If those don't work for you, there are many other sites to search from with niches to suit any passion. There are also dating phone apps you can download like Zoosk, AYI and Kahnoodle Couple.

3. Minimize your timetable. Let go of your need to have a hyper-intense search for a lifelong mate. Make a conscious choice to live in the moment; it is all we have in our control anyway. A long-term relationship may evolve, but if you keep your present focus in the short term, your likelihood for happiness and success will improve.

4. Don't stand on ceremony. If you see a man online, in line or at a bar that you think you'd like to summer fling with, approach him. If after an initial conversation he seems like the right fit, don't let conventional male/female dynamics stand in your way, ask him for the first date. In my It Takes All 5 research it was revealed that men find confidence in woman their sexiest trait. There is nothing that says confidence more than you asking him out! Furthermore, many men indicated that they like not having to make the first move all the time.

5. Be clear about what you want. With this kind of limited engagement, communication is key. Let him know about your summer game plan. This will allow both of you to release any unspoken expectations. Be solidly grounded in the notion that this romance is only a three-month deal. It won't work for anyone if you secretly wish it will last forever. Not to say that it won't -- but let that be an evolutionary surprise, if and when it unfolds.
Most importantly, keep your biology in check. Scientific evidence suggests that if a woman engages in a sexual relationship with a man, and he can take her to the O place, "love chemicals" release in your brain. Don't allow this to cloud your summer intention. Further, this is not the guy to introduce to your kids, nor is it okay to bring him into your bedroom while kids are snugly sleeping in their beds. You need to find kid free canoodling venues. Also protect yourself and your partner. Practice safe sex. You are a mom and those kids depend on you. You have no time for sexually transmitted anything.
Finally, what you do as a consenting adult is your business. You don't need to share this summer tete a tete with your kids, their father, your family or friends. Have fun and enjoy all that life has to offer. Feel free to write me if you want to share your summer sexcapades. I would love to hear from you! Contact me at http://kerrizane.com/contact-2/or tweet me at kerrizane.