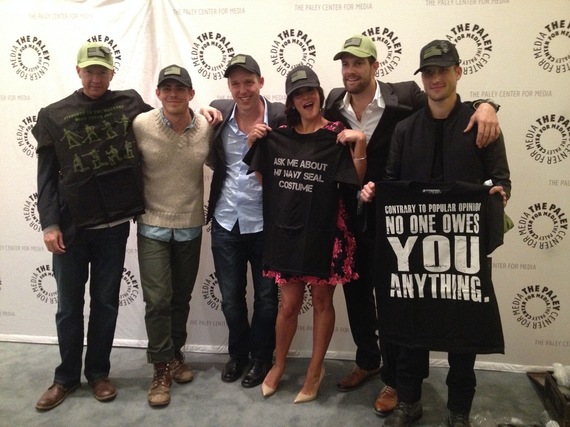 (Image: Enlisted cast and crew. From left to right: Mike Royce, Chris Lowell, Kevin Biegel, Angelique Cabral, Geoff Stults, Parker Young. Photo Courtesy of Colin Whitman)
During a time when our brave military men and women continue to endure the struggles that comes with over a decade of ongoing war, is now the time to create a comedy about their service? I say yes and so do the creators of the show Enlisted.
As one who served the United States through military and contractual service and one who spent more than enough time in war, I must admit that military life can be absolutely hysterical. The things we military types do and the things we say is often filled with incredibly sick humor and to create a television show based on that humor is brilliant!
Humor can assist with healing and many veterans are hurting these days due to prolonged exposures of war. Seeing a bunch of actors and actresses attempt to re-create the life of military service is funny. But taking our military lives and using real world incidents and jargon often founded in the military is hysterical!
Kevin Biegel, creator of Enlisted, and co-executive producer Mike Royce did their best in making a light-hearted comedy about military life. They, along with many involved in developing the show, made several mistakes however. They admitted their mistakes and did everything in their power to correct them by bringing in a team of military technical advisers.
I spoke with Trevor Scott, a U.S. Army combat veteran who served as one of the military technical advisors on Enlisted, and he was quick to back Biegel and Royce along with the rest of the crew behind the show.
"Long before I got hired on the show, I saw the trailer and thought the same thing many other veterans' thought -- This looks like garbage." Scott continued by saying, "I was very hesitant to take the job at first. Once I got on set, I was really impressed with how much everyone wanted to get it right and make the show as great as possible."
Making mistakes is part of life. Learning from our mistakes is essential for success. But to publicly acknowledge your mistakes, yeah, that takes some courage. Kevin Biegel and Mike Royce did not just make mistakes, they identified them and learned how to correct them. But more importantly, they acknowledged them.
In acknowledging mistakes made for the show Enlisted, the crew decided to put out a challenge to its potential audience -- a "Coin Challenge."
Viewers have been challenged to watch the show and point out its military flaws like grooming standards, military attire all jacked up, verbiage, etc. If you write down what mistakes were made and send them back to the show, in return, the folks from the show will send you an Enlisted Challenge Coin.
Needless to say, I am not going to watch the show in hopes to receive a Challenge Coin. I am going to watch it because I love comedy and military life. Put the two together and I personally believe you have a winner! Maybe this is why I still watch re-runs of MASH.
Before anyone makes judgment about Enlisted due to its flaws founded in the premiere, be warned that the first show is completely botched which, to me, made it even more hysterical -- yes, I was provided the opportunity to watch the premiere and several additional episodes.
Give it a chance and watch the following weeks when they come out because you will see dramatic improvements.
It's time we as a nation have a good laugh and its time us veterans accept that the things we have said and done during our time in service needs to be showcased because in all fairness, we really are a hysterical group of people.
Smile folks, its healthy.
Enlisted premieres on Friday January 10th at 9:30pm EST on Fox.