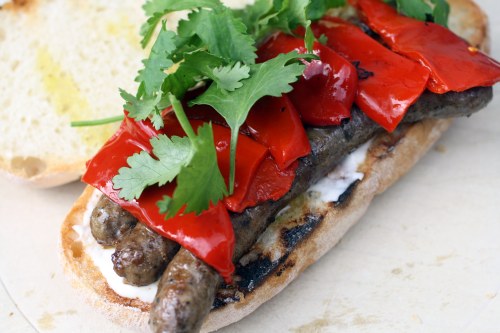 When it comes to French food, we always think of the ivory tower. Not the gutter. Charlottes and tians and soufflés are all well and good, but give me the choice between haute cuisine and a hole in the wall off a well-trod avenue, and there's no comparison. Hole in the wall, s'il vous plait!
I am a French street-food-oholic. Actually, I eat plenty of hotdogs and pretzels off the streets of New York. So maybe it has nothing to do with provenance. But French street food is spectacular. I plan trips around the crêpe stuffed with bubbling, elastic Gruyère that I get to go from L'Avant Comptoir near Odéon in Paris. In Nice, there are zucchini flower beignets and chickpea pancakes called socca. And in the South, Pan Bagnat, giant and perfect tuna sandwiches that I take to share at the beach. Gauffres, or really Belgian waffles, under an avalanche of sugar. And of course, the omnipresent ice cream cones that parade around the country. But the one that takes Marie Antoinette's cake is possibly the world's greatest sandwich: Merguez Frites.
Hold onto your berets. It's a baguette, stuffed with hot, smoky Moroccan lamb sausages flavored with garlic, harissa, chilis, cumin, coriander, and the kitchen sink. And then stuffed into the baguette with the grill-charred sausages is a solid helping of frites. Crunchy, salty, and ridiculous. You can get the baguette slathered with garlic mayo, extra harissa, even ketchup. It is so gluttonous, and so spicy, and so good. Greasy and dirty in that too-much-lo mein way that everyone loves. It makes a New York hotdog, heretofore my yardstick of perfection (with deli mustard), look measly. It's a heart stopper, in more ways than one. And it's worth it.
I love doing cookouts for Bastille Day (this Thursday, July 14th). Instead of throwing some all American hotdogs on the grill, I give my grill a French accent. I throw some Merguez sausages, long and lean, on the grill until black and hot and smoky. I stuff them in an olive oil-seared baguette, with piquillo peppers, garlic-yogurt-mayo sauce, and a salad of cilantro. Serve with some harissa for those that like it hot, or some grill lemons. It is so different and so spectacular, you don't need to make anything else. Just buy some good French beers and call it a day. Or a fête.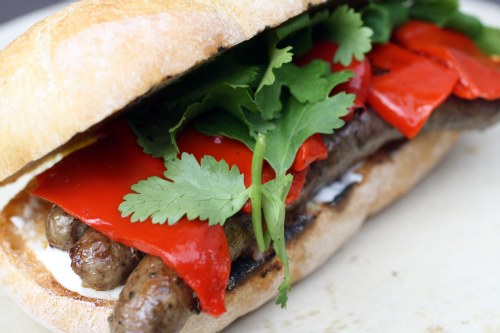 Hot Merguez Baguettes
serves 4
INGREDIENTS
6 tablespoons Greek yogurt
6 tablespoons mayonnaise
2 clove garlic, grated
Kosher salt
4 8-inch baguette rolls, sliced horizontally like an open book
4 teaspoons olive oil
12 links Merguez sausage (see Note #1)
12 jarred, roasted piquillo peppers, halved
1/2 cup torn cilantro leaves
Harissa (optional)
PROCEDURE
Preheat a grill--wood burning, charcoal, or gas. In a small bowl, whisk together the yogurt, mayonnaise, garlic, and salt to taste. Set aside.
Drizzle the cut surface of the baguette rolls lightly with olive oil. Place cut side down on the grill until lightly toasted--about 1 minute. Set the rolls aside, and place the Merguez on the grill, turning occasionally until the sausages are charred and cooked through--about 6 minutes.
While the sausages are grilling, assemble the sandwiches. Slather as much of the garlic yogurt sauce on the bread as you like. If you like it hot (like really hot), squirt some harissa onto the buns. Scatter the piquillo peppers on the bread, and the leaves of cilantro. As soon as the Merguez are cooked, pile 3 into each sandwich, fold the sandwich shut, and cut in half on a diagonal. Serve immediately.
NOTES
#1 You can find Merguez at gourmet stores, Kosher markets, and Middle Easter grocers.