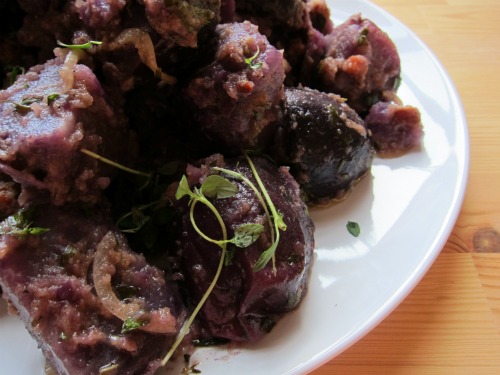 I like doing things that don't exactly break with tradition, but are just ever so slightly different. And therefore, special. Just a little bit of thought can change the same ol' same ol' to a showstopper.
Enter potato salad. I love nothing more than to head to the deli counter and buy the traditional stuff full of mayo and onion and gherkins. But French potato salad is a bit different. It's mustard- and vinaigrette-based, rather than built on mayo, and usually involves a little bacon. How can that be bad?
So, when I saw a bag of purple potatoes for sale at the supermarket for a buck fifty, I thought, now is the time to make showstopper potato salad. It starts with crispy pancetta, and a vinaigrette made from the pancetta drippings, olive oil, white wine vinegar and spicy Dijon mustard. Added to that is the sharp zing of fresh shallot, and the earthy, grassy flavors of fresh thyme and parsley.
In the warm vinaigrette bath I plunge my hot purple potatoes. I toss them and let them sit and toss them again, until they have drunk up all the pancetta and vinaigrette and mustard into themselves. Serve them room temperature and you will never, for better or worse, be tempted by the deli counter again. It is the best potato salad I've ever had. Suddenly, the humble potato has reached its fully Versailles potential Plus, no mayo to go off at a picnic. The French think of everything ...
Bon app.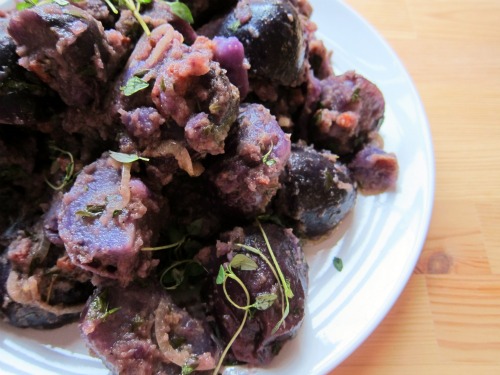 French Purple Potato Salad
serves 4 to 6
INGREDIENTS
2-¾ pounds purple potatoes, halved or quartered
Salt
¼ pound cubed pancetta
10 tablespoons olive oil
4 tablespoons white wine vinegar
2 tablespoons Dijon mustard
2 shallots, thinly sliced
1 tablespoon fresh thyme
2 tablespoons flat leaf parsley
Freshly ground black pepper
PROCEDURE
Put the potatoes in a big stockpot and cover with water by at least two inches. Season with salt, cover, and cook over high heat until just tender, about 20 to 25 minutes.
Meanwhile, make the vinaigrette. In a wide sauté pan, heat 1 tablespoon of olive oil over high heat. When it shimmers, add the pancetta, and cook for 3 minutes. Set the pot aside, and the pancetta will continue to crisp while it cools.
Once the pancetta is cooled, add the remaining olive oil, vinegar, mustard, shallots, thyme, parsley, salt and pepper. Whisk until emulsified.
Drain the potatoes, and put back in their big hot stockpot. Pour the vinaigrette over the hot potatoes, and gently toss to coat. Allow to sit, tossing every now and again, until completely room temperature. The potatoes will suck up the dressing. Serve at room temperature.