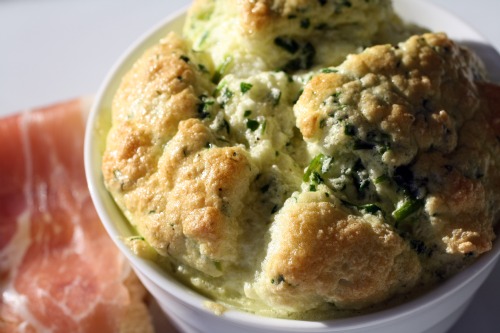 Sam I am not. But I love green eggs and ham. I love them here; I love them there. I love them anywhere.
Just because green eggs were created for kids, doesn't mean they haven't grown up along with the rest of us. Green eggs are perfect as a 3-ingredient no fuss soufflé that anyone (yes, anyone) can make. Herbs and goat cheese give the soufflé a gourmet omelet flavor, with none of the drama of complicated béchamel-based soufflés. For ham, I make simple crisp baguette toasts draped with salty jambon de Bayonne or prosciutto di Parma. Together, the combination is effortless, but impressive.
I am an inveterate breakfast skipper, but during the holidays, breakfast is the cornerstone of hospitality. Impossibly early breakfasts on Christmas day, or tide-me-over brunches before a 6 o'clock turkey. It's a fact of life: guests expect breakfast. And if you're lucky enough to have a brimming house in the coming weeks, I suggest you get cracking, cracking some eggs.
If there's one thing the holidays remind me of every year, it's that I'm young at heart. Even if my green eggs and ham have grown up a bit.
Green Egg Soufflés and Ham
serves 4
GREEN EGG SOUFFLÉ INGREDIENTS
4 eggs, separated into whites and yolks
3 to 4 tablespoons very finely chopped fines herbes (chives, parsley, chervil, tarragon) (See Note #1)
1 ounce fresh goat cheese (chèvre), room temperature
Freshly cracked black pepper to taste
Fine sea salt to taste

HAM INGREDIENTS
4 slices baguette, toasted
4 slices prosciutto di Parma or jambon de Bayonne
Extra virgin olive oil, for drizzling
PROCEDURE
1. Preheat the oven to 375°F.
2. Place the egg yolks in a medium-sized bowl. Add the herbs, cheese, and pepper, and whisk until well combined.
3. In a large bowl, whisk the egg whites to soft peaks (when you lift the whisk out of the egg whites, a little bit that looks like a bird's beak will dangle off).
4. Salt the egg yolk mixture, and add a heaping spoonful of the egg whites into the yolks. Mix vigorously to incorporate. This step will lighten the yolk mixture enough to fold easily into the whites. Pour the egg yolk mixture into the egg whites, and gently fold together until just well combined. Pour into 4 6-ounce ramekins, and smooth the top just a touch with a silicone spatula.
5. Place the soufflés in the oven, and immediately turn the temperature down to 350°F. Bake 20 minutes. They will be puffed, and just golden on top.
6. Meanwhile, toast your baguette slices. Curl one slice of ham on each toast, and drizzle lightly with olive oil. Serve next to a soufflé as soon as it comes out of the oven.
NOTES
1. Fines Herbes are the fresh, more delicate herbs, that do not have woody stems. Examples are chives, flat-leaf parsley, chervil, and tarragon. You would avoid more hearty herbs like thyme and rosemary.