It's that time of year again. Time to reflect on the year (almost) gone by and time to set some resolutions for the year yet to begin. Like most years, 2012 had its ups and downs, both personally and collectively. I'm so heartened by the countless acts of generosity I've learned about in the wake of natural disasters like Superstorm Sandy and unspeakable tragedies like the shooting in Newtown, CT. Time and time again people amaze me with their desire to be of service.
That's why I'm setting six New Year's resolutions that celebrate help, hope and humor. We can all use a little more of these qualities for 2013.
6. Perfect synchronized canine-human diving with Lily (mixed breed YouTube star)
5. Become a superhero FBI agent (or at least play one on TV)
4. Spend time with my favorite (distant) cousin (a.k.a. my wife!)
3. Tell my kids I love them all the time (but think carefully about getting another family tattoo)
2. Support New York and New Jersey rebuilding efforts post Superstorm Sandy
1. Help YOU become a celebrity for your favorite cause on SixDegrees.org
What are your New Year's resolutions? We at SixDegrees.org want to know. Share your ideas for a helpful, hopeful and humorous 2013 with us on Facebook and Twitter.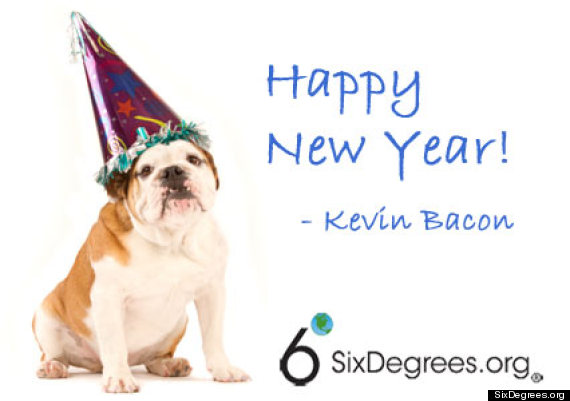 P.S. It's not too late to check one last 2012 resolution off your list -- giving back. Donate to your favorite charities on SixDegrees.org before midnight on December 31st, 2012 to do the good and get the (tax) credit. Through SixDegrees.org, you can support any cause (choose from over 1 million charities) by donating or creating a social fundraiser -- as well as check out the favorite causes of other people, including celebrities. It's a small world. You can make a difference.