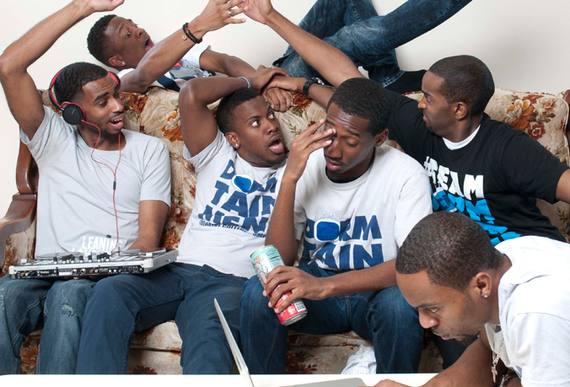 Comedy Group Dormtainment
Source: Dormtainment
The following comedy acts are incredibly different in content and delivery, but all have one thing in common: they are hilarious. With watch counts in the 6-7 digit range, these acts have proven themselves to be among the funniest on YouTube. Each of these YouTube stars brought the funny in 2013 and they are very likely to bring it in 2014.
1. GloZell
GloZell Cinnamon Twerk
Undeniably one of the funniest comedians in the country, the "My push up bra will help me get my man" YouTube sensation has rightfully earned her several television appearances and her massive fan base. With song covers, comedic skits, and daring stunts in her video catalogue, GloZell has been a source of entertainment to millions of YouTube viewers for over five years.
2. Emmanuel and Phillip Hudson
Teach White To Be Black
Before joining Nick Cannon's cast of "Wild 'N Out," Emmanuel Hudson was best known for producing epically funny YouTube videos along with his brother Phillip. Using comedy to address just about any topic relevant to a young twenty-something, Emmanuel and Phillip create videos that touch on modern day subjects like "rachet" behavior, instagram, and hypocrisy in the church. Alongside recent television and touring endeavors, the brotherly duo continue to make hilarious YouTube videos on their channel.
3. Darmirra Brunson
Celebrity Face Off (RiRi vs CiCi)
With impeccable impersonation abilities, great comedic timing, and strong vocals, Darmirra Brunson has given SNL's Jay Pharoah a reason to throw her name in the ring for SNL's long overdue search for a Black female cast member. If added to the cast, Keenan Thompson can properly abandon the wigs and let the "Love Thy Neighbor" actress aptly play characters like Rihanna, Beyonce, Mariah Carey, and Oprah.
4. Dormtainment
Catfish (MTV Parody)
Making a mark on college campuses across the country, the 6 member comedy troupe Dormtainment has amassed an insanely large following among a young adult audience. For college students looking for a late night laugh after a long evening of studying (or partying), the gentlemen of Dormtainment fill a void that even late night munchies can't fix. As their following continues to grow and their videos continue to make us laugh, we're sure that this group will encounter exponential success in 2014.
5. Issa Rae
Awkward Black Girl- The Call (Season 2 Episode 10)
With involvements in multiple web series and a feature on Forbes 30 under 30 list, its almost easy to forget that the Stanford-educated producer, writer, and actress launched her career with the popular "The Mis-Adventures of Awkward Black Girl." Her involvement on the popular web series " Roomieloverfriends" has also garnered a lot of praise by fans and critics. We can only expect and hope for great things for Issa Rae in 2014.