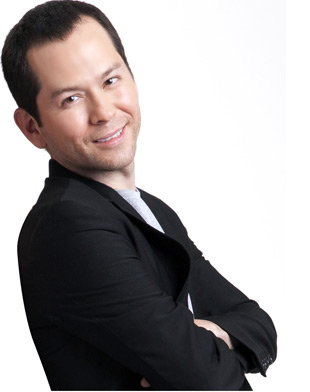 Photo courtesy of Rolando Santana
New York City's "Exit Art" leant itself to setting the mood for the delectable urban chic show we were about to see.

A view of the front row included, Kelly Choi (Top Chef Masters), Heidi Weisel (designer), New York Housewife, Alex McCord and of course her husband Simon van Kempen, and Emma Snowden Jones.
His Fall collection captivated the audience from the start with his use of leather, wool jersey and fur in dark cooper, deep berry, kohl and grey tones. It was without pretense, like some of the bigger names that showed this year. The cocktail dresses were short the evening dresses were long and elegant, easy to wear and showing just enough skin dipping low in the backs yet covering at the right angles for it to be a tease and invoke envy on all wishing to take every piece home with them. His sexy evening wear and hemlines and wearability were spot-on trend for Fall/Winter 2011. There was an ease to the fabric and the way it flowed that you knew would be comfortable at any black-tie event - a gift to all New York women.

This rich palate was complemented by the dark, austere lips, long wavy hair on each model in black opaque tights and sky high heels.
By the end of the evening your wish list had grown to the include the entire collection.
Bravo Rolando!
Special thanks went out to MAC Cosmetics and Joey Casmata for make-up and great hair by Patrick Melville of Artists by Timothy Priano.
For a front and center view of the show check out the photos below and enjoy.

Rolando Santana is a women's fashion designer who is primarily focused on designing with the customer in mind and creating looks that always make women look and feel their best. Rolando Santana's design can currently be purchased at some of the top specialty boutiques around the country, please visit www.rolandosantana.com for a complete list.