Environmental Enforcement Community
Waterkeeper"s Tenth Anniversary Conference last week June 23-27th 2009 demonstrated that people can get involved in the sustainable movement at a meaningful level within their own community. The Waterkeeper Alliance, known as "Waterkeepers," are 189 grass-roots organizations located within six continents and are from all walks of life: fishermen, women, young, old, celebrities, lawyers and Ph.D's. They are active at a local level, helping to clean up our water-ways and build strong communities as part of a larger national and global alliance.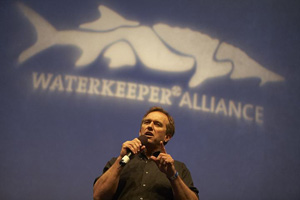 Robert F Kennedy Jr. at Waterkeeper 10th Anniversary Conference Gala Event. Photo by Matt Carr.
Robert F. Kennedy, Jr., Waterkeeper Alliance Chairman and Founder, stated, "We enforce the environmental laws that are in place. If we did not do this, these laws would not be laws."

President Bill Clinton, the guest speaker at the conference, stated, "The thing I love about what you do is that you do. You don't just talk about it. Your mission is important." He referred to the fact that the Waterkeepers are dynamically involved, dealing directly with the problem of protecting clean water. President Clinton noted that this was similar to what he was able to do in his last years as president, even without Congressional support. The president mandated safeguarding and protecting wetlands, Federal forests, the Clean Air Act, and pesticides regulation. He established the Grand Staircase Escalante National Monument in Utah, and created or expanded 13 national monuments. On June 9, 2000, President Clinton designated the Hanford Reach as a national monument. This covers over 200,000 acres of federal land held by the Department of Energy and spans 51 miles of the Columbia River.
Collaboration Needed
Susan Raymond, Executive Director of Research, Evaluation and Strategic Planning for Changing Our World noted that 1,200 new environment non-profits were created per year between 1999 and 2009, with only 28 percent dollar growth. She said "The problem is inefficiency and duplication, what we need is collaboration, to place a premium on collaboration. Small non-profits who are community-focused have low budgets, while big philanthropic organizations have large budgets with little connection to community. We need more giving with less administration and more impact to meet critical needs. People care about the 'problem,' not the 'institutions,' in order to make changes in the world."
Shared Vision
I believe our values are changing, from profits and competition, to collaboration and community, focused on philanthropic giving for environmental responsibility, social responsibility and a positive legacy for future generations. With this we all have a shared vision, a collective mindset around sustainability and community, and a new-found ability to share resources within our community.

Collaboration between Corporations, Communities and Benefactors
Some interesting models of collaboration are starting to emerge between local ambassadors, regional communities and corporate brands and celebrities.
Witness the Grand Canyon Adventure IMAX Film. Liz Ferrin, Global Promotions Manager at Teva, explained that the film is the Waterkeeper story told in a visually compelling way. The film is promoted regionally and nationally, playing at IMAX theaters and now available on DVD for use by local ambassadors. Sharing the film at local community gatherings promotes not only awareness and education, but, more importantly, motivating active involvement in local Waterkeepers.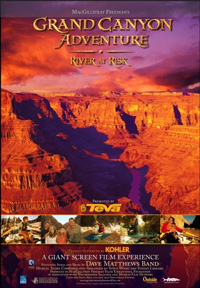 Grand Canyon Adventure IMAX Film
Another example is the film HOME, directed by Yann-Arthus Bertrand, PPR, a corporate holding company of Stella McCartney, Gucci and Yves Saint Laurent. This exciting documentary was launched globally throughout five continents via YouTube, National Geographic and Fox, and broadcast regionally in PPR Stores, including at a Stella McCartney party at her Los Angeles boutique. Members of the local celebrity community, including Cameron Diaz, Liv Tyler, Rosario Dawson, Anjelica Huston and Emily Deschanel, as well as Lexus Hybrid Living partners such as VeeV, Livingreen, Real Food Daily, Guayaki, Good Karma, Glow Gluten Free, and Kiktavi, spur additional direct involvement at a grass-roots level. Anyone is permitted to use this film to gather friends to raise awareness and promote the cause.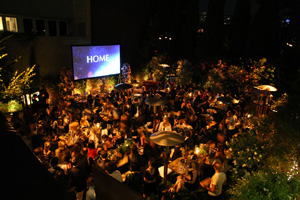 Stella McCartney's LA's Store Promotion of HOME
The conference culminated on Saturday night at the Waterkeeper Gala Celebration where the Waterkeeper Alliance and the Lexus Hybrid Living community combined forces, showcasing an Eco Garden Boutique for guests to enjoy top eco-fashion presented by THE FOUR HUNDRED (Ashley Watson, Bahar Shahpar, Bodkin, Covet, Cri de Coeur, Lara Miller, Mociun, Mottainai, and Study), eco-Jewelry (Monique Péan), eco-furniture (Uhuru) and eco-art (McGovern Design House) with all proceeds from sales benefiting the Waterkeeper Alliance. Both groups celebrated a vision of joining together, in person, with their local communities, sharing, educating and taking action. Both are communities that I believe in and participate in.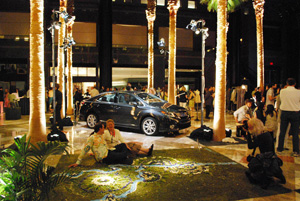 The Lexus Hybrid Living Eco Garden Boutique.
"Muh-he-kun-ne-tuk" mural by Joe Mangrum.
Art supplied by McGovern Design House.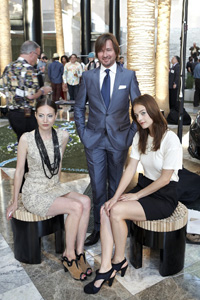 Eco Fashion by Bahar Shahpar, Bodkin, and Cri de Coeur. Photo by Matt Carr.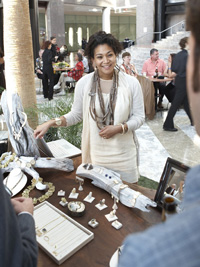 Eco-Jewelry by Monique Péan. Photo by Matt Carr.

"Fragile" by Eve Mosher. Art supplied by
McGovern Design House
How can an individual take more action and get involved?
I hope to see a lot more examples of collaboration to involve people locally, regionally and nationally -- to raise awareness, to educate and take action. I know there are more models of collaboration out there... please send me your ideas.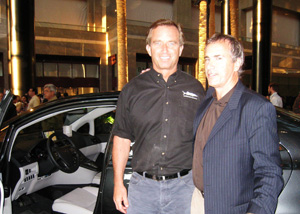 Robert F. Kennedy, Jr., Waterkeeper Alliance Chairman
and Founder. Kevin George, President Articulate Design
Find Kevin on Facebook
Follow Kevin on Twitter
Learn more about Articulate Design.