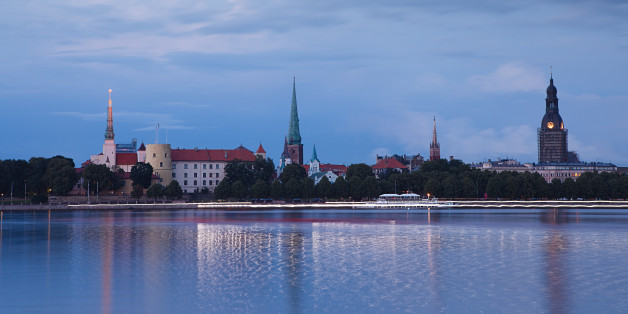 The mayor of the Latvian capital city Riga, Nil Ushakov, stated yesterday in Moscow that for Latvia, "the best thing possible right now is President Vladimir Putin." Ushakov, a prominent ethnic Russian politician and the leader of Latvia's powerful centrist Harmony Center Party, offered this surprising remark in a September 4 interview on Internet and cable channel TV Rain, Russia's only remaining independent televised news source. His presence in Moscow and his comments about Putin illustrate how far the views of many Latvians diverge from the Western mainstream on relations between Russia and the West -- and how complicated those relations become in countries neighboring the Russian Federation. Western leaders must recognize that it is not only in Ukraine that "the Russian world" extends beyond the borders of Russia. Any "new Cold War" risks destabilizing the Baltic -- and Europe itself.
Ushakov's statements were not "pro-Putin" in any straightforward sense. Following his assessment of the Russian president, which appeared to startle the liberal-minded TV Rain news anchors, the mayor went on to explain that he meant that the viable alternatives to Putin and his United Russia Party are far worse. The second and third most popular parties in Russia are the Communist Party and Vladimir Zhirinovsky's radically xenophobic (and misnamed) Democratic National Party -- compared to them, Ushakov said, Putin represents "stability" for neighboring states.
Earlier in the interview, Ushakov had made it clear that he stands together with Europe in condemnation of Russian actions in Ukraine. Yet his position on Russia is far more restrained than that of many other Western politicians:
First of all, I think that the European Union has both the right and good reason to address questions to Russia about what is happening in Ukraine. But I think that sanctions, as an instrument, will not lead to any result. ... I think that in this situation the diplomatic path is the only alternative that can have any effect.
Ushakov offered similar statements in other interviews yesterday on state-controlled Russian television channels. As he made abundantly clear, his aim is to defend Latvia's economic interests by preserving "friendly, mutually beneficial relations" between Latvia and Russia. Ushakov's primary purpose in visiting Moscow is to bolster imports of Latvian food products, which have been hit hard by the Kremlin's embargo, imposed in response to Western economic sanctions.
Given the importance of Russian trade and tourism for Latvia, Ushakov's stance is understandable. Yet it should also be said that his conciliatory position on Russia reflects the complexity in Latvia and in Europe of the current crisis over Ukraine.
Twenty-six percent of the Latvian population is comprised of ethnic Russians, many of whom are linked by family and economic ties with the Russian Federation. About another ten percent are Russian-speakers of various other ethnicities, including Ukrainians. The state-controlled broadcast and cable television of the Russian Federation is a primary source of information for most of these people, as was noted in an NPR report yesterday titled "Baltic States Battle Russian Media Blitz" (in which no ethnic Russians from the Baltic were actually interviewed).
This population, to which Ushakov belongs, is not only subject to Russian efforts to shape perceptions of the crisis in the media, but also is actively working out its own views on matters. Based on conversations I had in Latvia over the course of the past summer, many of these people are, like Ushakov, not exactly pro-Putin, but also not disposed to pick any fights with Russia. Positioned on the front lines of an information war, they are inclined towards skepticism of all media representations of events in Ukraine. Many are suspicious of Russian policy and media, but many are just as suspicious of Western news sources and policy emanating from Brussels, NATO headquarters, or Washington.
In this light, Ushakov's plea for a diplomatic solution to the crisis is doubly understandable. Any "new Cold War" will not only have severe economic consequences for Latvia, but it will also divide Latvian society into opposed camps, raising the specter of real conflict between ethnic enclaves. It may lead to a severe breakdown of this tiny, fragile society, where Russians and Latvians have managed to live side-by-side in peace since the collapse of the USSR. Similar repercussions are likely in Estonia and in other states on the Russia-Europe border.
Whether or not western policymakers agree with Ushakov on the efficacy of sanctions or the need for diplomacy, they must take him, and the significant number of people he represents, into account. If a new Iron Curtain falls, it may cut through parts of Europe.