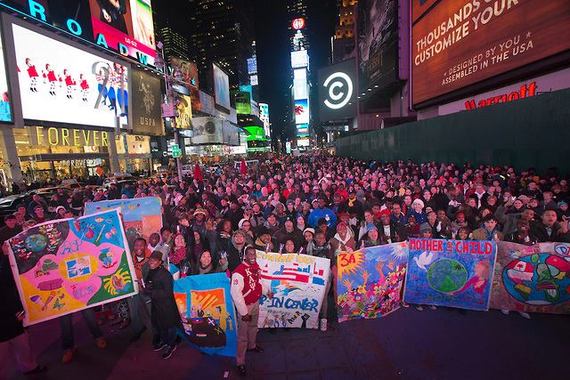 This Thursday night in the heart of Times Square, I will stand with thousands of advocates, activists and homeless youth for Covenant House's annual candlelight vigil. And one of the faces in the crowd with me will belong to Ben, holding a ring he bought for himself a few weeks after he told his parents he is gay.
At first, they'd been quiet. Then they both cried. They said they'd pray about it, but for the next 10 days they barely spoke to him. Then they sent him across the country to a religious school engaged in a form of gay conversion therapy, where it was a 50-mile walk through a desert to get to the next town.
The ring -- its stainless steel band, the black star sapphire, the way it was rough and plain, not flashy -- pleased him.
"I remember I always looked at it, and said, that's me. The roughness of the metal, the diamond, my light. This is who I am. This is who I have to be. It's my dark secret ring."
Ben, now 19, was raised in a small town in the White Mountains of New Hampshire by a preacher and his wife, who homeschooled him and his older brother and sister, keeping them away from outside influences, forbidding him to go to other people's houses, join a soccer team, an a cappella choir, and later the ambulance squad, he said. Ben had only 20 minutes a week to talk to peers after church, and if he ran late, he'd be in trouble.
From the time he was nine, he sensed he didn't fit in. At that young age, he'd asked his mother what a kid in his town meant by calling him gay. She told him not to use that "horrible" word, and that gay people are "bad." They "go to hell," she said, urging him "to pray for them, but never go near them."
"She'd said God helps them if they pray, and can make them better," Ben said. "So for three or four years I was praying, 'God, make me normal, make me better.' I would be crying, wishing I could be normal."
As he got older he became depressed, wearing black clothes all the time. He tired of pretending to be someone he wasn't.
"I was hurting so badly on the inside," he said. "I hated myself." He felt alone, hopeless, broken. He'd secretly burn his skin on purpose, to feel a different kind of pain.
As Ben made friends through the church and through his jobs, he was able to confide in some that he had always felt attracted to boys. His friends supported him, as did his sister. His brother, however, hasn't talked to Ben since. Three weeks after he came out to his parents, he was on a plane to California, and not by choice.
At the college Ben stared at his ring for hours, in private, because wearing jewelry was against school rules.
"It helped me hold on, through the darkness of the depression I had, the feeling of being suppressed, of not being who I am, having to hide all this negative energy, while the diamond was the light I wanted to be. I wanted to be this very happy person. It was just very rough, being in the school, not being able to be who I was." Every night the dean requested a private meeting, and there were usually an additional three daytime meetings a week, with the express purpose of keeping Ben from "temptation." The dean spent a huge portion of this time asking Ben if God had been helping him to become straight.

"It made me feel awkward, and more pushed down," he said, recalling how his friends would think he'd gotten in trouble, each time the dean pulled him aside to pray, even if they were passing on the street.
"In his eyes, of course there was something wrong with me," Ben said about the meetings with the dean. "It got to the point where I didn't feel anymore, and that's what worried me the most."
He managed to cope there for a year, mostly by playing piano for many hours a day, until his fingers hurt. He was able to release his emotions into the music, safely, writing songs with lyrics and melodies that could pass muster at the college. Students there were forbidden to listen to songs with drums or bass guitars. He kept recordings of his music hidden away, in a flash drive in his shoe.

When his parents dismissed his protests and decided to make him return to the school for a second year, Ben realized he couldn't survive with his sanity.
"Even if it meant sleeping on the streets, that was safer than being there," he said. "At least I'll have myself. At least I can be me."
He wrote his parents a nine-page letter explaining why he had to leave, walked out and eventually made it to a bus that carried him to New York, crying the entire first leg to Boston. He headed toward one shelter he'd researched, but it didn't open until the next morning. It started to rain, so he covered his back with trash bags and stood under an overhang. He remembers talking back to the heavens: "Why do this to me? Already you've taken my family, I had to leave home, and now it's going to rain?"
Ben came to Covenant House, the largest charity serving homeless youth in the Americas and says he knew he'd found a welcoming place when he left for a Pride event in a full length gown and makeup, and received compliments from some other young people. At a previous shelter, he'd heard comments when he wore makeup.
While gay and transgender youth make up only seven percent of the total youth population, they comprise up to 40 percent of all youth experiencing homelessness in America. That is why we at Covenant House are collaborating with the Forty-to-None Project of the True Colors Fund: we are committed to reversing this trend and providing help to homeless youth, many of whom become homeless after their families reject them because of their sexual orientation or gender identity.
Covenant House, which offers shelter to more than 1,900 homeless youth every night in 27 cities across the United States, Canada, Mexico, Guatemala, Honduras, and Nicaragua is expanding the overall number of beds dedicated to homeless youth, including gay and transgender youth. The purpose of our work with the Forty-to-None Project is to support and strengthen our programs and services so that all homeless youth feel safe, welcome and engaged at Covenant House. We want to be helium for kids' dreams, regardless of how their hearts beat and how they love. We want to celebrate homeless youth like Ben just as they are, and help kids move from homelessness to hope.
Ben has learned to change his story, from one of oppression to one of growth. "Because my parents sent me away, I could become stronger," he said. "I learned how to care for myself and accept who I am. I can get a job, push myself, and it doesn't matter what the situation may be, as long as I work toward it, I can achieve it."

As he moves ahead in his job as an executive receptionist for a financial firm, and continues in Covenant House's Rights of Passage transitional living program, he's making big plans for the future. He wants to study political leadership and advocacy, and become an equal rights advocate.
And he has come to forgive his parents. "I know at the end of day they've done what they did out of a place of love," he said. "I can't judge them for something they honestly thought they were doing right. I can't hate them for a situation they thought they were trying to help me on."
As for the ring, he takes it out to examine when he starts to forget how much progress he's made. The diamond fell out long ago, replaced in a way by the lightness of his improved mood. He's free to be himself, without the dark secrets, with less anxiety, more joy.
"That may have been what I went through," he said, looking back at his childhood, "but not what I have to continue to go through in the future."