The unemployment rate for veterans with service related disabilities is an eye popping 8.5 percent, and they have the toughest time finding work after serving and defending the country. Like me, I am sure you are both shocked and disgusted by this fact, and if so, we encourage you to do all you can to get your employer to hire more veterans.
On October 31 a landmark virtual event is being hosted -- the first ever virtual career fair for veterans with service-related disabilities. Veteran Recruiting Services is joining forces with ON24, the world leader in virtual events and webcasts, to help these veterans find employment opportunities.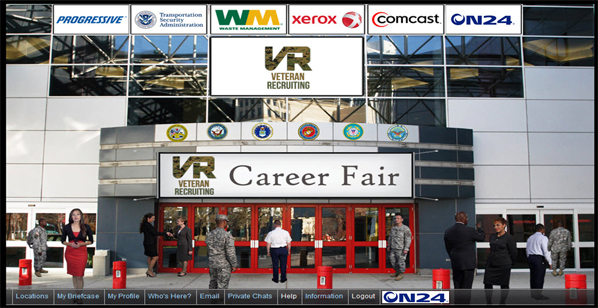 Here at Veteran Recruiting Services we specialize in offering virtual career fairs for the military community. But this one is especially gratifying because it truly delivers on the promise and potential of virtual technology. We are leveraging the power and capabilities of this technology to fill jobs.
Participants will be able to apply for hundreds, or even thousands, of jobs -- without travel. The virtual job fair will provide instant access to everyone, everywhere. All that is needed to participate is a PC, laptop or mobile device.
This virtual career fair will reduce unemployment in a segment -- veterans with service-related disabilities -- where it's highest. ON24 and VRS are proud to provide this virtual career fair and the virtual communications platform on which it's based. Along with the sponsoring employers, we are coming together to make a difference.
If you are a veteran, military spouse, or caregiver of a veteran with a disability, you are encouraged to register to attend here http://www.veteranrecruiting.com
CORRECTION: An earlier version of this story indicated that the unemployment rate for veterans with disabilities in 2011 was 14 percent. The unemployment rate for disabled vets last year was 8.5 percent.