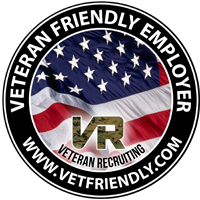 On March 20th, dozens of America's leading employers from all industries are joining together to recruit our nation's finest. Veteran recruiting services in support of the White House Joining Forces initiative will host a recruiting event like no other. Employers, veterans, and military spouses from all over the country/world will connect live in the VRS virtual recruitment center.
The virtual career fair allows employers to recruit nationwide in one day, and without the cost, or hassle of attending more traditional career fairs. The job seeker benefits from having the ability to apply for the jobs and chat with recruiters from each employer in real time.
It doesn't matter if you are deployed to Afghanistan, stationed in Korea, or out of the service for 30 years, you can meet and interact live with many of the best companies in the country. The virtual career fair is also an outstanding way for the veteran with a disability to engage with employers given they can participate from the comfort and convenience of home.
More than 18,000 veterans and military spouses have been hired through the virtual career fairs since 2011, and VRS and their employer partners are shooting for 13,000 in 2013 alone.
It was not long ago that we used to apply for a job by circling an ad in the paper, and then we had the luxury of faxing in our resume. Next came the job boards where we would reply to a job, and cross our fingers hoping a hiring manager saw it, read it and replied. The VRS recruitment center is changing the game because now you can apply and engage with actual recruiters at the same time.
Career Fair Details
March 20, 2013
1-4 PM EST
www.vetcareerfair.com
Some of the employers already signed on to participate include:
Aetna, Best Buy, Citi, Convergys, DaVita, Department of Energy, Department of Defense, Exelon, Graybar, Intercontinental Hotels Group, Lowe's Penske Truck Leasing, PepsiCo, Philips, Progressive, Travelers, Sears Holdings Corporation, TSA, Union Pacific, USDA, Waste Management, Wells Fargo, and Xerox Business Services
We encourage all service members, veterans and military spouses who may be looking fro work, or perhaps a better paying, or more rewarding job to register today at www.vetcareerfair.com
Employers interested in participating can also reach VRS at info@veteranrecruiting.com