There are thousands of veterans of Iraq and Afghanistan who are coming home who are diagnosed with Traumatic Brain Injury or Post Traumatic Stress. You will note I left the word disorder off because like many, I feel this name does not fit, and comes with such a bad stigma that is resulting in many veterans who are suffering with this injury from coming forward for help. While it is no surprise that we have seen an increase in soldiers with TBI/PTS, it is also important to understand what it means, and to also show how most who suffer with this injury are coping day to day, be it in the civilian world or while they are still serving the nation.
Is it not realistic to expect that after serving 1-2-3 or more tours in Iraq or Afghanistan that there would be some level of PTS? Imagine having to leave your family several times and serve in harm's way, and ask yourself if you feel you might also have some side effects. I think we should be more worried about those who seem not affected by seeing the things our soldiers see everyday serving in harms way.
That being said, PTS/TBI is a real and growing problem for many of our returning men and women, and it is one that needs to be dealt with now. Just this week in Philadelphia, a dozen psychiatrists met to discuss dropping the word disorder from PTSD in the hopes that it would encourage more veterans to come forward who may be suffering. "No 19-year-old kid wants to be told he's got a disorder," said Gen. Peter Chiarelli, who until his retirement in February led the Army's effort to reduce its record suicide rate. Regardless of what we call it, it is an injury/condition that thousands of veterans are dealing with, and we should do all we can to help them, and a great first step in my opinion is painting an accurate depiction of what it is. One important fact that I think often gets overlooked is the number of everyday people who also have some form of PTS.
Speaking personally, and as someone who never served in the armed forces, in 2005, I lost my mother to lung cancer, and about a month later, I couldn't get out of bed for more than 2 weeks. For several months, I suffered from panic and anxiety attacks, and ultimately, I was diagnosed with having PTSD. Luckily, I learned to manage and deal with it as do many veterans who are also suffering with from the same injury. I had the pleasure of hearing General Chiarelli speak at a conference last year, and he discussed how through the years, we have had various names for what we now know as PTS(D) such as; Shell Shock, Battle Fatigue, soldiers heart and several other names, but at the end of the day, it is the same injury the men and women from Iraq and Afghanistan are coming home with. If we do not address this properly now, I am afraid we are going to see a continuation of the increasing number of suicides amongst veterans.
It is our intent through this blog on The Huffington Post to showcase veterans who are looking for work, many who suffer from PTS/TBI, and the employers who have stepped up to hire them through the 10,000 Jobs for Veterans and Military Spouses Challenge: http://www.10000jobs.com. This will be a great opportunity to show the many faces of the men and women who have served and defended the nation, and at the same time, help them find good paying jobs in the civilian world. It is our hope that by telling their stories, one at a time, that other employers will see that these veterans and their spouses are just like the rest of us who deal with stress every day, and cope with it as productive contributors to society. We encourage all employers to look to veterans first, not out of moral obligation, but because it is great for your business, and your bottom line. We will kick off this series with Christopher Allen.
A Little about Chris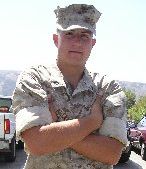 Chris served in the Marines Corps until January 2006. In October 2004, Chris was wounded in action in Ramadi Iraq, receiving shrapnel wounds to his left knee and left thigh. After leaving the Corps in 2006, Chris spent two years bouncing from fast-food jobs and Wal-Mart, trying to figure out where he best fit in back in the civilian world. Chris ultimately moved back to California to be closer to family, and to get treatment for PTS. A year after being home, Chris earned his Associates Degree in Criminal Justice, and will receive his Bachelors Degree within 6 months. Chris also takes time to mentor and counsel other veterans who suffer from PTS by telling his story through the National Alliance on Mental Health (NAMI). We asked Chris why he felt he would be a great fit for an employer looking to hire someone in his field, and he responded with; "I would make the ideal employee because I am a very hard worker, fast learner; I have a great personality, and also have strong leadership skills which have been honed from learning from my own real life experiences and coming through the other side" Chris is open to a wide range of opportunities, and would like the opportunity to meet with as many employers as he can. If you are interested in connecting with Chris, you can reach him here chris702003@yahoo.com
Stepping Up to the Challenge
In addition to showcasing a veteran in each post, we will also provide a little information on employers who recognize and value all that veterans and their spouses bring to the workforce. We will kick this off with one of our employer partners in the 10,000 Jobs Challenge- Sears Holdings Corporation
A little About Sears Holdings Corporation
At Sears Holdings Corporation, we believe our military employees are among our most valuable assets. We recognize that our nation's servicemen and women possess a unique skill-set and leadership qualities impossible to find anywhere else. The knowledge and proficiencies learned in the service has helped military veterans transition into positions involving a wide range of industry disciplines such as logistics, store management, loss prevention, and home services. Sears Holdings continues its commitment to hire military-experienced talent because we are a company that actively demonstrates support of our nation's military through our actions, initiatives, and relentless effort to become the employer of choice for veterans.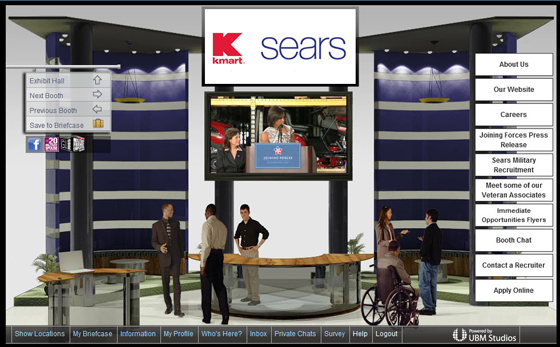 Sears Holdings Corporation currently has more than 2,000 jobs available all across the country, and would like to fill as many of them as they can with veterans and military spouses. If you are active duty, guard/reservist, veteran, or military spouse, and have an interest in meeting with Sears and discussing the jobs they have available, you can do so live in their virtual booth in Milicruit on May 10th from 2-4PM EDT by registering with Milicruit at www.veteranscareerfair.com
Chris' story is not unusual, and there are men and women all over the country who have faced adversity while serving the country, and who have learned to deal with their issues, and come out the other side all that much stronger, and you would be well served in looking to folks like Chris when looking to fill your next job opening. Join us next time when we will feature another veteran and one of our employer partners.